Situated in the Rif Mountains of Morocco, the city of Chefchaouen is one of the most beautiful places I've ever seen. The whole city is painted in shades of blue, making it a unique place.
Due to its color, Chefchaouen is also called "The Blue Pearl of Morocco". There are many theories trying to explain why the city is painted blue. While some believe that this color helps to keep the mosquitoes away, others believe that the blue paint helps to keep the houses cool during the hot summer days.
In this post, I'll share which are the top things to do in Chefchaouen. If you've already visited Marrakesh or Fes, this blue town will be a breath of fresh air. It's more laid-back and less touristy than all of Morocco's big cities.
Things you should know before visiting Chefchaouen
Before telling you which are the most popular tourist attractions in Chefchaouen, here are a few things you should know before visiting it.
hashish – should you try it or not? – although illegal, smoking hashish in Chefchaouen is a popular activity among both locals and tourists. Morocco is one of the biggest producers of hashish world-wide and on the outskirts of Chefchaouen you can find hashish farms to visit. I'm not telling you to try it or not – use your best judgment to decide!
one day is not enough – although you can see most of the city on a day trip, one day is not enough to truly experience the vibe of Chefchaouen. I recommend spending at least two days here. Trust me, you won't regret it!
when taking the taxi, negotiate the price – taxis in the Blue City are cheap but it's best to ask for the price beforehand. 
be mindful when taking photos – even though you'll be tempted to photograph every corner of this city, keep in mind that it's not polite to stuff your camera in local's faces.
plan your trip carefully – make sure you check public transport timetables. Find out how to get to Chefchaouen here.
No time to read now? Pin it for later!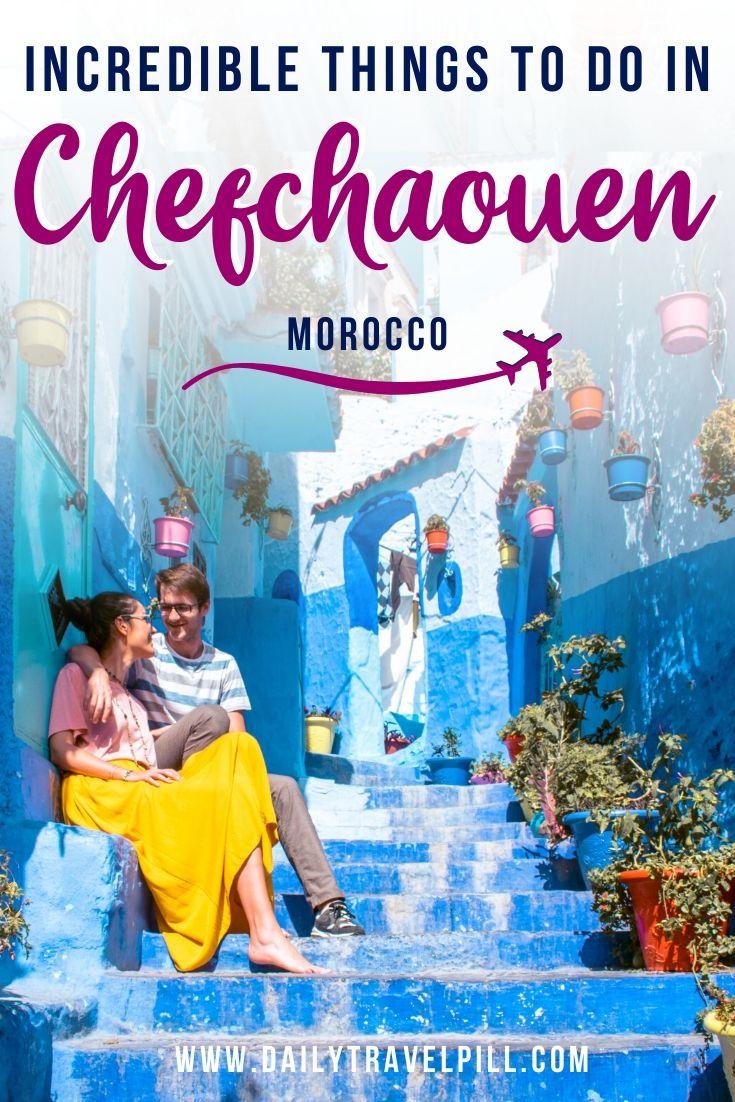 1. Visit one of the many bazaars
The streets of this blue Moroccan city are full of small bazaars where you can find handmade items, carpets, clothes, and many other colorful items. You'll notice that most of the merchandise is displayed on the blue walls, adding a splash of color to the city.
If you're not looking to buy stuff, then you can simply walk around the bazaars and take photos. This is what I did. Since I'm always traveling, I can't buy everything I want so I take photos of all the items I love as souvenirs.
2. Take a photo in this incredible courtyard
This courtyard is the most instagrammable place in Chefchaouen but it's all staged. It's actually somebody's home and you have to pay 5 MAD to take a photo here.
Although the setting is staged, I think that this insta-famous location accurately represents the Moroccan style and vibe. Keep in mind that this place is quite busy and most probably you'll have to queue to take a photo here.
Click here for the exact location of this famous Chefchaouen photography location.
3. Get a scrub at a local hammam
If you've never been to a hammam before, you have to try it! It's a weird experience but it's definitely something you'll remember. A hammam is a public steam room where people go to clean themselves.
In Morocco, hammams are very popular among locals. It's a weekly ritual where people go to socialize while fully naked. Don't worry, the baths are separated by gender. To read about the full process of going to a hammam in Morocco, click here.
4. Get lost in the blue Medina
There's no better way to discover the beautiful hidden alleys of Chefchaouen than to get lost in the blue Medina. Most of the tourists exploring only the main streets are missing out on the real beauty of the city.
See how the local life unfolds in front of your eyes and take the chance to snap some incredible photos. I could go sightseeing in Chefchaouen for days without getting bored.
-> Find out which are the transport options to Chefchaouen
5. Eat tagine at a local restaurant
You can't leave Morocco without trying its most famous dish – tagine. There are many recipes of tagine, with different ingredients. However, it usually contains meat and an assortment of vegetables, all steamed in a special pot.
Are you hungry yet? You can choose one of the restaurants in the market square to serve your tagine.
6. Take a photo at the famous colorful stairs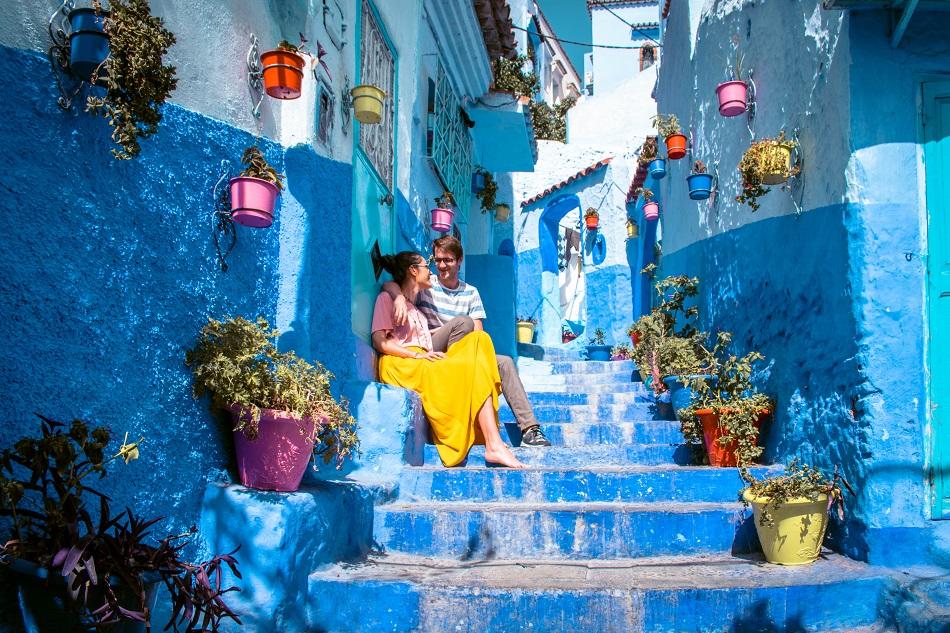 This set of colorful blue stairs is one of the most popular places to visit in Chefchaouen. There is usually a queue of people waiting to take a photo here. It's probably the most iconic place in the city.
We waited about 10 minutes to take a photo but it was worth it. The blue stairs with the colorful flower pots make for the best photo background.
-> Read more about Morocco here
7. Climb to the Spanish Mosque for sunset
One of the best things you can do in Chefchaouen is to climb to the Spanish Mosque (Mosquée Bouzâafar) for sunset. Bring water, snacks, and some comfortable shoes and get ready for the best view of the city.
It's an easy walk to this viewpoint that only takes around 20 minutes. Don't forget your camera home – the views are simply breathtaking!
8. Shop for the perfect souvenir
If you have enough space in your luggage, go shopping in Chefchaouen! There are many hand-made items and clothes to choose from but my favorites are the colorful carpets. I wish I had space to buy them all!
If I'm ever going back to Morocco, I'm definitely buying a carpet for my living room.
9. Explore Place Outa El Hamam
Situated next to the Kasbah and Grande Mosque, this market is the most vibrant place in the entire city. There's also live music, there are tons of restaurants, and a wide range of local shops.
It's the place to be if you want to experience the city's vibe or eat something delicious. There is even a Chinese restaurant, in case you had enough tagine.
10. Take photos with all the pretty doors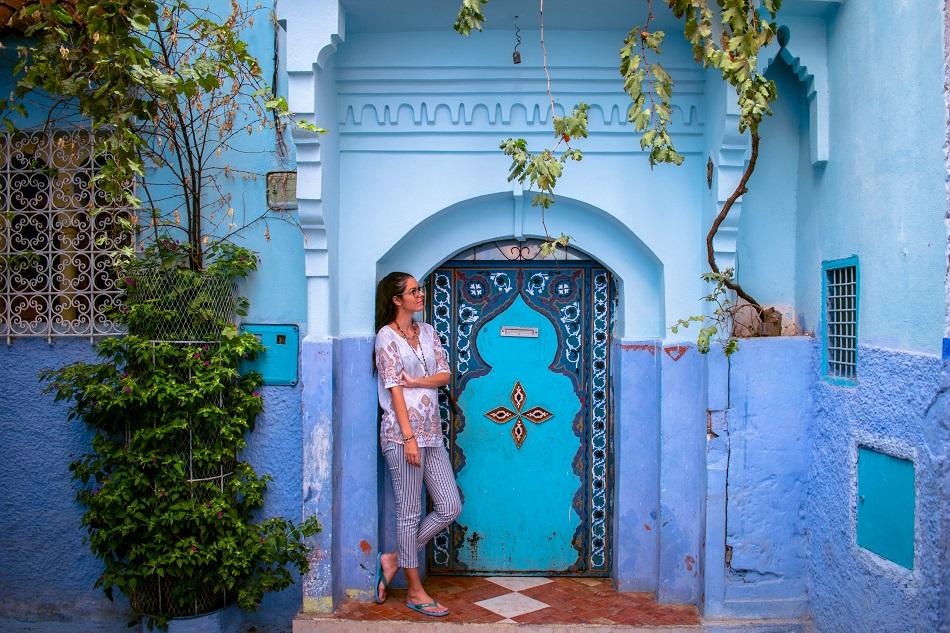 The doors in Chefchaouen are works of art. They have intricate details and come in various shapes. While exploring the city, pay attention to the doors and you'll find some incredible examples of Moroccan architecture.
Where to stay in Chefchaouen
Chefchaouen is a small city and finding the perfect accommodation can be challenging but I'm here to help you. I've been searching for the best options, for each budget. Here are my recommendations.
Budget – Dar Swiar – good location, awesome view towards the city, clean & spacious rooms
Mid Budget – Dar Elrio – good location, awesome view, breakfast included, friendly staff
Luxury – Dar Jasmine – great location, luxurious & spacious rooms, great amenities, breakfast included
If you were wondering about what to do in Chefchaouen, I hope that this article helped you. The Blue City is one of the most intriguing and fascinating places I've ever visited and I would gladly go back sometime. If you have any questions, don't hesitate to ask me in the comments section below.
May the travel bug bite you!
Disclosure: Please note that this post may contain affiliate links. If you make a purchase through these links, I will earn a small commission at no extra cost to you. I only recommend companies and products that I trust and the income goes to keeping this website running. Thanks!