I had the chance to visit Croatia a few years ago when I did a road-trip through the Balkans. As soon as I entered this beautiful country, I was amazed by its unique landscape and by the hidden gems I discovered.
Rocky mountains and hills were proudly guarding the sea, creating a unique view. As we drove along the seashore, we encountered countless hidden beaches in Croatia, away from the eyes of tourists but also more popular beaches situated close to well-known tourist attractions.
In this article I'm going to share with you the most beautiful beaches in Croatia. I'll divide them into the following categories – popular beaches in Croatia, secret beaches in Croatia and sandy beaches in Croatia. Here they are!
Best popular beaches in Croatia
If you don't mind the crowds, you're going to love these destinations. Surrounded by incredible views and with crystal-clear water, these are some of Croatia's top beaches.
These places are well-known by tourists and they can get pretty crowded. However, if you're a morning person you can avoid the crowds. Wake up early in the morning and you'll enjoy these beaches without hundreds of people surrounding you.
No time to read now? Pin it for later!
If possible, I also recommend planning your Croatian vacation outside of the peak season (summer). Try and visit in the early months of autumn or late months of spring when the temperatures are still perfect for swimming and sunbathing but the crowds are mostly gone.
1. Banje Beach – Dubrovnik
When thinking of Dubrovnik our mind goes directly to the picturesque City Walls. But what if you could enjoy some beach time with spectacular views of the Old Town? Banje Beach is located just a few minutes walk east from Ploče Gate, giving you the unique combination of sightseeing while swimming or sunbathing!
This distinctive feature makes it one of the most famous beaches in Croatia, which combined with its small size, turns into a packed place. Visit in shoulder season to make the most out of your trip – there's still great weather, and the crowds are gone!
Contributed by Coni from Experiencing the Globe
2. Zlatni Rat Beach – Brac Island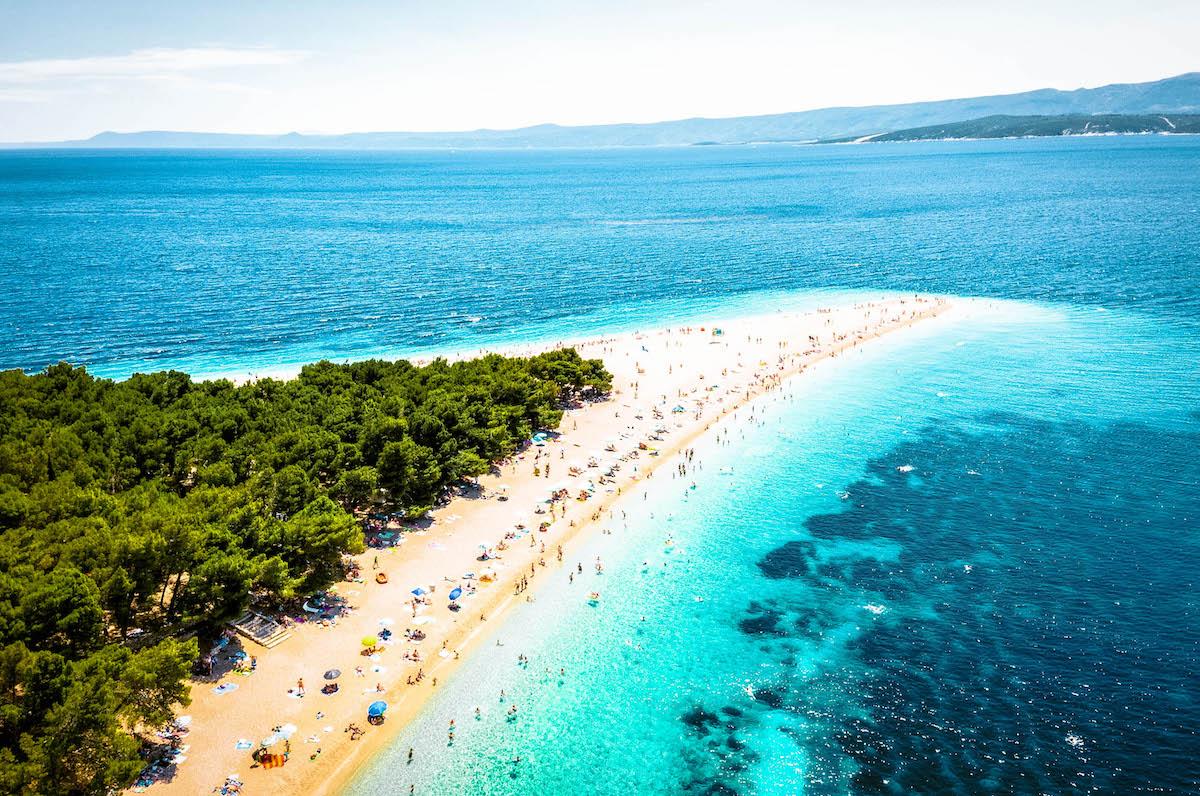 Zlatni Rat, located on the southern coast of the island of Brač – one of the best islands in the country, is known for its beautiful white pebble beach and crystal clear waters. It's one of the most picturesque beaches in Croatia and a popular place for tourists.
Also referred to as the Golden Horn because of its unique shape, this little strip of land that jets out into the surrounding sea is protected by law, thus guaranteeing a pristine environment and a unique tropical vacation. A pine forest envelopes the beach that is divided into two sections, separated by the sandbank. Situated less than 2 km from Bol it can be easily reached by car or a 20-minute walk along the seashore.
Contributed by Rai from Araioflight
3. Stiniva Beach – Vis Island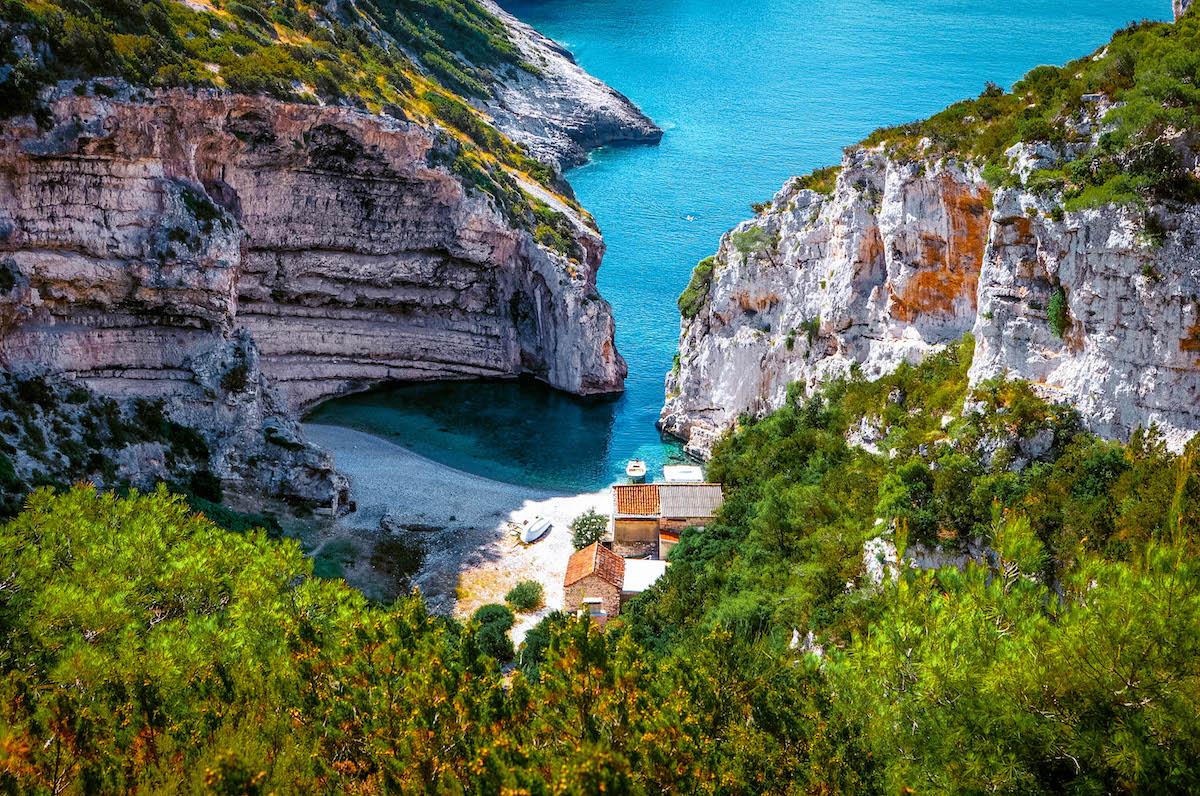 Stiniva Beach on Vis Island in Croatia is undoubtedly one of the most beautiful, unique, and peaceful beaches I have ever visited! It's voted the best beach in Europe time, and again for a reason, you see!
Stiniva is a gorgeous tiny white pebble beach covered by towering stone cliffs. Its inaccessibility is its selling point! The ideal and easiest way to reach Stiniva beach is by boat (you can book your tour here). It's accessible on foot too, but the trail is quite steep and demanding. Tourists, as well as locals, throng the beach during summer. Sunrise and sunset are the best times to enjoy the beach without crowds.
Contributed by Anjali from Travel Melodies
4. Punta Rata Beach – Brela
Brela is a city in the Makarska Riviera in Croatia known for its many beautiful beaches. The most famous one is Punta Rata Beach, with its famous sight Brela Rock (Kamen Brela). It was named one of the Top 10 most beautiful beaches in the world by FORBES Magazine. Right next to it is Podrače Beach, my favourite one, much smaller and cozier.
Even though the area is quite known for its beautiful beaches, it doesn't get so crowded that you can't lay your towel on the beach, and there's always more hidden beaches a few steps away. The closest main city is Split, which is located only 50 km away, making it an easy day trip.
Contributed by Guillem from Feast of Travel
5. Zrce Beach – Pag Island
I can't talk about the top Croatian beaches without mentioning the famous Zrce Beach. If you're a party animal, you know why this beach is worth talking about. With countless beach bars and music festivals, Zrce Beach is the place to be if you want to party.
This pebble beach was the highlight of my trip to Croatia. I hopped from one beach bar to another and I had the time of my life! You can also rent jet skis here and if you're an adrenaline junkie you can even bungee jump. Pag Island is full of unique places and is definitely one of the most beautiful islands in Croatia.
6. Pakleni Islands Beaches – Hvar Island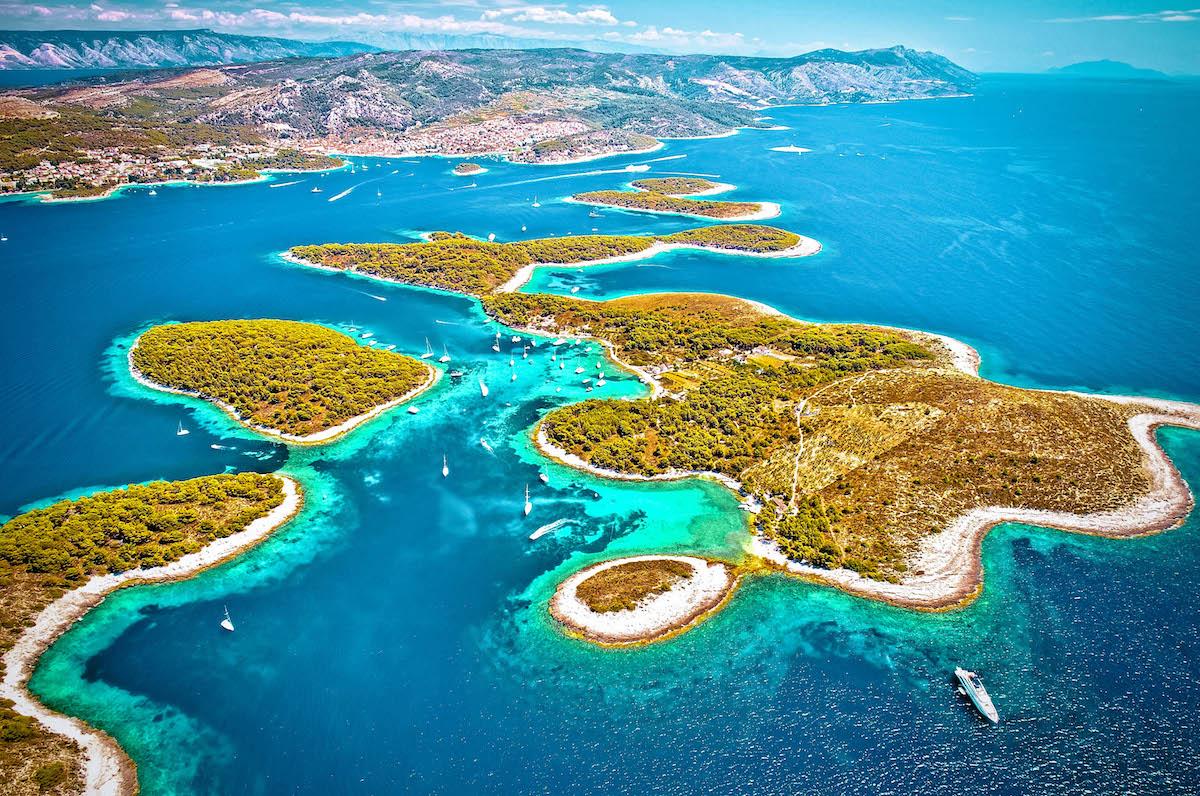 Join a day tour from Split to the incredible Pakleni Islands. These small islands have some of the most idyllic beaches in Croatia, perfect for sunbathing and swimming. Make sure to bring your snorkeling gear and explore the marine life!
If you want to avoid the crowds, I recommend renting a private boat from Hvar and exploring these beaches at your own pace. On Jerolim Island you'll find some pretty amazing nudist beaches. If you prefer to keep your swimsuit on, head to Carpe Diem Beach.
7. Makarska Beach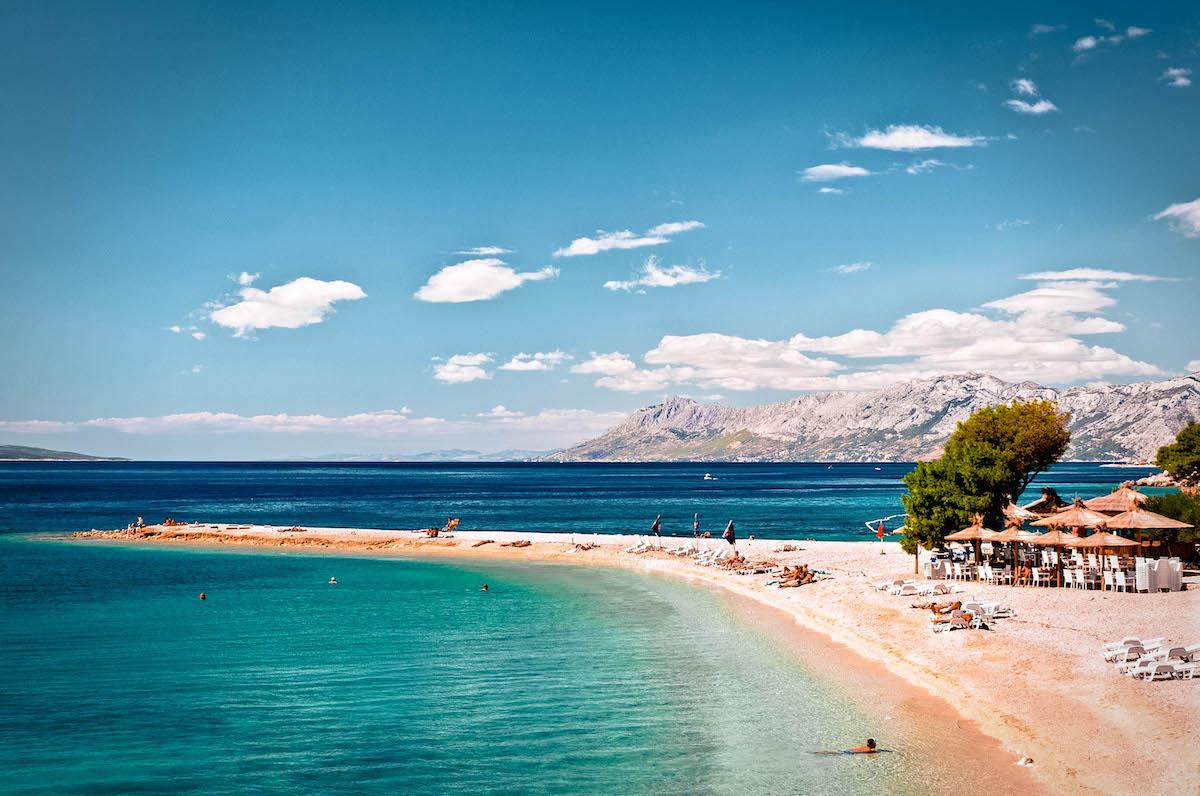 Offering incredible views, Makarska Beach is one of the best beaches in Croatia. There are many beaches on the Makarska Riviera but this one is one of the most popular ones, loved by tourists from all around the world.
Situated in Makarska City, this beach is close to many restaurants, shops and hotels. The water is crystal-clear, perfect for swimming and if you feel that the sun is too harsh, you can rent a sun-bed.
8. Vela Plaža Beach – Baska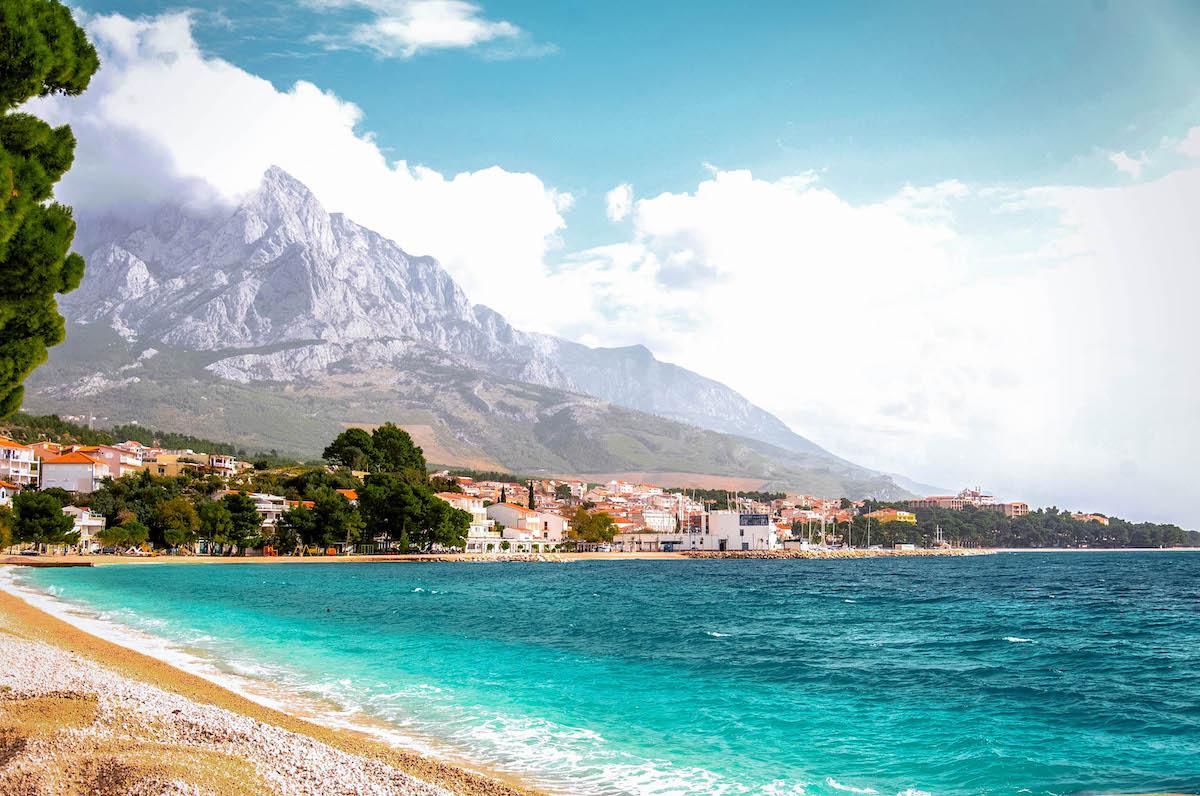 Croatia has many unique beaches along the coast and its 1250 islands. On the island of Krk you can find the beautiful beach of Vela Plaza near Baska. Vela Plaza aka Great Beach is an 1800 meters-long pebble beach that has been used for tourism since 1908 and has a Blue flag certificate that represents quality, safety, and environment.
Here, besides swimming you can rent stand-up paddle-boards, parasols or deck chairs. There are also showers on the beach and you can find a few bars and restaurants, just in case you get hungry.
Contributed by Dzangir from Drjam Travels
9. Mala Raduca Beach – Primosten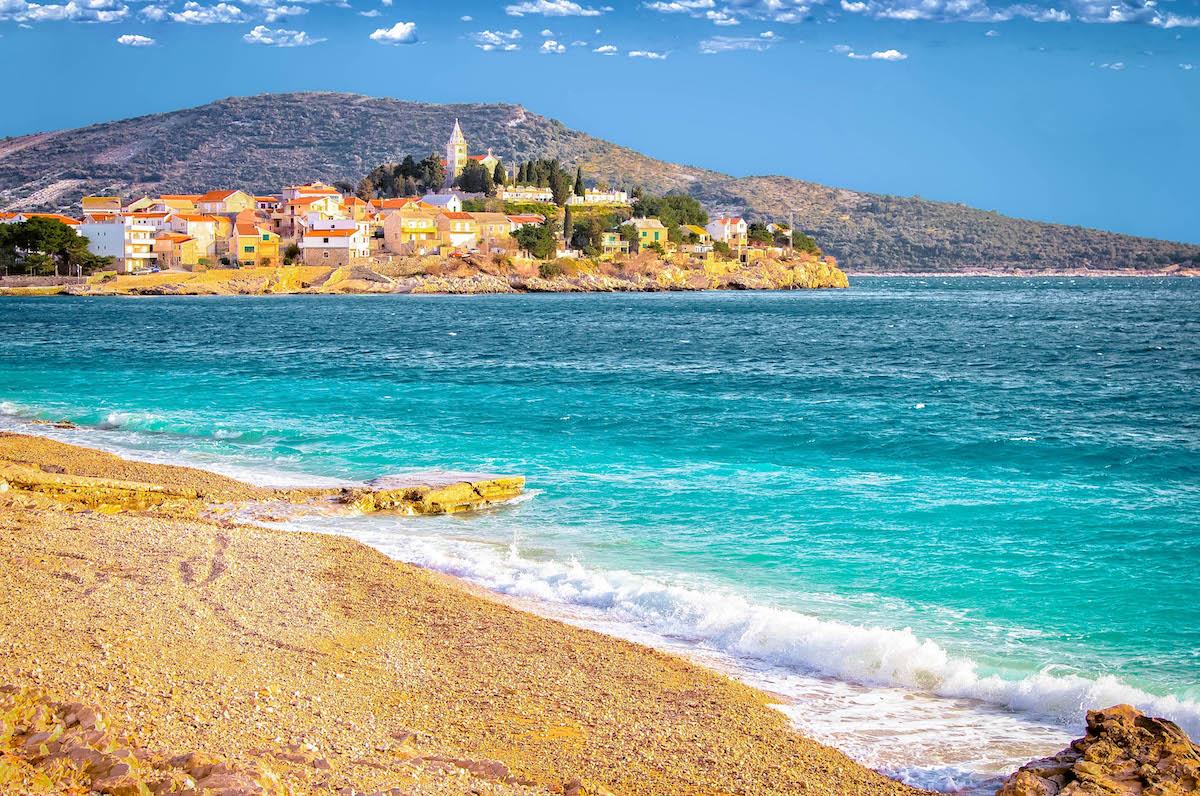 Primosten is one of the cutest Croatian coastal towns you can visit. Located on the Adriatic coast between Trogir and Sibenik, Primosten boasts many lovely beaches, out of which Mala Raduča is arguably the most beautiful and the most popular.
Most Croatian beaches are pebbly, and Mala Raduca is no different, so you will need water shoes to protect your feet. The beach is absolutely stunning, with a very gentle slope, and lots of room to laze under an umbrella that you can rent. Since the beach is close to the gates of the old town, you have a great view of the town from the beach.
The best thing about Mala Raduca is that it is located right off the waterfront promenade in Primosten, with easy access to cafes and restaurants. You can drive here or take the bus.
Contributed by Dhara from It's Not About the Miles
10. Uvala Lapad Beach – Dubrovnik
One of the unique beaches in Croatia, Uvala Lapad Beach is situated very close to Dubrovnik. You can easily reach it from the city either by foot or by bus. It's a beautiful pebble and sandy beach, very popular among both locals and tourists.
Nearby you can find lots of restaurants, hotels, and bars. Also, there are showers and other beach facilities at the beach that will make your life easier and your visit more enjoyable. Uvala Lapad Beach is also a popular spot to watch the sunset so don't forget your camera home!
While in Dubrovnik, don't hesitate to go on a kayaking tour. Explore the old city walls and admire them from a unique perspective!
Contributed by Dymphe from Dymabroad
11. Hula Hula Beach – Hvar Island
Hula Hula was made famous by Beyoncé, Jay Z and Prince Harry and it's considered part of the 100 best beaches in the world. With an amazing ambience, the crystal clear waters of Adriatic and the backdrop of Hvar, this beach should be on the list of every traveller.
Located on Hvar Island just a 15 minutes walk away from Hvar Port, this beach is home to the famous Hula Hula Beach Bar. Here you'll find sunbeds to rent (hint: Book well in advance of your visit). The drinks are great, the food delicious and the sunset pristine and perfect with music to match.
Contributed by Ucman from Brown Boy Travels
Best secret beaches in Croatia
If you're looking for off-the-beaten-path beaches in Croatia, you're in the right place. These beaches are among the hidden gems in the country and when visiting them you won't have to worry about the crowds.
They might be a bit harder to reach but the views are worth it! Bring your swimming suit, snorkeling gear and hop directly into the water! These are some of the most beautiful hidden beaches in Croatia.
12. Nugal Beach – Makarska
This incredible pebble beach is located just a short drive away from Makarska. Tucked away between tall cliffs, this is one of the most beautiful beaches in Croatia and Europe and the good news is that Nugal Beach is not crowded.
To get to it you'll have to climb down a rocky path but the effort will be worth it. You'll be rewarded with crystal-clear water, perfect for swimming! Keep in mind that half of the beach is for nudists – FKK.
13. Cista Beach – Pag Island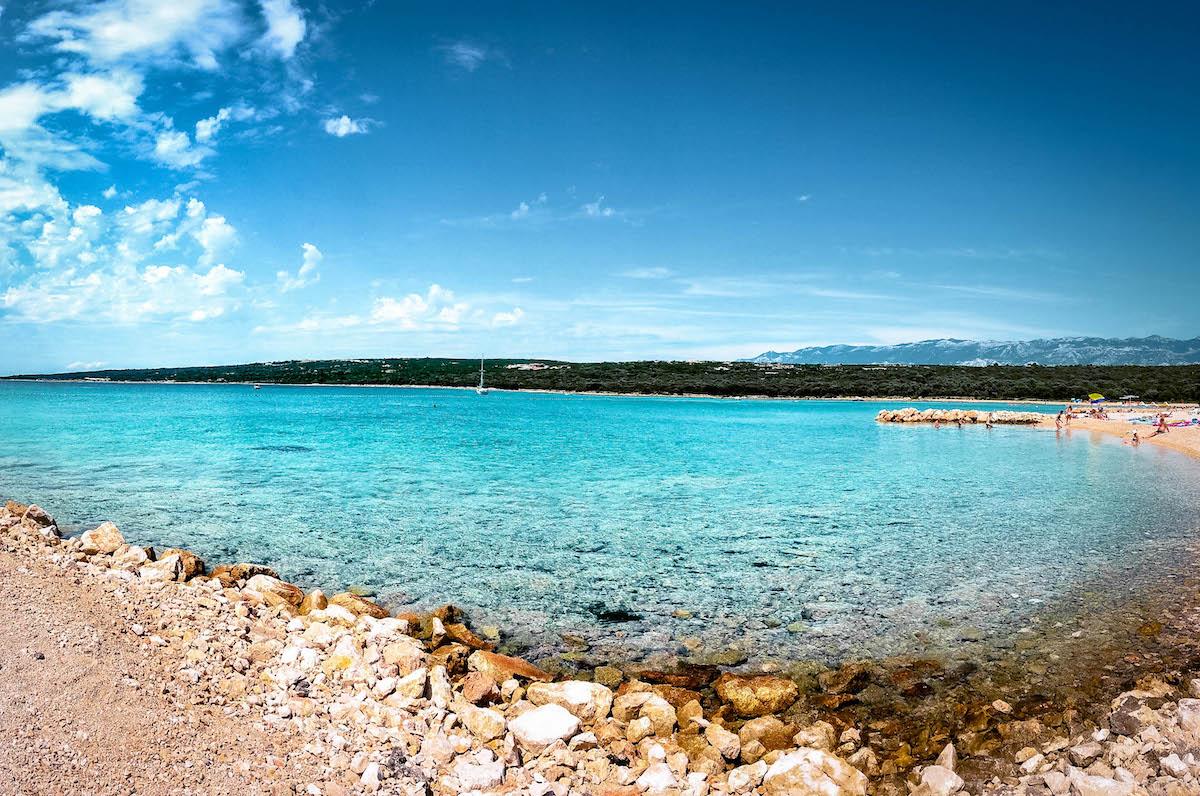 Roughly a 10-minute drive from the small town of Novalja on the island of Pag, you'll find Cista Beach. This beautiful beach is quite isolated, which makes it a great place to relax and get to know the locals.
Cista is a mix of sand and pebbles and is great for sunbathing and swimming. Because the water is quite shallow, it is well-suited for children. The beach is set-up with everything you need – public toilets and restaurant, as well as beach chairs, umbrella and paddleboat rentals.
Contributed by Natasha from the Great Ocean Road Collective
14. Jadrija Beach – near Sibenik
If you're interested in visiting secluded beaches in Croatia, you have to visit Jadrija, one of the beaches in Šibenik. Located on a peninsula just outside the historic city, it's a family-oriented seaside home-away-from-home.
While you can drive to this beach, the city encourages you to take public transportation – ferry. The ferry runs from the Riva in Šibenik, to the Jadrija dock, several times throughout the day every summer and costs only a few kuna each way.
Once you arrive, it's only a few minutes walk from the dock to the beach area, where you can lay on the mostly stone shoreline or swim in the waves. And, make sure you stop for a Croatian donut from the confectionary, right next to the water!
Contributed by Lyndsay from The Purposely Lost
15. Pasjaca Beach – South Croatia
One of Croatia's quiet beaches, Pasjaca Beach is situated near the village of Popovici, about 30 kilometres south of Dubrovnik. To get to this beach you'll have to climb down some steep stairs but even though this beach is a bit more difficult to reach, you'll be rewarded with some incredible views.
This is one of the hidden gems of Croatia, the perfect place for those looking for remote beaches, away from the chaos of big touristic attractions. Plan at least half a day to visit Pasjaca Beach and keep in mind that there are no restaurants on the beach.
-> If you're planning to backpack in Croatia, make sure to read this guide
16. Mali Bok Beach – Cres Island
There are many incredible beaches on Cres Island and Mali Bok is one of them. To get to this incredible hidden gem in Croatia you'll have to go down a steep path. This small beach is surrounded by tall cliffs, making you feel isolated from the rest of the world.
Mali Bok has a length of only 50 meters and there are no bars or restaurants on the beach. Make sure to bring some snacks and refreshments to keep yourself hydrated.
17. Marusici Beach – Marusici
This quiet place located south of Omis offers beautiful sandy and pebble beaches, away from the eyes of most people. Just near Marusici town you'll find many beautiful beaches, waiting to be explored.
Marusici is the perfect destination for those who are looking for a quiet place with all the facilities necessary for a perfect vacation (hotels, restaurants). Enjoy the beaches in Marusici and their crystal-clear water!
18. Pupnatska Luka Beach – Korcula Island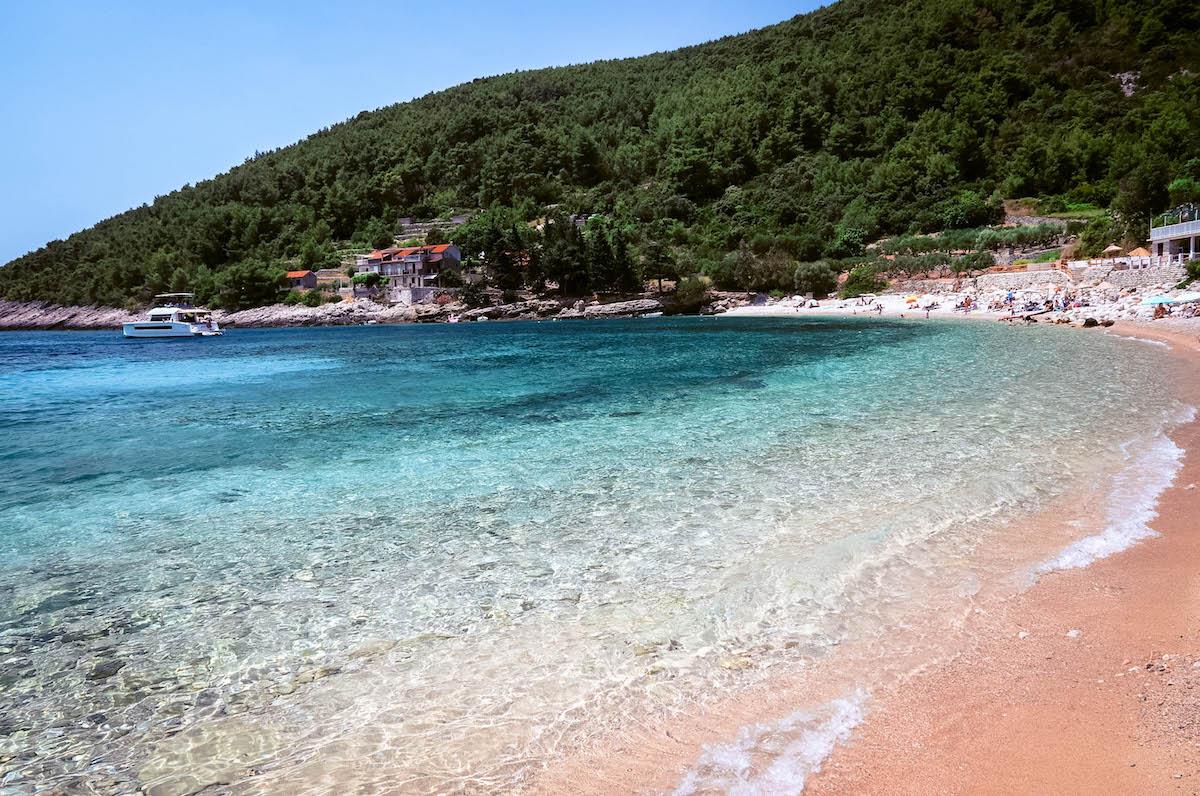 If you're looking for hidden beaches in Croatia, you have to add Pupnatska Luka Beach to your itinerary. Located only 15 kilometres away from Korcula Town, this incredible beach is located in a small view and is surrounded by pristine nature.
There are two restaurants nearby, offering grilled food and drinks. As there is no natural shade, you'll have to rent a sunbed and an umbrella for a few euros per day. If you're curious to find out which are the best islands in Croatia, read this article.
Best sandy beaches in Croatia
Most of the Croatian beaches are covered in pebbles or are located in rocky locations. As a tourist visiting this country, you need to understand that finding a sandy beach is a huge achievement.
Sometimes laying your towel on pebbles and walking on small rocks is not very comfortable. That's why I've been searching for the best sandy beaches in Croatia and below I'm sharing them with you. Enjoy!
19. Sakarun Beach – Dugi Otok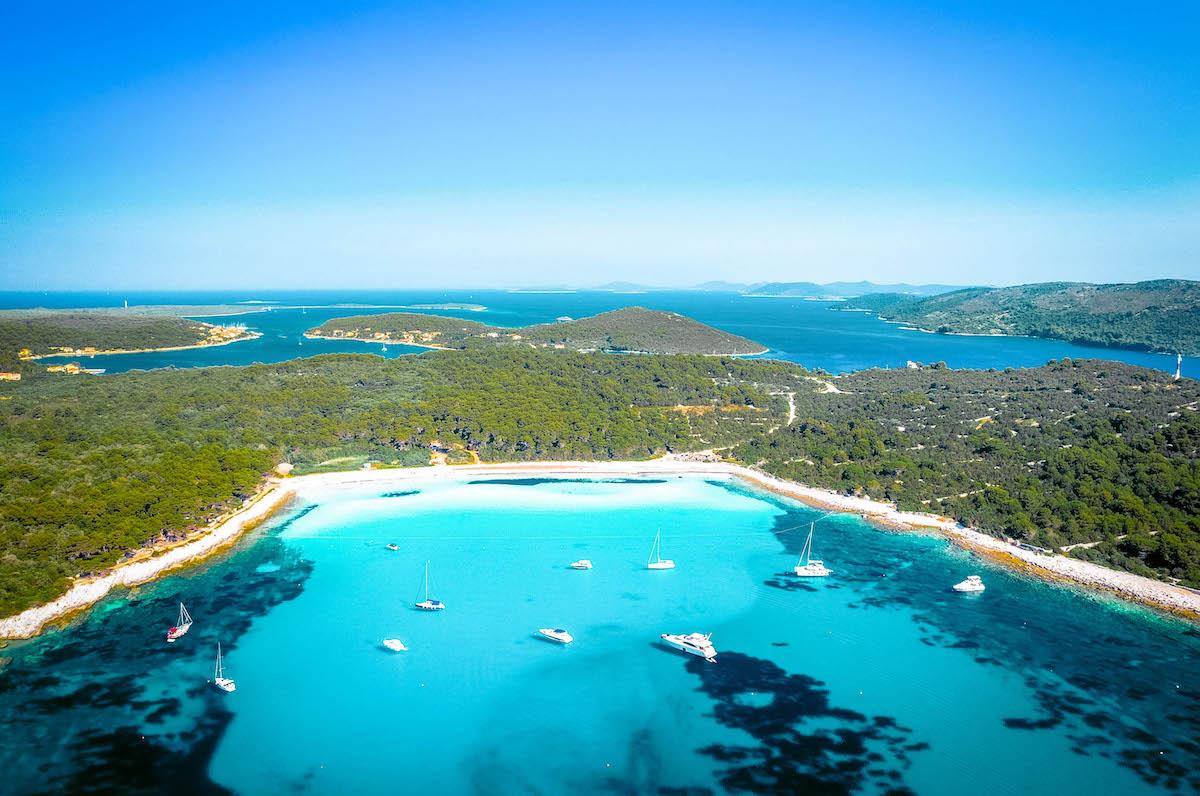 Croatia is one of the best solo travel destinations in Europe, with some of the most beautiful and unique beaches in the world. Located in the northwest tip of Dugi Otok Island, Sakarun Beach is easily accessible from Zadar by boat.
This 800-meter long picture-perfect beach is also named Saharun Beach and offers unique combinations of crystal clear waters, fine white sand, and a deep blue sky. There are no hotels on Sakarun beach which means that you won't find too many tourists here. However, you'll find some fast food stalls and small bars at each end of the bay.
Contributed by Trijit Mallick from Budget Travel Buff
20. Lovercina Beach – Brac Island
One of the best sand beaches in Croatia, Lovercina Beach is a hidden corner of paradise located in a beautiful bay on Brac Island. There's not much to do on this beach apart from relaxing and swimming.
The water is pretty shallow, perfect for swimming and for kids. There are no water sports available but the beauty of this place compensates for this.
21. Porat Beach – Bisevo Island
One of the most beautiful beaches in Croatia is the incredible Porat Beach on Bisevo Island. With only 15 permanent inhabitants, this island is a true natural paradise.
The beautiful beach of Porat is located in a small bay and it has one of the most beautiful sandy beaches in the country. There are two small restaurants on the beach, in case you get hungry.
22. Sunj Beach – Lopud Island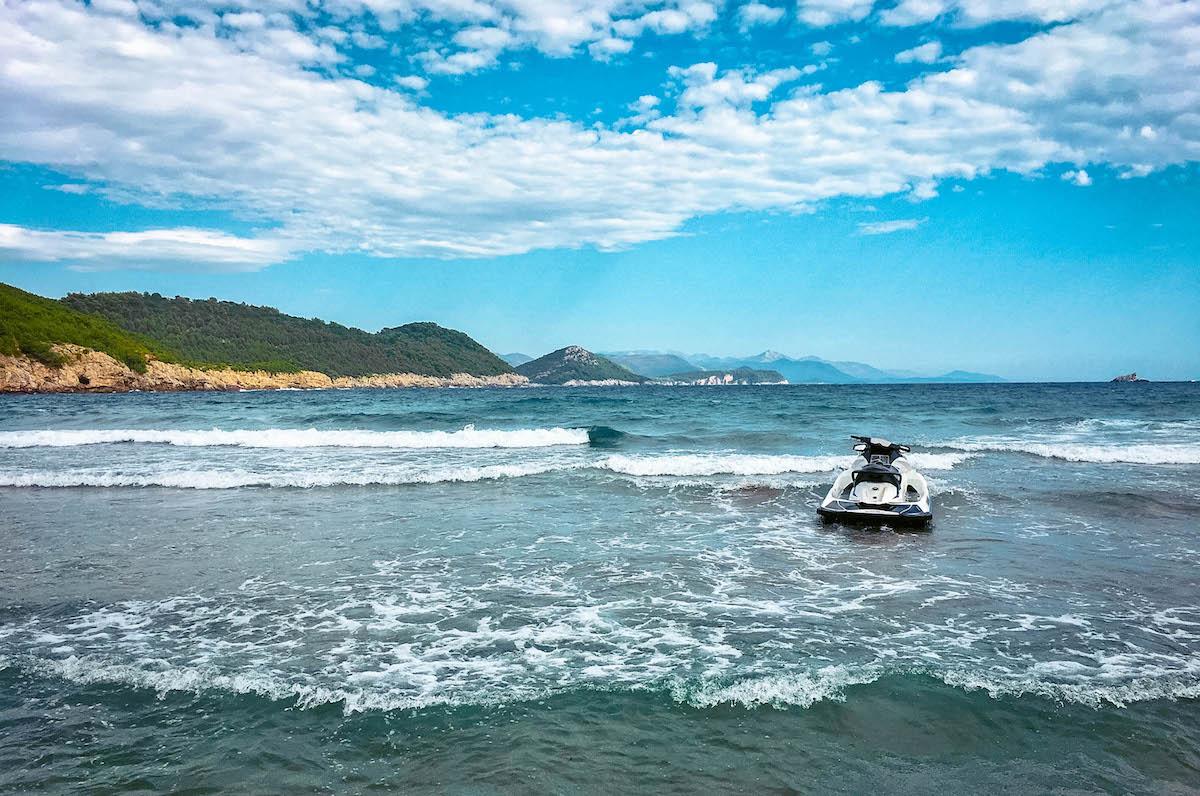 This beautiful sandy beach can get pretty crowded during the summer. If you'd like to avoid the crowds, visit it during shoulder season when the weather is still great but there aren't so many tourists.
Situated on Lopud Island, Sunj Beach is a popular place for both tourists and locals. There are a few bars on the beach and you can rent sunbeds and umbrellas.
23. Saplunara Beach – Mljet Island
Located in the southern part of Mljet Island, Saplunara is a beautiful sandy beach with crystal-clear water, perfect for swimming. Right near the beach you'll find a few restaurants where you can grab something to eat.
To avoid the sun, you can hide in the shade of pine trees or you can rent a beach umbrella. Saplunara is one of the most beautiful and underrated sandy beaches in Croatia and you should add it to your itinerary when visiting this beautiful country.
24. Bacvice Beach – Split
One of the most famous beaches in Split, Bacvice Beach is well-known for the game of Picigin. You'll see lots of people in the water playing it but don't worry, there's enough space for everyone.
If you want to avoid the sun, you can rent a sunbed and an umbrella. Bacvice Beach is the perfect place to relax after a day of sightseeing. While split, make sure to go on a boat trip to the incredible Blue Lagoon.
25. Paradise Beach – Rab Island
This almost 2-kilometres long beach situated on Rab Island is a true corner of paradise. It's the perfect place to spend a relaxing evening with your family. The water at Paradise Beach is quite shallow, perfect for children!
If you want to sleep under the stars, there is a camping resort right near the beach. There are also a few restaurants and bars where you can enjoy delicious local dishes.
Final thoughts
I hope you enjoyed these 25 beautiful beaches in Croatia. Being such a diverse country, with a diverse landscape, in Croatia you'll find pebble and sandy beaches, hidden gems and more popular beaches alike.
I plan to go back to Croatia as soon as possible and I hope to explore more amazing places. Meanwhile, if you want to read more about Croatia make sure to check out my guide about the best islands in the country and the most incredible hidden gems in Croatia.
If you have any questions about these top beaches in Croatia, let me know in the comments section below.
May the travel bug bite you!

Disclosure: Please note that this post may contain affiliate links. If you make a purchase through these links, I will earn a small commission at no extra cost to you. I only recommend companies and products that I trust and the income goes to keeping this website running. Thanks!