Known for its beautiful islands, rich history and incredible natural wonders, Croatia is a popular destination for tourists from all around the globe. I had the chance to explore Croatia for almost two weeks and I've visited some of its most beautiful cities and natural parks.
Being a diverse country, Croatia is the perfect destination for those looking for a relaxing holiday and for those looking for adventure alike. From beautiful castles to pristine beaches and impressive waterfalls, this country has something for everyone.
If you're planning to visit Croatia on a budget, you're in the right place. This guide will help you plan your trip and craft the perfect itinerary for your needs. Backpacking in Croatia is a wonderful experience and I'm sure you'll have a great time. Here is what you need to know!
1. Practical information about Croatia
Currency: Croatian Kuna (kn), subdivided in 100 lipa. $1 = 6.5 kn / €1 = 7.6 kn. For the latest conversion rates, use this website.
Time: GMT +1 hours
Capital city: Zagreb
Main language: Croatian
Main religion: Roman-Catholic
Telephone code: +385
Emergency numbers: General 112, Police 112 or 192, Fire brigade 112 or 193, Ambulance 112 or 194
2. Usual phrases in Croatian
These usual phrases might come in handy while backpacking through Croatia so make sure to save them on your phone. Even though most Croatians can speak a bit of English, it's always a good idea to memorise a few local phrases.
When in need, I recommend using the Google Translate app (Android and iOS).
Hello – Bok
Goodbye – Dovidenja
Thank you – Hvala
Please – Molim
How are you? – Kako si?
How much? – Koliko je to?
Sorry – Zao mi je
Yes – Da
No – Ne
I don't understand – Ne razumijem
3. Croatia visa information
EU residents do not need a visa to visit Croatia and they can stay up to 90 days in the country in any 6 months period. Other countries exempted from visas are the UK, the US, Canada, Australia and New Zealand. Visitors from these countries can visit Croatia for up to 90 days. It's important to know that EU residents only need a valid ID card to enter Croatia. Visitors from other countries will need a valid passport.
Even though Croatia is part of the EU, the country is not part of the Schengen Zone. To find out the latest information about visa requirements in Croatia it's best to ask your local authorities.
4. The best time to backpack in Croatia
As a general rule, the weather in inland Croatia is different from the weather in the coastal part. The winters are more harsh inland and you can even experience snow, while in the coastal parts of the country, the weather is generally warmer.
June to August – This is the busiest season. The weather is warm to hot, there are lots of tourists and almost every destination is packed with people. Even though the water is perfect for swimming and you might be tempted to travel to Croatia during these months, you must remember that this is when the prices are the highest. Expect to pay more for accommodation, food and pretty much any kind of service related to tourism.
October and May – These are the best months to backpack in Croatia. The weather is warm enough to enjoy the beaches and there are almost no crowds. Also, the prices are lower and you can easily travel on a budget.
November to April – In the coastal part of the country, the weather is relatively warm but not warm enough to swim or get a tan. However, if you're on a strict budget, this might be the perfect time for you. The prices hit rock bottom from November until April and you can easily enjoy a luxurious vacation at an affordable price.
5. Backpacking in Croatia – Budget
Croatia is not the most expensive country in Europe but it's not the cheapest either. If you know a few tips and tricks, you can easily save some money on entrance fees, accommodation and food but more about this below.
A realistic budget for backpackers in Croatia would be somewhere around $65 per day. This includes food, accommodation, entrance fees and transport.
If you want to stay within this budget, you'll have to sleep in hostels or go camping. If you enjoy sleeping under the stars, camping is an excellent option. There are many campings across Croatia and prices start at 15 euros per day.
For a meal at a mid-range restaurant, expect to pay somewhere between 10 and 15 euros. Entrance fees start at around 3 euros and a long-distance bus (for example from Zadar do Zagreb) costs around 15 euros.
If you want to travel on a budget in Croatia, you'll have to give up drinking and partying every night. Alcoholic beverages are quite expensive and you should expect to pay around 2 euros for a beer.
6. Croatia money-saving tips & tricks
If you want to keep your budget in check while backpacking in Croatia, below are a few tips and tricks that will help you save lots of money.
Avoid the touristy season (June to August) – this is the busiest period when the prices are the highest. If you want to save money in Croatia, travel anytime between September and May.
Avoid restaurants in touristy areas – always choose smaller, family-owned restaurants, where you see lots of locals. They're cheaper and the food is usually better.
Take a free walking tour – these tours are usually tip-based and you can choose the amount you want to tip. You'll discover the history of your location at an affordable price.
Hitchhike – you can try hitchhiking but keep in mind that it's not very common in Croatia. Hitchhiking is a good idea only if you have a loose schedule.
Visit one of the free museums – There are a few museums across Croatia that are free to visit. Here are some other awesome free tourist attractions across the country such as the Zadar Sea Organ, the Diocletian's Palace in Split and the Rijeka Carnival.
7. Public transport in Croatia
Even if you're traveling by car, you'll still need to use some kind of public transport at one point or another. When visiting the islands, you'll need ferries or when visiting smaller cities, you'll need buses.
If you don't have a car, the cheapest way to travel in Croatia is by bus. In the following section I'll tell you everything you need to know about each form of public transport in Croatia.
No time to read it now? Pin it for later!
Hitchhiking in Croatia
I visited Croatia by car so I never had to hitchhike. However, I spoke with a few fellow travelers and I've heard conflicting stories.
Some say that it was super-easy to hitchhike and that they found cars as soon as 10 minutes, others say that it was pretty hard to find a car and that they've waited for hours.
I think it all comes down to the area where you're trying to hitchhike. Choose populated places, with decent traffic and always stay alert. If you feel that something's not right, wait a bit more.
Buses in Croatia
The most popular mode of transport in Croatia is the bus. You can use it to travel between big cities and more remote areas alike. Keep in mind that during summer, buses can get pretty crowded.
To give you an idea, a bus ticket from Zagreb to Dubrovnik costs between 190 and 230 kn. Also, a bus ticket from Split to Dubrovnik will set you back somewhere between 100 and 130 kn.
Traveling by bus in Croatia is comfortable. Most buses are modern and have air conditioning. There are also a few night buses, that can help you save some money (you won't have to pay for accommodation for that night).
Good to know – You might be asked to pay extra for your luggage (5-10 kn)
Trains in Croatia
Trains are comfortable and affordable but they're not the fastest means of transport available. Apart from domestic trains, there are a few international trains, connecting Zagreb to cities like Budapest, Ljubljana and Munich.
If you only have a few days to spend in Croatia, I recommend using the bus system. Trains usually take longer.
When it comes to prices, the trains are quite affordable. For example, you'll pay 208 kn for a train ride between Zagreb and Split. However, prices will depend on the type of train you choose (ICN intercity, brzi fast, or putniki passenger).
Air travel in Croatia
Domestic air travel is quite popular in Croatia. If you want to save time, you can take the plane between cities like Zagreb, Split, Dubrovnik, Pula and Zadar. Plane tickets are more expensive than bus or train tickets but at least you'll save a few hours.
If you want to save some money, I recommend booking your plane tickets in advance. However, this will mean that you won't be able to have a flexible schedule.
Ferries in Croatia
If you want to visit any of Croatia's beautiful islands, you'll most probably need to take the ferry. Depending on your destination, a ferry ride can take anywhere between half an hour and a few hours.
You can even take a ferry to Venice from either Pula, Rovnij or Porec.
8. Backpacking in Croatia – the best destinations
Backpacking Dubrovnik
Dubrovnik is one of the most beautiful towns in Europe and one of the busiest too. It's beautiful, it has a breathtaking architecture, a lot of history and it's the shooting place of a few scenes from the famous tv series Game of Thrones.
I spent two days in Dubrovnik and I fell in love with the city even though I hated the crowds. If you can, try to visit it during the off-season. Apart from having the chance to explore it without the thousands of tourists, prices will also be lower.
Even though most of the people say that one day is enough to explore Dubrovnik, I recommend spending two days here. Take your time to climb on the city walls and admire the views, get lost on the narrow streets and take the cable car to the top of Srd Hill. Near the cable car station you'll find the Museum of Croatian War of Independence, just in case you're passionate about history.
If you want to admire the best view of Dubrovnik, head to Lovrijenac – my favorite place in the city. This small seaside fortress is simply stunning.
Backpacking in Dubrovnik will be one of the highlights of your trip. The city is beautiful and it has a lot to offer in terms of sights and history.
If you have more time to spend in the area, I recommend visiting the nearby Lopud and Kolocep Islands. Both can be visited as a day trip from Dubrovnik or, if you have more time, plan a few days in these off-the-beaten-path destinations in Croatia.
Must-see tourist attractions in Dubrovnik – City Walls (200 kn), Dubrovnik Fortress (80 kn), Dubrovnik Cable Car (16- kn) or choose to hike instead, explore the old town
Where to stay in Dubrovnik – Guest House Tomasi – Good location, clean rooms, friendly staff, private bathroom, good value for money
Day trips from Dubrovnik
Backpacking Split
Split is another popular destination in Croatia. I only had one day to explore the city but it was enough. The Old Town is quite small and it can be explored on foot in just a few hours.
Head to Diocletian's Palace, explore the small souvenir shops and then have something to eat at one of the local restaurants. At sunset, take a walk along the harbour and enjoy a delicious ice-cream.
If you have more time, take a ferry from Split to Hvar, one of the most beautiful islands in Croatia and enjoy a relaxing day. Hvar is pretty expensive since mostly rich people come here in their superyachts. If you want to save some money, bring your own food and drinks.
Must-see tourist attractions in Split – Diocletian's Palace, Cathedral of Saint Domnius and the Bell Tower (45 kn), take a walk along the Riva promenade
Where to stay in Split – Backpacker's Fairytale Hostel – good location, clean and spacious rooms, good amenities
Day trips from Split
Backpacking Zadar
To be honest with you, Zadar was my least favorite city in Croatia. However, this doesn't mean that it's not worth visiting. Located on a beautiful peninsula, guarded by tall walls, Zadar is a city full of history.
One thing that I liked about Zadar was that it has a more laid-back vibe compared to Dubrovnik or Split. Apart from the countless historical sites, an interesting place to visit is the famous Sea Organ. The stairs produce different sounds, depending on how the waves hit them. It's pretty interesting and relaxing.
Must-see tourist attractions in Zadar – Zadar Archaeological Museum, Zadar Old Town, Sea Organ, People's Square,
Where to stay in Zadar – Sky Hostel – good location, great amenities, friendly staff, clean rooms and bathrooms
Day trips from Zadar
Backpacking Plitvice Lakes
When it comes to natural beauty, not many places can beat Plitvice Lakes. The wooden bridges crossing over the beautiful waterfalls with turquoise water create a stunning landscape.
Walking through Plitvice Lakes feels like walking into an exotic forest, in the middle of the jungle. It's a breath of fresh air from the cities and the perfect place to slow down and relax.
Visiting the park will take an entire day. There is even a big lake where you can rent a boat and enjoy the views. The whole national park is truly unique and the views are breathtaking
Make sure to wear comfortable shoes. There are parts of the park where you'll have to follow a trail and walking in slippers will hurt, trust me. The entrance fee is 200 kn per person. For more info, click here.
Where to stay near Plitvice Lakes – Guesthouse Nikolina – clean and spacious rooms, friendly hosts, beautiful garden
Backpacking Zagreb
Most of the tourists skip Zagreb when visiting Croatia. They're heading directly towards the beaches and the islands and that's a shame. Zagreb is a beautiful city, with a lot of history and I recommend spending a few days here, if time allows you.
If you're looking for unique places, stop at the Museum of Broken Relationships (40 kn). Here you can admire all kinds of objects that once were the symbol of thriving relationships.
The public transport works great in Zagreb. For example, a bus ticket from the airport to Zagreb Central Bus Station costs 35 kn. If you want to use the bus inside the city, I recommend buying tickets from ZET shops or authorized vendors (Tisak, iNovine). A ticket will costs 4 kn for 30 minutes, 7 kn for 60 minutes and 10 kn for 90 minutes.
Must-see tourist attractions in Zagreb – Zagreb Cathedral, Dolac Market, Gradec, Jelacic Square, Tkalciceva Street
Where to stay in Zagreb – Swanky Mint Hostel – great location, modern rooms, clean bathrooms, friendly staff
Day trips from Zagreb
Other places in Croatia
There are so many other beautiful places in Croatia apart from the ones mentioned above. You'd probably need a few months to visit them all!
In the northern part of the country I recommend visiting Pula and its beautifully preserved Pula Arena, Varazdin and its beautiful castle and Pag Island with its crazy Zrce Beach, popular for parties.
-> Check out these 21 hidden gems in Croatia!
If you're into hiking, you can enjoy some splendid hikes in the Dinaric Alps. You won't find many people here, not even locals.
Other places worth visiting are:
Krka National Park
Rastoke
Sibenik
Pazin
Motovun
Primosten
Omis
Medulin
Betina
-> For the most beautiful islands in Croatia, click here.
9. Awesome itineraries for backpacking Croatia
Depending on how much time you have at hand, choose the most suitable itinerary from the ones below. You can twist these Croatia backpacking routes any way you like!
Good to know – If you're a bigger group (3 to 5 people) it would be a good idea to rent a car. It's more convenient and more affordable. Otherwise, you can get around using public transport.
9.1 Croatia backpacking itinerary – 5 days
Dubrovnik – Split – Hvar/ Krka National Park – Trogir
5 days in Croatia is not a lot of time but it's enough to see some of the highlights of the country. This itinerary is perfect for those who want to see three of the most beautiful cities in Croatia and also enjoy some of the country's natural beauty.
You'll start your trip in Dubrovnik where you'll spend 2 days. Explore the old city, search for the filming locations of Game of Thrones, and take the cable car to Srd Hill. If you can, avoid eating at restaurants inside the old city. The prices are almost double than regular restaurants.
After exploring Dubrovnik, take the bus to Split (4 hours, around 120 kn) as early as possible. One day is more than enough to explore the small yet beautiful Old Town of Split.
The next day, hop on a ferry and take a day trip to Hvar or take a day trip to Krka National Park. If you choose Hvar, keep in mind that restaurants in Hvar are quite expensive so I recommend bringing your own food and snacks. Explore the city for an entire day and admire the views from the Spanish Fortress (50 kn).
If the budget allows you, take a sunset cruise at the end of your trip. You'll sail between beautiful islands while drinking wine. Life can't get better than this.
If you're a nature lover and choose Krka National Park, you can choose a guided tour and you won't have to worry about transport and entrance tickets. It's convenient and affordable!
On your last day of backpacking in Croatia, head to Trogir for a few hours and explore this lesser-known destination. The Old Town is small, perfect to be visited on foot.
At the end of your journey, you can fly back home from Split or continue your journey to one of the nearby countries such as Bosnia and Herzegovina, Montenegro or Serbia.
9.2 Croatia backpacking itinerary – 1 week
Dubrovnik – Split – Hvar – Krka National Park – Sibenik – Zadar
If you're planning to backpack in Croatia for one week, you'll have time to squeeze in more awesome places. Follow the first part of my 5-day itinerary (Dubrovnik – Split – Hvar – Krka National Park) – see above – and add the beautiful towns of Sibenik and Zadar.
Sibenik is one of the off-the-beaten-path destinations in Croatia. After visiting Dubrovnik and Split, two very touristy destinations, Sibenik will feel like a breath of fresh air. Head to the Sibenik Cathedral, visit the Barone Fortress and take a stroll on the beautiful Sibenik Promenade. One day is more than enough for all these activities.
From Sibenik take the bus for about one hour and head to our last destination, Zadar. I recommend walking around the Old Town. Explore its narrow streets, beautiful souvenir shops and historical buildings. At sunset, head to the famous Sea Organ and listen to the music of the waves.
9.3 Croatia backpacking itinerary – 10 days
If you're looking for the perfect 10-day Croatia itinerary, you're in the right place. Follow my advice and you'll marvel at some of the most beautiful destinations in the country.
Dubrovnik – Split – Supetar – Krka National Park – Sibenik – Plitvice Lakes – Rastoke – Zagreb
Spend 2 days in Dubrovnik, exploring the Old City and then head to beautiful Split for one day. If you want to visit an off-the-beaten-path destination, take a day trip from Split to Supetar.
Supetar is very small but you can also visit the nearby Splitska, another beautiful town with gorgeous architecture. If you want, head to Babin Laz Beach and enjoy the sun for a few hours!
As an alternative to beautiful Supetar, you can visit Hvar. However, be aware that Hvar is a busy and expensive destination. The next day, take a day trip from Split to the impressive Krka National Park and admire the turquoise lakes and stunning waterfalls. Don't forget your swimming suit home!
From Krka, head to Sibenik. Explore the Old Town and the cathedral and then head to one of the most visited tourist attractions in the country – Plitvice Lakes.
Plitvice Lakes can be visited in one day. Explore the entire national park and admire this unique collection of waterfalls and lakes. If you want to spend another day in the area, head to Rastoke. Otherwise, continue your journey to Zagreb and spend one or two days (depending on how much time you have left) exploring the city.
9.4 Croatia backpacking itinerary – 2 weeks
Dubrovnik – Split – Supetar – Krka National Park – Sibenik – Plitvice Lakes – Rastoke – Motovun – Zagreb
If you plan to backpack Croatia for 2 weeks, follow the 10-day itinerary detailed above and add another stop before heading to Zagreb – Motovun.
Not many tourists get here but Motovun is truly a unique place. Situated on a beautiful hill, Motovun is a picturesque settlement famous for its old town and delicious truffles. While in the area, head to one of the local restaurants and taste them!
9.5 Croatia backpacking itinerary – 1 month
Dubrovnik – Mostar – Omis – Split – Hvar – Trogir – Sibenik – Zadar – Pag Island – Plitvice Lakes – Rastoke – Krk Island – Motovun – Pula – Zagreb
Ok, if you're planning to spend one month in Croatia please take me with you! With so many beautiful places to explore, you'd need one year to explore the entire country but one month is definitely enough to see all the must-see tourist attractions in the country.
I've added to this itinerary the beautiful city of Mostar, in Bosnia and Herzegovina. I visited it and I fell in love with its unique architecture and famous Stari Most Bridge. If you're lucky enough, you can even see brave people jumping from the bridge directly into the river. Quite a unique view!
10. Best islands to backpack in Croatia
If you're one of those backpackers who want to spend as much time as possible at the beach, you need to visit at least a few of Croatia's beautiful islands. Here are the best islands for backpackers in Croatia that include some of the best beaches in the country!
Pag Island
Known for its beautiful beaches and crazy parties, Pag is a stunning island with a lot to offer. You can visit the olive gardens, try jet-skiing or simply get a tan at the famous Zrce Beach. Here you'll find many cool beach bars.
Krk Island
Among the best islands in Croatia is Krk Island, a hidden corner of paradise where you can go on island hopping tours, explore medieval towns and pristine beaches.
Korkula Island
Get lost in the beautiful town of Korkula and visit the villages of Lumbarda and Blato. Korkula is the perfect destination for those who love nature and off-the-beaten-path destinations.
Vis Island
If you want to get away from the hustle and bustle of Croatia's touristic destinations, head to Vis Island. With an incredible culture and unspoilt nature, Vis Island is a must-see.
11. Food in Croatia
The Croatian cuisine is delicious! However, over the years it has been influenced by flavours from the nearby countries which means that in Croatia you'll also find dishes borrowed from other countries.
Below are a few yummy dishes that you need to try when backpacking through Croatia.
Brodetto – this delicious fish stew is made with vinegar and tomato sauce. It used to be cooked by fishermen with the catch of the day.
Fritule – Similar to doughnuts, these pastries have different recipes, depending on the region.
Peka – Similar to tajine, Peka is a delicious Croatian dish made with meat and vegetables, cooked in an iron or terracotta lid.
Black risotto – You'll find this dish almost anywhere. The risotto gets its black color from squid ink. This dish often comes with a side of seafood.
12. Internet in Croatia
Internet in Croatia is widespread and has good speeds. It's estimated that in 2016, almost 75% of the population was using the internet.
Almost every hotel and restaurant offers free Wi-Fi connection and there are also several hotspots around big towns. Here's a map with all the hotspots in the country.
If you're on a budget and don't want to spend money on a sim card with internet connection, you can easily survive only using the hotspots available. However, if you'd like to have internet at your disposal, I recommend getting a sim card. They're pretty affordable.
Good to know – If you already have an EU sim card (a sim card bough from another EU country), you can use it in Croatia without further costs.
For more details about sim cards and fees in Croatia, I recommend checking out this article. It has all the information you might need.
13. What to wear in Croatia
You can wear anything you like in Croatia. In the summer I recommend loose and comfortable clothes since the temperatures can get pretty high!
Always bring a scarf with you to cover your shoulders. Trust me, you don't want to walk in 40 something degrees with your shoulders in the sun. Also, make sure to bring a hat with you and lots of sunscreen.
14. Language barrier
Most Croatians, especially the younger generation speak English. You shouldn't have any problem getting by with English, especially in touristic areas. A good rule of thumb would be to always ask for directions or help from young people as they're more likely to speak English.
Also, many Croatians speak other languages too. About 39% speak German and 23% speak French.
15. What you need to know about the Croatian people
Croats, also known as Croatians, are some of the friendliest people in Europe. They'll do anything in their power to help you and warmly welcome you in their country.
If you'll ever get the chance to be invited inside a Croatian home, you'll notice that the host will offer you only the best food and drinks. They just want to make sure that you're feeling comfortable and that you're well fed in their home.
Croatians are also very proud of their traditions. You'll notice that there are many traditional festivals around the country and the locals are super-excited to attend them.
16. Is Croatia safe?
Crime levels are low in Croatia but this doesn't mean that you should leave your guard down. As a general rule, avoid getting drunk and wandering around empty streets. This is my recommendation no matter what country you're visiting.
Although it happens rarely, be aware of pickpocketing. Always keep your valuables with you and never leave your stuff unattended on the beach when going for a swim.
I recommend buying an anti-theft bag and using it whenever you're traveling. It's one of the best investments you can make.
Good to know – forest fires are common during summer. Avoid spending long periods in the forests and always make sure to properly extinguish your cigarettes.
17. Festivals and events in Croatia
If you love music and fun, you have to choose carefully the period when you're backpacking in Croatia. Maybe you'll squeeze in your itinerary some cool festivals too!
Here are the most popular festivals in the country.
Ultra Europe – Split – over 150,000 people come to this festival each year to listen to the most famous DJs
Outlook Origins Festival – Tisno – the location of this festival will surprise you each year!
Love Week Festival – Pag – one of the coolest outdoor festivals that lasts no less than one week!
18. Travel insurance for backpacking in Croatia
No matter where you're traveling to, you need travel insurance. You'll need it when you least expect it. I used mine in Bali when I suspected a tick bit me and Dan used his in Morocco when he got the worst food poisoning.
I recommend getting insurance from World Nomads but you can use any other trustworthy service.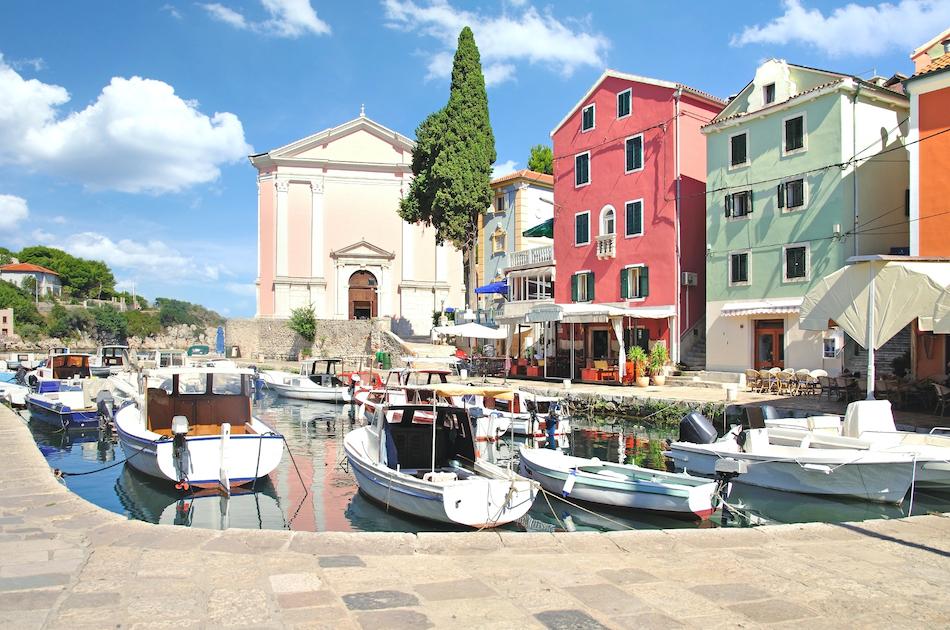 19. A short history of Croatia
Visiting Croatia on a budget sounds like a great plan but to fully enjoy this experience, you have to know a few things about the country you're visiting and its history and I'm here to help you! Here are a few facts about Croatia's history that you should know.
The Duchy of Croatia and the Duchy of Pannonian Croatia first formed the nation known as Croatia. Later, they were united into the Kingdom of Croatia which lasted from 925 until 1018.
Following the First World War, Croatia was incorporated into Yugoslavia. Later on, after Germany invaded Yugoslavia in the Second World War, the independent Croatian state was established.
It's amazing to think about all the things that Croatia went through and yet, nowadays it's one of the most developed countries in Europe.
20. Final thoughts
If you want to visit Croatia on a budget, I hope that this guide helped you. Backpacking through Croatia is definitely a unique experience and I'm sure that you'll fall in love with this country.
Public transport works great so you won't have any problems getting from one city to another. Just make sure to take lots of photos, eat lots of local dishes, and enjoy a few conversations with the locals.
Oh, and visit as many beaches as you can! Croatia is famous for its pebble beaches but with a bit of research, you can also find sandy beaches. For the best beaches in the country, check out this guide!
Let me know if you have any questions in the comments section below!
May the travel bug bite you!
Disclosure: Please note that this post may contain affiliate links. If you make a purchase through these links, I will earn a small commission at no extra cost to you. I only recommend companies and products that I trust and the income goes to keeping this website running. Thanks!