Dallas is one of the most popular metropolitan areas in Texas. It is a bustling city with a lot to offer to its residents, a rich history, and a diversified culture that attracts newcomers daily. Although it can be hot and humid in the summer, there are plenty of things to do in Dallas. You can go shopping at world-renowned malls, watch a Cowboys game at AT&T Stadium, or visit one of the city's many museums.
There are a lot of things to do in Dallas, but if you're looking for a change of scenery, there are plenty of places to visit near Dallas, as a day trip. Whether you're looking for natural beauty or historical landmarks, these destinations have something for everyone. So, load up the car and get ready for an adventure.
1. Top day trips from Dallas
1.1 Forth Worth, Texas
If you're looking for an amazing place to visit near Dallas, I recommend Forth Worth. The city is well-known for its cowboy culture, but at the same time it's a very modern destination.
If you like art, I recommend visiting the Cultural District which is home to many museums and cultural spaces such as the Will Rogers Memorial Center, Dickies Arena or Casa Manana. Other tourist attractions worth visiting in Forth Worth include the Stockyards National Historic District, the Forth Worth Water Gardens and many others.
Distance by car – 40 minutes
1.2 Beavers Bend State Park, Oklahoma
Beavers Bend State Park is one great example of natural beauty near Dallas. This incredible natural park is located only 3 hours away from Dallas and is well worth visiting if you're looking for beautiful views, fresh air and exciting outdoor activities.
Visitors can hike or bike the park's many trails, paddle the river, go fishing, or take a scenic drive through the forest. There's also an excellent playground for kids and some cabins and lodges available for overnight stays.
Distance by car – 3 hours
1.3 Athens, Texas
Just one hour south of Dallas lies Athens, Texas – a small town with a lot to offer for those searching for the best day trip from Dallas. It is a pedestrian-friendly city that is easy to explore on foot.
There are numerous fascinating boutiques and galleries in the downtown area and the town also has a thriving farmer's market where you can buy everything from clothing and crafts to fresh produce and baked goodies. There's usually some kind of live entertainment or show going on as well, such as petting zoos and livestock displays.
Also, Athens Scuba Park is a must-visit destination in the town. This park features a lake with plenty of interesting creatures to see, making it perfect for diving beginners and experienced divers alike.
Distance by car – 1 hour 10 minutes
1.4 Turner Falls State Park, Oklahoma
Turner Falls State Park is a must-see for everyone searching for spectacular Dallas day trips. It's located in Davis, Oklahoma, and is suitable for a fun and family-friendly getaway outside of Dallas, in the middle of the Arbuckle Mountains. It's easy to spend a whole day there, with plenty of hiking routes, picturesque vistas, and a 77-foot waterfall to enjoy.
The park offers plenty of options for recreation, including hiking and nature walks, fishing, kayaking, and camping. There are other restaurants around if you feel hungry or thirsty.
Distance by car – 2 hours
1.5 Davy Crockett National Forest, Texas
One of the best places to visit near Dallas is Davy Crockett National Forest which offers a peaceful escape from the hustle and bustle of city life. The forest is home to a diverse range of plants and animals, making it a fascinating place to explore.
The forest has many recreational facilities that are suitable for a family outing. There are playgrounds, pavilions, and group picnic areas available to reserve. It also offers miles of hiking, biking, and equestrian riding routes. In some places of the forest, hunting is also permitted. Swimming, boating, and fishing are major attractions on the 45-acre lake.
Distance by car – 2 hours 40 minutes
1.6 Houston, TX
Houston is one of the best day trips from Dallas you can't afford to miss if your goal includes experiencing the highlights of what this city has to offer. There are world-class museums, delicious restaurants, and exciting nightlife options. In addition, Houston is home to some of the finest shopping in the country.
The Houston Museum of Natural Sciences is a must-see for any visitors to the city. The museum has something for everyone, with exhibits on everything from dinosaurs to outer space. An observatory and a butterfly's sanctuary are also available.
Also, explore Space Center Houston, a hidden gem with tons of space-themed fun and interactive exhibits that the whole family will enjoy. You may also catch a game while in town; Minute Maid Park and NRG Stadium are both excellent venues for sporting events.
Good to know – If you have the time, I recommend spending one night in Houston and returning to Dallas the next day. The drive is quite long and there's a lot to explore in Houston.
Distance by car – 3 and a half hours
1.7 Glen Rose, Somervell County
If you're looking for exciting activities nearby Dallas, consider driving to Glen Rose Somervell County. This charming small town is home to the Fossil Rim Wildlife Center. With 1,700 acres of stunning landscapes to explore, you'll be able to see a variety of animals in their natural habitat.
Dinosaur Valley State Park is also located in this area which can be an interesting attraction for the whole family. This park is home to some amazing geological features, including a valley filled with dinosaur tracks. You may also head to Dinosaur World, which offers a variety of activities and exhibits for visitors of all ages. Step into a world of prehistoric creatures and learn about their history and how they lived.
Distance by car – 1 and a half hours
1.8 Palestine, Texas
One of the best day trips from Dallas is a just a short drive away from the city and it's called Palestine. Take a stroll down Main Street and you'll find an array of local businesses, from restaurants to art galleries. Hiking, geocaching, and ATV riding are just a few outdoor activities that can be enjoyed in this area. You can also explore Palestine's four lakes, perfect for boating and fishing, as well as picnic areas and trails.
Palestine also has many historically significant sites, including the Palestine Railroad Depot and the Anderson County Courthouse. The town is also home to two annual events, the Paletown Christmas Parade and the Texas Bluegrass Festival. So come on over to Palestine and discover everything this wonderful town has in store for you.
Distance by car – 2 hours
1.9 Whitney, Texas
A trip to Whitney, Texas is a must-do for any nature lover. The area is teeming with wildlife, and there are plenty of hiking and biking trails to explore. Enjoy fishing, bird watching, and picnicking in Lake Whitney State Park. With over 22,000 acres of land to explore, you're sure to find the perfect spot to relax and take in the stunning views.
Also, head to Brazos Street Market which is an open-air market. It has something for everyone, from Texas BBQ and lives music to arts and crafts. There's also a playground for the kids, making it the perfect place to spend one of your best day trips from Dallas.
Distance by car – 1 hour 10 minutes
1.10 Waco, Texas
If you're looking for the best places to visit from Dallas, you have to explore the beautiful town of Waco. If you'd like to try some alcoholic beverages, you can visit some of Waco's wineries, distilleries or craft breweries.
However, one of the most popular tourist attractions in Waco is the Doctor Pepper Museum. Find out everything about this world-famous beverage. I also recommend visiting the Mammoth National Monument. This is the perfect place to learn more about the fossils found in the area.
Distance by car – one and a half hours
2. Where to stay in Dallas
If you're planning to spend a few days in Dallas, I have the best hotels for you. I've been searching for incredible hotels in Dallas and these are my recommendations:
Budget – Fairfield by Mariott – good location and facilities, a good choice for those looking for value for money
Mid-Range – Hotel ZaZa – excellent location, friendly & professional staff, excellent amenities and spacious rooms.
Luxury – Thompson Dallas – exceptional hotel with luxurious rooms and exquisite services, breakfast is included.
Good to know: When traveling abroad, I always recommend having travel insurance. It's better to be safe than sorry. To find out more about travel insurance, I recommend Safety Wing.
3. Is taking a day trip from Dallas a good idea?
It's always fun to visit a new place and what could be better than doing it without having to drive very far? A day trip can be the perfect way to get out and see something interesting while saving money when traveling. Especially if you feel trapped in a rut and don't know how to get out, it's time to have some fun.
Taking a day trip will also allow you to spend time with your family and friends. You'll feel better getting some fresh air and sunshine while enjoying the crisp, clean air. There are plenty of worthwhile destinations right near your home if you know where to look. If you are from Dallas, put an effort into seeing different locations and learn new things. You should record your journey, then create a YouTube video about it and give it a captivating intro to get viewers to watch it to the end.
Don't forget to take a break from your everyday routine and experience something new. It can be close to home or farther away, as long as it offers an opportunity to explore, learn and have fun. A day of getaway can help you relax and unwind from your daily activity.
If you have any questions about these awesome places to visit from Dallas, don't hesitate to ask me in the comments section below. May the travel bug bite you!
Pin it for later!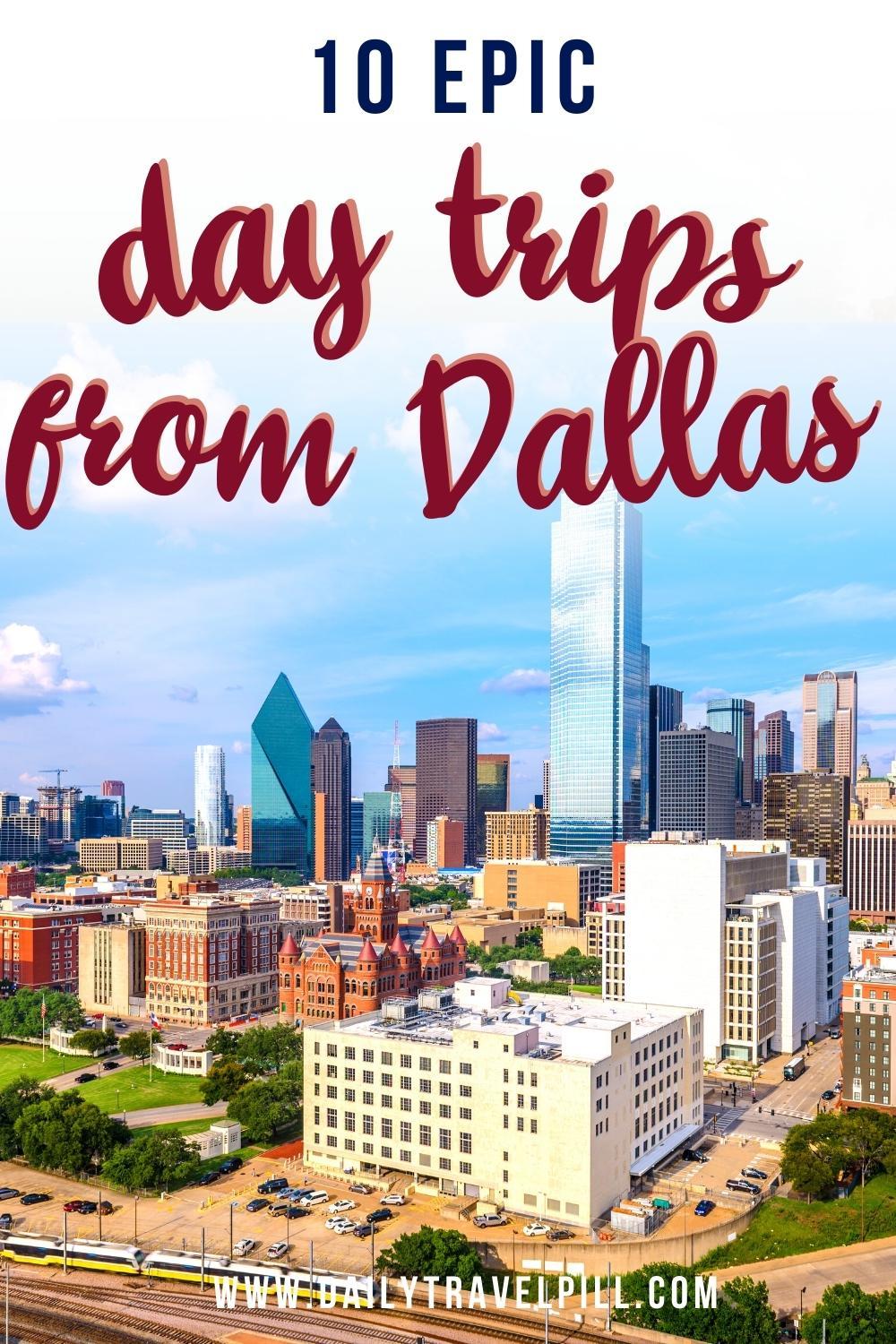 Disclosure: Please note that this post may contain affiliate links. If you make a purchase through these links, I will earn a small commission at no extra cost to you. I only recommend companies and products that I trust and the income goes to keeping this website running. Thanks!