Even though I've traveled quite a bit in Asia and Europe, I never visited Turkey until this year. I have to say that I fell in love with this country, its culture, people and baklavas. Turkey is a diverse country, with gorgeous seaside resorts, stunning mountains and a bustling capital city.
For this trip, I chose Antalya, a region located by the sea, with some of the best resorts in the world. There are more than 3000 hotels in Antalya and half of them are 5-star hotels. However, in this post I want to share with you my experience at Ng Phaselis Bay, the newest hotel in Antalya.
If I was asked to characterise my experience at Ng Phaselis Bay in just one word, it would be "unforgettable". Everything at this hotel is perfect, from its spacious and modern rooms, to its incredible pools and well-trained staff. I was amazed by their ultra all-inclusive service!
Without any further ado, let's talk about Ng Phaselis Bay in detail.
1. Ng Phaselis Bay location and how to get there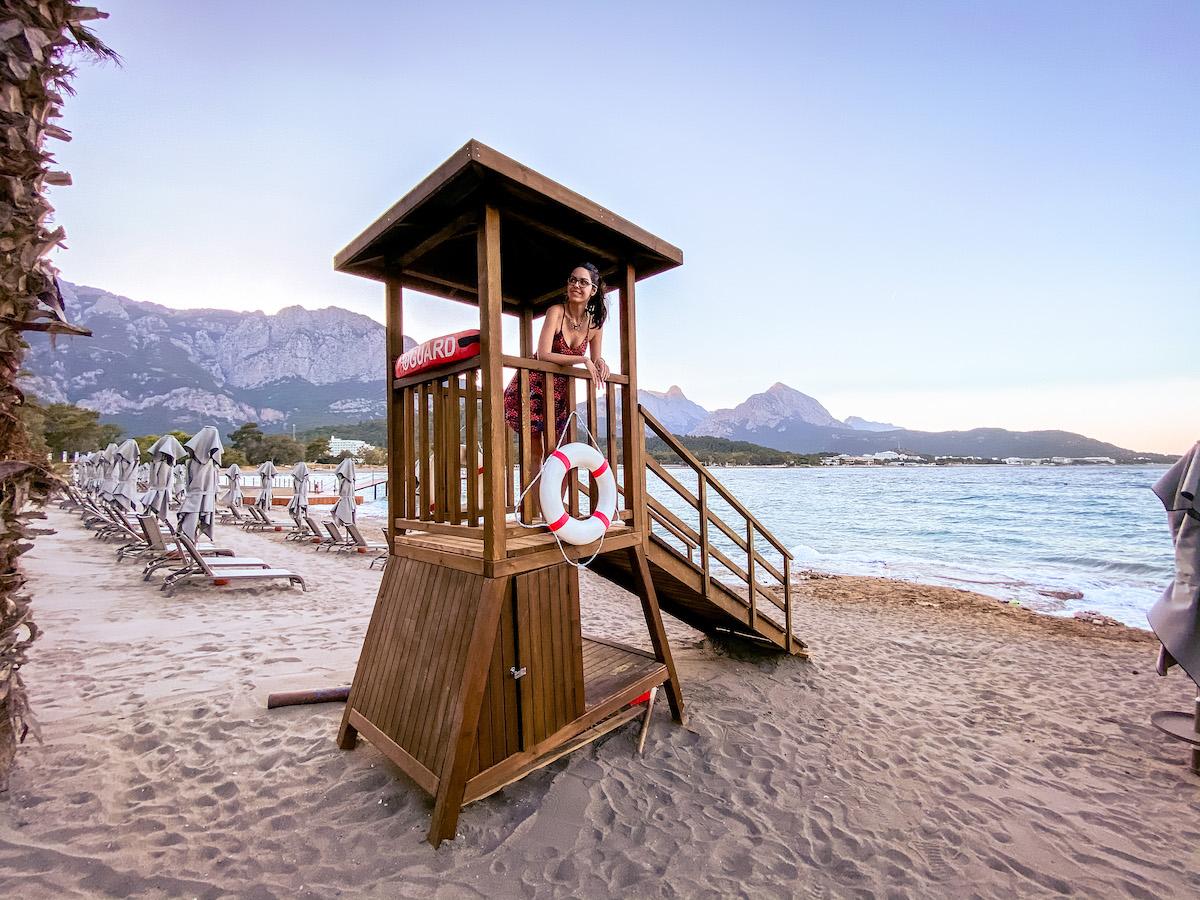 The hotel is located 52 kilometers away from the airport and only 5 kilometers away from Kemer city centre. For our visit to Antalya, we chose to travel with Hello Holidays. The agency took care of our entire trip, including plane tickets, transfers and day trips.
Therefore, when we arrived at Antalya airport, a coach was waiting for us. In about 45 minutes we arrived at Ng Phaselis Bay, where we were welcomed with smiles and delicious drinks.
The check-in procedures took a few minutes and after completing a few forms, we were handed our room key. The first thing I noticed while heading to our room was how big this hotel is. I later found out that it has 480 rooms and 1230 beds.
2. Ng Phaselis Bay Rooms & Villas
You can choose between deluxe rooms (35 m2) and superior rooms (42 m2). Some of the rooms have sea views, others have forest views. Either way, you'll be surrounded by nature.
There are also a few suites, with different designs to choose from.
The villas have 300 square meters and they're suitable for 7 adults and 2 children. What I loved about the Ng Phaselis Bay villas is that they each have a private pool, tucked away from the rest of the resort which offers you a lot of privacy. The villas have a spacious living room towards the pool and all the amenities necessary for an unforgettable vacation.
3. Our Deluxe Room at Ng Phaselis Bay
For our stay, we chose a deluxe room and the first thing that I want to say about these rooms is that they are huge. Over the years, I've stayed at hundreds of hotels, but honestly I think that the deluxe room at Ng Phaselis Bay is one of the biggest ones I've seen.
I really appreciated the bottle of wine, the fruits and the chocolates waiting for us on the table. It was a nice touch. I devoured the chocolates, but it was a bit too late for the wine.
Next, I explored the bathroom. The shower and the toilet had separate doors and there were two sinks which were perfect for me and my boyfriend. The bathroom was spacious and well-equipped with everything we needed. On the countertop there were bottles of shampoo, hair conditioner, shower gel and body lotion. Also, the hotel provided toothbrushes and toothpaste as well as a few other cosmetics.
The bed was huge and comfortable and there was a big tv right in front of it. Our room also had a spacious balcony, perfect to relax after a long day.
4. Ng Phaselis Bay facilities
Aliva Spa
Staying at Ng Phaselis Bay is an experience and this experience would be incomplete without a visit to the spa. Enjoy a massage or go to the indoor pool and forget about all the worries!
Bars & Restaurants
The hotel has several bars and restaurants, suitable for every taste. My favorite was the B & B Burger restaurant where I had some of the best burgers in my life.
The Main Restaurant is the place where we went for breakfast, lunch and dinner. This restaurant is buffet-style but trust me, you'll find here anything you want, from pasta and soups to delicious steaks and incredible cakes and baklavas.
There are also many bars with different specifics where you can enjoy a drink while admiring the views.
Beluga Kids Club
Ng Phaselis Bay is an excellent choice for families. Beluga Kids Club is specially designed for kids between 1 and 12 years old. Here they can enjoy a wide range of fun activities while being supervised by a team of professionals.
5. Ng Phaselis Bay Pools
The Main Pool located right on the seashore is perfect for swimming since it has over 1400 square meters. Around this pool, you can find many sunbeds and a few beautiful palm trees.
I spent most of my time here and one thing that I loved is that from time to time the waiters came on roller skates to ask me if I needed anything to drink. They also had trays with fruits in ice and ice cream, just in case somebody needed a refreshment.
There is also an infinity pool with heated water and another pool on the hillside. Right near the hotel's entrance, there is an aquapark specially designed for children.
6. Ng Phaselis Bay Beaches
Hidden between tall cliffs, there is a beautiful secluded beach where you can spend a few hours surrounded by nature. The beach is easily accessible from the hotel and there you'll find a few sunbeds.
If you climb the stairs before reaching the beach, you'll arrive at a beautiful viewpoint from where you can admire the hotel and the surrounding mountains. It's the perfect place to enjoy a romantic sunset.
The main beach is equally beautiful and perfect for a walk at sunset. It's worth mentioning that both beaches are covered in pebbles.
7. Final thoughts
If you're looking for a luxury resort in Antalya, I recommend Ng Phaselis Bay. It's a brand new resort, with well-trained staff, spacious and modern rooms and impeccable services. I enjoyed my time at this hotel to the fullest and I'm sure that I'll come back sometime.
Ng Phaselis Bay is a hotel suitable for honeymooners, couples and families alike and it offers a wide variety of services to suit every taste. If you have any questions, don't hesitate to ask me in the comments section below.
May the travel bug bite you!
No time to read now? Pin it for later!
Disclosure: Please note that this post may contain affiliate links. If you make a purchase through these links, I will earn a small commission at no extra cost to you. I only recommend companies and products that I trust and the income goes to keeping this website running. Thanks!