Oradea is an incredible city, famous for its art-nouveau architecture, spa resorts and friendly people. With a vibrant nightlife, awesome restaurants and cultural events throughout the year, Oradea is the perfect destination to spend a few days when in Romania.
As a Romanian, I'm ashamed to say that I only visited Oradea this year. It's been on my bucket list for a long time, but I always postponed my visit.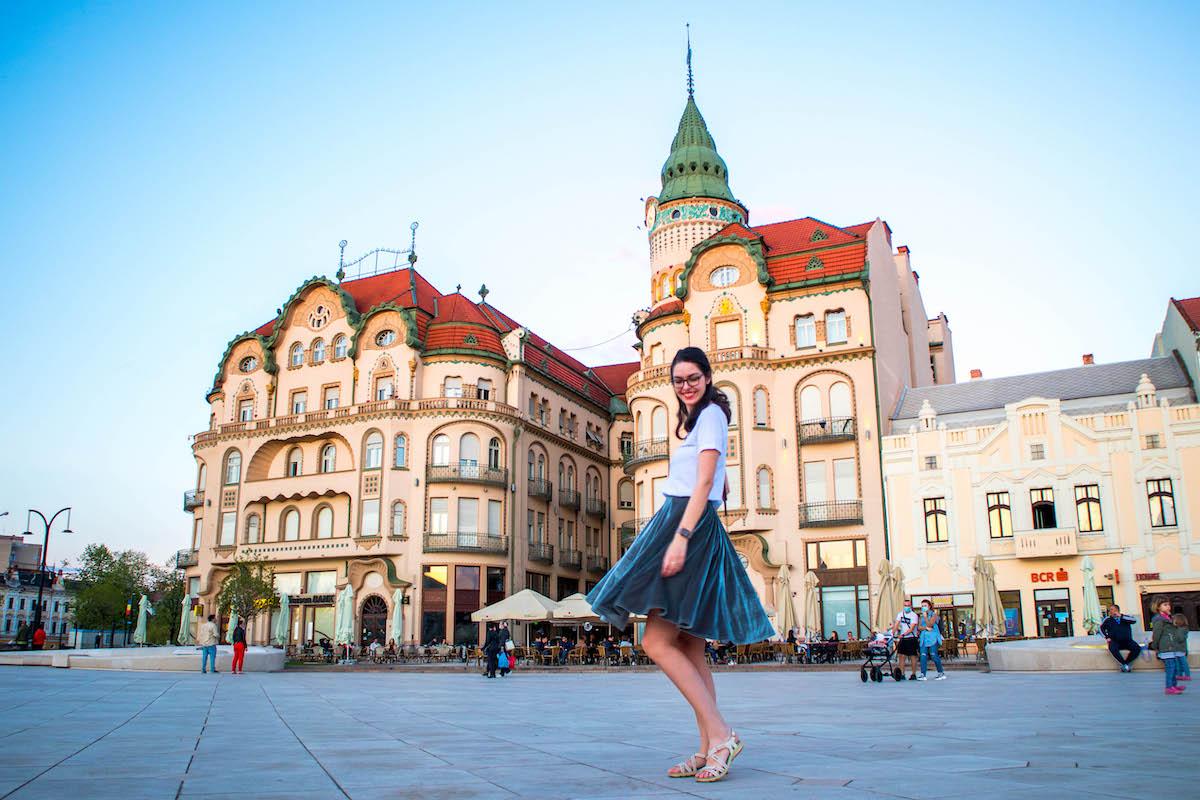 I heard many great things about Oradea over the years. People were fascinated with its architecture and its beauty. During my visit, I realised that Oradea is certainly one of the most beautiful cities in Romania. I feel in love with its charm and and stunning architecture.
In this article I want to share with you the top things to do in Oradea. I've included some unmissable tourist attractions, as well as a few places to eat and relax. Oradea is the kind of destination that will surprise you at every step, leaving you in awe.
1. Oradea tourist attractions MAP
The good thing about Oradea is that most tourist attractions are located within the city center. Click on the map below to see all the tourist attractions.
2. Top Things to do in Oradea
Oradea can be easily visited in 2 days. However, if you really want to feel the city's vibe and explore everything it has to offer, I recommend spending at least 3 days in Oradea. There's plenty to do and you can also visit some nearby destinations such as Rimetea, Felix Baths and Suncuis.
Below are the top tourist attractions in Oradea!
2.1 Ciuperca Hill (Mushroom Hill)
One of the places to see in Oradea is Ciuperca Hill, an incredible viewpoint offering the best city views. The hill is easily accessible by car, but you can also walk to it.
Here you can find a restaurant, Ciuperca Restaurant, and a viewing platform from where you can admire the city. I recommend visiting this place at sunset, when the sky has pink and orange hues and the city lights cover the panorama.
We liked this place so much that we visited it twice. It's a romantic destination and a nice place to relax after a day of sightseeing.
2.2 The Roman-Catholic Episcopal Palace and Roman-Catholic Basilica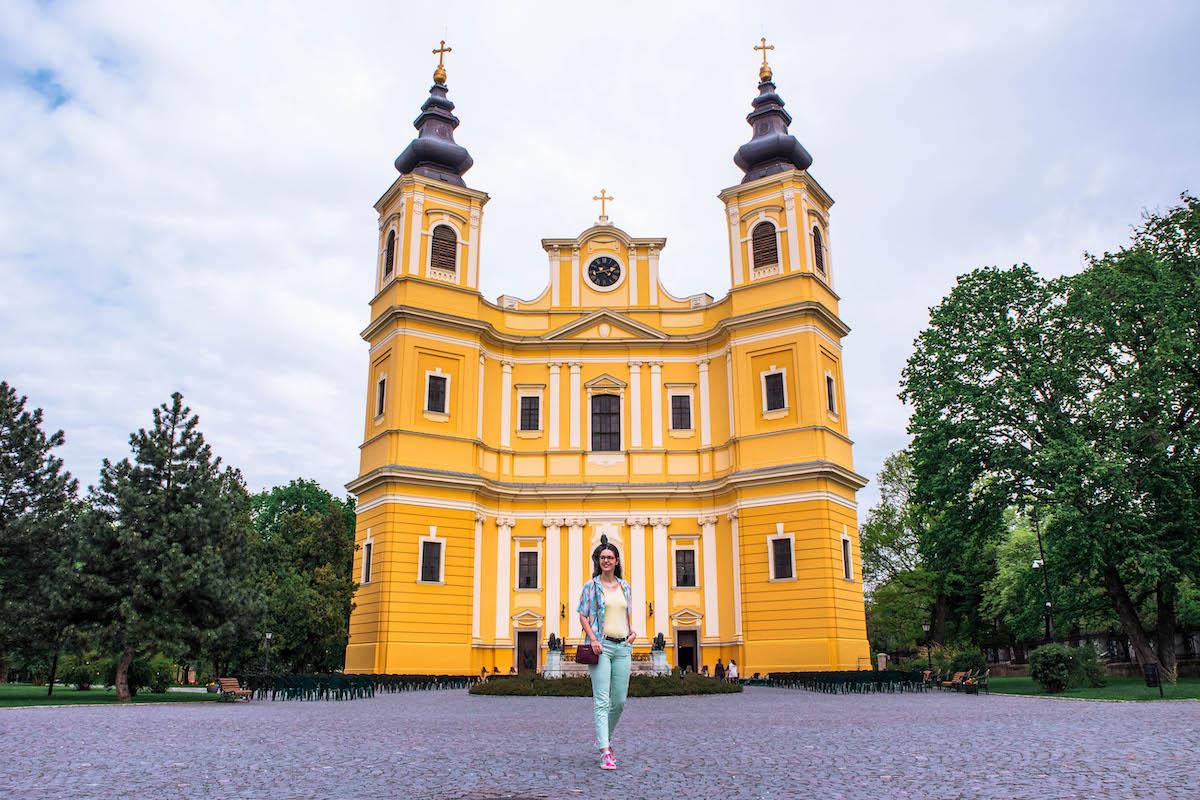 Also known as the Baroque Palace of Oradea, the Roman-Catholic Episcopal Palace was founded in 1762 when a famous Viennese architect designed the architecture. The palace has exactly 365 windows, symbolising the days of the year and 120 rooms.
The Roman Catholic Basilica is an impressive building and one of the most photogenic places in Oradea. Also known as the Cathedral Basilica of St. Mary, this Catholic Cathedral was built between 1752 and 1780.
We spent a few minutes admiring both buildings and taking photos. The place is surrounded by greenery and is very peaceful. It's definitely one of the places to visit in Oradea.
2.3 Unirii Square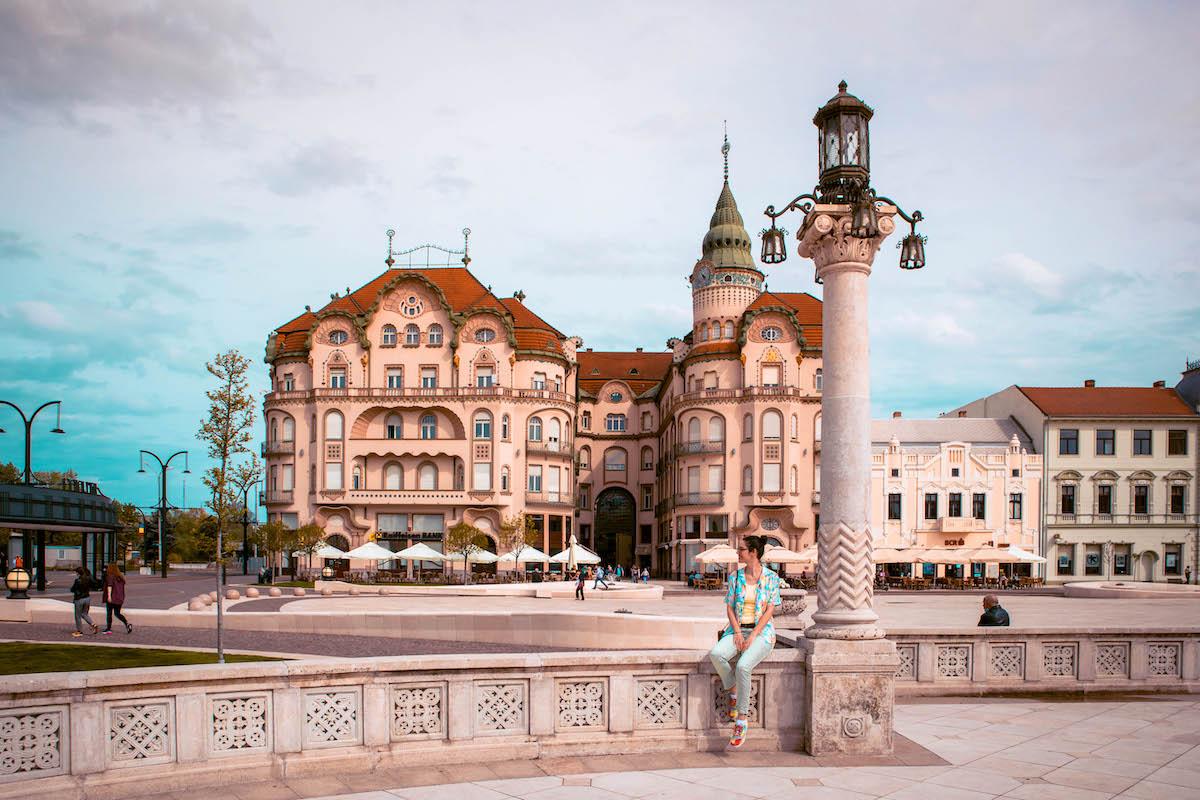 My favorite place in Oradea is Unirii Square. This is a place surrounded by unique buildings, landmarks and beautiful sights. Located right on the edge of Crisul Repede River, Unirii Square is Oradea's soul.
The locals come here to relax and spend time with their friends at terraces while tourists come here for this place's architecture and history. Some of the prominent buildings here are the Moon Cathedral, The Black Eagle Palace, St. Nicholas Cathedral and more.
2.4 The Black Eagle Palace
One of Oradea's landmarks is the Black Eagle Palace, built at the beginning of the 1900s. The building has a remarkable secession architecture (a branch of Art Nouveau). Inside the palace, there are a few restaurants and shops as well as the famous Back Eagle stained glass.
When visiting the palace, I recommend going inside the building and exploring the passage connecting Unirii Square with two other streets. The passage is covered in glass and on the ceiling you can admire numerous beautiful floral motifs.
The Black Eagle Palace is one of the must-see places in Oradea and one of the most beautiful buildings in Romania. Its architecture is unique and the building perfectly complements Unirii Square's beauty.
2.5 Deutsch House
Another beautiful example of Art-Nouveau Architecture is Deutsch House, located near Unirii Square. This house used to be home to a glass and lamp store. During a process of restoration in 1970, the entire building was demolished except the facade.
Nowadays, Deutsch House is yet another beautiful architectural landmark in Oradea. While taking a walk on Vasile Alecsandri Street, make sure to stop for a few minutes and admire it.
2.6 Try a delicious dessert at Ice Roze Cafe
I have to thank my mother for telling me about this awesome cafe. You simply have to try their ice-cream (my favorite one was the salted caramel ice-cream) and their delicious cakes. I tried the Snickers cake and it was simply amazing!
If you have a sweet tooth, this is the place to be! Choose your favorite cake and enjoy it while relaxing on the cafe's terrace.
2.7 The Orthodox Synagogue
If you're looking for impressive buildings in Oradea, you have to stop by the Orthodox Synagogue. It was built at the end of the 1800s and nowadays is one of the best-preserved buildings in the city.
For a small donation, I visited the inside of the synagogue and I was impressed by its beauty. When I visited, there were many people praying inside, so I only admired the synagogue from the entrance.
2.8 The Moon Church
The Moon Church gets its name from the unique mechanism located on top of the tower that shows the lunar phases. The church was finished in 1790 and it was built in late provincial Baroque style.
The Moon Church can be best admired from across the street, but I also recommend visiting it inside. The interior is designed according to Orthodox specifics.
2.9 St. Nicholas Cathedral
The Greek-Catholic Cathedral of St. Nicholas is one of the top things to see in Oradea. It's located in Unirii Square, close to many other attractions and I recommend you put aside at least 10 minutes to visit it.
Apart from its beautiful exterior architecture, the cathedral is extremely beautiful inside.
2.10 The Greek-Catholic Highschool
Right behind the St. Nicholas Cathedral is a beautiful building home to the Greek-Catholic Highschool. The building was built in a neo-Romanian style and during spring is surrounded by flowers.
2.11 Palace of Greek-Catholic Bishopric
One of the top tourist attractions in Oradea is the Palace of Greek-Catholic Bishopric, located in Unirii Square or Union Square. The palace is undergoing a process of rehabilitation and it cannot be visited at the moment. However, you can admire its exterior architecture from Unirii Square.
The palace was built in renaissance style, but it also has Rococo and Baroque elements.
2.12 Oradea City Hall
When I visited Oradea (Spring 2021), the City Hall was in restoration and the facade was not visible. However, the building is an important historical site that was built in 1903, under the supervision of Rimanoczy.
It's located right on the edge of the river and the tower is 50-meters tall. Tourists can climb to the top of the tower and admire some of the city's most spectacular views.
2.13 Crisul Repede Riverside
One of the best ways to relax in Oradea is to take a walk along the river. You can start at Union Square or anywhere you want. There are several beautiful bridges over the river and the views are worth it.
2.14 Evangelical Church Oradea
One of the places to see in Oradea is the Evangelical Church. This church is built in Neo-Gothic style and the thing that impressed me the most besides its architecture was its green color.
Since we visited Oradea during some local holidays, the church was closed, but i'm sure that its interior is as beautiful as its exterior.
2.15 Poynar House
Built in seccession style, this house was finished at the beginning of the 20th century. It's one of the recently renovated buildings in Oradea and even though you can't visit the inside of the building since people live in it, you can still admire its beautiful facade.
2.16 Regina Maria Theatre
With a capacity of over 600 people, Regina Maria Theatre is one of Oradea's landmarks. The exterior architecture is Neo-Classic, while the interior has multiple Rococo elements.
I spent a few minutes trying to take a picture in front of this beautiful building. I loved the colonnades and even though it was a cloudy day, I managed to take a few stunning pictures.
2.17 Astoria Hotel
Oradea has many buildings that deserve to be admired and one of them is Astoria Hotel. At the ground floor there used to be a popular cafe where intellectuals used to meet. The palace was built in 1902, but later on in 1930 it was turned into a hotel.
During World War II the hotel was closed, but it was re-opened in 1975 and the hotel still functions today.
2.18 Darvas La-Roche House
One of the must-see tourist attractions in Oradea is the spectacular Darvas La-Roche House. The house is built in Art-Nouveau secession style and it impresses through its beauty and authenticity.
I visited this house and I must say that I was really impressed by it. The Neo-Rococo furniture, the kitchen with its original furnishing and the bathroom are just some of the unique spaces you can explore at Darvas La-Roche.
Also, when I visited there was a perfume and jewellery exposition. As a person who owns more than a dozen perfumes, I was quite excited by it.
2.19 St. Ursulines Church
Finished in 1774, St. Ursulines Church is one of the most underrated places in Oradea and you need to visit it. The most impressive part of this church is its pink facade. However, you can also visit the interior if you'd like.
2.20 Rimanoczy Palace
One of the most beautiful palaces and buildings in Oradea is Rimanoczy. Built in eclectic style and with Gothic elements, this palace dates back to the beginning of the 1900s like most architectural gems in Oradea.
This orange building has 3 levels. At the ground floor you'll find a few stores while the upper levels are home to a few apartments. I stopped in front of this building for a few minutes to take a photo and I'm really happy with the result.
2.21 Stern Palace
This beautiful palace was designed by the same architects that designed the famous Black Eagle Palace. The palace's facade is embellished with floral motifs, making it one of the top places to see in Oradea.
I took my time to take a few photos and I also entered the building's courtyard, where I discovered a quiet place, filled with charm.
2.22 Orthodox Romanian Bishopric
Originally the residence of Rimanoczy, the famous architect who designed many buildings in Oradea, this building was later transformed into the Orthodox Romanian Bishopric. The construction has an eclectic style and the facade has many beautiful details worth admiring.
2.23 Moskovits Palace
One of my favorite places in Oradea and one of the top tourist attractions in the city is the incredible Moskovits Palace, built in 1905. This iconic blue building is covered in many symbols such as Mercury's sceptre, the tree of life and more.
During the summer people gather in front of it to take photos, so I advise you to visit this palace early in the morning. Unfortunately, the palace cannot be visited inside since it houses a few apartments where people still live.
2.24 The Descent of the Holy Spirit Church
I discovered this beautiful church by accident and I think it deserves to be included in this top of the best places to visit in Oradea. The church was finished in 1774, but its architecture changed over time, reaching its current shape in 1858.
2.25 Oradea Fortress
When it comes to fortresses in Romania, the standards are quite high. Alba Iulia Fortress and Brasov are some of the most beautiful ones. I visited Oradea Fortress but honestly, it didn't impress me. If you have more than 2 days to spend in the city I recommend visiting it. Otherwise, I recommend focusing on Union Square and the attractions nearby.
2.26 Neolog Synagogue Sion
When it comes to religious sites, Oradea has plenty of them. One impressive building is the Neolog Synagogue Sion, built in 1878. This synagogue is a simplified replica of the Nurenberg Synagogue.
When I visited, it was closed so unfortunately I couldn't enter the synagogue to admire it. Nowadays, this place is used for cultural events such as concerts, exhibitions and book launches.
2.27 Liberty Park
This small park stretching along the river is an oasis of silence and beauty. I visited it in the spring and the alleys were bordered by thousands of tulips. This park is a good destination if you want to relax. There are a few flower shops and benches where you can sit and admire the views.
2.28 Intellectuals' Bridge
This is one of the most beautiful bridges in Oradea. It offers a beautiful view towards Crisul Repede and its history starts around 1974 when the city's intellectuals crossed this bridge daily on their way to work.
2.29 Admire the views from Dock Restaurant
One of the newest restaurants in Oradea is Dock Restaurant, located right on the banks of Crisul Repede River. The restaurant offers incredible views towards Union Square and City Town Hall.
The menu includes delicious soups, pasta, salads and desserts. You should definitely try their lava cake!
2.30 Aquapark Nymphaea Oradea
If you're looking for fun activities in Oradea, I recommend spending a day at Nymphaea Aquapark. It's the perfect destination for families and couples alike. The park has waterslides, indoor pools, outdoor pools, jacuzzis, saunas and even a Turkish bath.
3. Where to stay in Oradea
For our stay in Oradea, we chose Dozsa Residence, a beautiful villa with modern apartments for rent and a jacuzzi in the backyard. Our apartment had a kitchen with everything we needed, a spacious balcony, 2 rooms decorated with modern furniture and all the amenities necessary for our stay.
Dozsa Residence is just a short drive away from the city center and it's the perfect choice if you're looking for a quiet and comfortable place to spend the night.
If you're looking for a more budget-friendly option, I recommend Oradea Central Hostel.
4. Final thoughts
Oradea is certainly among the most beautiful cities in Romania and I'm glad that I finally visited it. I loved the Art-Nouveau buildings, the city's laid-back vibe and its welcoming locals.
I recommend spending at least 2 days in Oradea. The good news is that most tourist attractions are located in the city centre or nearby and you can see them all on foot.
If you have any questions about Oradea, don't hesitate to let me know in the comments section below. May the travel bug bite you!
No time to read now? Pin it for later!
Disclosure: Please note that this post may contain affiliate links. If you make a purchase through these links, I will earn a small commission at no extra cost to you. I only recommend companies and products that I trust and the income goes to keeping this website running. Thanks!