Welcome to Romania, one of the most underrated countries in Europe. From endless mountains with breathtaking views to beautiful beaches where parties never end, Romania has a lot to offer to any kind of tourist.
Even though Romania is mainly known for Transylvania, the birthplace of Dracula, there are many other fascinating places that deserve to be visited.
If you want to truly discover the beauty of this country, here are the 20 most beautiful cities in Romania. Each of these cities is unique and I'm here to tell you why you should visit them.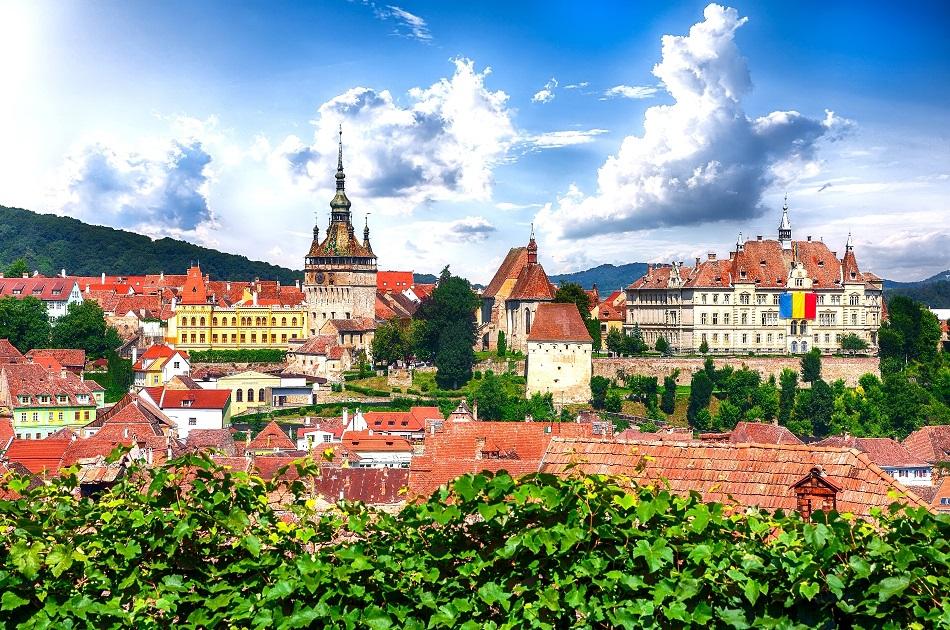 Best cities in Romania – 18 epic locations
The best way to explore this country is by car but you can also use trains or buses. However, having a car will allow you to explore off-the-beaten-path destinations, places not yet affected by mass tourism.
Also, keep in mind that Romanians are highly religious people. Don't be surprised if you'll see hundreds of churches during your time in this country. To read more about the Romanian people, click here.
Without any further ado, these are the most important cities in Romania.
No time to read now? Pin it for later!
20. Deva
Deva is one of the least visited cities in Romania. There's not much to do in this city except for visiting the imposing Deva Fortress.
Situated on top of a 378-meters tall hill, the fortress can be seen from all around the city. If you want to visit it, you can climb the steep stairs or you can take the cablecar.
From up above, you can admire the views of Deva and learn more about the city's history.
-> To look for accommodation in Deva, click here
19. Piatra Neamt
This small city is still unknown to many tourists. Piatra Neamt is located near the jaw-dropping Bicaz Gorge where the winding streets make their way through tall, rocky walls.
In Piatra Neamt you can take the cable car to Cozla Peak and admire the views over the city. I also recommend visiting the art museum, showcasing many local artists and Stefan cel Mare Tower. Right near these two attractions is the beautiful Ioan Botezatorul Church.
-> To look for accommodation in Piatra Neamt, click here
18. Suceava
Located in the beautiful region of Bukovina, Suceava is the perfect home-base if you want to discover the surrounding painted monasteries. Two of the most famous such monasteries are Sucevita Monastery and Voronet Monastery.
Built in 1488, Voronet is a UNESCO Heritage site and is famous for its architecture and unique blue paint, also called "Blue of Voronet". The legend says that nobody can recreate this unique shade of blue.
If you're looking for places to see in Suceava city, I recommend visiting the Bukovina Village Museum. Here you'll find traditional houses from all around the region and you'll get a glimpse into the lives of Romanian people.
-> Here are 35 reasons why you shouldn't visit Romania.
Another place worth visiting is the Fortress of Suceava. Built in the late 1300s, the fortress was home to many important rulers of Moldavia. Nowadays, you can visit it and learn more about this region's history.
-> To look for accommodation in Suceava, click here
17. Targu Mures
One of the big cities in Romania is Targu Mures. The most beautiful part is the city center, with Trandafirilor Park and the Culture Palace, built in Art Nouveau style.
Another point of interest is the Medieval Citadel of Targu Mures. Built in the 15th century, the citadel now hosts the Museum of History and Archaeology and the Citadel Church.
As a day trip from Targu Mures, I recommend visiting the famous Turda Salt Mine. With an underground lake where you can take a boat ride and a small amusement park, Turda Salt Mine is a unique place in Romania.
-> To look for accommodation in Targu Mures, click here
16. Alba Iulia
Historically, one of the most important cities in Romania is Alba Iulia. Following the grand meeting in Alba Iulia from December 1st 1918, Transylvania became a part of the Kingdom of Romania and thus, modern Romania was born.
Nowadays, every year on December 1st there are concerts, parades, and all kinds of events taking place in Alba Iulia. Moreover, every day at 12 pm you can witness the changing of guards at Alba Carolina Citadel.
Another point of interest in the city is the Roman Catholic Cathedral, built in Romanesque style. It's a stunning piece of architecture that deserves to be visited.
-> To look for accommodation in Alba Iulia, click here
15. Drobeta Turnu Severin
If you're looking for off-the-beaten-path destinations in Romania, Drobeta Turnu Severin might be the right choice for you. Even though the city itself is not spectacular, it can serve as the perfect home-base for day trips to Orsova, Decebal Statue, or Tismana Monastery.
If you want to spend the night in a unique accommodation, I recommend Egreta Complex (a short drive away from Drobeta Turnu Severin). With small cabins built over the Danube River, this hotel is pretty amazing.
-> To look for accommodation in Drobeta Turnu Severin, click here
14. Fagaras
Fagaras might not be an exciting city but there are plenty of wonderful places you can visit as a day trip. For example, you can visit the authentic Viscri village, a place close to His Royal Highness Prince Charles' heart.
Another popular destination is Transfagarasan road, named by Top Gear as "The World's Best Road". Famous for the magnificent views and roads carved inside Fagaras Mountains, Transfagarasan is one of the top tourist attractions in Romania.
-> Is Romania safe? Read more here.
However, if you're looking for things to do in Fagaras city, I recommend visiting the Fagaras Fortress. Built in 1310, the fortress is nowadays a museum where you can find pieces of Romanian art and daily traditional objects.
-> To look for accommodation in Fagaras, click here
13. Hunedoara
I recommend choosing Hunedoara as a home base for a few days and doing short road trips from there. One of the most beautiful castles in Romania is situated just outside of the city – Corvin Castle.
This castle looks like a scene from Harry Potter. Its tall towers and stunning architecture will make you feel like a part of a fairytale. Are you ready to find your prince or princess?
You can also visit Sarmisegetusa Regia Fortress as a day trip from Hunedoara. This is the former capital city of Dacia and a UNESCO Heritage site.
-> To look for accommodation in Hunedoara, click here
12. Arad
Arad is one of the cities you need to visit in Romania. Even though you can explore the main tourist attractions in just a few hours, the city's charm is undeniable.
Admire Cenad Palace, the Administrative Palace with its 54-meters tall tower, and the Catholic Cathedral. Arad is a pretty city and I'm sure you'll have a great time exploring it.
-> To look for accommodation in Arad, click here
11. Constanta
Romania is known for its landscape diversity. On one side you have the mountains with countless hiking opportunities, on the other side you have the seaside.
Constanta is one of the biggest cities in Romania and an important economic hub. Some of the attractions in the city are the Casino which is currently being renovated, the Aquarium, the Grand Mosque, and the endless beaches.
Right near Constanta is Mamaia, a destination filled with tourists during the summer. If you're looking for a place to party, I recommend Vama Veche. It's a bit further away from Constanta but this is the place where all the crazy parties take place.
-> To look for accommodation in Constanta, click here
10. Curtea de Arges
Mainly known for the beautiful Cathedral of Curtea de Arges, this is a small city, located at the base of Fagaras Mountains. The Cathedral is famous in Romania for its beautiful and unique architecture but also for its scary legend.
It is said that Manole, the architect who was building the cathedral was threatened by the prince with death because he didn't manage to finish the walls. Manole proposed that placing a living woman inside the foundation will bring good luck and the cathedral will eventually be finished.
They agreed to sacrifice the first woman who appeared on the following morning and who turned out to be Manole's wife. Nowadays, there's even a stamp of the cathedral's walls marking the spot where Manole's wife was supposedly buried alive.
Apart from visiting the Cathedral of Curtea de Arges, I suggest doing a short road trip to Poenari Castle and Vidraru Artificial Lake.
-> To look for accommodation in Curtea de Arges, click here
9. Bucharest
Bucharest is the capital city of Romania and the biggest city in the country. It was once called "The Little Paris" and there's even a triumphal arch similar to Arc de Triomphe in Paris.
Bucharest's architecture was visibly impacted by the Communist regime but from time to time you'll see modern buildings poking through the sea of concrete buildings.
-> 20 surprising facts about Romania
The main tourist attraction in the city is the Palace of Parliament, the second largest administrative building in the world. Plan at least 2 hours to visit its interior and you'll be amazed by endless marble and lavish rooms.
If you want to party, head to the old city where you'll find a variety of pubs and bars. Bucharest is well-known for its vibrant nightlife.
-> To look for accommodation in Bucharest, click here
8. Cluj Napoca
One of the must-see cities in Romania is Cluj Napoca. Each year, Cluj Napoca is home to many cultural events and festivals that attract Romanians from all around the country. Two of the most famous music festivals in Romania take place here – Electric Castle and Untold.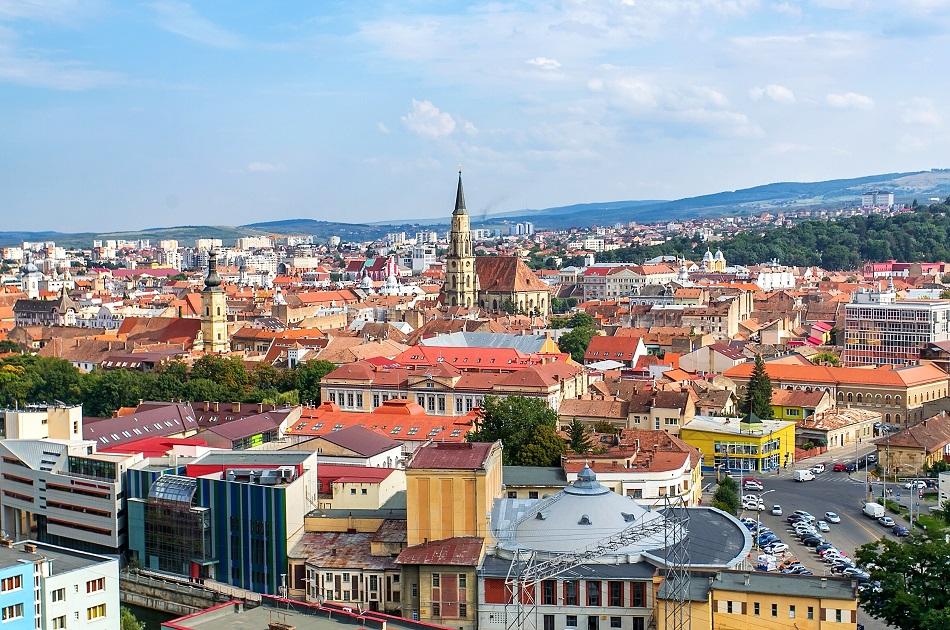 It's a youthful city, with many prestigious universities and a booming nightlife. There's plenty to do in Cluj-Napoca such as visiting the botanical garden, admiring St, Michael's Church or visiting the Cetatuia Park.
As a day trip from Cluj Napoca, I recommend exploring the famous Turda Salt Mine. It has an underground lake and an amusement park!
-> To look for accommodation in Cluj Napoca, click here
7. Timisoara
If you're looking for beautiful cities in Romania, you have to plan a few days to explore Timisoara. With beautiful parks, an amazing architecture, and fascinating museums, Timisoara has a lot to offer in terms of tourist attractions.
Stop by Union Square and admire the two beautiful cathedrals and the surrounding buildings. In 2021 Timisoara will be named the European Capital of Culture which means that even more tourists will come to visit this stunning city.
From Timisoara you can easily visit Deva and Hunedoara and the beautiful Corvin Castle, or you can visit Arad as a day trip.
-> To look for accommodation in Timisoara, click here
6. Iasi
Being quite far from Bucharest, not many international tourists visit Iasi. However, Iasi is a beautiful city with many museums, historical buildings, and cultural activities.
It's the perfect mix between history and modernity. Right near museums, you'll find shopping malls and skyscrapers, which is quite unusual for a Romanian city.
Some of the main attractions in Iasi are the Palace of Culture and the Gheorghe Asachi Technical University Library, considered to be one of the most beautiful libraries in the world.
-> To look for accommodation in Iasi, click here
5. Sinaia and Busteni
Romanians love Sinaia and Busteni. Every year, these small cities in the heart of Bucegi Mountains are visited by millions of people. There's no wonder why they're so popular.
You can visit the Peles Castle, the Cantacuzino Castle, you can go hiking and see Babele (a unique rock formation) or even hike to the highest point in Bucegi Mountains – Omu Peak.
-> To look for accommodation in Sinaia and Busteni, click here
4. Sighisoara
One of the prettiest cities in Romania is Sighisoara. It's a small city and it can be easily explored in just one day. I recommend putting on your most comfortable pair of shoes and exploring it on foot.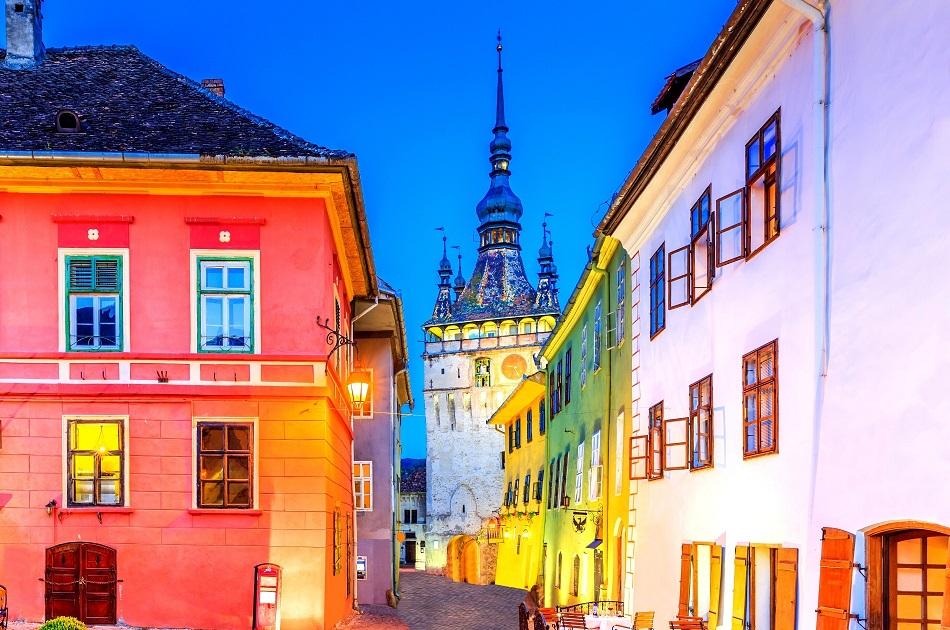 Did you know that Sighisoara is the only inhabited Medieval Citadel in Europe? That's right. While exploring it you'll pass by Medieval houses where locals live.
For the best views in the city, make sure to climb to the top of the Clock Tower. Also, another popular tourist attraction is Dracula's house, the place where supposedly Dracula was born.
-> To look for accommodation in Sighisoara, click here
3. Oradea
With countless Art Nouveau palaces, Oradea is definitely one of the most beautiful cities in Romania. Many historical buildings have been renovated in the past years, making Oradea a true hidden gem.
Make sure to visit Oradea Fortress, the Roman Catholic Cathedral, the Bishop's Palace, and the stunning Black Eagle Palace. If you're looking for some fun, spend a day at Nymphaea Aquapark.
If you're into arts, make sure to visit the Oradea Theatre. Apart from its beautiful architecture, the representations held here are magical. Even though most plays are held in Romanian, you can still visit the theater.
-> To look for accommodation in Oradea, click here
2. Sibiu
A city full of history and culture, Sibiu attracts both national and international tourists. During winter, it's a popular destination due to the famous Sibiu Christmas Market.
While in Sibiu, you have to visit the Brukenthal Museum which is divided into the following sections: art, history, pharmacy, arms & hunting trophies. Also, you have to try some of the local food. I'd recommend mici cu mustar and papanasi. You'll thank me later.
As a day trip from Sibiu, make sure to visit the fairytale Clay Castle (Castelul de Lut, Valea Zanelor). Situated at the base of Fagaras Mountains, this is one of the most unique places in Romania.
-> To look for accommodation in Sibiu, click here
1. Brasov
Ask any Romanian "Which is the most beautiful city in Romania?" and he'll probably answer Brasov. Surrounded by mountains, Brasov is one of Romania's largest cities and an important economic hub.
Brasov is often listed as one of the most beautiful places in Europe.
Most tourists visit Brasov just for a day and it's a shame since there are so many things to do in this stunning city. Take a walk on Republicii Street, visit the Black Church, visit the Black and White Towers, or climb on Tampa Mountain and admire the views.
There are also many nearby destinations that you can visit as a day trip from Brasov. Visit Dracula's Castle in Bran, admire the scattered villages near Moeciu, take a breath of fresh air in Poiana Brasov, or visit the Peles Castle in Sinaia.
-> To look for accommodation in Brasov, click here
Final thoughts
I hope you enjoyed this list of cities in Romania. Even though most tourists only visit Bucharest, Brasov, Sibiu, and Sighisioara, there are plenty of other places in this beautiful country that are worth exploring.
If you have any questions about these beautiful cities in Romania, let me know in the comments below.
May the travel bug bite you!

Disclosure: Please note that this post may contain affiliate links. If you make a purchase through these links, I will earn a small commission at no extra cost to you. I only recommend companies and products that I trust and the income goes to keeping this website running. Thanks!