First of all, congrats for deciding to visit Portugal! I dreamed about visiting this beautiful country for years and now that I finally had the chance to explore it, I want to tell you that Portugal is breathtaking!
Porto and Lisbon are the two most visited cities in Portugal and their beauty is undeniable.
On one side, Lisbon is the capital city of Portugal. Its architecture, museums, and proximity to Sintra attracts millions of tourists every year. On the other side, Porto is more laid-back and it's preferred by those looking for a more relaxing holiday.
Either way, both cities are worth visiting but if you have to choose between Lisbon and Porto, I'm here to help you. First, I'll tell you how many days you need for visiting each of these two cities. Then, I'll compare them based on the following criteria: transport, prices, tourist attractions, day trips, atmosphere, food, people, and accommodation.
So which one will you choose – Porto or Lisbon?
1. How much time you need to visit Porto vs Lisbon
Lisbon
Lisbon is a big city, with a population of 500,000 people. It's a city full of history, with lots of museums and historical sites to explore. Lisbon is also called The City of Seven Hills and exploring it on foot can be tiring.
It would be a shame to visit Lisbon without stopping for a day in beautiful Sintra. With colorful palaces and endless gardens, Sintra is one of the most visited sights in Portugal. Plan at least one day in Sintra and you won't regret it.
In total, I'd say that at least 3 days are needed to really experience Lisbon's vibe (1 day for Sintra and 1 day for Lisbon). Visit the famous Pink Street, admire the azulejo tiles, and admire the views from miradouros across the city.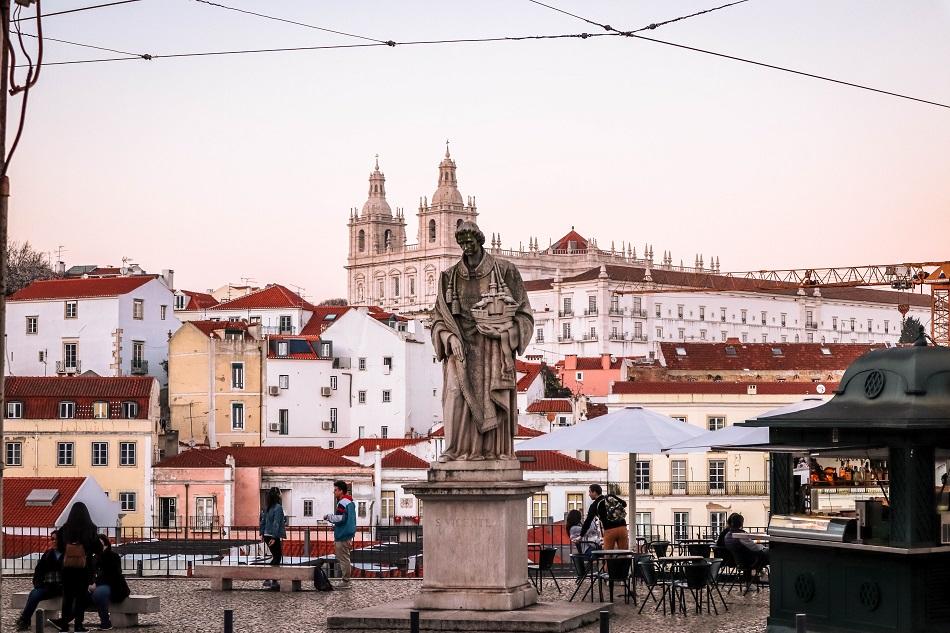 Porto
Porto is a smaller city, divided by Douro River. Also built on hills, the city has a lot to offer in terms of tourist attractions. Unlike Lisbon, the attractions in Porto are more compact, making Porto easier to explore.
I would suggest at least 2 days for visiting Porto. 2 days are enough to explore Ribeira, take a boat trip on the river, watch the sunset from Jardim do Morro, and admire the Louis I Bridge.
However, if you only have one day to explore Porto and want to see the best of it, I recommend checking out my itinerary.
Good to know – If you have 5 days or more to spend in Portugal, you can easily visit both cities. There are hourly trains from Lisbon to Porto and vice versa. The trip will take around 3 hours and you can check out the train schedule here.
No time to read now? Pin it for later!
2. Transport
Both cities have international airports, with good connections to the rest of Europe. However, if you're traveling directly from the United States, you'll most probably land in Lisbon. From there you can take the train or a bus to Porto.
Both cities have metro connections to their corresponding airports.
When it comes to public transport, Lisbon and Porto have great underground metro systems. If you prefer to get around by taxi, you can use Uber in both cities. It's affordable and convenient.
Lisbon
Being a bigger city, Lisbon is harder to explore solely on foot. However, I strongly recommend bringing a comfortable pair of shoes.
One of the main tourist attractions in Lisbon is the 28 tram line. These historic trams date back from the 1930s but they're still in use. A single ticket purchased onboard costs €3 but you can purchase a 24h public transport ticket for €6.4 which includes free access to the metro, trams, and bus services.
Good to know – Tram 28 route – Martim Moniz – Graca – Portas de Sol – Se Cathedral – Rua Conceição – Chiado – Sao Bento – Estrela – Campo Ourique
For free access to public transport in Lisbon, I recommend buying a Lisbon Card. You'll also get discounts and free passes for several tourist attractions.
Porto
If you're not afraid of getting tired, Porto can be explored on foot. All the main tourist attractions are situated in the same area and if you start your journey uphill, you can easily visit everything in your way while going only downhill.
However, if you feel tired, don't hesitate to use the metro, buses, or Uber. For free access to public transport and top tourist attractions in the city, get a Porto Card.
3. Prices
Portugal is one of the most affordable countries in Western Europe. It's definitely cheaper than Austria, Switzerland, and Germany. However, don't expect it to be too cheap.
If you want to travel on a budget, you should probably choose other destinations in Eastern Europe such as Romania, Slovenia or Bulgaria.
Now, going back to Portugal. The prices in Lisbon are slightly higher than in Porto. Expect to pay around 10% more for everything. If you're on a tight budget, I recommend visiting Porto. You'll save money on accommodation, food, and activities.
However, if you'll decide to visit Lisbon, make sure to check out these 25 free things to do in the city.
4. Tourist attractions
Both cities have a lot to offer when it comes to tourist attractions. Being a bigger city, Lisbon has more museums and a lot more historical sites, but there's plenty to do in Porto too.
To help you decide whether you should visit Lisbon or Porto, I'll list below the main tourist attractions in each city.
Lisbon
Stunning miradouros, beautiful churches, gorgeous architecture, and charming neighborhoods are waiting for you in Lisbon. Put on your most comfortable shoes, prepare your camera, and let's see which are the top tourist attractions in the city.
Good to know – With the Lisbon Card you'll get free access to top tourist attractions in the city + free access to public transport.
Santa Justa Elevator – Also called Carmo Lift, this lift connects the lower streets of Baixa with Carmo Square. The top floor has panoramic views of the city and the entrance fee is €5 (free if you have a 24h public transport ticket).
Pink Street – After taking Instagram by storm, the Pink Street is one of the most photographed locations in Lisbon. It's colorful, unconventional, and its history is fascinating.
Sao Jorge Castle – The first fortifications date back to the 1st century BC. Nowadays, you can visit Sao Jorge Castle and learn more about its history while enjoying panoramic views of Lisbon. The entrance fee is €10 per person.
Miradouro da Graca – This viewpoint is a famous spot for watching the sunset. From here you can see the castle, Ponte 25 de Abril, Carmo Archaeological Museum, and a sea of orange rooftops.
Miradouro das Portas do Sol – hop in tram 28 and stop at Miradouro das Portas do Sol for a beautiful view of Alfama. The view is breathtaking any time of the day. To read about other miradouros in Lisbon, click here.
Carmo Archaeological Museum – this former Catholic convent was destroyed during the 1755 earthquake. Nowadays, here you'll find an archaeological museum, displaying important pieces from Portugal's history. The entrance fee is €3.5.
Praca do Comercio – Once a reception hall for sailors, now this huge square is surrounded by restaurants and beautiful cafés. From here, admire the Triumphal Arch and continue your journey on Rua Augusta.
Alfama – If you really want to feel Lisbon's vibe, explore Alfama. The best way to explore this neighborhood is to simply get lost in the maze of streets.
Lisbon Cathedral – Built in 1147, Lisbon Cathedral is the oldest church in the city. If you have time, visit its beautiful interior.
LX Factory – A place for artistic souls, LX factory is perfect for those who are looking for handmade items, and unconventional restaurants.
Belem Tower – Probably the most visited tourist attraction in the city, Belem Tower is truly stunning. You can admire its exterior for free, but if you want to visit the interior you'll have to pay an entrance fee of €6.
Jeronimos Monastery – This monastery is home to Vasco da Gama's tomb and the birthplace of pasteis de nata. The entrance fee is €10.
Queluz Palace – This off-the-beaten-path palace was the highlight of my trip to Lisbon. Although not many tourists visit it, the palace is simply stunning.
Also, while in Lisbon, you have to go to a Fado music concert. It's an incredible experience and while listening to music, you can have a delicious dinner.
Apart from all these attractions, there is one more place that you should add to your itinerary when visiting Lisbon and that's Sintra. Plan one day to visit the colorful Pena Palace, the stunning Quinta de Regaleira, and Cabo da Roca – Europe's westernmost point.
I wrote everything you need to know about Sintra in this guide, including an awesome itinerary for one day.
Porto
Porto is a charming city, with breathtaking views, great restaurants, and countless buildings covered in azulejos. Below you can find the most popular tourist attractions in the city.
Good to know – with the Porto Card, you'll get free access to top tourist attractions int he city and public transport.
Igreja do Carmo & Igreja dos Carmelitas – These two churches are divided by a one-meter house. What makes Igreja do Carmo special are the tiles covering its exterior.
River Cruise – take a river cruise on Douro River and relax while admiring the views.
Santo Ildefonso Church – Completed in 1739, this church is made of granite and it's covered in blue-and-white tiles.
Sao Bento Train Station – One of the most visited places in Porto, Sao Bento Train Station is famous for the tiles covering the main entrance, depicting scenes from the country's history.
Porto Cathedral – Built in the 12th century, Porto Cathedral is a must-see. It's interior is stunning and worth visiting. The entrance fee is €3.
Ribeira – You can't visit Porto without stopping by Ribeira. Explore the narrow streets, drink a glass of wine, and eat pastel de nata. Ribeira is the most famous neighborhood in the city.
Luis I Bridge – Dividing the city of Porto, Luis I Bridge is a double-decker bridge. The top level is used for the metro while the bottom level is used by cars. You can cross the bridge on foot on any of the 2 levels.
Clerigos Tower – The tower is one of Porto's landmarks and you can climb to the top to admire the views. The entrance fee is €6.
Miradouro da Vitoria – Head to this miradouro for some of the best views of Porto. Don't forget to bring your camera and snap some photos!
Jardim do Morro – If you're looking for the best viewpoint to watch the sunset in Porto, head to Jardim do Morro.
Porto is an amazing city and to experience all it has to offer, you'll need at least 2 days. However, if you're on a tight schedule, you can see the main attractions in one day. Here is the perfect itinerary for one day in Porto.
5. Day trips
In this section I'll compare Lisbon vs Porto in terms of day trips.
Lisbon
If you want to go to the beach, there are plenty of options near Lisbon. You can choose the beaches near Cabo da Roca or Cascais.
If you want to explore palaces and castles, you can take a day trip to Sintra. The beautiful city of Obidos can also be visited as a day trip from Lisbon.
Porto
From Porto, you can visit the beautiful cities of Guimaraes and Braga. You can easily reach them by train, bus, or guided tour.
However, one of the most popular activities outside Porto is wine tasting in Douro Valley.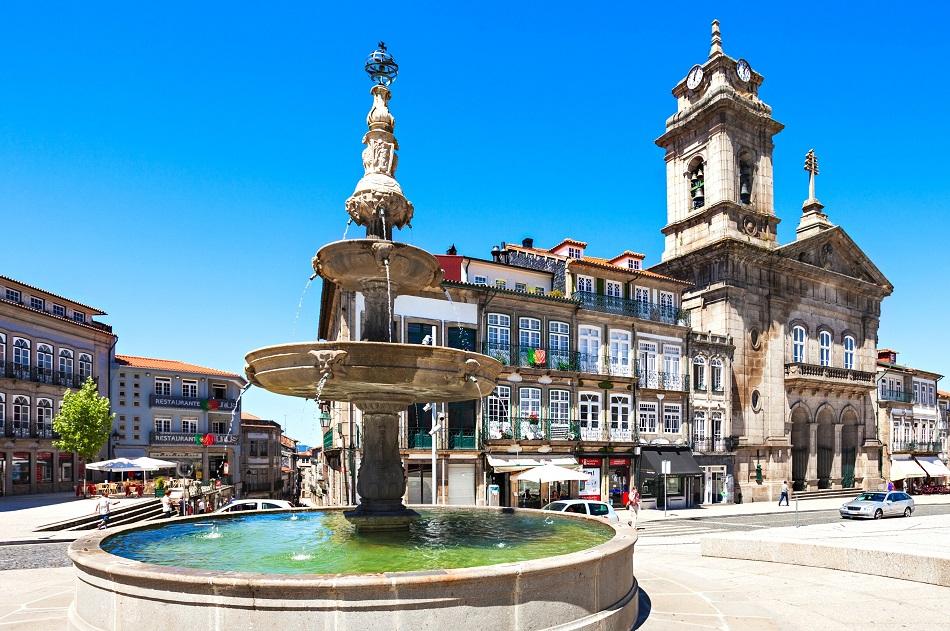 6. Food
When it comes to food, Portugal is well-known for its delicacies. Both Porto and Lisbon are a paradise for foodies. However, Lisbon is more specialized in food while Porto is more specialized in wines.
The good part is that both cities are built on hills. At least you'll get to exercise a bit after eating tasty traditional dishes.
I'll start with the delicious custard tarts called Pasteis de Nata. The egg custard wrapped in crunchy pastry makes this dessert one of the most popular Portuguese recipes. Don't worry, you'll find plenty of Pasteis de Nata in both Porto and Lisbon.
Lisbon
Lisbon is famous for its delicious seafood. There's one dish in particular that you have to try – bacalhau or salted cod.
If you want to try different dishes, I recommend going to Time Out Market. Here you'll find many restaurants, each offering delicious meals at an affordable price. From fish to pasta, and Asian food, you'll satisfy any craving at Time Out Market.
Porto
Are you ready for a caloric bomb? Try Francesinha, a sandwich made with ham, melted cheese, and tomato sauce. It's a local's favorite and you can find it at almost any restaurant in Porto.
If you want to save some money, I recommend staying away from Ribeira district. Here, the restaurants are super-expensive. However, the views are gorgeous.
7. Overall vibe
Lisbon
Lisbon is a big city and it feels like one. There's a lot to explore. From countless museums to all kinds of daily tours, Lisbon has a lot to offer in terms of tourist attractions. One thing is sure, you won't get bored in Lisbon.
However, during the summer, the city can get pretty busy and if you're looking for a quiet and relaxing place for your vacation, Lisbon might not be the best choice.
Porto
Porto is smaller and more laid-back. It's easier to explore on foot and it's the perfect destination for those who want a more authentic experience.
You'll find hidden gems all across the city, there's a lot to see but at the same time, it's not overwhelming. I think that Porto is the perfect combination between authenticity and tourist attractions.
8. People
The Portuguese people are super-friendly and most of them speak English. If you need directions or help, don't hesitate to ask a local. He'd be more than happy to help you.
It's easy to make friends in Portugal. However, it's said that the people in the northern part of the country are even more friendly. I can't say for sure. I felt welcomed in both the northern and southern parts of Portugal.
The people made my experience in this country even better and I'd go back anytime!
9. Accommodation
When it comes to choosing between Porto and Lisbon in terms of accommodation, it's a hard choice. In both cities you'll find a plethora of hotels, hostels, guest houses, and airbnbs.
Here are is the best accommodation in each city, for every budget.
Lisbon
Budget – Flores Guest House – good location, spacious and clean rooms, good amenities, great value for money
Mid Budget – Pessoa Hotel – great location, beautiful design, spacious and modern rooms, friendly staff
Luxury – H10 Duque de Loule – beautiful views, great location, luxurious rooms, amazing design, awesome rooftop bar
Porto
Budget – Oporto Chic & Cozy – great location, modern apartment, good amenities
Mid-Budget – Catalonia Hotel – great location, spacious and clean rooms, great amenities, super-comfortable beds, friendly staff
Luxury – Infante Sangres Hotel – excellent location, breakfast included, beautiful pool, luxurious rooms, and excellent amenities
10. Lisbon or Porto – which one to choose?
If you're looking for a destination with a lot of places to explore, I'd recommend Lisbon. You won't get bored in this city! However, keep in mind that the prices in Lisbon are a bit higher than in Porto.
If you're looking for a more affordable and laid-back destination, then you should choose Porto.
Both cities are beautiful and it would be great to visit them both. However, I recommend at least 3 days for visiting Lisbon and 2 days for visiting Porto.
So which one will you choose – Porto or Lisbon? Let me know in the comments section below!
May the travel bug bite you!

Disclosure: Please note that this post may contain affiliate links. If you make a purchase through these links, I will earn a small commission at no extra cost to you. I only recommend companies and products that I trust and the income goes to keeping this website running. Thanks!