Welcome to the most famous street in Lisbon – Calle Rosa, also known as the Pink Street. It's easy to figure out why this place is so famous. Tourists from all over the world come here to take pictures and sometimes, you even have to queue in order to take a photo.
However, there are many other activities you can enjoy here. You can sit at one of the terraces and drink a beer, you can have lunch at one of the restaurants, or you can unleash your inner party animal and enjoy the nightlife! Yeap, that's right, the Pink Street in Lisbon is a famous place for partying.
Located in the heart of Cais do Sodre, this pink street got my attention a few years ago when I first saw a picture of it on Instagram. Since then, I added the Pink Street of Lisbon on my bucket list and this year I finally got the chance to visit it.
In this guide, I'm sharing with you everything you need to know about this quirky street in Lisbon. Let's begin!
Good to know – While you're in Lisbon, make sure to stop by the quirky Lx Factory and visit some of the stunning miradouros around the city.
1. Short history
Initially, the Pink Street was known as Rua Nova do Carvalho and it used to be home to Lisbon's Red Light District. Yeap, that's right – what today is a hip, colorful place, full of tourists once was a shady place where sailors came in search of pleasure.
Actually, Rua Nova do Carvalho was not only the meeting point of sailors but also criminals and streetwalkers. This was the place to be for those looking to gamble and drink.
No time to read now? Pin it for later!
You can still see signs of Pink Street's past history. Some of the pubs and bars here still have their old name. When the Red Light District was thriving, the bars on Rua Nova do Carvalho were named after other port cities.
If you want a taste of this street's past history, I recommend a stop at Pensao Amor. This popular bar has great cocktails but also a sex shop and burlesque shows.
It's fascinating to think that the beautiful and photogenic Pink Street in Lisbon once had such a shady past. Let's find out how Rua Nova do Carvalho was transformed into a tourist attraction!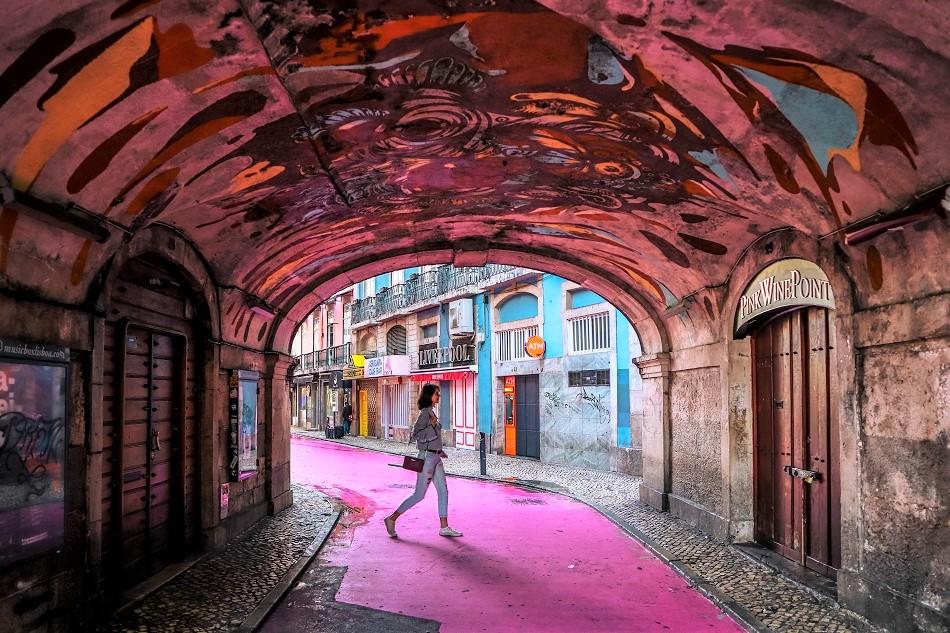 2. Why is the Pink Street in Lisbon pink?
Pink Street's makeover started in 2011 and was finished in 2013. In an attempt to change the neighborhood's reputation, the brothels were closed and new bars with a youthful vibe opened.
The shady past was replaced by a colorful place that attracts hundreds of tourists daily, with a vibrant nightlife, and tens of awesome bars, pubs, and restaurants. The Pink Street, or Rua Cor-de-Rosa, became a cool and popular place to hang out and its past was forgotten.
Barrio Alto might be the heart of all parties in Lisbon, but most of the time, the parties that start there continue around the Pink Street. We'll talk more about the nightlife a bit later.
3. What to expect
There is no doubt that this picturesque street is the perfect background for a photo-shoot. In fact, this was the reason why I decided to visit the Pink Street in the first place – I wanted a colorful photo for my Instagram feed.
I love how history and modernity mix together. Each bar and restaurant has a story to tell and secrets to share with those curious enough to find them out. The Pink Street in Lisbon is one of the top tourist attractions in the city and for good reason.
Although the street itself is not very long, the colors and the surrounding buildings create a unique vibe. Whether you want to take some awesome photos or you want to enjoy the nightlife, the Pink Street is there to welcome you with its arms open.
-> Are you on a budget? Check out these awesome free things to do in Lisbon!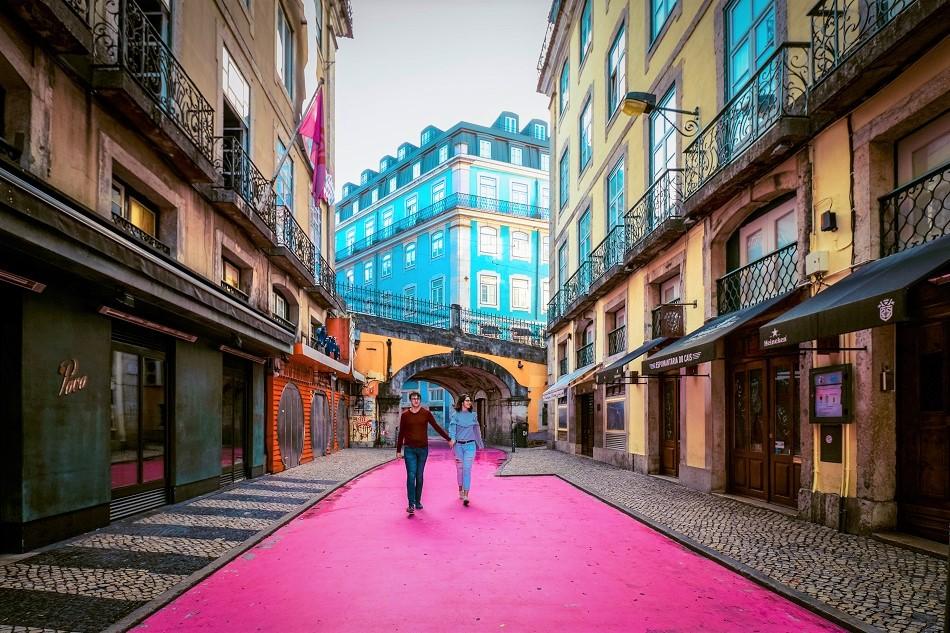 The best time to visit
If you only want to visit the Pink Street to take photos, I recommend being there early in the morning. I was there at 9 am and had the entire place to myself.
If you'll arrive later in the day, the restaurants will start to open and many of them have outside tables. Also, the place will start to fill with people and taking a photo with no one in sight will be almost impossible.
However, if you want to visit the Pink Street for its vibrant nightlife, make sure to be there during night-time.
Entrance fee and opening hours
The Pink Street in Lisbon is opened 24/7 and there is no entrance fee. It's one of the best free things to do in Lisbon!
4. Things to do at Lisbon's Pink Street
There are many beautiful streets in Lisbon that will catch your eye with their stunning architecture, tile-work, and colorful buildings but the Pink Street has its own charm. Here are the things you can do at Lisbon's most famous street.
#1 Take lots of photos
We took lots of photos at the Pink Street. If you want to take some photos with your loved one, I recommend bringing a tripod. Here is the one we're currently using.
#2 Visit the nearby Time Out Market
Right near the Pink Street is the famous Time Out Market. This huge market is full of delicious food – both local and international dishes. I recommend trying the fish but you can also have Asian food, pizza, or pastel de nata.
#4 Have lunch at one of the restaurants here
For delicious fish, try Sol e Pesca. You should definitely try their sardines! If you want to try some Portuguese food, go to A Rosinha de Sao Paolo.
5. Pink Street Nightlife
If you think that the Pink Street is crowded during the day, you should see it during the night! This is a popular place to party for both locals and tourists. You'll see people of all ages, cultures, and nationalities.
There are many clubs and bars where you can have a drink and dance. Most of the places are opened until 3 in the morning so there's plenty of time to have fun!
Here are the best bars and clubs on Pink Street!
#1 The Music Box
This is one of the hottest dance clubs in Lisbon. You can listen to concerts and dance your heart out!
#2 Pink Wine Point
Unlike the Music Box, this place is more chill. You can come here to listen to some music while drinking a glass of wine. If you'll visit during the weekends, you can even enjoy live concerts!
#3 Europa
Europa is one of the oldest nightclubs in Lisbon. Come here if you want to dance. Every week, there are themed parties with different kinds of music.
#4 Pensao Amor
This used to be a brothel but today it's nothing more than a bar with daring decorations. You can even find a library with erotic books here!
6. How to get to the Pink Street in Lisbon
The easiest way to get to the Pink Street in Lisbon is by public transport. You can take the tram 15E or the buses 732, 736, 774. Just search on Google Maps for "Lisbon Pink Street" or "Rua Nova do Carvalho" and you'll find the exact location.
You can also take an Uber. Uber is quite popular in Lisbon and the prices are affordable.
7. Where to stay in Lisbon
Lisbon is a city with a wide range of accommodation options. If you're looking for a good-value-f0r-money place, I'm here to help you. These are the best hotels in the city, for every budget.
Budget – Flores Guest House – good location, spacious and clean rooms, good amenities, great value for money
Mid Budget – Pessoa Hotel – great location, beautiful design, spacious and modern rooms, friendly staff
Luxury – H10 Duque de Loule – beautiful views, great location, luxurious rooms, amazing design, awesome rooftop bar
I loved visiting the Pink Street. It's a unique place, with an interesting history that is definitely worth visiting. Make sure to add this street to your itinerary and don't forget to check out other cool places in the city such as Lx Factory and the stunning miradouros.
If you have any questions, don't hesitate to ask me in the comments section below.
May the travel bug bite you!

Disclosure: Please note that this post may contain affiliate links. If you make a purchase through these links, I will earn a small commission at no extra cost to you. I only recommend companies and products that I trust and the income goes to keeping this website running. Thanks!