When searching for the best tourist attractions in Lisbon, you'll most probably come across Lx Factory. This unique place is a mix of industrial and modern architecture, all wrapped up into a hip place, perfect for a relaxing evening.
What once was an industrial site, now is a thriving creative and cultural space. Lx Factory Lisbon is home to countless fashion stores, art galleries, bookstores, and restaurants, all waiting to be explored.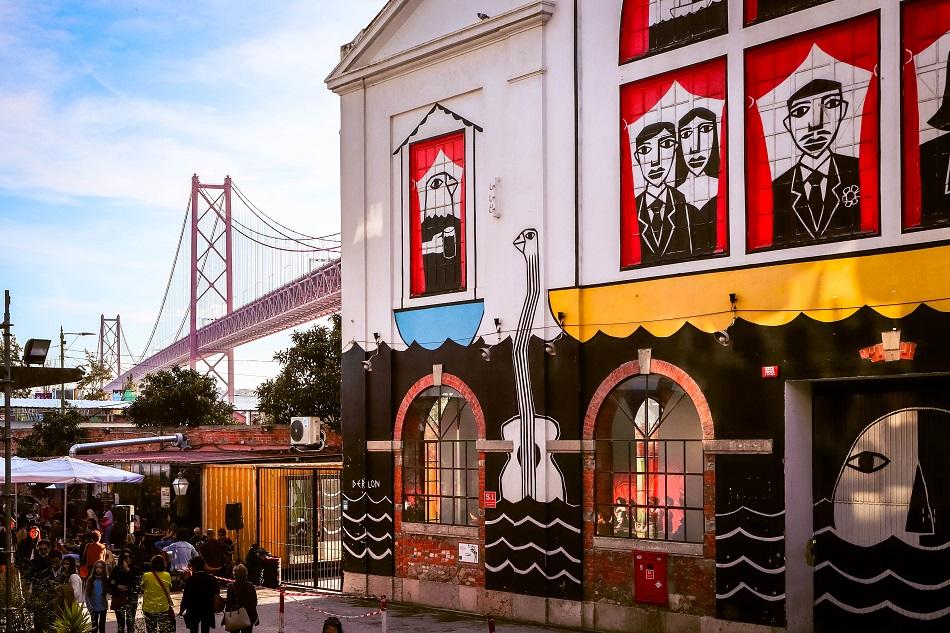 If you're planning to visit Lisbon, you should definitely add this place to your itinerary. Here's more about it!
Good to know – While in Lisbon, make sure to stop by the beautiful Pink Street. Also, for the best views of the city, I recommend visiting at least a few miradouros.
1. About Lx Factory
Situated near the beautiful Ponte 25 de Abril and the famous Belem neighborhood, Lx Factory is a creative space where both locals and tourists gather to experience Lisbon's street culture.
Old factories were transformed into a youthful area that attracts thousands of people daily. Making my way from the main street, I didn't know what to expect from this place but once I entered Lx Factory I was amazed by the colorful art pieces and installations, hip restaurants, and shops full of hand-made items.
Short history
The history of Lx Factory in Lisbon begins in 1846 when one of the most important textile factory, Companhia de Fiação e Tecidos Lisbonense, was founded in Alcântara (today, the home of Lx Factory).
No time to read now? Pin it for later!
After a few years, a food processing company and two printing companies also found their home in Alcântara. At the end of the 17th century, the public transport in the area started to develop in order to cater to the needs of the working class.
In the early 1990s many pubs and discotheques started to open in Alcântara. Today, a small part of this neighborhood is known as Lx Factory – the place where art, food, and fashion bends together.
Opening hours and entrance fees
Lx Factory is opened seven days a week, from early morning until late at night. However, every business here has its own schedule that you might want to check out.
There is no entrance fee for visiting Lx Factory. It's the perfect choice if you're looking for free things to do in Lisbon!
Lx Factory map
For a map of all restaurants and shops, click here.
2. Lx Factory Market
Every Sunday, there is a special event happening at Lx Factory and it's called Lx Market. Local artisans, fashion designers, hand-made artists, come to this market to display and sell their products.
You'll see hundreds of stalls installed on the alleys of Lx Factory with thousands of beautiful products. The weekly Sunday market is the place to be if you're looking for unique items or souvenirs.
I was lucky enough to visit the Lx Market and I loved it! I ended up eating too many delicious egg tarts (pastel de nata) but hey, who cares?
The entire place was buzzing with people shopping, drinking a glass of sangria, or enjoying a nice dinner. There were local artists playing their instruments, all while the sun was setting over Ponte 25 de Abril. The view was pretty incredible.
If you have the chance, I recommend visiting Lx Factory on a Sunday. The Lx Market in Lisbon is an awesome event that you shouldn't miss!
Lx Market Lisbon opening hours
Summer Sundays – 11 am to 8 pm
Winter Sundays -10 am to 6 pm
3. Things to do at Lx Factory
Apart from the Lx Market, there are many things to do in this hipster neighborhood in Lisbon. No matter when you visit it, there are plenty of places to discover and countless shops to explore. Here are my recommendations.
#1 Explore the famous Lx Factory bookstore
You might be familiar with Le Devagar bookstore. This place became quite insta-famous and many people come here only to take a photo. I have to admit, the bookstore is pretty and very photogenic.
There is also a small cafe here where you can drink a coffee or a cup of tea while enjoying a delicious pastel de nata. Le Devagar bookstore is certainly one of the most visited places in Lx Factory.
#2 Admire the street art
As soon as you step inside Lx Factory you'll notice many colorful art installations, mural paintings, and sculptures. Local artists continuously shape this urban space, adding more and more art pieces.
#3 Eat countless pastel de nata
You probably already know that Portugal is famous for its delicious egg tarts. I must have eaten about 100 during my stay in Lisbon and Porto but I have to say that I ate some of the best at Lx Factory.
#4 Shop for local products and souvenirs
From fashion stores to art stores and home decor, you can find anything at Lx Factory. Every item sold here is unique and has its own story.
Take your time to explore all the shops and see what they have to offer. For a complete list of all Lx Factory shops, click here.
#5 Enjoy the views while drinking a glass of sangria
My favorite bar was Unico On Tap. It had gorgeous views towards Ponte 25 de Abril and the surrounding murals were impressive, to say the least. We sat down at one of the wooden tables and ordered two delicious glasses of sangria.
When we finished our drinks it was already dark so we headed back to our accommodation. The next day we continued our journey to Porto.
#6 End the day at the Lx Factory rooftop bar
The Lx Factory nightlife is far from dull. Head to the rooftop bar Rio Maravilha and enjoy the most spectacular views towards the orange bridge. This is the perfect place to watch the sunset!
The bar is opened until 3 in the morning on Fridays and Saturdays and until 2 am for the rest of the days. Mondays the rooftop bar is closed.

4. The best restaurants
If you're looking for the best restaurants at Lx Factory, you're in the right place. There's no shortage of food for hungry visitors. From Japanese, to Italian and Portuguese, there are countless delicious dishes you can try. Here are my favorites.
A mesa do Lx – if you're looking for a delicious pizza, this is the place for you.
Malaca Too – delicious Asian food
Cantina Lx – perfect if you're looking for yummy Portuguese food. You should definitely try the fish!
Sushi Factory – taste some delicious sushi in this Japanese restaurant
Therapist – a great place for those who're looking for a healthy meal
Burger Factory – who can say no to a delicious, juicy burger?
For a complete list of all Lx Factory restaurants, click here.
5. How to get to Lx Factory
The easiest way to get to Lx Factory is with Uber. Uber is very popular in Portugal and very affordable. If you'd like to use public transport, you can take the subway to Alcantara-Terra.
You can also catch the tram 15 to Calvario Station or the following buses to Alcantara-Terra – 712, 713, 714, 727, 742, 751, 756 or 773. For the exact location of Lx Factory, click here.
6. Where to stay in Lisbon
Lisbon is a big city and finding the perfect accommodation for your needs can be challenging. I've been searching for the best hotels in the city, for every budget. Here are my recommendations.
Budget – Flores Guest House – good location, spacious and clean rooms, good amenities, great value for money
Mid Budget – Pessoa Hotel – great location, beautiful design, spacious and modern rooms, friendly staff
Luxury – H10 Duque de Loule – beautiful views, great location, luxurious rooms, amazing design, awesome rooftop bar
I'm sure that you'll love Lx Factory Lisbon as much as I did. This creative space is an inspiration to anyone. It's fascinating to see how an industrial area was turned into such a vibrant and colorful space for locals and tourists alike.
While in Lisbon, make sure to visit the beautiful Pink Street and explore a few miradouros, famous for the views they offer! If you have any questions, don't hesitate to ask me in the comments section below.
May the travel bug bite you!

Disclosure: Please note that this post may contain affiliate links. If you make a purchase through these links, I will earn a small commission at no extra cost to you. I only recommend companies and products that I trust and the income goes to keeping this website running. Thanks!