If you're looking for things to do in Lisbon on a budget, you're in the right place. During my visit to Lisbon, I tried to explore and discover awesome places that are free to visit.
I found beautiful viewpoints, colorful streets, and fascinating neighborhoods. Here are 25 free things to do in Lisbon. Don't forget to add them to your itinerary! Below is a map of all these locations.
Top free things to do in Lisbon
1. Visit the colorful Pink Street
The famous Pink Street is one of the most photogenic places in Lisbon. During the day, tourists come here to take photos. During the night, the Pink Street becomes one of the hottest partying places in the city.
Pink Street has a sketchy history but nowadays the past was erased and replaced with vivid colors and hip cafés. Take some photos, have a drink, and enjoy this colorful street in the heart of Lisbon!
No time to read now? Pin it for later!
2. Visit the Lx Factory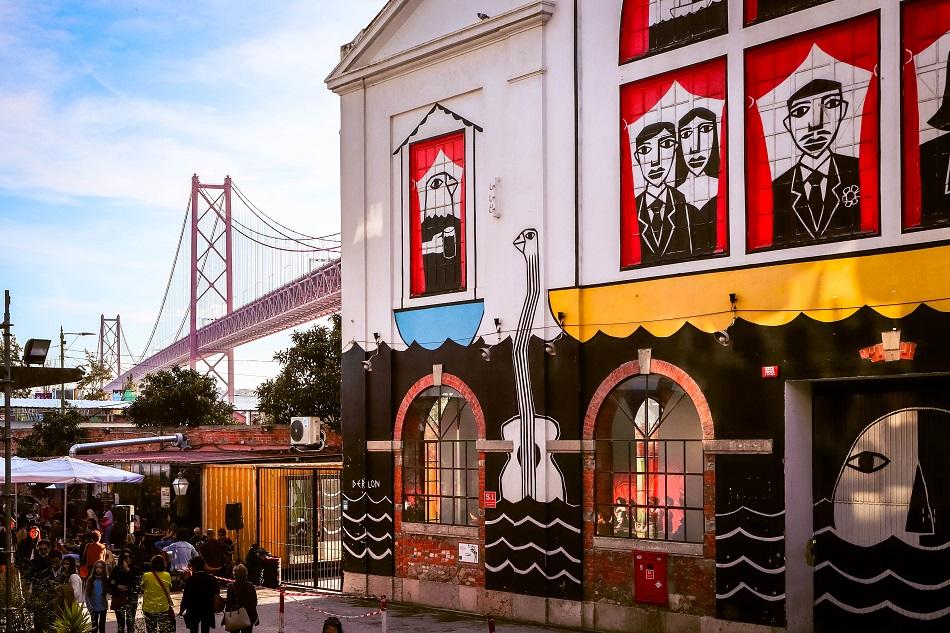 If you like street art, you should visit Lx Factory. Located on the grounds of an old factory, Lx Factory is the perfect place to spend the evening.
You can eat something at one of the cool restaurants, have a drink on the rooftop while watching Ponte 25 de Abril, or do some shopping. Every Sunday there is a market with handicrafts, hand-made clothes, and other cool stuff. Make sure to check it out!
3. Enjoy the sunset from Miradouro de Graca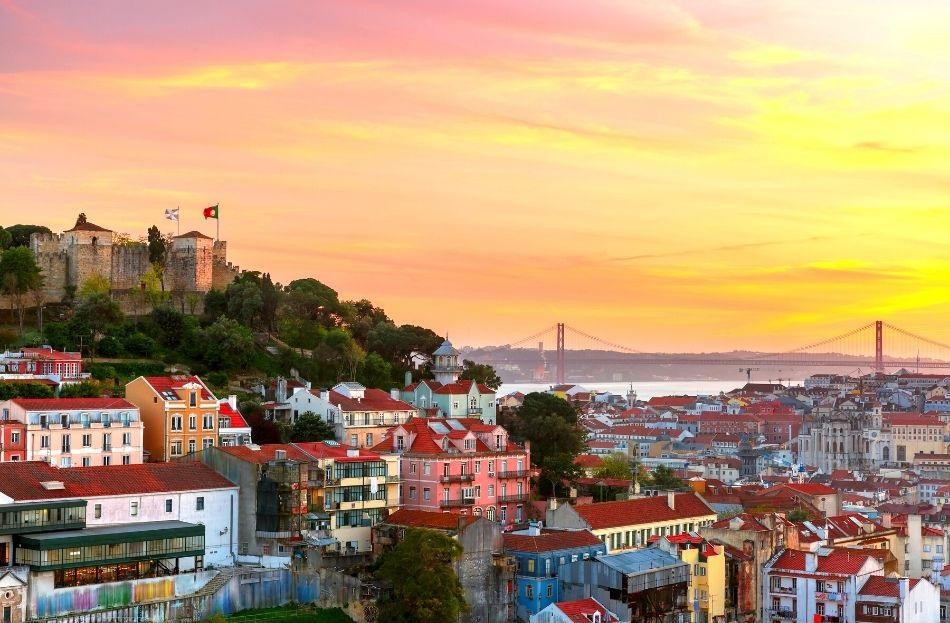 Miradouro de Graca is one of the best viewpoints in Lisbon and the perfect place to watch the sunset. From here you can admire Saint George Castle, Ponte 25 de Abril, and the cramped houses of Lisbon.
This place is a popular meeting point for locals too so don't be surprised if you'll see local artists playing their guitar or couples enjoying a romantic evening.
4. Take a photo with one of the trams
If you're looking for things to do in Lisbon for free, always remember that photos don't cost anything. The yellow and red trams are some of Lisbon's icons. Route 28 E is the most popular one and it crosses Alfama district while passing by some of the most important tourist attractions in the city.
Wherever you're are in Lisbon, it's impossible not to see the trams. They are super-photogenic so don't hesitate to take a few photos as a souvenir.
5. Get lost in Alfama
The best way to explore Alfama is by getting lost inside the maze of cobbled streets. At every step, you'll come across beautiful viewpoints, cool cafés, and art shops.
I loved staring at the beautiful houses covered in azulejos (tiles) and watching how the local life unfolds in front of my eyes. If you want to see the best of Alfama, take the path less traveled and explore the small, narrow streets.
6. Walk around Praça do Comércio
This huge square surrounded by impressive yellow buildings used to be the reception hall for sailors. Unfortunately, the original square was destroyed by the 1755 earthquake but it has since been rebuilt.
Nowadays, this huge space is surrounded by cafés and in the middle, you can admire the statue of José I. Before heading to our next stop, Rua Augusta make sure to admire the Triumphal Arch.
7. Take a stroll on Rua Augusta
From Praça do Comércio, pass through Arco Da Rua Augusta and you'll get to a street with cafés, international shops, and art shops. If you're looking for souvenirs to buy, this is the place to be.
I loved the mosaic pavement and even though I was only window shopping, I liked Rua Augusta. It's one of the most lively and vibrant streets in Lisbon.
8. Admire Ponte 25 de Abril
For the best view of Ponte 25 de Abril head to Christ the King Sightseeing. You'll see this beautiful red bridge standing above Tagus River.
The bridge was built in 1966 and connects Lisbon to the municipality of Almada. What I love about this bridge is that it strikingly looks like the Golden Bridge in San Francisco.

9. Admire the houses covered in azulejos
All around Lisbon you'll see houses covered in ceramic tile-work. Azulejos come in all colors and patterns and it's fascinating to admire them on the houses' exterior.
Keep your eyes peeled for these beautiful art pieces. If you're looking for things to do in Lisbon on a budget, remember that admiring the city and it's architecture is always free!
10. Explore the Lisbon Cathedral
The Lisbon Cathedral is the oldest church in the city and it was built in 1147. The building survived many earthquakes and it was renovated several times.
Today, the Lisbon Cathedral is one of the most important tourist attractions in the city. If you have the time, don't hesitate to visit the inside of the church.
11. Watch how pasteis de nata are being made
I ate too many pasteis de nata (egg tarts) when I was in Portugal. I can never have enough of this delicious Portuguese dessert.
Pastel de nata was created in the 18th century at Jerónimos Monastery, Lisbon. Eggs were used for starching clothes and when there were too many leftover eggs, they were used for pastries and desserts. That's how pastel de nata was invented. Nowadays, you can find pasteis de nata all around Lisbon and in some cafés, you can even see how they're made.
12. Admire the Jerónimos Monastery
Although visiting Jerónimos Monastery requires an entry ticket, you can still admire its exterior. This monastery is home to Vasco da Gama's tomb and is one of the most visited sites in Lisbon.
If you're on a budget but still want to see the best of Lisbon, I recommend visiting this beautiful monastery and while you're here, make sure to visit the nearby Belem Tower.
13. Admire the Belem Tower
This 16th-century fortification is probably the most visited tourist attraction in Lisbon. It's one of the city's iconic landmarks and if you're spending a few days in Lisbon, you should definitely visit it.
To visit the interior, you'll have to pay for an entrance ticket but you can admire the exterior for free! Ornated with several beautiful watchtowers, the Belem Tower is truly stunning.
14. Listen to local artists at Miradouro de Santa Luzia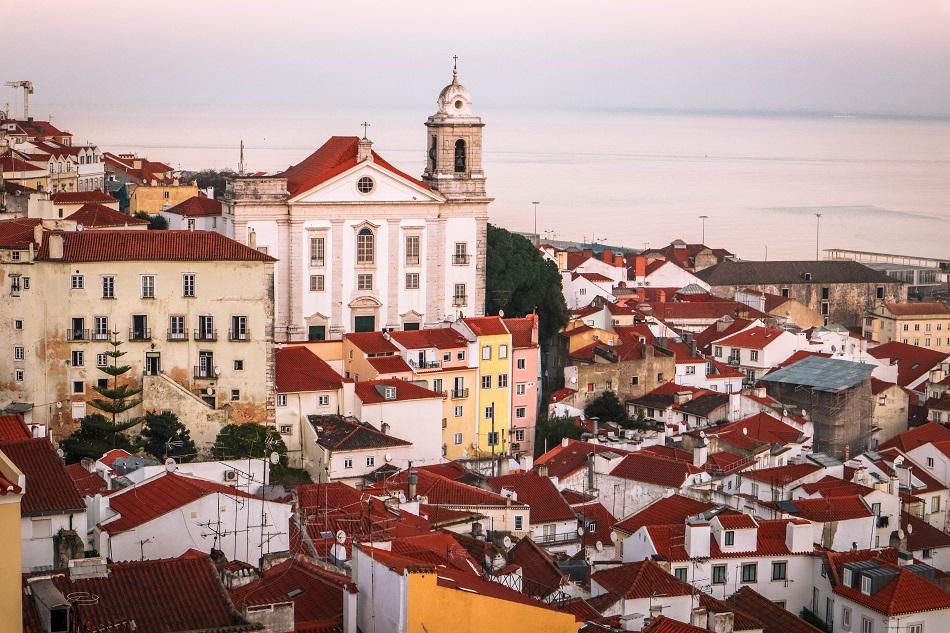 Another free thing you can do in Lisbon is listening to local artists at the beautiful Miradouro de Santa Luzia. This is a popular place to watch the sunset among both locals and tourists.
Admiring Alfama at sunset while the artists are playing their guitar is definitely a unique experience. For more awesome free viewpoints in Lisbon, click here.
15. Go see the Bica Funicular
This picturesque funicular leads to Barrio Alto and Bica neighborhoods. It was built in 1892 and nowadays tourists from all over the world come to see and ride this funicular.
Bring your camera and take some photos here because the views down the street are stunning!
16. Get lost in Barrio Alto
During the day, the streets of Barrio Alto are quiet. Here you can find traditional restaurants, beautiful churches, and art shops. However, during the night Barrio Alto is well known for its vibrant nightlife.
Dating form the 1500s, Barrio Alto is a beautiful place, waiting to be explored. While you're here, make a short stop at Miradouro de Sao Pedro de Alcantara.
17. Admire the beautiful Santa Justa Elevator
A short walk away from Barrio Alto is the Santa Justa Elevator. Even though this elevator was built as a means of transportation, it has now become one of Lisbon's tourist attractions.
People from all over the world come to admire the elevator's architecture. If you want to take a ride on Santa Justa Elevator, you'll have to pay an entrance ticket but I recommend walking to the top by yourself for free!
18. Relax at Rossio Square
Spend an evening at the beautiful Rossio Square. The centerpiece of this square is a 17-meters tall monument paying homage to Pedro IV. There are also two beautiful bronze fountains that light up during the night.
During the Middle Ages, Rossio Square was used for bullfights and executions but today it's only another beautiful square, in the heart of Lisbon.
19. Spend a quiet evening in Jardim da Estrela
If you're looking for things to do in Lisbon for free, plan a few hours to explore Jardim da Estrela. Popular among locals, this place is an oasis of peace.
Full of exotic plants and beautiful gardens, Jardim da Estrela is the perfect place to spend a quiet evening. Take a break from the city's hustle & bustle and reconnect with nature.
20. Visit the Monument of Discoveries
The Monument of Discoveries is situated on the banks of Tagus River and celebrates the Portuguese Age of Discoveries. One thing that stands out is the pavement in front of the monument which was decorated with a mosaic representing the map of the world.
The monument itself represents a ship and is decorated with sculptures featuring important historical personalities such as Magellan, Vasco da Gama, and Cabral.
21. Take a stroll on Largo do Chafariz de Dentro
One of my favorite places in Lisbon is Largo do Chafariz de Dentro. This place was situated near my accommodation so I had the chance to admire it daily.
This small square is cornered by beautiful Portuguese buildings. There are a few restaurants where you can sit and enjoy dinner or simply drink something. This unique, colorful place should be on every tourist's itinerary.
22. Admire the views from Miradouro das Portas do Sol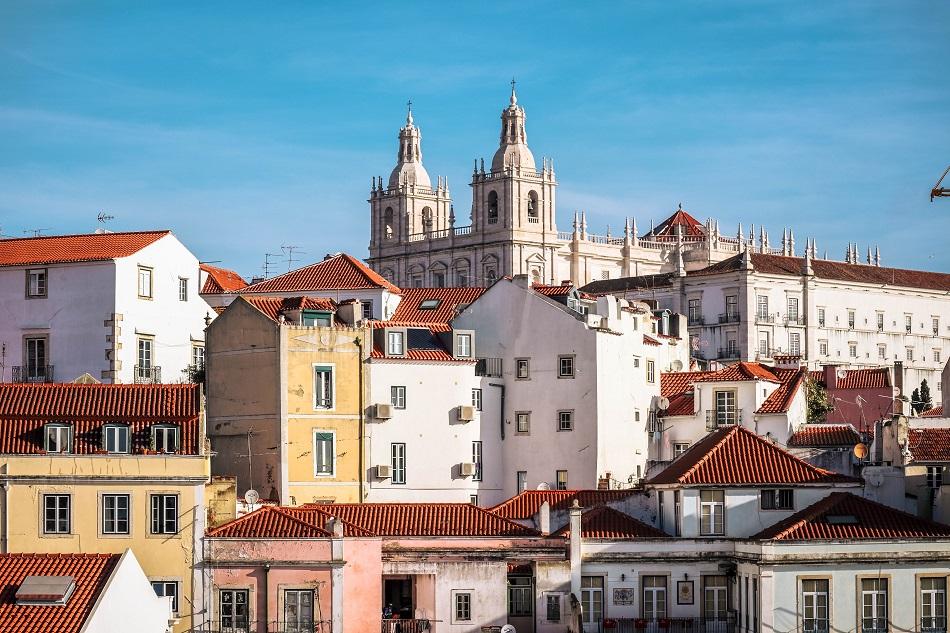 It's time for another gorgeous viewpoint in Lisbon – Miradouro das Portas do Sol. From here you'll see the cobbled streets of Alfama and hundreds of orange rooftops. It's quite a view!
This is a popular stop on any itinerary and one of the best free things to do in Lisbon. Don't forget your camera home! You'll want to photograph this view!
-> For the best miradouros and viewpoints in Lisbon, click here
23. Take a free walking tour and explore the city
You'll discover lots of new things about Lisbon on a free walking tour. You can explore Barrio Alto, Alfama, or Belem. Usually, the free tours are 3-hour long but it's better to check their schedule online.
If you're only spending one or two days in Lisbon, a free walking tour might be the best option to explore the city. Keep in mind that tips are always welcome. Regardless, free walking tours are some of the cheapest things you can do in Lisbon.
24. Walk the riverfront
Take a walk near Praça do Comércio and go to Cais das Colunas to admire Tagus River. This is the longest river in the Iberian Peninsula and it flows into the Mediterranean Sea near Lisbon.
25. Visit Museu do Oriente
The Portuguese are notorious explorers and Museu do Oriente is the perfect place where you can learn more about their discoveries. Here you'll find collections of both Portuguese and Asian art, showing the differences and similarities between the Eastern and Western cultures.
Every Friday from 6 pm until 10 pm the museum is free for the public.
Where to stay in Lisbon
If you're looking for the perfect accommodation in Lisbon, I'm here to help you. I've been searching for the best hotels for every budget and these are my recommendations.
Budget – Flores Guest House – good location, spacious and clean rooms, good amenities, great value for money
Mid Budget – Pessoa Hotel – great location, beautiful design, spacious and modern rooms, friendly staff
Luxury – H10 Duque de Loule – beautiful views, great location, luxurious rooms, amazing design, awesome rooftop bar
Final thoughts
There are many free things you can do in Lisbon. If you're on a budget, I hope that my recommendations will help you spend as little as possible. You can visit Lisbon on a budget and see incredible places at the same time.
If you have any questions, don't hesitate to ask me in the comments section below.
May the travel bug bite you!

Disclosure: Please note that this post may contain affiliate links. If you make a purchase through these links, I will earn a small commission at no extra cost to you. I only recommend companies and products that I trust and the income goes to keeping this website running. Thanks!