I will start by saying that I have never seen something like this before.
Once you step inside the Jagalchi Fish Market in Busan, your senses will go crazy. This huge market is full of all kinds of fish, every species you can image. Colorful ones, weird ones, you name it! There is so much fish that it could easily feed an entire city, no joking.
Imagine hundreds of stalls selling seafood – raw, cooked, dried. Imagine hundreds of sellers preparing their fish. Imagine thousands of locals strolling around the market in search for the best, most delicious fish. You get the idea.
If you're traveling to Busan, you can't skip this famous market. I've seen fish markets before in Asia but none as big, fascinating and intriguing as this one. If you like seafood, don't worry!
There are plenty of restaurants and street food stalls where you can enjoy fish soup, fish on stick, fried fish and pretty much any kind of fish you can think of. There is something for everyone at the Busan Fish Market.
Are you also planning to visit Seoul? Check out this awesome itinerary!
About the Jagalchi Fish Market
Situated near the Namp Port in Busan, the Jagalchi Fish Market is the biggest one in South Korea. Every single day, the freshest fish is delivered by a fleet of fishing boats. After its delivery, the sellers start to clean it and display it.
The Busan Fish Market has two sections: the indoor market and the outdoor stalls. Firstly, we ventured inside the indoor market and it looked like we've arrived at an aquarium.
At the ground floor there were tens of small pools filled with weird living sea creatures. I would love to tell you what they were but I have no idea. Long and fat, short and flat, thin and round fish, they were all swimming in the small pools waiting to become a delicious meal.
More AWESOME things to do in Busan:
After exploring the ground floor, we decided to see what's on the first floor. Here you will find tens of restaurants. It was full of locals having lunch and we would have loved to sit and eat some seafood but unfortunately, we already ate. To get you an idea about the dishes served at the restaurants, here are a few lunch options:
Nakji – octopus tentacles
Gul – oyster
Maeu un Tanng – fish soup
The prices at the Busan Fish Market restaurants are a bit high. Expect to pay somewhere around 15,000 won for a meal.
After visiting the indoor market, we proceeded to visit the outdoor stalls. There are hundreds if not thousands of them. Some of the stalls only sell fish but some of them also have small restaurants in the back.
The vendors will try and lure you into their restaurants by showing you their menu. They will happily kill one of the fish they have on display and cook it for you. Are you hungry?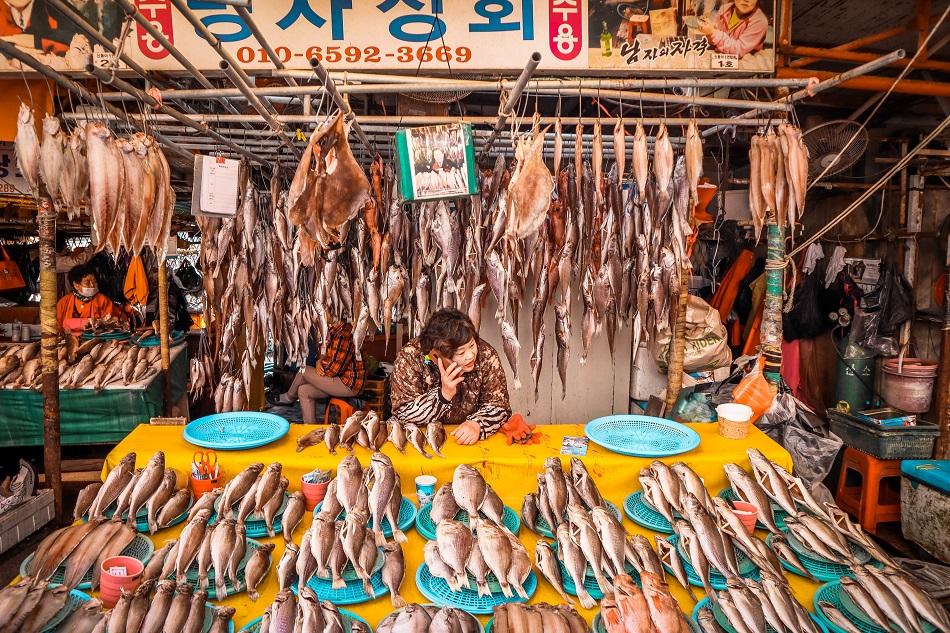 Beautifully displayed on the stalls and decorated with fresh vegetables, you will see clams, giant squids, sea cucumbers, whale meat belt fish, lobster, crabs and just about every edible sea animal.
While the men go fishing, the women sell the fish. Everything is in perfect balance at the Busan Fish Market. The women who run the stalls are nicknamed Jagalchi ajumma. Ajumma actually means "married woman".
Good to know: The smell around the market is quite strong. Although I didn't find it that bad, for some it might be a bit disturbing. If you have a sensible stomach, you might want to visit the market as fast as possible.
Opening hours & entrance fee
The Jagalchi Fish Market is opened seven days a week, from 8am to 10pm. If you want to see how the local vendors set up their stalls, be sure to be there early in the morning (5 am or 6 am). There is no entrance fee to the Busan Fish Market.
Should you visit the Busan Fish Market?
Definitely! Apart from other attractions such as the Gamcheon Culture Village or the Haedong Yonggungsa Temple, the Jagalchi Fish Market is one of the must see places in Busan.
Get lost between fish stalls, admire the weird yet beautiful creatures and why not, try some of the food. This fish market is one of those things that will stick to your memory forever.
How to get there
Getting to the Busan Fish Market is easy. The market is situated in the heart of the city, near the Jagalchi subway station. If you decide to visit this market, I recommend to also take a walk on the nearby bridge – Yeongdodaegyo Bridge. The views are incredible.
Where to stay in Busan
I've search for the best accommodation in Busan, for every budget. Please find below my picks:
Budget – Silk Road Hostel – excellent location, clean rooms (shared bathroom), super-friendly staff
Mid-budget – Value Hotel Busan – excellent location, big rooms, great view
Luxury – Asti Hotel – modern rooms, great location, excellent view
I hope that you've found this article useful. If you have any questions about the Busan Fish Market, please let me know in the comments section below.
May the travel bug bite you!
More about South Korea:
Pin it for later!