Choosing between the largest and the second-largest city in South Korea might be a difficult task but I am here to help you. I have been to both Seoul and Busan and loved them. Yes, they are different in terms of tourist attractions and general feel but each of them has its own charm.
If you're planning a trip to South Korea and don't know which one of these cities to visit, you're in the right place. I will compare Seoul and Busan based on the following criteria: transport, prices, tourist attractions, accommodation, and general feel.
No matter which one you'll end up choosing, both cities are among the most popular tourist destinations in South Korea and they definitely have a lot to offer.
Seoul or Busan? Which one will you choose?
How many days will you spend in South Korea?
If you have five or more days to spend in South Korea, I recommend visiting both cities. You can take the train for a few hours from Seoul to Busan or vice versa. Trains can be pretty expensive but with the Korea Rail Pass you'll save a lot of money.
Five days are more than enough to enjoy the fast-paced life in Seoul and experience the laid-back vibe of Busan. I recommend spending three days in Seoul and two in Busan.
If you have less than five days to spend in South Korea, I'm afraid that you'll have to choose between Busan and Seoul. You can make your choice based on the comparison below – Seoul vs Busan.
1. Transport
Both cities are easy to reach by airplane. To check out flights availability, click here.
In general, transport in South Korea is great. In both cities, you can choose between getting around by public transport or taxi. If you choose public transport, don't worry! The buses and subway work like Swiss watches. Actually, I recommend using the public transport since it's cheap, reliable and convenient.
If you're wondering about the connections with other cities, they are great too. South Korea is a relatively small country and there are buses and trains to any destination.
2. Prices
If you're thinking about saving some money and visiting Busan instead of Seoul, think again! Both cities are equally expensive. How expensive they are, it really comes down to what you're used to.
We've visited South Korea after more than half a year around Southeast Asia. For us, it was expensive but not as expensive as our next destination, Japan.
To give you an idea about the prices around the country, I will share with you some of the costs below (for accommodation prices, please check the section "Accommodation" below):
Bus: 1,200 won
Taxi: 3,000 won for the first two kilometres. After that, you'll have to pay an additional 100 won for every 142 meters.
1 meal: 10,000 won per person
McDonald's meal: 6000 won
*$1=1100 won, as of February 2019
3. Tourist attractions
There is one big difference between Seoul and Busan. Although Busan has some interesting tourist attractions, Seoul definitely has a lot more to offer. Below I'll share with you each city's top attractions.
No time to read now? Pin it for later!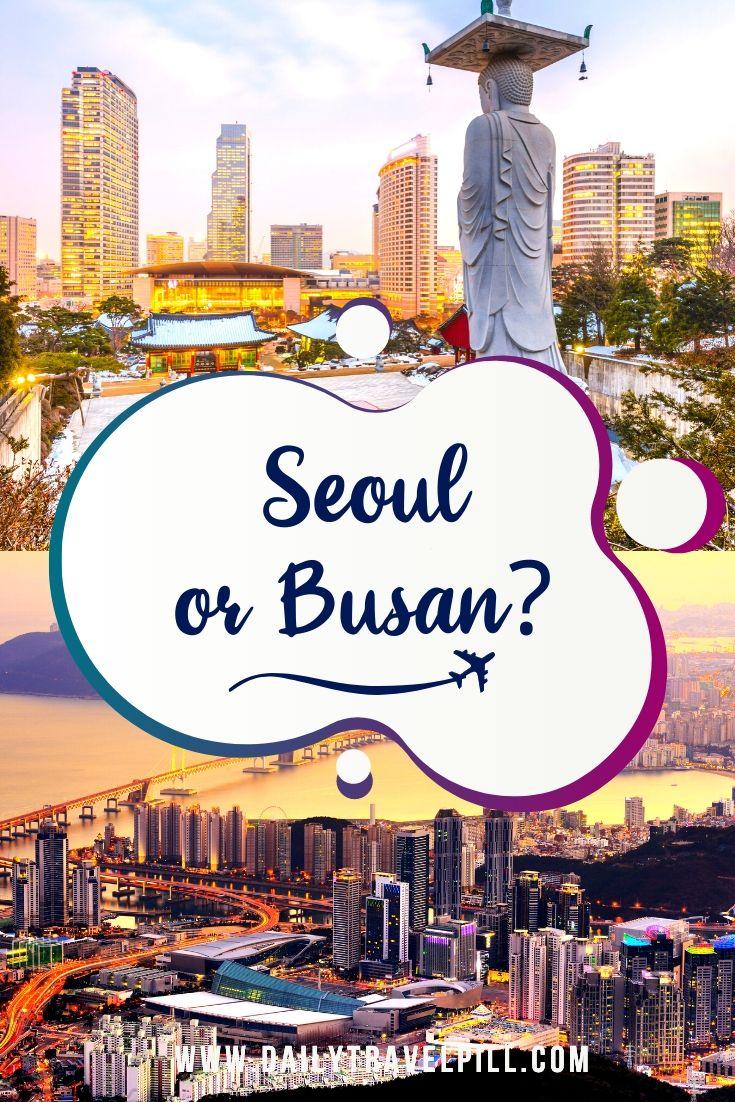 Seoul
The fashion capital of South Korea, Seoul is full of hip & cool places. Apart from its youthful atmosphere, Seoul is the city where the new and the old come together. You'll notice historical buildings surrounded by glass skyscrapers and traditional villages surrounded by highways. Seoul is definitely a city of contrast.
To read my Seoul itinerary, click here.
Below are the most important things to see in Seoul:
Busan
Enjoy a laid-back vacation in Busan. Also called the "Miami of South Korea", Busan is a great place to relax while spending a few days at the beach. Below are the most important tourist attractions in Busan. For a complete list of things to do in Busan, click here.
4. Accommodation
In terms of accommodation, you'll find options for every budget in both cities. Visiting them both, I have been searching for the best accommodation options, and below are my top picks.
Seoul
Budget – JM Guesthouse Hongdae – excellent location, clean rooms, friendly staff
Mid-budget – Orbit – good location, stylish interior, spacious rooms
Luxury – Ryse Hotel – excellent location, comfortable, excellent breakfast
Busan
Budget – Silk Road Hostel – excellent location, clean rooms (shared bathroom), super-friendly staff
Mid-budget – Value Hotel Busan – excellent location, big rooms, great view
Luxury – Asti Hotel – modern rooms, great location, excellent view
5. General feel
If you're still not sure about choosing between Busan or Seoul, let's talk about their vibe. Seoul is a big city with a lot of history but a modern feel. It's fashionable and technology-forward and you won't get bored here.
From endless shopping opportunities to the famous Gangnam neighborhood, Seoul is packed with activities and tourist attractions.
On the other hand, Busan is more laid-back. I recommend it if you're looking for a place to relax with your family while taking a walk on the beach. Busan is a beautiful city and I loved it but when it comes to tourist attractions, it doesn't have that much to offer compared with Seoul.
6. Conclusion
I loved my time in both of these cities. Honestly, I loved Seoul more because there is so much to do and I love to explore new cities. However, this doesn't mean that you should pick Seoul. If you want to go to a place to relax, you should definitely choose Busan.
If you have more than a few days to spend in South Korea, make sure to visit both cities.They're both beautiful but they have a different vibe. If you have any questions, don't hesitate to ask me in the comments section below.
So which one will you choose? Seoul or Busan?
May the travel bug bite you!
Disclosure: Please note that this post may contain affiliate links. If you make a purchase through these links, I will earn a small commission at no extra cost to you. I only recommend companies and products that I trust and the income goes to keeping this website running. Thanks!