Although Seoul is by far the most visited city in South Korea, there are many other hidden gems that are worth visiting. One of them is beautiful Busan, situated in the southern part of the country.
Unlike the vibrant and busy capital city, Busan feels like a breath of fresh air. Laid-back and with many fascinating tourist attractions, Busan should definitely be on your itinerary when visiting South Korea.
Take a few days to explore it and you'll discover some of the most beautiful beaches in South Korea, beautiful seaside temples and intriguing markets.
If you're looking for the best things to do in Busan, you're in the right place. I've spent a few days in this beautiful city and below I'm sharing with you the top tourist attractions in Busan.
1. Explore the colorful Gamcheon Culture Village
Visiting this colorful and artsy neighborhood in Busan was one of the highlights of my trip. The creative vibe surrounding this village, combined with the awesome restaurants and shops make Gamcheon a unique tourist attraction.
When visiting, make sure to buy a map from the information center and follow the route. You will discover colorful sculptures, art installations, and beautiful murals.
Gamcheon Culture Village is a dream for anyone passionate about art and culture. To read more about this incredible place, check out my guide.
No time to read now? Pin it for later!
2. Admire the beautiful Haedong Yonggungsa Temple
Haedong Yonggungsa is a stunning temple situated on the seashore of Busan. Getting to it might be a bit difficult but you'll be rewarded with an incredible view towards the sea and you'll have the chance to explore a beautiful temple.
To reach it, you'll have to pass by 12 stone zodiac sculptures and climb down some stairs. Before crossing the bridge to the temple, make sure to turn left and admire the views. This is probably the best viewpoint towards Haedong Yonggungsa.
There is no entrance fee and you can visit this temple between 5 am and 7 pm. To read more about it, check out my guide about Haedong Yonggungsa Temple.
3. Spend a relaxing evening at Haeundae Beach
When looking for the top things to do in Busan, a stop at the Haeundae Beach is a must. Enjoy the white beach guarded by huge skyscrapers. The whole view looks like a scene from a movie.
Even though I've never been to Miami, Haeundae Beach reminds me of it. The boardwalk is full of awesome coffee shops and restaurants, just in case you get hungry.
When the night takes over the city, Haeundae Beach area comes to life. Locals come here to socialize, party and test their singing abilities at karaoke.
4. Be amazed at Busan Fish Market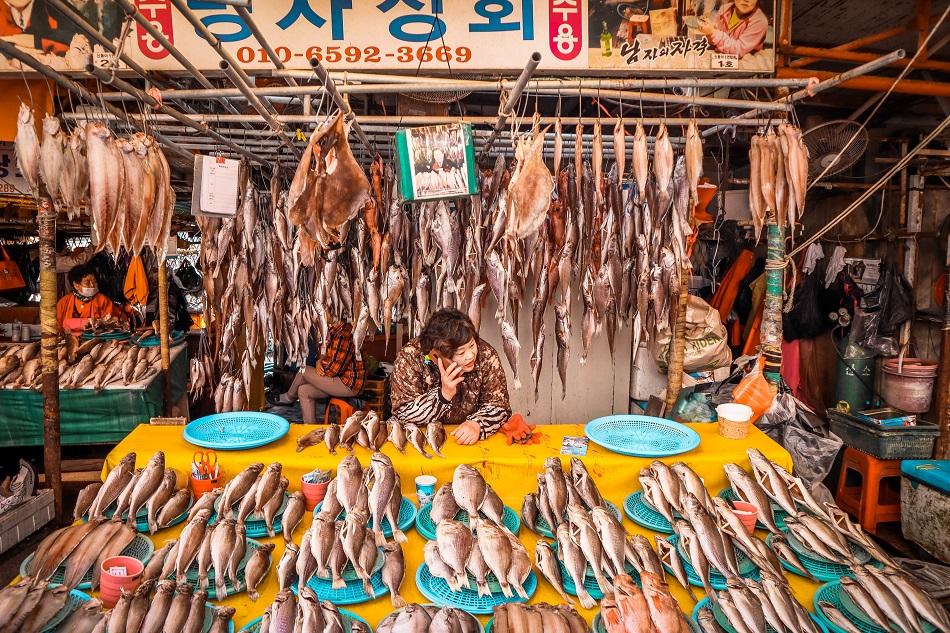 Jagalchi Fish Market in Busan is the place where you'll find any kind of fish. The amount of fish here is simply outrageous and it can easily feed the entire city for a few days.
If you're into seafood, this place is for you! Apart from shops with raw fish, there are many local restaurants where you can try some of the delicacies. Fish soup, fried fish, octopus or shrimps – these are just some of the dishes that you'll find here.
If you're not passionate about seafood, don't worry. You can explore this huge market and admire all the colorful displayed food. Don't hesitate to visit the indoor market too!
To read more about the Busan Fish Market, check out my guide.
5. Shop at Gwangbok-dong Cultural & Fashion Street
Who's excited about shopping? If you want to shop for souvenirs, clothes or pretty much anything, Gwangbok-dong Street is the place to go!
Here you'll find both local and big international brands. I have to admit that the prices are quite high but the quality of the products you'll find here is amazing. Happy shopping!
6. Admire the view from Yeongdodaegyo Bridge
Yeongdodaegyo Bridge is not a tourist attraction per se but it's one of the best viewpoints in Busan. From here you can admire the Busan Fish Market, the harbor and even the Gamcheon Culture Village.
The view is stunning during the day but if you have the time, I totally recommend admiring the city during the night. The colorful lights will put everything into a new perspective.
7. Enjoy the view from Busan Tower
Busan Tower is one of the most recognizable icons of Busan. Offering a panoramic view over the city, a visit to Busan Tower is a must. The 120-meter tall tower can be seen from all around the city.
The tower is opened daily between 10 am and 11 pm. The views are spectacular both during the day and during the night. To save money on your entrance ticket, book your ticket online.
8. Visit Taejongdae Resort Park
This coastal walkway is the perfect place to spend your evening. Enjoy a relaxing walk on the 4-kilometer loop road and reconnect with nature.
Situated on Yeongdo Island, getting to Taejongdae is easy if you choose public transport. Take the bus 8, 30, or 114 and in less than 40 minutes you'll arrive at this beautiful park.
Alternatively, you can choose a guided tour and explore a few other popular tourist attractions in Busan too. I recommend the Busan East Coast cultural day tour.
9. Experience a temple stay at Beomeosa Temple
Beomeosa Temple is the largest and most important temple in Busan. Situated at the foothills of Gumjeongsan Mountain, this temple is unique because it offers a Korean Temple Stay program.
During the stay, you'll learn how to meditate and you'll have the chance to chat with Korean monks. It's a truly unique experience and one of the most fascinating things you can do in Busan.
10. Visit the Busan Sea Life Aquarium
Uncover the ocean's secret and learn more about countless marine species. Busan Sea Life Aquarium is an educational experience and an opportunity to see and admire more than 250 sea creatures.
The aquarium is situated near Haeundae Beach, a short trip away from Busan's city center. To save money and skip the line, buy your ticket online.
11. Take a day trip to Tongyeong
A trip to Tongyeoung is perfect if you want to learn more about South Korean culture. Eat fresh seafood at the Tongyeong Jungang Market and explore the fascinating Dongpirang Village.
If you want to learn more about Korea and visit a place where you won't bump into hundreds of tourists, Tongyeong is the perfect day trip from Busan. You can book your guided tour here.
12. Take a day trip to Oedo Island
Oedo Island is one of Busan's top tourist attractions but to get here you'll need a guided tour. You'll get the chance to admire the famous Windy Hill and the marine botanical garden.
A trip to Oedo Island is the perfect escape from Busan's concrete jungle and the perfect way to reconnect with nature.
13. Visit the beautiful Jukseong Catholic Church
Located in the village of Jukseong-ri, the Jukseong Catholic Church was built as a shooting location for Dream Korean series. This is why the church was nicknamed "Dream Church".
Although the church is fake, its architecture is beautiful and the views towards the sea are breathtaking. It's worth visiting if you're passionate about photography.
14. Relax at Gwangalli Beach
Another attraction on our top things to do in Busan list is Gwangalli Beach. Offering an incredible view towards the Gwangan Bridge that runs over the sea, this beach is perfect for a relaxing walk.
This beach is a popular place for both locals and tourists during the summer. Bring your sunscreen and enjoy a relaxing day at the beach!
15. Explore Busan at night
Enjoy a three-hour tour to some of Busan's best viewing points such as the magical Illumia Park. After that, admire the Gwangan suspension bridge illuminated with thousands of lights and learn more about Busan's history.
The perfect way to end your trip to Busan is to see the city's other face. Exploring it at night is a unique experience.
Where to stay in Busan
If you're looking for the perfect accommodation in Busan, I've got you covered! I've been searching for the best hotels in Busan for each budget. Here are my recommendations:
Budget – Silk Road Hostel – excellent location, clean rooms (shared bathroom), super-friendly staff
Mid-budget – Value Hotel Busan – excellent location, big rooms, great view
Luxury – Asti Hotel – modern & spacious rooms, great location, excellent view towards the sea
If you were looking for awesome things to do in Busan, I hope that you've found my blog post useful. Busan is an incredible city and it has a lot to offer in terms of sightseeing, culture and tourist attractions.
Plan at least two days to explore this beautiful city. You'll fall in love with the food, people, and culture. You can easily get from Seoul to Busan by train in just a few hours.
If you have any questions, don't hesitate to let me know in the comments section below.
May the travel bug bite you!

Disclosure: Please note that this post may contain affiliate links. If you make a purchase through these links, I will earn a small commission at no extra cost to you. I only recommend companies and products that I trust and the income goes to keeping this website running. Thanks!