Busan Gamcheon Culture Village was the splash of color I needed during my trip to South Korea. All the colorful houses, incredible art pieces and jaw-dropping views made me forget about how cold it was (we visited South Korea in October).
This cultural village in Busan is the number one must-see tourist attraction in the city and it's easy to see why. The pastel-colored houses, the creative vibe and the countless cafes make Gamcheon one of the most intriguing and fascinating places I have ever visited.
Be prepared to be amazed, that's all I'm saying!
1. About Busan Gamcheon Culture Village
This colorful village in Busan is well known for its steep stairs, twisting alleys and cute houses. Here, the creativity is in the air and there are art pieces at every step but the Gamcheon Culture Village was not always like this.
Built in the 1950s by Korean War refugees, this village started as a shanty town. Slowly, the people started building brick houses and the village got bigger and bigger. Also named the "Machu Picchu of Busan" or the "Lego City", the Gamcheon Culture Village became the main tourist attraction of Busan in 2009 when the government decided to renovate it.
More AWESOME things to do in Busan: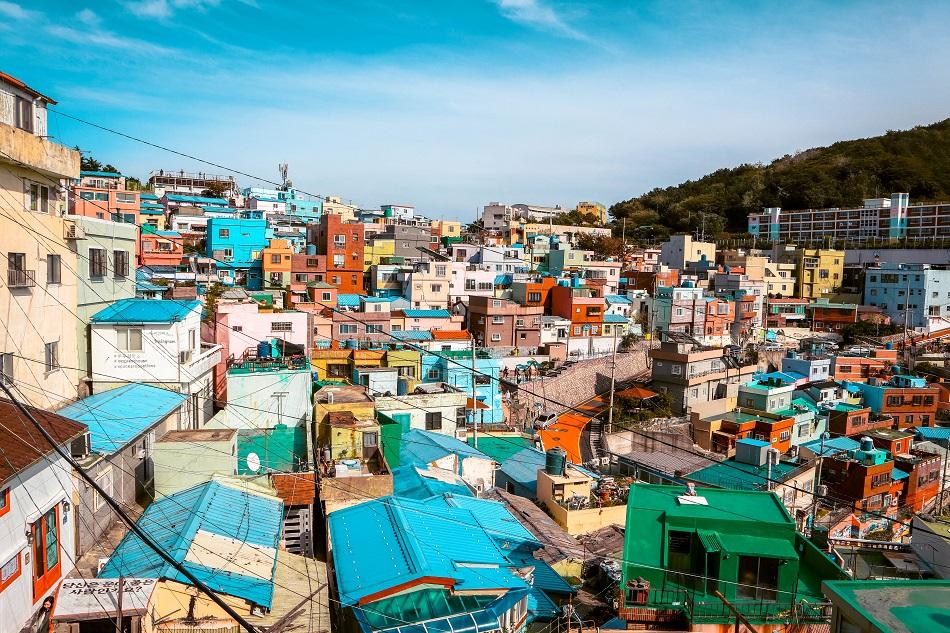 By collaborating with local artists, the village was reborn and it now attracts tourists from all over the world. Apart from tourists, Gamcheon also houses an incredible community of local and international artists. As soon as you enter the village, you will be overwhelmed by the handicrafts shops, art galleries and street art.
This is one of those unique, quirky places that will immediately steal your heart. Let's explore it!
Entrance fee & opening hours
There is no entrance fee to the Gamcheon Culture Village, Busan. The village is opened 24/7 but most of the shops, cafes and restaurants are opened between 9 am and 6 pm.
No time to read now? Pin it for later!
The best time to visit Gamcheon Culture Village
I recommend visiting this colorful village either in the morning or in the evening, close to sunset. During the day, Gamcheon can get pretty busy and you don't want to bump into hundreds of tourists while exploring it. Also, if you're visiting during the summer, the temperatures can get pretty high in the middle of the day so I would avoid that.
How much time do you need to explore this village?
I would recommend at least three hours if you want to see everything this village has to offer. There are many hidden alleys, cute cafes and incredible art pieces that are worth seeing. If you also want to drink some coffee at one of the artistic cafes around the village, I recommend adding one more hour to your itinerary.
-> Check out the top tourist attractions in Busan
2. Gamcheon Culture Village tips & tricks
Don't make too much noise! There are people living here and you don't want to disturb them. They are welcoming tourists from all around the world to their neighborhood. Respect their privacy!
Buy some souvenirs. Many locals rely on their shops/ cafes/ restaurants as their main source of income. Encourage them to keep their businesses open.
Buy the Gamcheon Culture Village map. This is going to be fun, I promise you! More about it below.
Wear comfortable shoes! the alleys here are pretty narrow and even with a map, it's easy to get lost. Make sure to wear some comfortable shoes, suitable for stairs and narrow alleys. Don't worry about getting lost, it's the only way to discover hidden gems!
Don't forget your camera home! The views you're about to see are incredible.
Are you also planning a trip to Seoul? Read this awesome itinerary.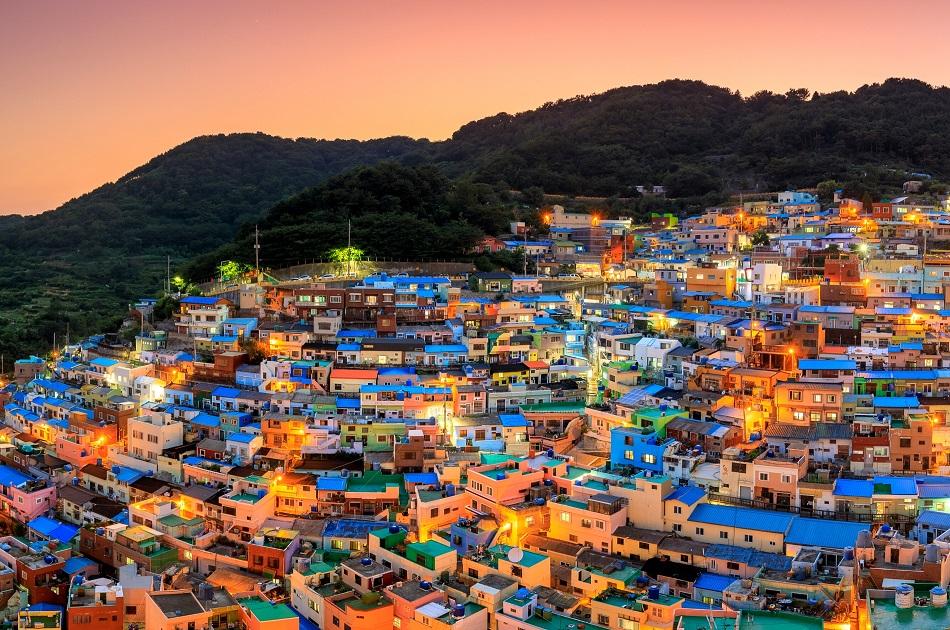 3. The best route for visiting the Gamcheon Culture Village
There are many entry points to the village but I recommend starting at the Gamcheon Culture Village Tourist Information Center. This entrance is situated at the top of the hill. Therefore, in order to visit the village you will only have to go down. Also, if you choose this entrance you will have the chance to see all the important tourist attractions in Gamcheon Culture Village and enjoy the best views.
Good to know: there are a few awesome tours available that include the Culture Village. The Busan Skywalk Tour will take you to the Haedong Yonggungsa Temple and the Gamcheon Village. You can also choose a Busan full day tour which will take you to all the amazing tourist attractions in the city. Make sure to check these out!
Busan Culture Village Tourist Information Center
At the tourist information office you can buy the map of Gamcheon Culture Village for 2,000 KRW. I highly recommend buying it because it's not just any map, it's an interactive one!
Following the map, you will have to collect stamps from designated places across the village. If you have enough stamps, you will receive 2 free Gamcheon Culture Village postcards from some of the designated places for collecting stamps.
Stamp locations (you will find them on your map):
Little Museum
Haneul Maru
Asteroid B612 Souvenir Shop
Ocean Photo Zone
House of Peace
Modern Man
House of Hope II
Gamnae Eoulteo
House with Puppies
Happy Power Station
Gamcheon Loess Salt Company
Message of Hope
I think that this idea is really cool as the map takes you through all the important, must-see places around the village. It's a great way to discover Busan's colorful village while playing a game. If you're traveling with some friends, you can even start a competition and see who will be the first to get all the stamps.
Collecting stamps in Gamcheon Culture Village was one of the highlights of my trip to South Korea!
Tip: If you think you're lost or you can't find one of the stamps, ask the locals. They will happily guide you!
Gamcheon Culture Village routes
You will see that there are three proposed routes on the map. If you want to collect all the stamps, you will have to follow the longest route – the blue one. However, if you have just one hour to explore the village, I recommend choosing one of the shorter routes (the purple or the orange one).
Good to know: following the blue route will take about 2 hours.
4. Things to do in Busan Culture Village
Below is a list of the best things to see in Gamcheon Culture Village. I've visited this entire village and these are my favorite activities:
1) Don't be afraid to get lost
It feels good to get lost, as long as you're lost in the right direction, am I right? Well, getting lost in this village will be fun and exciting as you will discover hidden gems and secret locations. You'll also get a better and more accurate glimpse of local people's life.
Step off the beaten path and explore the hidden alleys of Gamcheon Culture Village!
2) Admire the street art
If there is one thing that truly makes this place unique is the street art. You will find sculptures and paintings at every step. Expect to see colorful houses dressed in colorful art pieces.
Below are only a few of the most important art pieces of Gamcheon:
Fish Swimming through the Alley – Jin Yeongseop
Face of Gamcheon-King Jongsun
Message of Hope – Jin Yeongseop
Gamcheon Sound – Woo Jing
3) Take a photo with the Little Prince and the Fox
Probably one of the most important tourist attractions in Gamcheon Culture Village is the Little Prince and the Fox statues. Overlooking the entire village, these two statues are the most photographed ones. When I visited, people were queuing to take a photo with them.
4) Taste the street food
You can't leave the Gamcheon Culture Village without trying the street food. I personally recommend the raindrop cake. It looks fabulous!
5) Enjoy the views
There are a few viewing platforms scattered around the village but I recommend just walking around. You will definitely find some incredible lookout points. The best views are the ones from Gamnae 2-ro Street.
6) Take a photo at these colorful stairs
Another must-see attraction at Gamcheon Culture Village are these famous stairs. You can find them on the way to Cheondeoksu Well.
7) Go shopping
Let's get to my favorite part – shopping. If you are looking for souvenirs in Busan, definitely go to the Culture Village. You will find handicrafts, accessories and many other amazing items, perfect as souvenirs.
8) Visit "The Stair to See Stars"
This stair was named like this because the locals used to feel dizzy and see stars while climbing it. It is also called "148 Stairs".
5. Best cafes and restaurants in Gamcheon Culture Village
Cafe Avant Garde – Offering the best views over Gamcheon, Cafe Avant Garde is one of the hidden gems in Busan. It's perfect for those who want to take in the views or just relax.
Gamnae Cafe – There are two Gamnae Cafes, one located under Haneulmaru and one in Gamnae Eoulteo. You have to try their coffee!
Gamnae Matjip – Try their Goraesa fish cake noodles!
Ajimae Restaurant – This is one of the most popular restaurants in Gamcheon Culture Village. If you choose it, try their Mackerel Soup and Grilled Mackerel.
6. How to get to Gamcheon Culture Village
The first step is to get to Busan. You can take the train from Seoul for just a few hours. Use this pass to get unlimited train access around South Korea. If you are planning to take the train more than once, this pass will save you a lot of money.
Once you arrived in Busan, the easiest way to get to Gamcheon Culture Village is by taxi. Although this is the comfortable option, it is more expensive than other alternatives such as bus & subway.
If you want to save up some money, I recommend taking the subway to the Toseong Station. Here, make sure to take the Exit 6 (follow the "Gamcheon Culture Village" sign). Head to the bus station and wait for the green minibus 1-1 or 2 or 2-2.
If you feel like exercising a bit, you can also walk to Gamcheon. Keep in mind that the hill is quite steep. Walk only if you're wearing comfortable shoes.
7. Where to stay in Busan
I've search for the best accommodation in Busan, for every budget. Please find below my picks:
Budget – Silk Road Hostel – excellent location, clean rooms (shared bathroom), super-friendly staff
Mid-budget – Value Hotel Busan – excellent location, big rooms, great view
Luxury – Asti Hotel – modern rooms, great location, excellent view
Gamcheon Village is a colorful place, full of surprises. Explore the street art, admire the local houses, and shop for handmade items. Make sure Gamcheon to your Busan itinerary!
May the travel bug bite you!
Disclosure: Please note that this post may contain affiliate links. If you make a purchase through these links, I will earn a small commission at no extra cost to you. I only recommend companies and products that I trust and the income goes to keeping this website running. Thanks!