Haedong Yonggungsa Temple in Busan is one of the few South Korean temples situated on the seashore. It's a rare gem and an incredible opportunity to get out of the city and enjoy some incredible views.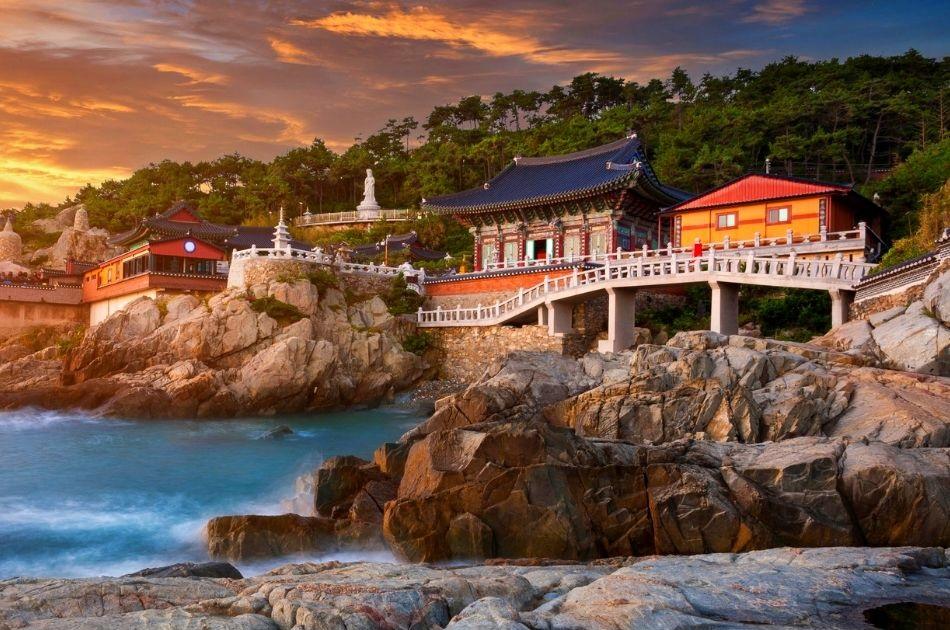 This scenic spot has become one of the main tourist attractions in Busan for both locals and foreigners. There's something about this temple, the rocks surrounding it and the sea breeze that makes it unique and fascinating. Even though Haedong Yonggungsa Temple is a bit far away from Busan city center, it's definitely worth visiting!
Read below everything you need to know when visiting this unique temple.
1. About Haedong Yonggungsa Temple
Busan is the second largest city in South Korea and definitely one of the most beautiful ones. It is home to many incredible attractions such as the colorful Gamcheon Culture Village, the amazing Busan Fish Market, the Busan Aquarium or this incredible temple, Haedong Yonggungsa.
The temple was built in 1376 by a Buddhist teacher called Naong. Unfortunately, it was destroyed during the Japanese invasion but it was later rebuilt in 1930. The temple got its current name, Haedong Yonggungsa in 1974 and it means "Korean Dragon Palace Temple".
Yonggungsa Temple is one of the only three temples in South Korea dedicated to the Goddess of Buddha.
No time to read now? Pin it for later!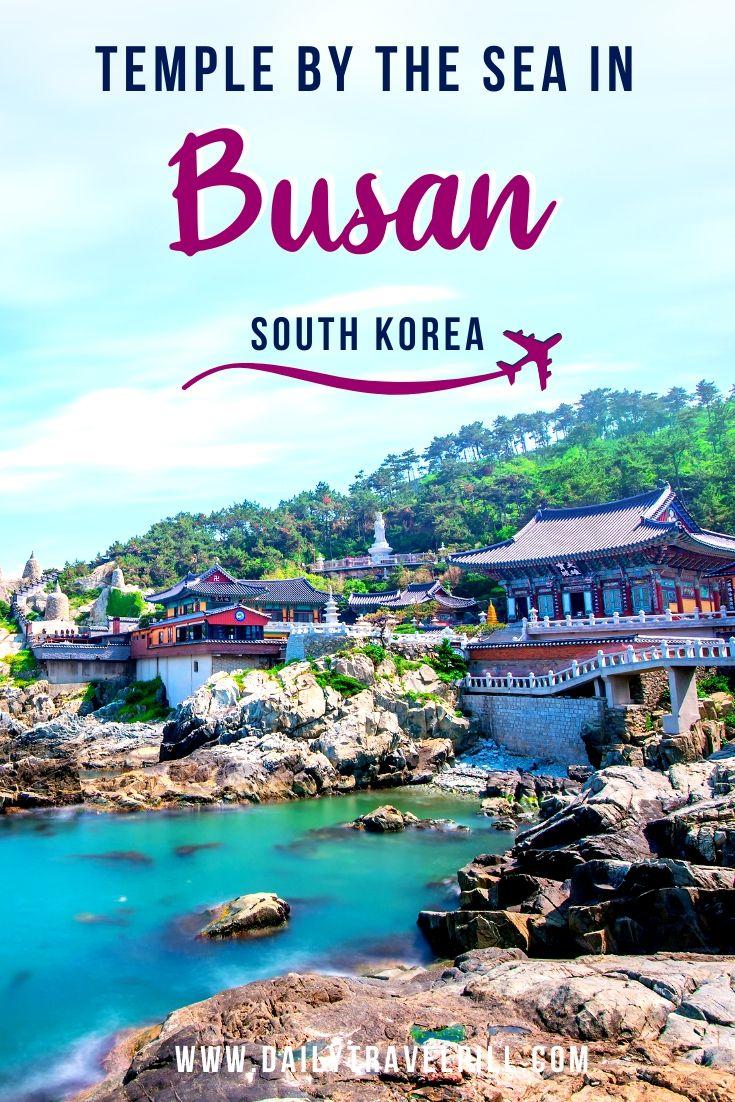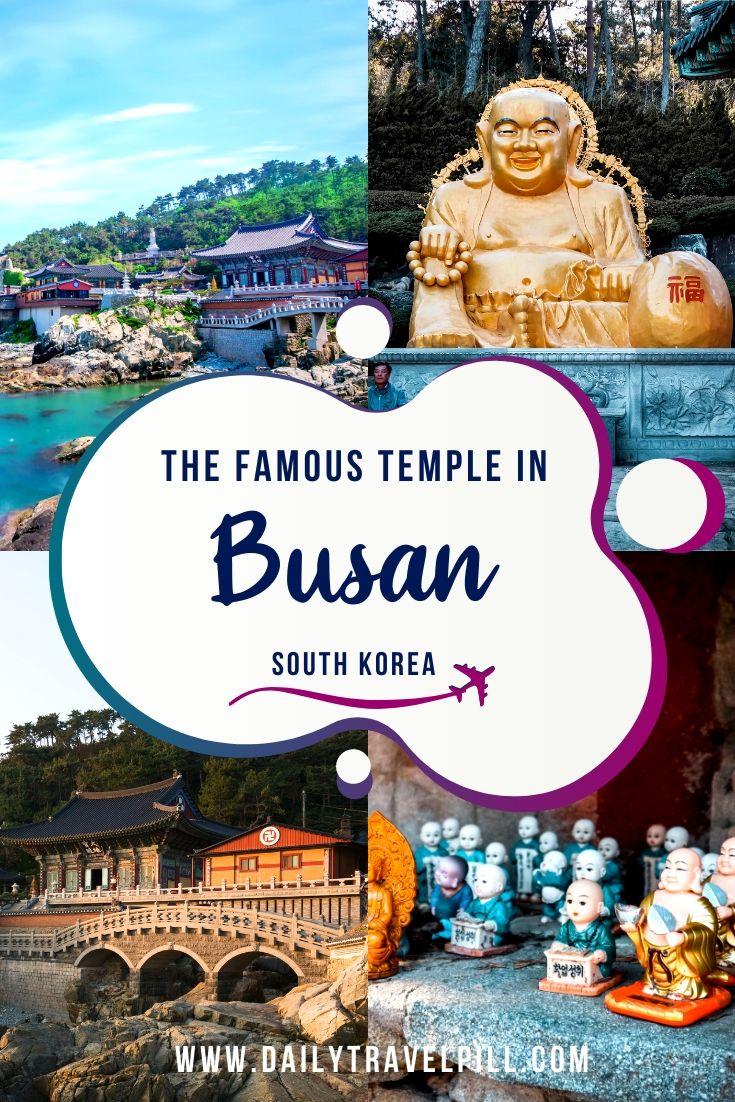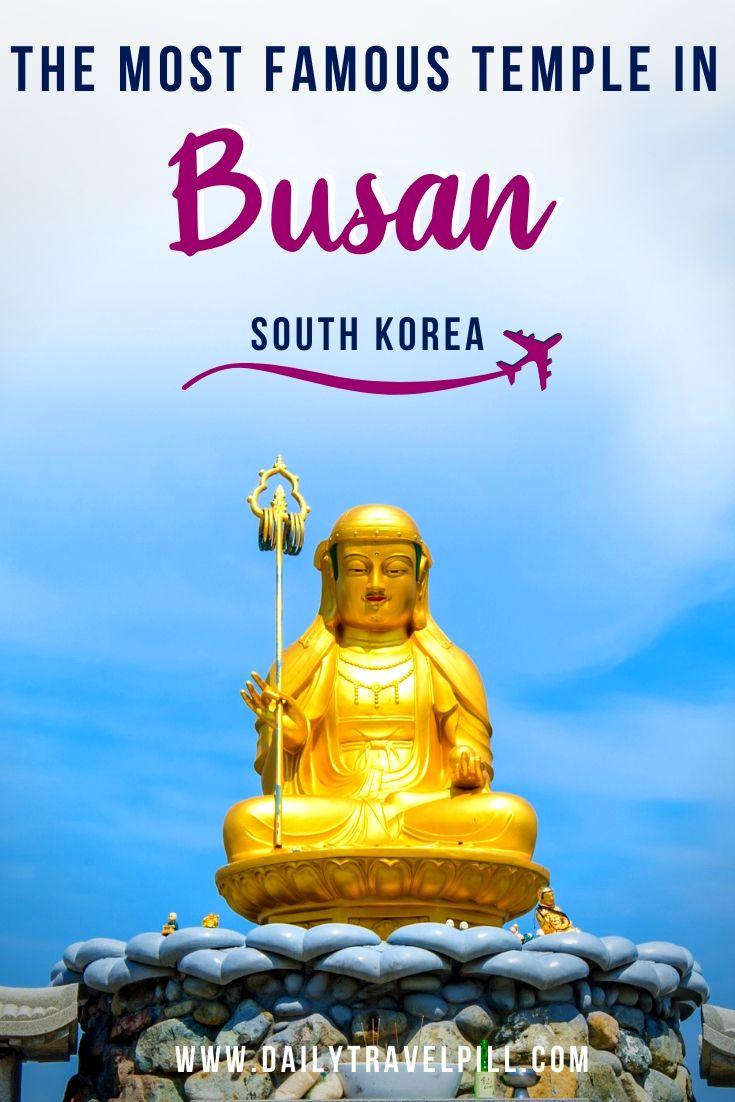 Filled with statues, pagodas and offering beautiful views over the sea, you need to first pass by 12 stone zodiac statues with human bodies and animal faces before reaching it. These 12 statues look like they are guarding the temple and they will lead you to this impressive 8-storey pagoda.
At the base of this pagoda you'll find a car wheel shrine, where people come and pray to avoid car accidents. It's an unusual shrine, to say the least.
Are you also planning a trip to Seoul? Read this awesome itinerary!
After passing by this pagoda, you will need to climb down exactly 108 stairs. This is not just a random number. The 108 stairs symbolize the 108 delusions of the mind in Buddhism.
Right before crossing the bridge to the temple, I recommend turning left to admire the views from this rocky platform while hearing the calming sound of waves. Also, this place offers the best views towards the temple and it's home to Jijang-bosal statue.
When crossing the stone bridge, you can try your luck and toss a few coins for good luck in the pond below.
Once you get to the main temple, you can admire the Haesu Gwaneum Daebul (Goddess of Buddha), the Daeungjeon Main Sanctuary and the three-storey pagoda with four lions. The four lions represent joy, anger, sadness and happiness. Also, don't miss the two golden pigs known for bringing fortune.
Opening hours & entrance fee
Fortunately, Yonggungsa Temple is one of the free attractions in Busan (there is no entrance fee). The temple is opened every day, from 5 am until 7 pm.
Parking facilites
There is a big parking available at the Haedong Yonggungsa Temple. You can find the prices below:
3,000 won for vehicle (15 seats or less)
5,000 won for vehicle (16-25 seats)
7,000 won for vehicle (25 seats or more)
2. Best time to visit
If you want to experience the cherry blossom at this incredible temple, then you should visit it sometime at the end of April, beginning of March. Another popular time to visit the temple, especially for the locals, is during the New Year. If you choose to visit the Haedong Yonggungsa Temple during the New Year, expect to find lots of people around.
A popular celebration is the birth of Buddha in the forth month of the lunar calendar. During this celebration, the temple is covered with lanterns, offering a spectacular view to the visitors.
Also, I recommend visiting it either during the morning or evening since in the middle of the day it tends to get pretty busy. Sunrises at Haedong Honggungsa Temle are pretty magical!
3. How to get to Haedong Yonggungsa Temple
There are transport options for any budget. Depending on how fast you want to get to the temple, choose one of transport options below.
After arriving at the temple, you'll have to pass through a street full of souvenir shops and street food stalls.
Guided tour
This temple is quite far from Busan. Getting to it can be a hassle and it can take a lot of time. The easiest way to get to Haedong Yonggungsa Temple is with a guided tour. Here are a few options:
Grab a taxi
Taking a taxi to the Haedong Yonggungsa Temple is the most convenient option but definitely not the cheapest one. You can take a taxi from anywhere around the city and it will drop you exactly in front of the temple.
This is a big advantage, especially if you're trying to save up some time because when using the public transport you will have to walk about 20 minutes from the bus station.
Price: Expect to pay somewhere around 10,000-15,000 won from Busan
Pros: convenient, fast, it will leave you right in front of the temple
Cons: it's more expensive
Use the public transport
From the Haeundae subway, take the Exit 7 and catch the bus number 181. Make sure to get off at the Yonggungsa Temple Bus Stop. From the bus stop, you'll have to walk approximately 20 minutes until arriving at the temple.
Price: 1,200 won per ride
Pros: cheap
Cons: it will take around one and a half hours to get from Busan to the Yonggungsa Temple.
4. Where to stay in Busan
I've search for the best accommodation in Busan, for every budget. Please find below my picks:
Budget – Silk Road Hostel – excellent location, clean rooms (shared bathroom), super-friendly staff
Mid-budget – Value Hotel Busan – excellent location, big rooms, great view
Luxury – Asti Hotel – modern rooms, great location, excellent view
Visiting the Yonggungsa Temple in Busan was one of my favorite experiences especially because it was very relaxing walking around it. After over one year around Asia, this is the first temple situated by the seashore that I've visited and I loved it. Its architecture is beautiful, the views are incredible and it's a great way to experience the local culture.
May the travel bug bite you!

Disclosure: Please note that this post may contain affiliate links. If you make a purchase through these links, I will earn a small commission at no extra cost to you. I only recommend companies and products that I trust and the income goes to keeping this website running. Thanks!