I've been to many big cities around Asia but Seoul is one of my favorites. You'll see the contrast between old and new at every step. Although most of Seoul was destroyed during the Korean War, a few historical buildings remain and now they're all surrounded by tall, glass & metal skyscrapers.
It's incredible to see this contrast and it's a part of Seoul's charm. If you are planning a 3-day trip to Seoul, this itinerary will help you a lot. I've spent five days in this city and I've visited all the popular, historic and cool tourist attractions.
Please find below the places you shouldn't skip if you want to spend three days in Seoul.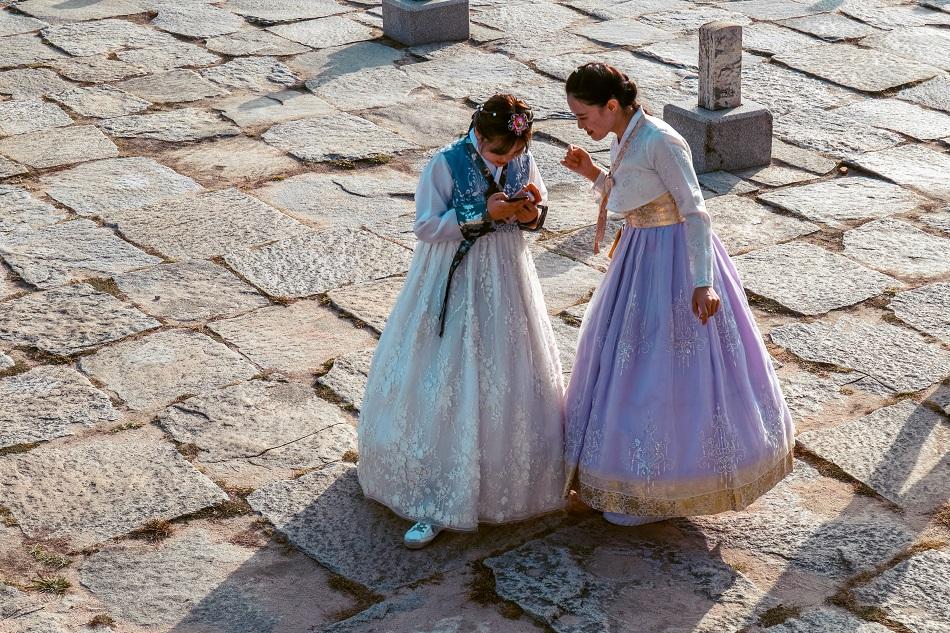 1. Why you should visit Seoul
Fashion & technology-forward but also traditional, Seoul is an intriguing yet fascinating city. There's always something happening. From K-pop street performances to traditional dances and an amazing theme park, you'll always be surprised by something.
With a population of over 10 million, Seoul is a great choice for those in search of a rich culture, futuristic architecture and great food. You only need a few days in this dynamic and youthful city to fall in love with it.
Get ready for a vibrant nightlife, endless shopping opportunities and jaw-dropping temples and palaces.
What I loved about Seoul was its awesome public transport, cool cafes and electronic games. I rediscovered my inner child and visited quite a few arcade game shops. The variety of games you'll find here is incredible and the locals seem very passionate about playing video games too.
Fun fact: Do you know the world-famous Gangnam Style song? Well, it got its name after a neighborhood in Seoul called Gangnam.
2. The perfect Seoul 3-day itinerary
Visiting Seoul in 3 days is totally do-able and you'll have enough time to discover the main tourist attractions in the city. If you only have two days to spend in this city I recommend skipping the last day of this itinerary but you can adjust it as you wish.
Good to know: I recommend getting a Seoul Pass. With this pass, you will save a lot of money on entry fees to many tourist attractions in Seoul.
No time to read now? Pin it for later!
Day 1
Let's start this trip with a visit to one of the most famous borders in the world, the DMZ. It's going to be exciting and a great way to find out more about the Korean history. Usually, the trips to DMZ are half-day so for the last part of the day, I recommend visiting the N Seoul Tower. Here you will get a 360 degree glimpse over Seoul. Take your time and admire it from above!
Visit one of the most famous borders in the world – the DMZ
Duration (getting there + visiting): half day
A visit to South Korea isn't complete without visiting the DMZ (demilitarized zone). For many of us, visiting North Korea is out of the question so this is the closest we can get to this country.
While visiting the DMZ you will find out more about the Korean history and war. You will visit some important locations such as the 3rd Infiltration Tunnel, the Dorasan Station or the Dora Observatory.
Good to know: Access to DMZ is possible only by guided tours. Click here to see available tours.
If you want to get a glimpse inside one of North Korea's cities, don't skip the Dora Observatory! To read more about this experience, check out my complete guide to DMZ.
Good to know: there are actually two kinds of tours that will take you to the border between South Korea and North Korea. One of them is called JSA (Joint Security Area)and, apart from the places mentioned above, it will take you to the place where the North and South Korean soldiers stand face to face (this tour lasts for an entire day). The other tour is called DMZ. Given the fact that you only have 3 days in Seoul, I recommend the shorter tour called DMZ.
Tip: Book your tour at least two weeks in advance. They sell out quickly. Check out some awesome tour options below
Admire the view from N Seoul Tower
Duration (getting there + visiting): 2-3 hours
Are you ready to enjoy the best view of Seoul? This Seoul itinerary wouldn't be complete without a panoramic view over the city. Climb to the N Seoul Tower and see the sun set over Seoul from one of the viewing platforms or from the observatory.
Namsan Seoul Tower was opened to the public in 1980 and it now welcomes around 12 million visitors each year. It's an important Seoul landmark and the views it offers are breathtaking. Even if you're visiting Soul for just 3 days, don't skip this attraction! Book your entry ticket here.
Good to know: It's free to admire the city from the viewing platforms at the base of the tower (the view is incredible). If you want, you can go even higher to the observatory but you will have to pay an entry ticket of 10,000 won per adult.
Day 2
The second day of this 3-day itinerary of Seoul will cover the most important historical monuments in the city, a beautiful temple and a shopping street. This is the time to search for souvenirs and find out more about the Korean culture. Once the day ends, it's time for some fun in one of the most vibrant and youthful neighborhoods of Seoul – Hongdae!
Rent a Hanbok
Oh, I loved wearing the traditional Korean dress called Hanbok. You'll see that both locals and foreigners love wearing hanboks and taking photos all around the city.
Since the first tourist attraction I recommend for this day is the Gyeongbokgung Palace, it would be a great idea to visit it while wearing a hanbok. You can take some awesome pictures like the girls from the picture below.
Bonus: the entrance fee to the palace is free if you're wearing this traditional Korean dress.
Renting a hanbok in Seoul is quite easy since there are rental shops almost everywhere but for all the details you need to know and tips & tricks, you can check out this guide. It covers prices, photo locations and more.
Explore the Gyeongbokgung Palace
Duration (getting there + visiting): 2-3 hours
There are actually 5 palaces in Seoul (Gyeongbokgung, Changdeokgung, Changgyeonggung, Gyeonghuigung and Deoksugung). They are situated pretty close to one another and they all date back to the Joseon Period. Which one to choose?
I recommend visiting Gyeongbokgung Palace because it is close to the next attraction on our itinerary and it is the biggest and most impressive out of all the five palaces in Seoul.
Even though this palace was destroyed during the Japanese occupation, it was reconstructed in the 1990s according to what it used to look like. You can explore the interior courtyards, admire the architecture and take some awesome photos.
Get lost in Bukchon Hanok Village
Duration (getting there + visiting): 1 hour
This traditional Korean village is one of the hot spots for tourists in Seoul. With many alleys and beautiful traditional homes, the Bukchon Hanok Village is a fascinating glimpse into Seoul's past. Keep in mind that people live here so don't make too much noise.
There is no entrance fee to this village. You are free to wander through the alleys and admire the beautiful architecture. Don't be surprised to see both locals and foreigners dressed in hanboks, taking photos around the village. It is a very popular place for photoshoots.
Admire the colorful Jogyesa Temple
Duration (getting there + visiting): 1 hour
Once you'll enter the gate of Jogyesa Temple in Seoul, you will be amazed by its colorful details. This temple is a splash of color. It features a mix of traditional temple and palace architecture and the gardens are full of flowers.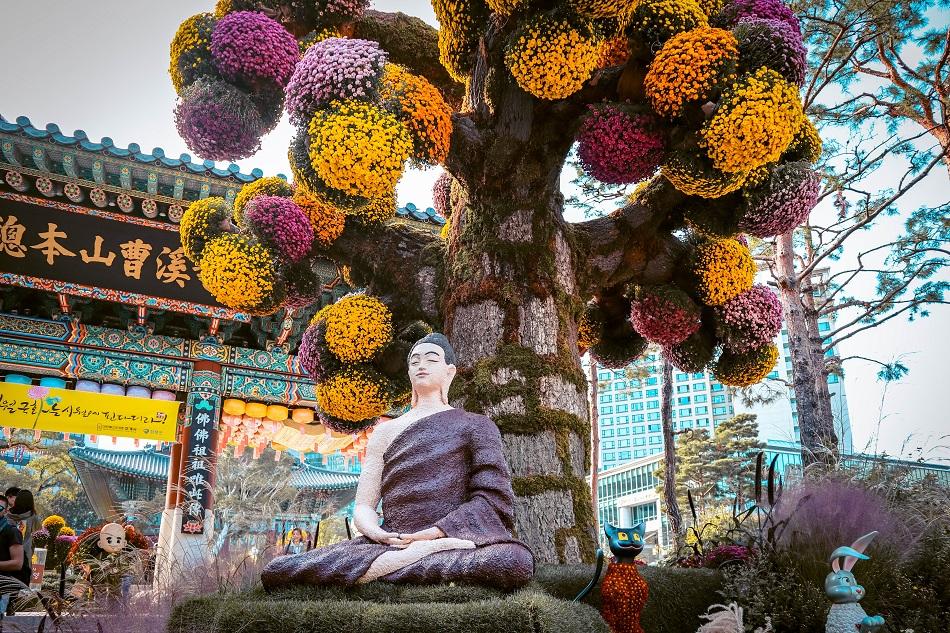 Visiting a Korean temple is a great way to get a bit closer to the local culture. Relax and admire the Jogyesa Temple while finding out more about Buddhism.
Go shopping at Insadong Street
Duration (getting there + visiting): 1 hour
It's time for a bit of shopping! Right near Jogyesa Temple is the Insadong Street. Here you will find tens of local shops full of clothing, accessories, souvenirs and handicrafts.
It's the perfect place to look for souvenirs for the loved ones back home. Insadong Street is also a great place for art enthusiasts. From paintings to statues and home decor, you will find everything here.
Also, here you'll find many restaurants with both local and international cuisines. If you're feeling adventurous, you can try the street food. Even if you don't know what kind of food people are selling, just try it! You might end up loving it.
Explore the Seoul nightlife at Hongdae neighborhood
Duration (getting there + visiting): 3 hours
What better way to end this day than with a bit of fun? Hongdae is the perfect place to explore Seoul's nightlife. With many clubs, bars, restaurants and shopping opportunities, Hongdae is the place to be for fashionistas, shopping enthusiasts and party animals.
If you feel like singing, you can go try karaoke or if you want to bring your inner child out, you can play electronic games at Zzang Games. All in all, Hongdae has something for everyone in search of fun. To read which are the top 10 things you have to do in Hongdae, check out this guide.
Tip: Don't forget to try the 32-centimeter tall ice cream! It's delicious, quirky and BIG!
Day 3
On the last day of this three-day itinerary of Seoul, we'll visit one of the most popular neighborhoods in Seoul – Gangnam. After that, we're heading to the suspended platform Seoullo 7017 and then we're doing some shopping in a local market.
Towards the end of the day we'll combine the old with the new. After seeing one of the eight gates of Seoul, we'll be heading to one of the modern buildings in the city – Dongdaemum Design Plaza.
Explore Gangnam Neigborhood
Duration (getting there + visiting): 1-2 hours
Mostly known due to the world-famous Gangnam Style song, this neighborhood is the place to be for those who want to really feel Seoul's vibe. With countless shops, hip restaurants and tall skyscrapers, Gangnam's architecture is one of a kind. Just take a walk on the streets and feel how the local life unfolds in front of you.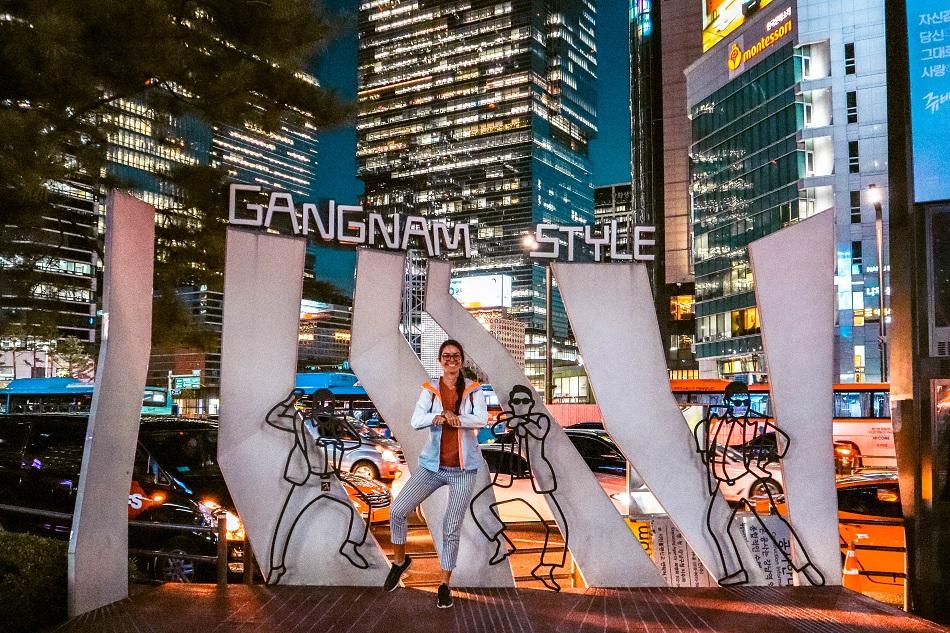 While you are here, don't hesitate to visit the Gangnam Style Horse Dance Stage where you can pay tribute to one of the most popular songs in the world. You will find this stage at the exit of Gangnam metro station.
Step in the future at Seoullo 7017
Duration (getting there + visiting): 1 hour
It's time to get on the other side of the river and visit the Seoullo 7017. What used to be a highway is now a futuristic pedestrian walkway. Made out of glass and full of trees and vegetation (24,085 plants and 228 species of trees and flowers), the Seoullo 7017 is great for taking a walk and relaxing.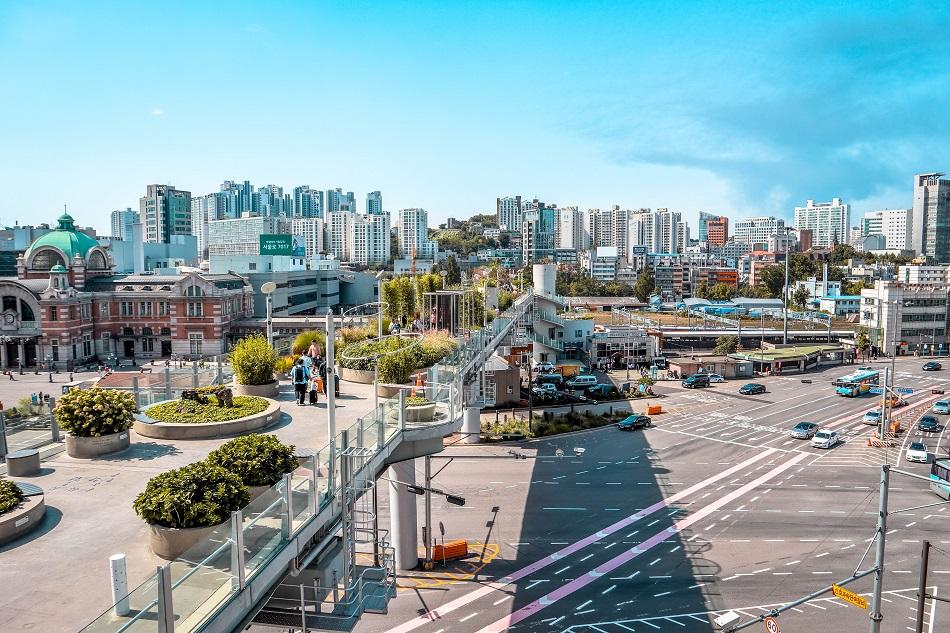 You can watch the traffic below or admire the skyline above. Either way, this pedestrian walkway is a must-see when in Seoul.
Shop till you drop at Namdaemum Market
Duration (getting there + visiting): 1-2 hours
You can't visit a new country without going to one of the local markets. Right near Seoullo 7017 you can visit the Namdaemum Market. Opened in 1964, this is the largest traditional market in Korea and here you can find pretty much anything: clothes, street food, electronics, fruits & vegetables and souvenirs at affordable prices.
There are approximately 10,000 stores at Namdaemum Market so you'll certainly find something to buy. We ended up buying tons of souvenirs and street food.
Admire the Sungnyemun Gate
Duration (getting there + visiting): 1 hour
Right near the market, you can visit one of the eight Seoul gates – the Sungnyemun Gate. Dating back from the Joseon Dynasty, this gate is the first National Treasure of Korea. It is a big, imposing structure in total opposition with the surrounding buildings. While the gate is a historic monument, it is guarded by tall, glass skyscrapers.
If you are lucky, you can even catch the change of guard when visiting the Sungnyemun Gate.
Dongdaemun Design Plaza
Duration (getting there + visiting): 2-3 hours
For those passionate about art and architecture, the Dongdaemum Design Plaza is the place to be. The most striking feature of this building is its architecture. With its metal-looking exterior, round shapes and imposing structure, the Dongdaemum Design Plaza is an atypical sight.
Housing art exhibitions, fashion shows, home decor global trends and live performances, this place attracts quite a fashionable crowd. Visit it and see which are the latest trends around the world.
3. How to get around Seoul
By subway
By far, the easiest way to get around Seoul is by subway. The connections are great, it is affordable and you'll get to your destination in no time.
Good to know: If you are planning to visit many tourist attractions in Seoul, I recommend buying a Seoul Pass.
By bus
You can also use the bus (we used it a lot and the connections are great). Just type in your Google Maps your destination, select the "public transport" option, and follow the instructions. Depending on the color of the bus, the price is different.
Blue Buses: ₩1,300 per ride
Green Buses: ₩1,300 per ride
Yellow Buses: ₩1,200 per ride
Red Buses: ₩2,400 per ride
Night Buses: Regular city routes that operate at night. All night routes are prefixed with an "N."
To pay for the bus you will need exact change or a payment card such as T-money which will reduce the bus fare by ₩100.
By taxi
Taxis in Seoul are pretty affordable and definitely the most comfortable way to get around the city. There are two types of taxis in Seoul:
Regular taxis – silver, orange, blue or white color. They have the "taxi" sign on the roof and they generally cost between ₩2,800 and ₩3,000 for the first two kilometers. After that, you'll have to pay an additional ₩100 for 142 meters.
Deluxe taxis – black color and yellow stripe. The prices are a bit higher – between ₩3,200 and ₩5,000 for the first three kilometers and ₩200 every 164 meters.
Good to know: Keep in mind that not all taxi drivers speak English. Also, tipping is not required but it's welcomed.
4. Where to stay in Seoul
I've searched for the best accommodation in Seoul for each budget. Find below the best options:
Budget – JM Guesthouse Hongdae – excellent location, clean rooms, friendly staff
Mid-budget – Orbit – good location, stylish interior, spacious rooms
Luxury – Ryse Hotel – excellent location, comfortable, excellent breakfast
If you were wondering which are the places to visit in Seoul in three days, I hope that this itinerary was helpful. You can ask me any questions in the comments section below!
May the travel bug bite you!
Disclosure: Please note that this post may contain affiliate links. If you make a purchase through these links, I will earn a small commission at no extra cost to you. I only recommend companies and products that I trust and the income goes to keeping this website running. Thanks!