Are you ready to get immersed in the Korean culture and wear a Hanbok? There are many things to do in Seoul but my favorite activity by far was wearing a Hanbok around the city. After seeing tens of locals wearing these princess-like dresses, I have decided to try it too!
It's fun, it's comfortable, it's fancy and great for a photoshoot! If you want to rent a Hanbok in Seoul and wear it around the city, you are in the right place. In this guide, you will find out everything you need to know about this stylish traditional Korean dress. Are you ready for the Seoul Hanbok experience?
1. What is a Hanbok?
A Hanbok is a traditional South Korean dress which can be formal or semi-formal, used during traditional events such as festivals and ceremonies. A fun fact is that "Hanbok" literally means Korean clothing but it usually refers to the clothing from the Joseon period. Since 1996, there is even an official "Hanbok Day" when locals are encouraged to wear their traditional clothing.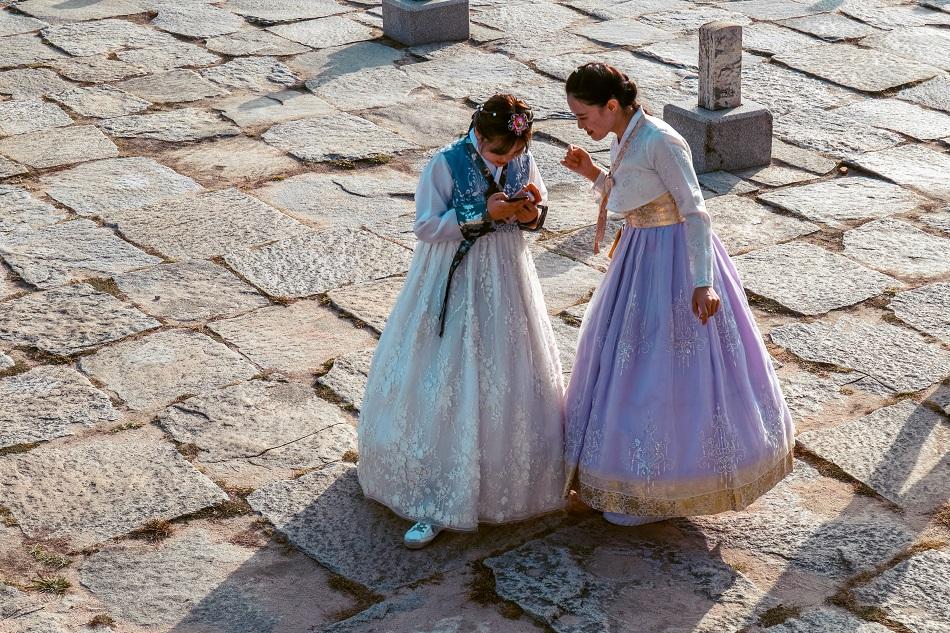 This traditional Korean dress for women consists of two pieces:
a high-waist skirt called chima
a jacket called jeogori
Of course, men can wear a hanbok too. However, theirs looks slightly different and it consists of:
loose-fitting trousers called baji
a jacket called jeogori
If you're not sure whether or not to rent a hanbok in Seoul, go for it! You'll see many locals wearing it all over the city. While many of them are hiring professional photographers to take their photos, most of them are just doing it for fun and out of respect for their traditions. Locals are happy when they see foreigners interested in their culture!
More AWESOME things to do in Seoul:
2. Where to rent a Hanbok in Seoul
If you worrying about not finding a place to rent a hanbok in Seoul, don't! There are tens of hanbok rental shops near every tourist attraction. Some are cheaper, some are more expensive, some have more complicated designs while some have simple designs.
No matter what kind of hanbok you're looking for, you'll find the perfect one for you and I am here to help you. Below are some of the most popular rental places in Seoul.
No time to read now? Pin it for later!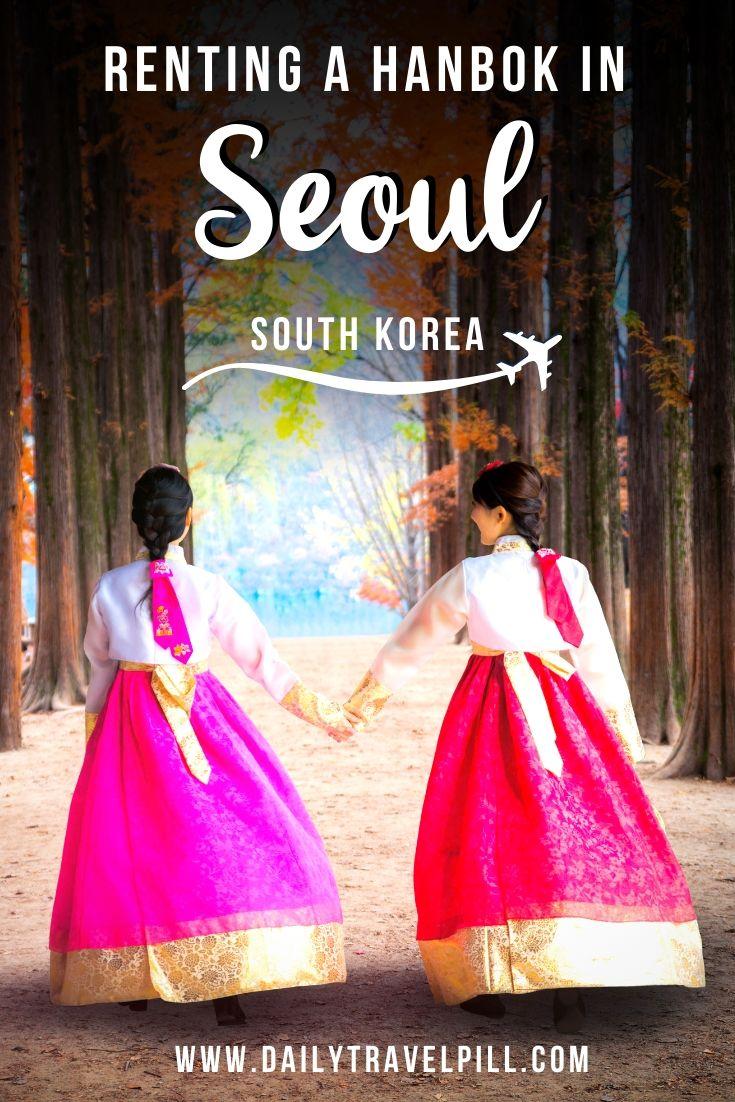 Near the palaces
There are five Grand Palaces in Seoul (Gyeongbokgung, Changdeokgung, Changgyeonggung, Gyeonghuigung and Deoksugung). They are all close to one another and pretty similar in their architecture so you can visit any of them. I chose Gyeongbokgung and loved it! It was big, there were lots of hidden alleys with beautiful architecture and there were not too many people around.
Are you planning to stay 3 days in Seoul? Read this awesome itinerary!
If you want to take some photos at one of the palaces dressed in a Korean hanbok, you will have to walk on the streets surrounding the palaces to rent a dress. The most popular street for renting a hanbok is Insadong Street. However, keep in mind that prices here are usually higher because it is a popular street for tourists.
To get the best price, I recommend booking your hanbok experience online. You can choose between renting your hangok for 3, 4 hours or even an entire day.
Good to know: the entrance to the palaces is FREE if you are wearing a hanbok!
Near Bukchon Hanok Village
Another hot spot for hanbok photo shoots is the Bukchon Hanok Village, situated right between the Gyeongbokgung and the Changdeokgung palace. It might be a good idea when renting a hanbok to take some photos both at one of the palaces and at the Bukchon Hanok Village since they are close by.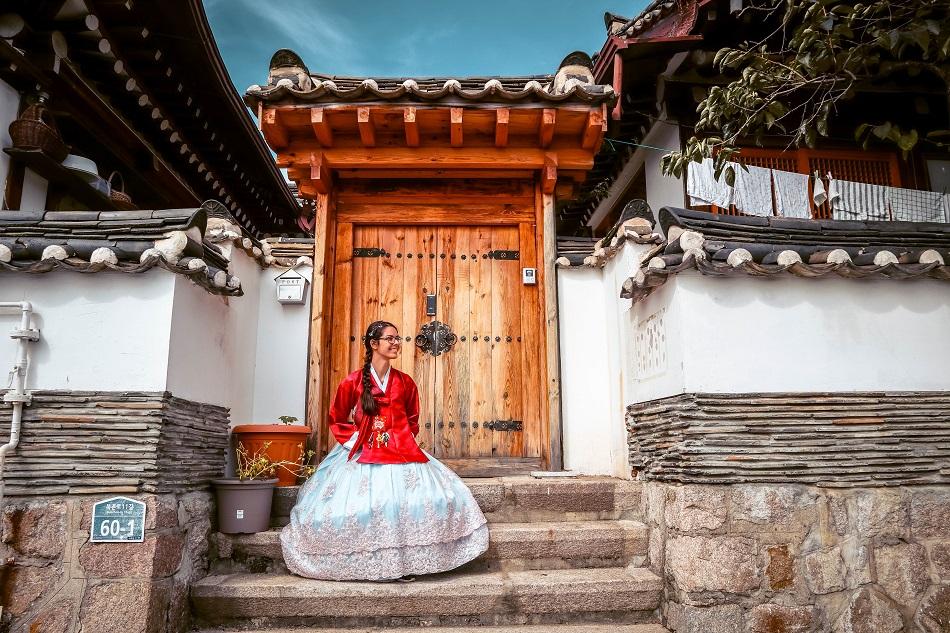 As you will make your way to the village, you will pass by tens of rental shops. Because this is a very popular area for tourists, the prices are a bit high. I recommend booking your hanbok online. It's simple and affordable, and you can walk directly to the store in Bukchon Hanok Village to pick your hanbok up.
N Seoul Tower
Try the N Seoul Tower Hanbok experience while admiring the most incredible view over the city. With many designs to choose from and beautiful decor to take photos, the N Seoul Tower is a great place to rent a hanbok. You can book this experience here or go directly to the tower.
To find out how to get to the N Seoul Tower, read this detailed guide.
At studios around the city
There are a few hanbok studios around Seoul. The basic idea is that they offer you the full package: rental + photoshoot. Hab Korea is one of the most popular studios around the city and they have multiple packages to accommodate every need.
Online
Use Klook to book your perfect hanbok experience. Choose from all the options available and take some memorable photos!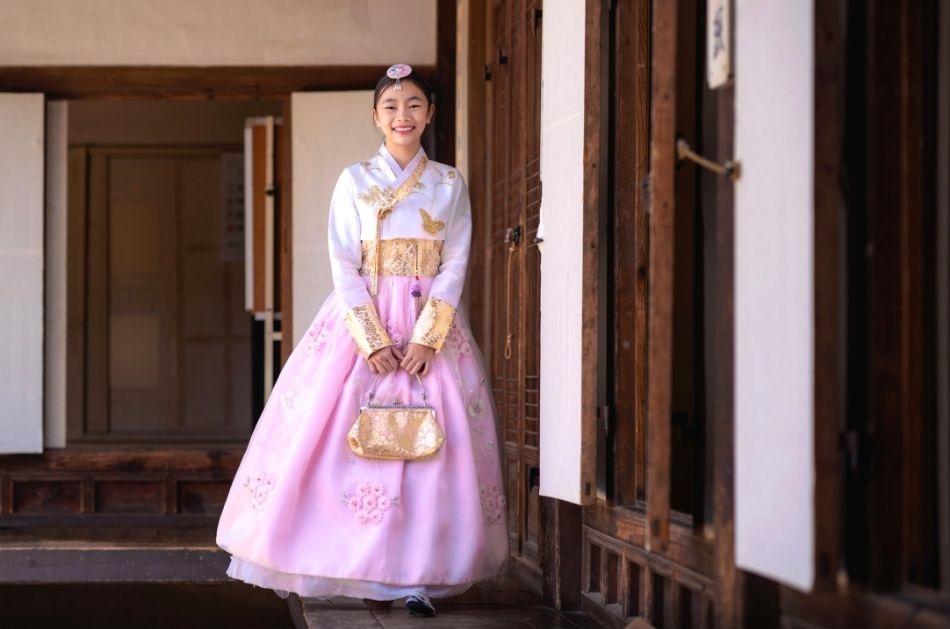 3. How much does it cost to rent a hanbok in Seoul?
Depending on where you're renting your traditional Korean dress, the prices may vary a bit. If you're choosing a rental shop on a main street, full of tourists, it will be a bit more expensive. If you're choosing a shop in a less touristy area, it will be cheaper.
Expect to pay somewhere around 17,000 won ($15) for 3 or 4 hours.
The price can also vary depending on which type of dress you're choosing. If you want a simple design, it will be a bit cheaper than 17,000 won. If you want a design with lace, like I did, it will be a bit more expensive but you can't put a price on beauty, right?
Below are the estimate hanbok rental prices:
3/ 4 hours: 17,000 won
1 day: 25,000 won
The prices above include the following:
full outfit (jeogori +chima)
tote bag
hair accessories
staff to help you get dressed
locker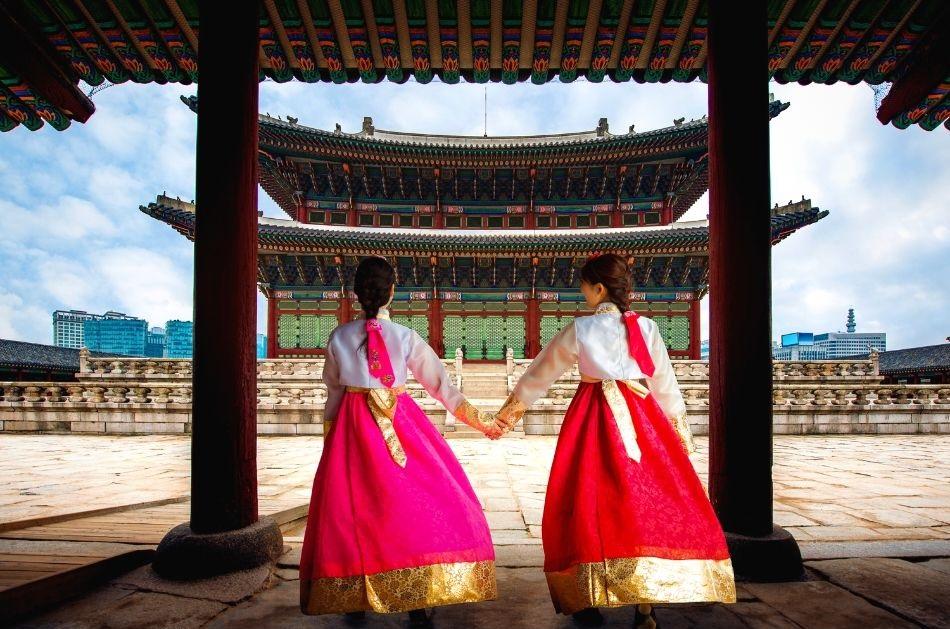 4. A step by step guide to wearing a hanbok in Seoul
The first thing you will have to do is find a rental shop (see the options above). Once you'll enter one of these shops you'll be amazed by how many colors and designs there are. If you know exactly what color combination you want, you should tell the person helping you to get dressed.
If not, let them choose. All hanboks are beautiful.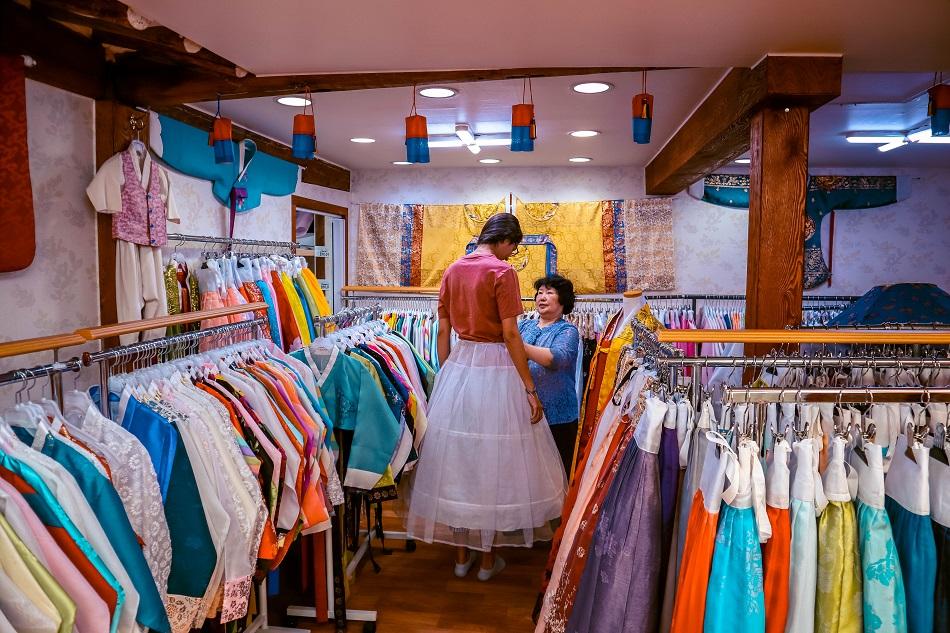 The first thing you have to know is that you don't have to get undressed when wearing a traditional Korean dress. You can wear it over your clothes. Also, most of the time the dress will cover your shoes but if you are tall, as I am, it won't. Make sure to wear some cute, comfortable shoes if you are taller than average.
The first thing you'll wear is the chima, followed by the jeogori. The shop's staff will help you get dressed.
After that, the most interesting part starts – putting on the accessories. You can wear a headband, multiple hair ornaments and of course, a tote bag to make the entire outfit complete.
Good to know: Most of the hanbok rental shops in Seoul have lockers. You can leave your jacket/ backpack there.
After getting ready, make sure to take some photos and head outside to explore Seoul. Yes, you'll get a few curious looks especially if you are a foreigner but locals love seeing tourists exploring the local culture and this includes getting dressed in traditional clothes. Don't be surprised if you will be asked to take photos with strangers, you're a VIP now!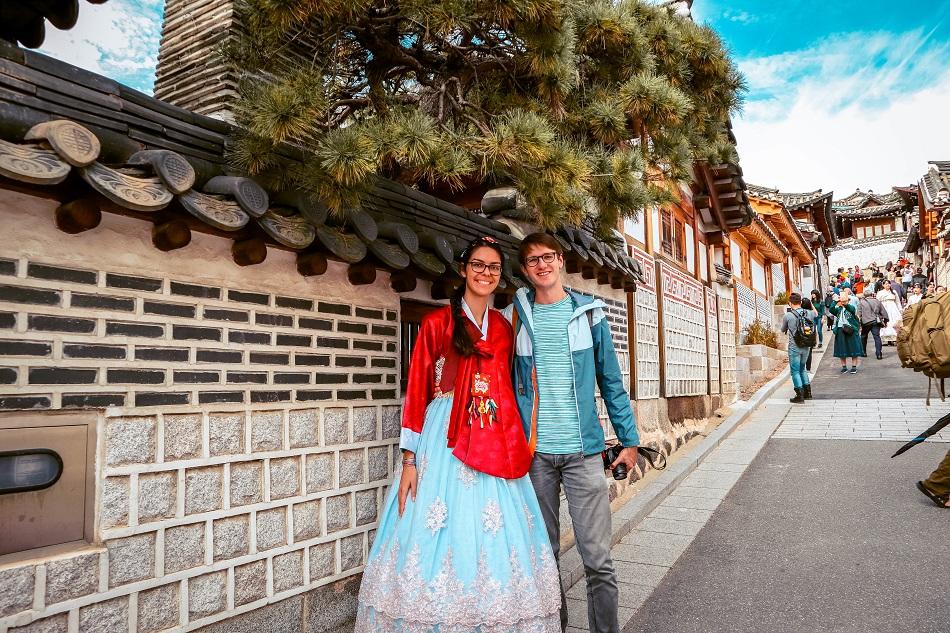 Now it's time to make the most out of your time! If you return your hanbok earlier, don't expect a refund. If you return it later, you will be asked to pay extra.
Good to know: When renting a hanbok in Seoul you will most probably be required to leave a deposit and/ or your passport. Make sure to take care of your dress and not damage it or else you won't receive your deposit back.
5. Best places for photos when wearing a hanbok
If you're renting this traditional Korean dress, you'll most probably want to take some photos too. There is something about these dresses that makes them look like they are a part of a fairy tale. Below are the most popular photoshoot locations in Seoul, perfect for photos when wearing a hanbok.
Good to know: if you are planning to spend a few days in Seoul, make sure to check out this city pass. It will save you tons of money and you can access the most important tourist attractions in the city.
The palaces
All the five palaces have incredible architecture and are worth visiting. However, if you're just spending a few days in Seoul, you'll have to choose only one or two palaces to visit. I recommend Gyeongbokgung and Changdeokgung.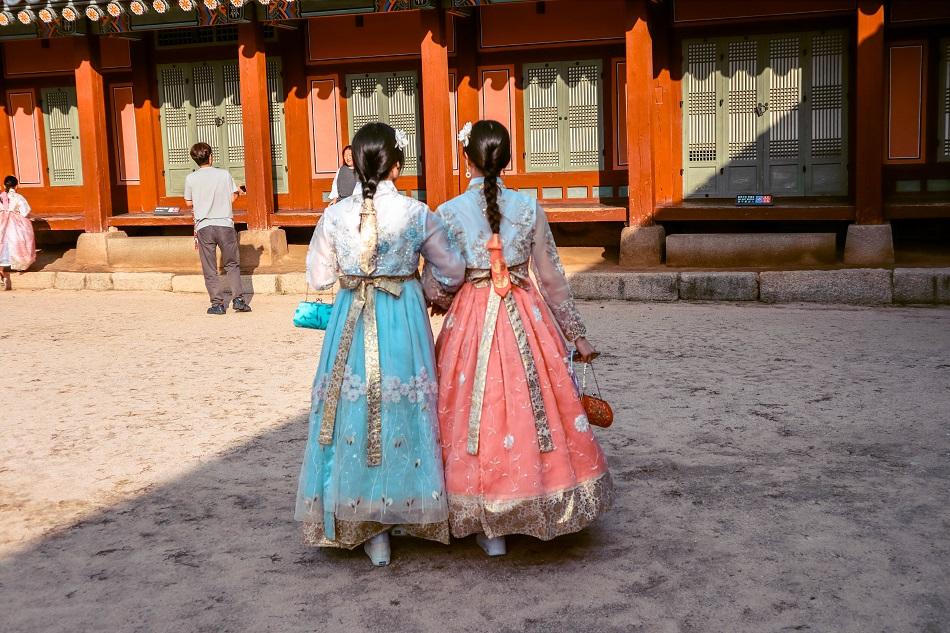 If you're lucky enough, you can catch the Changing of the Royal Guard at the Gyeongbokgung Palace. You can see it for free, every day (except for Tuesdays) at 10 am and 2 pm in front of the main gate.
At the Changdeokgung Palace, you can try and visit the 'Secret Garden'. Only a few admission slots are given per day. No matter which palace you choose, you'll definitely find plenty of photo locations.
Yogyesa Temple
Probably the most beautiful temples in Seoul, the Yogyesa Temple is a splash of color and a perfect place to showcase your hanbok. The incredible details, beautiful architecture and colorful flowers are the perfect background for some photos. There is no entrance fee.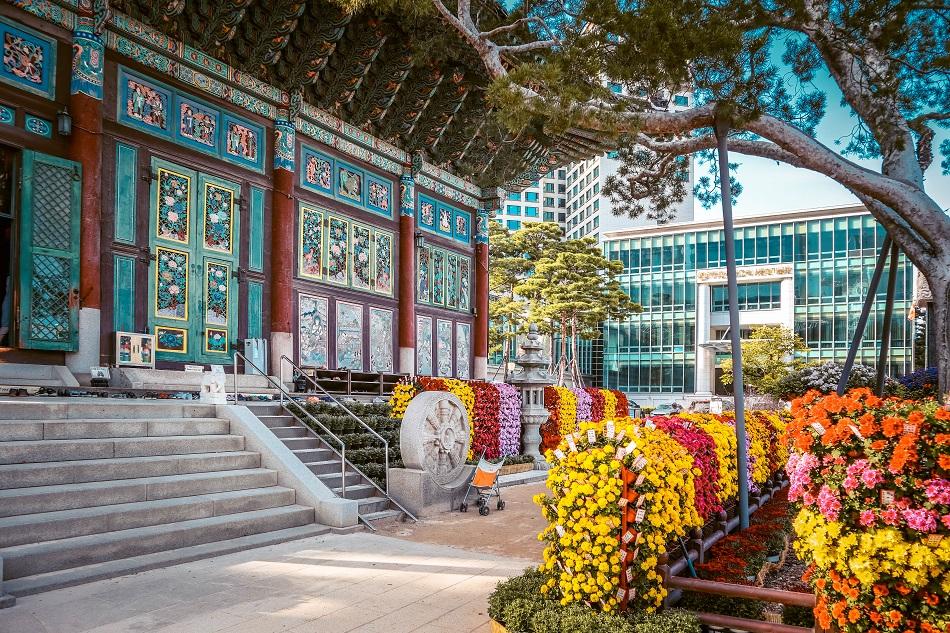 Bukchon Hanok Village
One of the most popular tourist attractions in Seoul is the Bukchon Hanok Village. Home to hundreds of traditional Korean houses, dating back to the Joseon Dynasty, this village is one of the most visited and photographed places in Seoul.
Enjoy the beautiful streets, the striking architecture and make friends with other people who are wearing hanboks. There will be plenty. When taking photos, make sure to keep your voice down as people actually live here.
If you are in South Korea, make sure to also visit the most colorful village in the country. Read more about it here.
Insadong Street
The Insadong neighborhood is one of the preferred places for souvenir shopping. With a wide variety of clothing shops, handicraft shops and ceramic shops, Insadong Street is great to snap some photos.
Namsangol Hanok Village
This village was built to feature five traditional homes from different social classes from the Joseon era. The houses here have been relocated from different locations around Seoul and nowadays only one is opened to the public. It's a great place to take some photos in a traditional setting!
6. Final thoughts
Wearing a hanbok around Seoul was one of the most memorable experiences from my journey around Asia. Every time I'm traveling to a new country, I love getting immersed in the local culture. It's a part of the journey after all – learning about how other people live.
I felt like a princess while wearing my hanbok in Seoul and I would love to do it again sometime! I recommend this experience to anyone who wants to learn more about the Korean culture, take some beautiful photos and feel like a movie star for a few hours.
7. Where to stay in Seoul
I've searched for the best accommodation in Seoul for each budget. Find below the best options:
Budget – JM Guesthouse Hongdae – excellent location, clean rooms, friendly staff
Mid-budget – Orbit – good location, stylish interior, spacious rooms
Luxury – Ryse Hotel – excellent location, comfortable, excellent breakfast
May the travel bug bite you!

Disclosure: Please note that this post may contain affiliate links. If you make a purchase through these links, I will earn a small commission at no extra cost to you. I only recommend companies and products that I trust and the income goes to keeping this website running. Thanks!