Daily Travel Pill started as an Instagram page, about seven years ago. Although over the time it suffered a few name changes, the focus was always the same: travel. What started as a passion, soon developed into something more serious.
Even if Instagram is a great visual platform, it still lacks depth in terms of stories. As much as I love sharing photos with the world, I felt the need to also share more about the places I visit, to share how travel changes me and to help others travel better and smarter.
This is how my blog was born. While I was still working at my full time job in advertising, I started to write about my travels whenever I had the time. I knew nothing about SEO, Pinterest or blogging in general. I enjoyed writing and this was enough for me even though nobody seemed to read my blog.
After months of planning, on February 15th 2018 I took a deep breath and embarked on the journey of a life time with Dan, my boyfriend. At that point, we only knew that we wanted to travel around Asia and document our journey.
I started to take blogging more seriously and I've spent months learning about SEO, back end, Pinterest and affiliates. It was hard. On top of traveling, now I had another job – being a travel blogger. It's a hell of a journey but I love every second of it.
One year on the road in numbers
countries visited: 12 ( Thailand, Cambodia, Vietnam, Malaysia, Singapore, Indonesia, Myanmar, Laos, South Korea, Japan, Hong Kong, China)
cities visited: 48 
flights taken: 24
canceled flights: 1
hotels/ guest houses/ hostels: 66
pictures taken: too many to count – around 3 TB
Best travel experiences of the year
1. Seeing pandas for the first time in Chengdu, China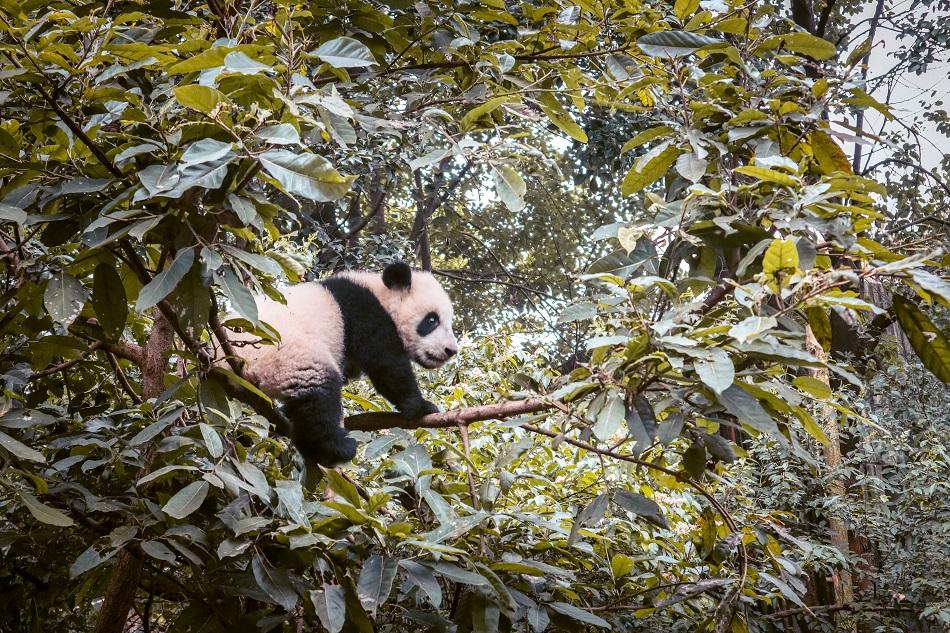 My heart fills with joy only at the thought of these black and white balls of fur. Having seen them, I can tell you that they are even cuter in real life than in photos or on TV. I am grateful for having the opportunity to see the pandas at the Panda Research Base in Chengdu.
To read more about the top things to do in Chengdu, click here.
2. Chasing waterfalls in Bali, Indonesia
Bali has been my home for a couple of months this past year. It is the place where we've stopped for a break after traveling for months. For me, Bali is my second home, the place where I can sit back and relax. I love the food, the people, the beaches and, most importantly, the waterfalls.
Hidden inside the dense jungle, the waterfalls in Bali are incredible. Read more about them here.
3. Enjoying the best view over Hong Kong
Hong Kong has been a dream come true for me. I've been dreaming about visiting this concrete jungle for years! Tall, crowded apartment buildings fill the Hong Kong skyline, offering on of the most incredible views. I loved visiting the famous Monster Building and the colorful Choi Hung Estate basketball court.
For the best view in Hong Kong, click here.
4. Getting a glimpse of North Korea from DMZ, South Korea
Getting so close to North Korea has been a wake-up call for me. This border is fine line between peace and war, between two different yet similar nations. It was incredible to watch a North Korean town from the Dora Observatory. For now, this is as close as I'll get to this country.
For my entire experience, click here.
5. Motorbiking the Ha Giang extreme north loop in Vietnam
The not so popular Ha Giang extreme loop is my favorite part of my entire two-months trip around Vietnam. The tall, round mountains with steep valleys and the local tribes living in remote areas made the whole experience unforgettable.
I wish that sometime in the future I will have the chance to go back.
6. Becoming friends with the elephants in Laos
Ever since we've started our journey as full time travelers, one of the top bucket list things for us was to find an ethical elephant sanctuary and interact with this incredible animals. Although we've had some bad experiences in Laos, our visit to the Mandalao Elephant Sanctuary was humbling and exciting at the same time.
Being so close to these majestic animals filled my heart with joy and gratitude for having this opportunity.
7. Getting lost between the temples of Bagan in Myanmar
Bagan, the land of thousands of temples. After backpacking Myanmar for one month, Bagan is the place that stole my heart. Being surrounded by so many beautiful temples is an experience that I will never forget.
Bagan is the place where fairy tales come to life and where the most incredible sunsets happen.
8. Swimming alongside colorful fish in Koh Samui, Thailand
I never thought that I will see such beautiful beaches like the ones in Koh Samui. With clear, turquoise water and powdery, white sand the Silver Beach is my all time favorite beach. Add the thousands of colorful fish and you'll understand why we visited it daily.
9. Visiting the tea plantations of Cameron Highlands, Malaysia
Endless rows of tea plants spreading across hills, that's what you'll find at Cameron Highlands. I have to say – I absolutely LOVE tea, especially the Earl Grey. Being in Cameron Highlands for a few days and drinking high quality tea while eating strawberries was a dream!
I think I'm gonna take a break and go make some tea right now. Yum!
10. Selfies with deer in Nara, Japan
Have you ever heard about the city where thousands of deer roam free on the streets? If not, go check out Nara in Japan for some cuteness overload. Walking on the streets together with thousands of friendly deer was incredible. They even like to take selfies!
11. Seeing the sunset at Angkor Wat, Cambodia
Probably one of the most magical sunsets I've ever seen was the one at Angkor Wat. I was amazed by all the temples here but seeing them during sunset was breathtaking. After a day full of walking, climbing and exploring we were rewarded with an incredible view.
To read about all the things you need to know when visiting Angkor Wat, click here.
12. Visiting the colorful Little India in Singapore
Everyone knows I love colors. The brighter, the better. Visiting Little India in Singapore filled my heart with happiness. Everything was painted in bright colors, there were exotic smells at every step – a true delight for the senses!
-> Read more about Singapore here.
Lessons learned
Getting out of my comfort zone, traveling to a new continent, quitting my job and career, getting used to new food, starting a travel blog it all thought me so many things about myself. After travelling around Asia for one year, here are the most important lessons I've learnt.
1. The time is now
There is no better time to get things done than now. It might seem overwhelming at the beginning but with every little step taken you will be closer to your goal. The hardest part of starting this travel blog was keeping myself motivated.
Even though I love writing and sharing my travel stories with you, sometimes it's hard to keep myself on track. When that happens, I remind myself that I have the best job in the world and that I am responsible for my own success and failures.
2. Money doesn't buy happiness but it buys plane tickets
Okay, okay. Money doesn't buy happiness but it buys window seats to Bali. Traveling full time has taught me a lot about the real value of money and how to get the most out of it. For $14 per day in Bali you get a nice room in a villa with a pool and all utilities included while in Japan you can't even stay in a hostel for $14. Crazy!
If you know how to manage your budget, you can live in countries like Indonesia or Vietnam for as little as $1300 per month for 2 people. Traveling doesn't have to be expensive.
3. Your possessions end up owning you
Even though I enjoy shopping, I was never very passionate about it. I splurged from time to time but I never had expensive clothes. However, when packing my bags for this adventure I realized that out of all the clothes I own, I wore just a few.
Even though at first I was terrified about backpacking around the world, now I love it! I only carry a few things, items that I need on a daily basis and my life is so much easier. When you wake up in the morning and look inside the backpack and only have 3 t-shirts and 3 dresses to choose from, everything gets easier.
I only carry with me things that I absolutely love and need.
4. Body language is universal
No matter if you want to ask for directions or food, you can communicate with people through body language. Not everyone speaks English but everyone speaks body language. Using it, I've booked a boat for our trip to the Mekong Floating Market, I've asked for food at restaurants and I've checked in at hotels.
5. Most of the people are kind. Have trust in them
This journey across cultures has taught me that people are still kind and warm. I've received random acts of kindness from strangers from all over the world and I am forever thankful for that.
Having trust in people will get you far. Stop thinking about bad things, most of the people you'll meet are your friends.
6. Comparison is the thief of joy
I've acknowledged this lesson, but I'm still learning it. It's hard not to compare yourself with others and sometimes we just give into this comparison game. Especially these days, when everyone's life is out in the open on social media.
However, keep in mind that everyone's journey is different and this is a good thing. Don't try and copy other people's journey, find your own path.
7. It feels good to be lost in the right direction
I don't like making plans. Planning everything steals the joy of living in the moment and I hate that. I love the unpredictable.
"The smoke comes out of Daddy's cigarette, but it never goes back in. We cannot go back. That's why it's hard to choose. You have to make the right choice. As long as you don't choose, everything remains possible." 
― Mr. Nobody
Ever since we've started traveling full time around the world, we planned one destination at a time. We only chose our next destination two or three weeks in advance and it's been great.
8. Adapt to your surroundings and don't complain
Traveling and exploring different cultures means that you have to be open to other people's lifestyle. Every culture is different and you have to adapt to it if you want to have an authentic experience.
Travel with an open mind and everything will be better.
What's next?
Planning – I hate it! When we first started this journey, we only knew our first destination, Thailand. We've sort of made plans along the way and I don't want to change that. At the moment, we are in Bali catching up with the content and we'll probably stay here for the next one and a half months. We plan to work more on this blog and YouTube and then visit the famous Nusa Penida Island.
After that, we're thinking about the Philippines and maybe Sri Lanka but who knows? We don't have any plane tickets yet!
May the travel bug bite you!
Read more:
Pin it for later!
Disclosure: Please note that this post may contain affiliate links. If you make a purchase through these links, I will earn a small commission at no extra cost to you. I only recommend companies and products that I trust and the income goes to keeping this website running. Thanks!