Famous for the vast tea plantations, Cameron Highlands is one of the most visited places in Malaysia. It is easily accessible by bus from Kuala Lumpur or Penang and it has so much to offer in terms of activities and natural beauty.
We visited Cameron Highlands after our trip to Melaka and we instantly fell in love with this place. Preferred by both locals and foreign tourist, Cameron Highlands can get pretty busy sometimes but don't get discouraged. Although I would say that 2 days would be perfect to explore this area, you can definitely choose a Cameron Highlands one day trip and see most of the tourist attractions.
Read here my ultimate one day itinerary to Kuala Lumpur.
1. The best time for a Cameron Highlands one day trip
My honest, friendly advice is this: do not visit Cameron Highlands during the weekend or public holidays (yes, with bold). We've had the 'luck' to visit the area during both a public holiday and the weekend (Friday-Saturday-Sunday) and the traffic was terrible. Our guided tour ended about two and half hours later than it was supposed to because of the traffic.
Giving the fact that you have little time to explore Cameron Highlands, make sure to make the most out of this day and avoid weekends or public holidays.
Are you planning a longer trip in Malaysia? Read here my two week itinerary.
2. How to plan your one day trip to Cameron Highlands
If you only have one day to explore the beautiful Cameron Highlands, the easiest way to do this is to book a tour. Although I usually like to explore the places I visit by myself, the Cameron Highlands one day tours are really accessible, cheap and they will take you to the must see attractions.
If you are staying 1 or 2 nights
If you arrive by bus, you will most probably be dropped off at Tanah Rata bus station. Right on the main street, near the bus station you will find many agencies which sell day and half-day tours around Cameron Highlands. Even though the companies are different, the tours are quite standard and so are the prices.
My recommendation would be to book your tour online just to avoid the risk of not finding free spots. You can also try to buy a ticket once you arrive to Cameron Highlands but this option is a bit more risky.
Below are some Cameron Highlands one day trip options. These tours are available at any tour agency in Cameron Highlands. To see the tours available for online booking, click here or here.
Half day tours:
Country side tour (Rose Valley, Strawberry Farm, Butterfly Farm, BOH Tea Plantations, Honey Bee Farm, local market)
Mossy Forest Discovery (Gunung Brinchang, Mossy Forest, Jungle Trekking, BOH Tea Plantation, Butterfly Farm)
Full day tour:
Highland's Full Day Discovery (Gunung Brinchang, Mossy Forest, BOH Tea Plantation, Butterfly & Reptile Farm, lunch break, Cactus point, Time Tunnel, Strawberry Farm, local market)
If you are planning a day trip from Kuala Lumpur
If you want to visit the Cameron Highlands as a day trip from Kuala Lumpur, you don't have to worry. There are several awesome tours that you can choose from. The prices are quite reasonable and the transport to and from Kuala Lumpur is included. Check them out!
Cameron Highlands day tour – tea plantations, butterfly farm, bee farm, strawberry farm, lunch
Cameron Highlands & Mossy Forest day tour – tea plantation, Mount Brinchang, mossy forest, butterfly farm, strawberry farm, Buddhist temple, Time Tunnel Museum
To secure your spot, make sure to book these tours at least a few days in advance.
3. Things to see in Cameron Highlands
There are so many beautiful places to explore in Cameron Highlands. Below are just a few of them, the ones that I've liked the most. I am sure that your Cameron Highlands day trip will be full of surprises and amazing places to visit.
BOH Tea Plantation
Probably the most famous attraction in Cameron Highlands and the reason why so many people are visiting this place are the tea plantations. The most famous plantation is BOH Tea Plantation. Founded in 1929 by a British businessman, BOH plantation offers scenic views and tasty tea.
I loved getting lost in the tea plantation. Since I absolutely love tea (Earl Grey is my favorite), it has been an amazing experience to see the tea plants and the tea factory. While you are at BOH plantation, do not forget to check out their shop which offers an incredible view over the valley.
If you only have one day in Cameron Highlands, a trip to a tea plantation is a must.
Boh Tea Plantation entrance fee: free
Strawberry Farm
Cameron Highlands is the only area in Malaysia where strawberries grow. If you love fruits, then going to a strawberry farm will be an awesome experience. You can even pick up your own strawberries or try a strawberry juice. Delicious!
Strawberry farm entrance fee: free
Butterfly Farm
Big, black butterflies with green spots will fly around you at the Butterfly Farm. Bring your camera and don't hesitate to snap some amazing shots with these beauties.
Butterfly farm entrance fee: RM 7
Jungle Trekking
Choose a Cameron Highlands Jungle Trekking trip and explore the beautiful vegetation in the area. Your guide will show you all kinds of plants: from carnivore plants to the famous 'touch me not' plants.
Jungle trekking entrance fee: free
Honey Bee Farm
Taste some local honey and explore a Honey Bee Farm. Discover how honey is produced by walking between honey nests and flowers. There are different types of bees and each one produces its specific honey. If you want to enjoy some honey for later, do not forget to buy some!
Honey Bee Farm entrance fee: free
Rose Valley
Another popular attraction in Cameron Highlands is the Rose Valley. Here you will discover beautiful flowers and plants. From roses to orchids, a visit to the Rose Valley will be like a walk in paradise.
Rose Valley entrance fee: RM 5
Cactus point
One of the highlights of my trip to Cameron Highlands was the visit to the Cactus shop. These tiny, stingy plants made me fall in love with them. If I wasn't backpacking, I would have bought at least 4 of them.
Cactus point entrance fee: free
Local Market
Be prepared to resist the urge to buy all the yummy fruits you will see at the local market. We bought some huge strawberries and passion fruit but unfortunately, we forgot them in our bus. Learn from our mistake and keep both eyes on your fruits!
Local market entrance fee: free
4. Where to stay in Cameron Highlands
I've searched for the best accommodation in Cameron Highlands, for every budget. Here are my recommendations:
Budget – Father's Resort – good location, clean rooms, friendly staff
Mid Budget – The Smokehouse – good location, comfortable rooms, breakfast included, good value for money
Luxury – Cameron Highlands Resort – excellent location, spacious & clean room, beautiful colonial design, excellent restaurant
I hope this article will help you plan your Cameron Highlands day trip. I am sure you will love this place as much as I did.
May the travel bug bite you!
More about Malaysia:
Pin it for later!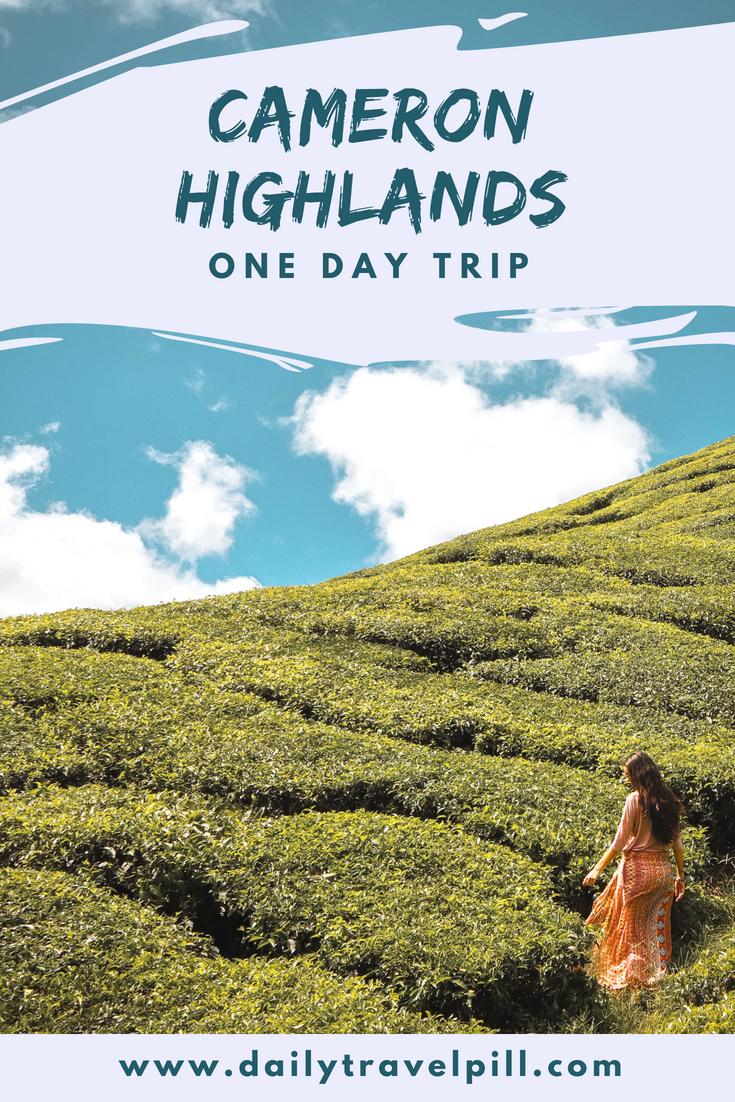 Disclosure: Please note that this post may contain affiliate links. If you make a purchase through these links, I will earn a small commission at no extra cost to you. I only recommend companies and products that I trust and the income goes to keeping this website running. Thanks!