If you are wondering what to do in Penang in 3 days, then you are in the right place. With many attractions and a rich history, Penang is a great place to discover more about Malaysia's culture.
In this article you will find a detailed Penang 3 days itinerary, which includes all the must see attractions in the area and useful tips and tricks to save up time and money. I've grouped all the attractions according to their location so you won't have to worry about spending too much money on transport.
Check out my article about the most beautiful temples in Penang here.
1. Why you should visit Penang
With an incredible cultural diversity and influences from many communities, Penang should definitely be on your travel list. I have visited Malaysia from South to North: Melaka, Kuala Lumpur, Cameron Highlands and Langkawi but Penang holds an important place in my heart. I loved it so much, that I've spent 6 days here and I just can't wait to go back.
The history of Penang was shaped by the British Colonialism when the Penang Island was acquired by the British East India Company from the Sultanate of Kedah in 1786. During World War 2, Penang was occupied by the Japanese Empire (1941-1945). Once the war was finished, Penang was liberated by the British and merged into the Federation of Malaya. This is just a brief history of this amazing place but if you would like to know more, click here.
Are you planning around Malaysia? Check out my 2-week itinerary here.
As you will enter George Town, the first thing you will notice will be the fusion between the new, modern buildings and the historical ones. With influences from the British, Chinese and Indian culture, George Town has a lot to offer in terms of culture, history, architecture and food. However, there are many other beautiful places to visit on Penang Island, outside of George Town.
A mix of incredible nature, extraordinary views, rich culture, amazing people and tasty food, Penang is a must visit while in Malaysia.
2. Best time to visit Penang
Penang can be visited all year round. However, the absolute best time to visit it is November to January when the weather is pleasant and there is almost no rain. Keep in mind that this period of time is the busiest one so do expect to see many tourists.
If you would like to avoid the crowds, I would suggest visiting Penang during February – October. Even if you decide to plan your visit during the monsoon season, it will most probably rain only for a few hours per day. We have visited Penang in August and there was no rain at all.
3. What to do in Penang in 3 days – itinerary
Day 1
Get a taste of the cultural diversity and admire the best views in George Town. Start you first day in Penang with some local temples, admire the third biggest reclining Buddha in the world and then head to Penang Hill for some breathtaking views. In the evening, head to Kek Lok Si Temple (my favorite temple in Penang) and admire the Kuan Yin statue.
Tip: When visiting temples in Malaysia, you will have to take off your shoes and socks. I recommend wearing sandals. Also, don't forget to bring some sunscreen with you. Even in the rainy season the sun can be pretty aggressive. 
Wat Chaiyamangalaran Thai Temple
Duration (getting there + visiting): 1 hour
Situated a bit outside of the UNESCO area, Wat Chaiyamangalaran Temple is a Thai Buddhist Temple. You can easily get there by taxi or walking (if you decide to walk, it will take you about 30 minutes from the UNESCO area).
Check out my article about the most beautiful temples in Penang here.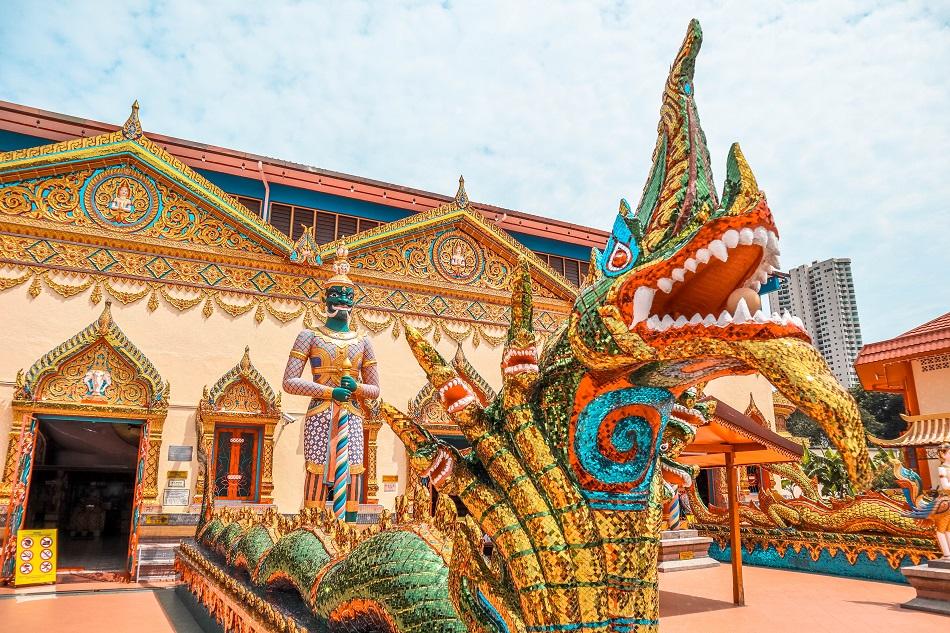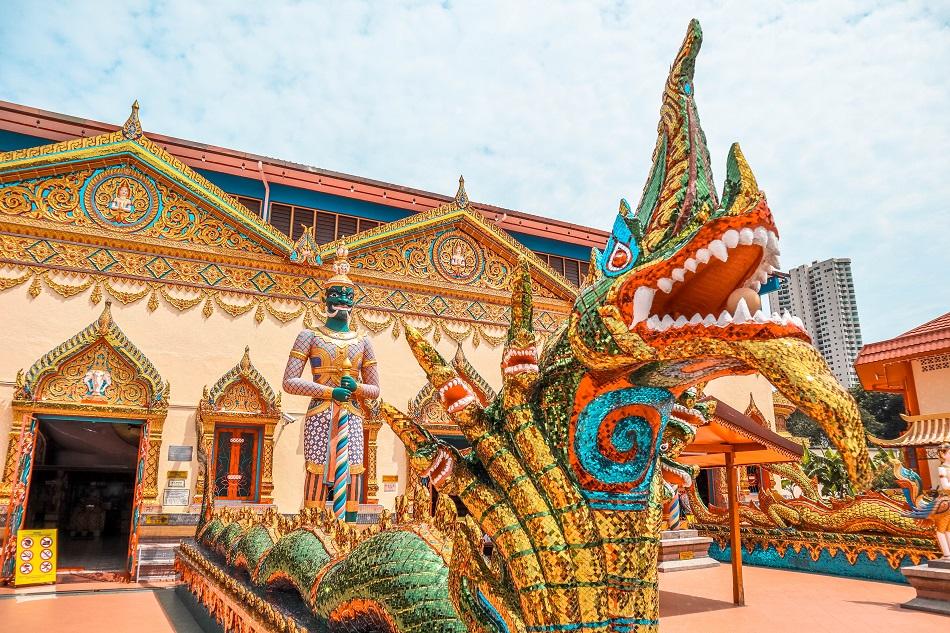 Wat Chaiyamangalaran Temple is quite impressive due to the colorful mosaics. As you will enter the temple, you will notice two mythical creatures resembling to dragons and two big Thai statues – one red and one green. However, the main attraction lies inside the temple and it's a 33 meters long Reclining Buddha. Beautifully painted, the statue impresses through both size and beauty.
Entrance fee: free
Dhammikarama Burmese Temple
Duration (getting there + visiting): 30 minutes
Right across the street from Wat Chaiyamangalaran Temple, is the Dhammikarama Burmese Temple. Its incredible statues with intricate details, depicting mythical creatures cannot pass unnoticed.
Here you can see the two Panca Rupa (guardians of the world) holding a huge globe and several other Buddhist scenes carved on walls. Exploring the gardens of this temple will definitely be an interesting experience. Bring you camera and enjoy the splashes of colors!
Entrance fee: free
Duration (getting there + visiting): 4.5 hours
From Dhammikarama Burmese Temple take a taxi (I use Grab app on mobile) and head to Penang Hill for some breathtaking views. I wouldn't recommend visiting it on weekends since it can get pretty busy.
The best way to get to the top is by train. You can also choose to hike but I wouldn't recommend it. I've read many stories about people seeing snakes on the way up. Also, hiking requires a lot more time and if you only have 3 days to stay in Penang, I would spend that time wisely.
Once you will get to the top, you will be rewarded with the best panoramic view in Penang.
Entrance fee: RM 30, RM 80 for fast lane ticket
Duration (getting there + visiting): 1.5 hours
Kek Lok Si Temple is just a short walk (around 20 minutes) from the base of Penang Hill. Since you will be already in the area, it would be a shame to skip it. Kek Lok Si Temple is definitely one of the most beautiful temples I've seen so far in Southeast Asia.
This Chinese Buddhist Temple offers beautiful views over the city and impresses through its colorful architecture with incredible details. The temple is built on several layers and on the top one you can admire the Kuan Yin statue.
Entrance fee: free, RM 3 for the inclined lift
Day 2
Head to the George Town UNESCO area and discover the famous street art and some beautiful hidden gems. Explore the cultural heritage of Penang while discovering the city.
 Cheong Fatt Tze – The Blue Mansion
Duration (getting there + visiting): 1 hour – the tour takes about 45 min
Located on Leith Street, Cheong Fatt Tze Mansion is mostly known due its beautiful Chinese architecture and blue walls. With colorful details and ornaments, the building serves today as a hotel. Built at the end of 19th century, the mansion served both as the home and office of Cheong Fatt Tze who was a Chinese businessman and politician.
Today, you can either choose to stay at Cheong Fatt Tze Mansion (You can book your stay in this beautiful historical building here) or you can visit it during one of the daily tours. The guided tours are available only at the following hours: 11 AM, 2 PM, 3.30 PM. Make sure to be there about half an hour before the start of the tour because only a limited number of people are allowed inside per tour.
Entrance fee: RM 16 for adults, RM 8 for children
Duration (getting there + visiting): 1.5 hour
Getting from Cheong Fatt Tze to the street art area takes about 15 minutes walking. The whole street art madness started in 2010 when Penang's Government commissioned an art studio to create a series of 3D cartoons to illustrate Penang's culture and main attractions.
However, the real street art star in Penang is Ernest Zacharevic who combines daily life objects with paintings. Maybe one of the most famous art pieces is 'Kids on bicycle' which can be found on Armenian Street.
The good news is that most of the street art can be found around Lebuh Ah Quee Street. You can check out this George Town street art map for more details.
Entrance fee: free
Duration (getting there + visiting): 1 hour
This Chinese clan house was built in 1906 by one of the wealthiest Chinese traders from Penang. I have seen many temples during my full time travel adventure around Southeast Asia but this one is definitely one of my favorites.
With incredible details and elaborate stone and wood carvings, this temple is a masterpiece. Don't forget to check out the roof too! You will be amazed by all the colorful mosaics.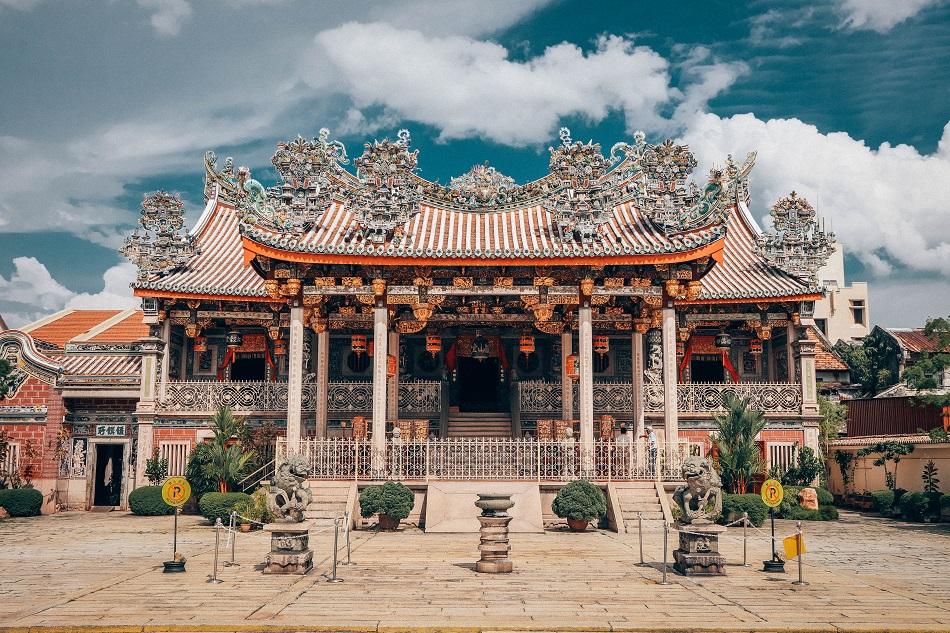 At the ground floor you can also visit the Khoo Kongsi Museum which explains the history of the clan. To visit the temple, you will have to go to the first floor. One of the things that impressed me about this place is that all the stone carvings are made out of single pieces of stone.
Entrance fee: RM 10
Duration (getting there + visiting): 0.5 hours
Right near the Khoo Kongsi Temple is the Yap Kongsi Temple. Although a bit smaller, the Yap Kingsi Temple is worth visiting.
Built in 1924, this temple is also a clan house for the people in the Yap Chinese clan. What I loved about it were the vibrant colors and beautiful details. You can also enter inside this temple and visit it.
Entrance fee: free
Duration (getting there + visiting): 0.5 hours
Located in the same area with the previous attractions, the Lebuh Aceh Mosque was built in 1808 by the Acehnese (an ethnic group from Aceh, Indonesia). George Town is place with an incredible cultural diversity and this mosque is just one of the many religious buildings in the city.
Entrance fee: free
Tip: right near the mosque, on Lebuh Cannon Street there is a tiny restaurant where they sell Dragon Ice Balls (click here for the exact location). They basically wrap ice-cream in a ball of ice and they cover it in all kinds of toppings. You should definitely try it!
Day 3
Duration (getting there + visiting): 1 hour
The Clan Jetties of Penang are traditional Chinese settlements where Chinese immigrants with a common history currently live. Nowadays, there are 6 Clan Jetties in George Town which can be visited: Lim Jetty, Chew Jetty, Tan Jetty, Lee Jetty, Mixed Clan Jetty and Yeoh Jetty.
The Chinese clan people are living in small wooden houses, built on stilts right on the waterfront. An interesting fact is that none of the families living here pay any tax since they are not living on land.
Just walking through these wooden houses, you will have the chance to experience the daily rituals of the people living here: cooking, washing, relaxing on the porch. Visiting the Clan Jetties in George Town is truly a unique experience.
Entrance fee: free
Duration (getting there + visiting): 1 hour
Right near the Clan Jetties of Penang is the Hean Boo Thean Temple. The temple was built in 1972 and it is dedicated to Kuan Yin – the Goddess of Mercy. A unique characteristic of this temple is that it is built on stilts, as most of the surrounding houses. Hean Boo Thean Temple also offers an incredible view towards the Clan Jetties.
Tip: Don't hesitate to ask the locals for directions since getting to this temple can be a bit tricky even if you are using Google Maps
Entrance fee: free
Duration (getting there + visiting): 1 hour
Fort Cornwallis is the largest fort in Malaysia and it was built by the British East India Company in the 18th century. The fort is star shaped and inside you can see prison cells, a chapel and ammunition storage areas.
Although it is not an impressive building, the fort is worth visiting if you are in the area. I didn't get a chance to visit it inside since during my visit (August 2018) a big part it was in renovation.
Entrance fee: free
Duration (getting there + visiting): 1 hour
The Peranakans, also known as the Babas and Nyonyas are a Chinese community mostly present in Penang, Melaka and Singapore. Their cultural heritage was merged with the local Malay culture resulting in a unique lifestyle.
The Pinang Peranakan Mansion functions today as a museum and hosts thousands of Peranakan artifacts. Due to its important cultural value, the mansion was even featured in The Amazing Race.
Entrance fee: RM 20
4. How to get to Penang
Transport in Malaysia is great. With affordable prices and good routes, getting to Penang by public transport is extremely accessible. However, there are other options too. Below are all the details you need about getting to Penang.
By bus
The most convenient way to get to Penang is by bus. There are excellent connections from both Kuala Lumpur and Cameron Highlands. Also, the buses are comfortable and affordable.
Tip: there is only one thing you should be careful about – where is the bus station in Penang. If you are staying in George Town, make sure that the bus stops at the ferry terminal.
To check out bus prices click here.
By car
If you have your own car, then you are extremely lucky. The road from Kuala Lumpur to Penang will take you through gorgeous scenery and the trip will only take about 5 hours.
If you are traveling from Cameron Highlands, the trip will take about 3 and a half hours but it won't be an easy one if you have motion sickness. If I were you, I would take another extra hour for a few stops along the way. Even though the road has many curves, the scenery will compensate for the bumpy ride.
You can also rent a car for a few days and enjoy an amazing road trip through Malaysia. Check out this itinerary for an unforgettable road trip.
By airplane
Penang has an international airport with good connection with both national and international destinations. The fastest way to get from Kuala Lumpur to Penang is by airplane (1 hour). You can also get to Penang from other Malay destinations such as Melaka, Langkawi or Kuching.
To check out plane tickets, click here.
By train
If you are traveling from Kuala Lumpur, there is a direct train which takes about 5 hours. The train will stop in Butterworth, Penang and from there you will have to take the ferry to reach George Town. Alternatively, you can also take a bus and cross the bridge over Malacca Strait. Both options will take around 20 minutes.
5. Where to stay in Penang
We chose G Hotel Kelawai for our stay in Penang and we weren't disappointed. The hotel has flawless service, friendly staff and it's architecture is modern and stylish. We absolutely loved our spacious room with amazing views over George Town and our marble bathroom was spotless. Check out my full review about this hotel here or book it here.
To search for other hotels in George Town, click here.
I hope that my 3 days itinerary to Penang is useful. I am sure you will love this city as much as I did!
May the travel bug bite you!
More about Malaysia:
Pin it for later!
Disclosure: Please note that this post may contain affiliate links. If you make a purchase through these links, I will earn a small commission at no extra cost to you. I only recommend companies and products that I trust and the income goes to keeping this website running. Thanks!