With pristine beaches, affordable prices and incredible turquoise water, Langkawi Island is a must-see when in Malaysia. Situated in the Northern part of the country, we chose it as our last stop before heading to Thailand and we fell in love with this little corner of paradise.
Apart from the incredible beaches (some of the best I've seen so far in Southeast Asia), you must also visit the Seven Wells Waterfall in. It is definitely one of the most beautiful waterfalls in Asia.
1. About Seven Wells Waterfall
Situated at about a 20 minute walk away from the famous Langkawi Sky Bridge, the Seven Wells Waterfall or Jalan Telaga Tujuh as it's called by locals, is probably one of the island's most beautiful natural attractions.
The waterfall flows down the second highest mountain on Langkawi – Mount Mat Cincang and is a popular destination for both tourists and locals. The total vertical fall is 91-meters long but from the base you can only see a small part of it.
-> While in Langkawi, take an island hopping tour!
The legend says that this waterfall is home to fairies and that the water has healing powers. I kinda understand how the legend has started. Completely surrounded by nature, with a diverse flora and fauna, the waterfall seems magical.
Seven Wells Waterfall has actually two parts that can be visited: the lower section and the upper section.
No time to read now? Pin it for later!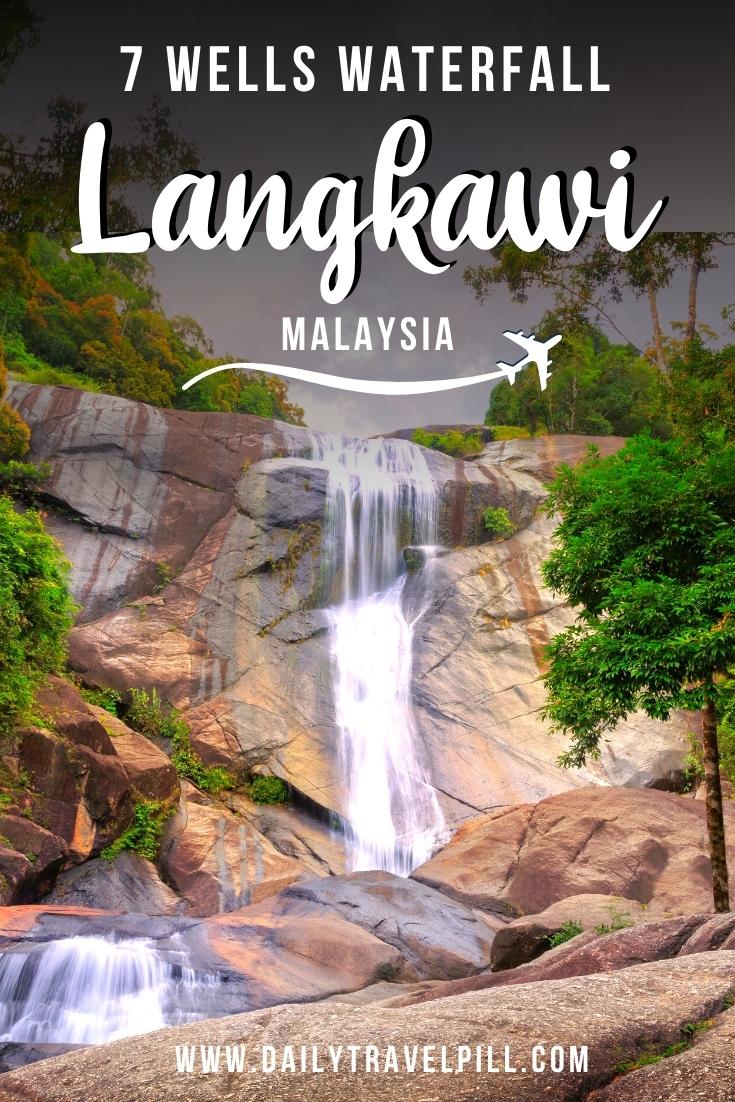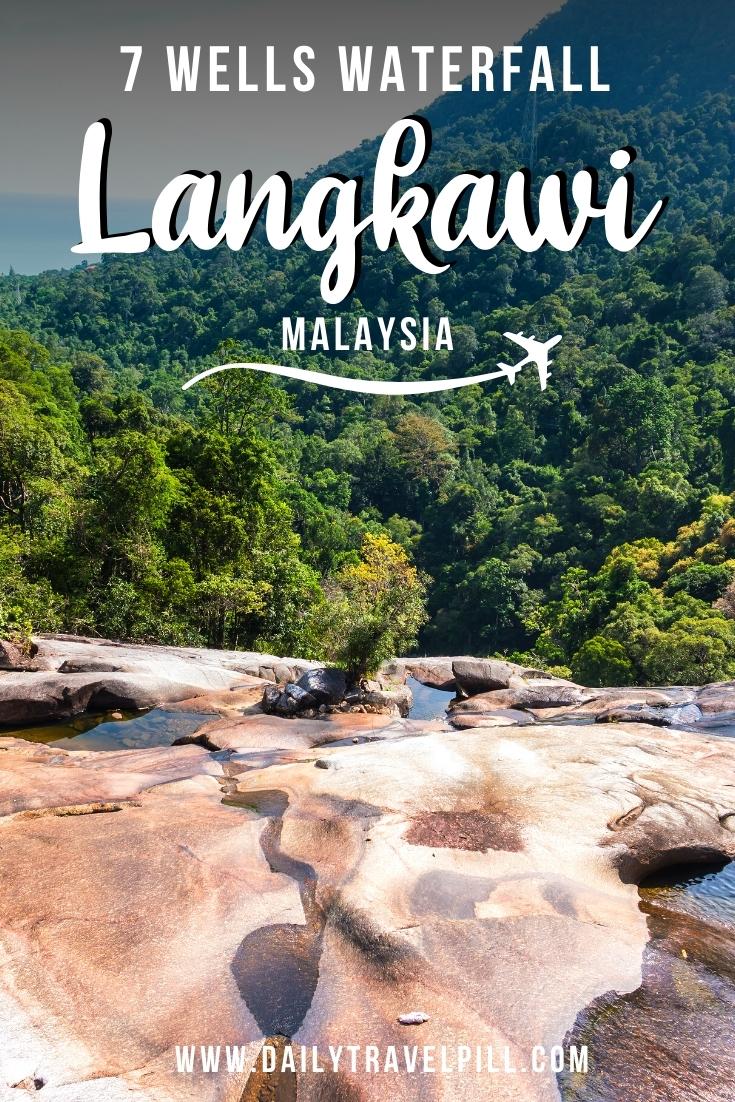 The lower section
This is the most popular area since it doesn't require a lot of effort to reach it. Here you will be welcomed by natural swimming pools and a tall, rocky vertical wall.
Many people come here to take a swim. When I visited the Seven Wells Waterfall, this area was full of couples and families enjoying the sun or refreshing themselves in the natural pools. The locals also seem to love this waterfall. Many of them come here on hot days.
If you are feeling adventurous, you can also try cliff jumping. However, you must be extremely careful since the rocks can get slippery.
Other AWESOME things to do in Langkawi:
The upper section
Feeling brave? Then you should definitely climb the 600 steep stairs to the top of the waterfall. The good news is that there are signs along the way that indicate how many stairs are left to the top. The climb will take about 45 minutes but the views are definitely worth it.
Along the way, you'll get the chance to admire the local fauna and flora. Don't get scared if you meet a few monkeys!
Apart from the beautiful views, you will also find natural jacuzzi pools. Be careful, as the water currents are pretty strong. Although you can swim here, you must do it with extreme caution.
Also, don't stand on the edge of the rocks! There have been several incidents here where tourists got hurt. Safety first!
2. Additional info
The best time to visit the Seven Wells Waterfall Langkawi is during the rainy season. There are several reasons why you shouldn't be afraid of the rainy season:
there won't be as many tourists as in the peak season.
the rainy season doesn't mean that it will rain all day. Actually, we visited Langkawi in August and there was no rain at all even though we were in the middle of the monsoon season.
the water flow will be higher which means that swimming will be safer and more enjoyable.
There are a few shops near the car park. Buy all the water and snacks you need from there since there are no other shops near the waterfall. You can also find coconuts, ice cream and souvenirs at these shops.
Also, don't forget to bring your swimming suit! There are no changing rooms so the best option is to have it on you. You can also try to find a place into the woods to change but you never know if you are the only one there.
3. Opening hours and entry fee
The Seven Walls Waterfall is open 24/7. However, I would recommend visiting it while the sun is still up. The entrance is free so you don't have to worry about paying any entry fee.
4. How to get to Seven Wells Waterfall
This Langkawi Waterfall is located near the Oriental Village or the Langkawi Sky Bridge. I would definitely recommend visiting them both in the same day. From the Sky Bridge, there is only a short walk to the Seven Wells Waterfall.
There is no public transport in Langkawi. However, the good news is that Grab app is available on the island. We used it a lot since it is really convenient. A taxi from the airport area to the waterfall should cost around RM 25.
You can also rent a car or a motorbike if you have a driver's license (you need a motorbike license if you plan on exploring the island on two wheels).
Once you reach the car park at the waterfall, you will have to walk for about 15 minutes on a steep road. At some point there will be a sign pointing to the left. From there you will only have to walk for another 3 minutes and you will reach the bottom of the Seven Wells Waterfall.
5. Where to stay in Langkawi
There are plenty of hotels and hostels on Langkawi Island. Some of the most popular tourist areas are Pantai Cenang and Kuah areas. The prices in Langkawi are a bit higher compared to other countries in Southeast Asia but you can find affordable options if you're willing to stay a bit further from the beach.
Here are the best hotels on the island, for each budget.
Budget – Halcyon Days – good location, spacious and clean rooms, private bathroom, breakfast included
Mid-Budget – Camar Resort – good location, beautiful pool, modern and clean rooms, great amenities, breakfast included
Luxury – The Ritz-Carlton – great location, incredible infinity pool, luxurious amenities, super-spacious rooms, friendly staff, breakfast included
6. Final thoughts
If you're planning a trip to Langkawi, you should definitely add Seven Wells Waterfall to your itinerary. This natural wonder is the perfect place to relax for a few hours.
To read more about Malaysia, click here (transport, costs, top destinations). If you have any questions, let me know in the comments section below.
May the travel bug bite you!
Disclosure: Please note that this post may contain affiliate links. If you make a purchase through these links, I will earn a small commission at no extra cost to you. I only recommend companies and products that I trust and the income goes to keeping this website running. Thanks!