I've been traveling for one and a half years in Southeast Asia but I've never seen a place with such a diverse culture as George Town, Penang. From the moment I stepped in the taxi, heading to my hotel, I couldn't help but notice all the different temples, churches and mosques. There is one at every other intersection, belonging to different faiths: Muslim, Christian, Indian and Chinese.
Being in a place with such a cultural diversity was definitely an interesting and unforgettable experience and today I'm going to share with you the best temples in George Town, Penang. They are all beautiful and worth visiting.
Check out my 3-day itinerary to Penang here or my 2-week itinerary to Malaysia.
1. Wat Chaiyamangalaran Temple
Wat Chaiyamangalaran Temple is a Thai Buddhist Temple founded in 1845 by a Thai Buddhist monk. Even though at the beginning it was a small temple, over the years other buildings and features have been added.
As you will enter the temple, you will notice two big Thai statues, one red and one green. There are also two mythical creatures resembling to dragons, covered in colorful mosaics. Apart from the main building, you can also visit several other shrines and a tall golden pagoda.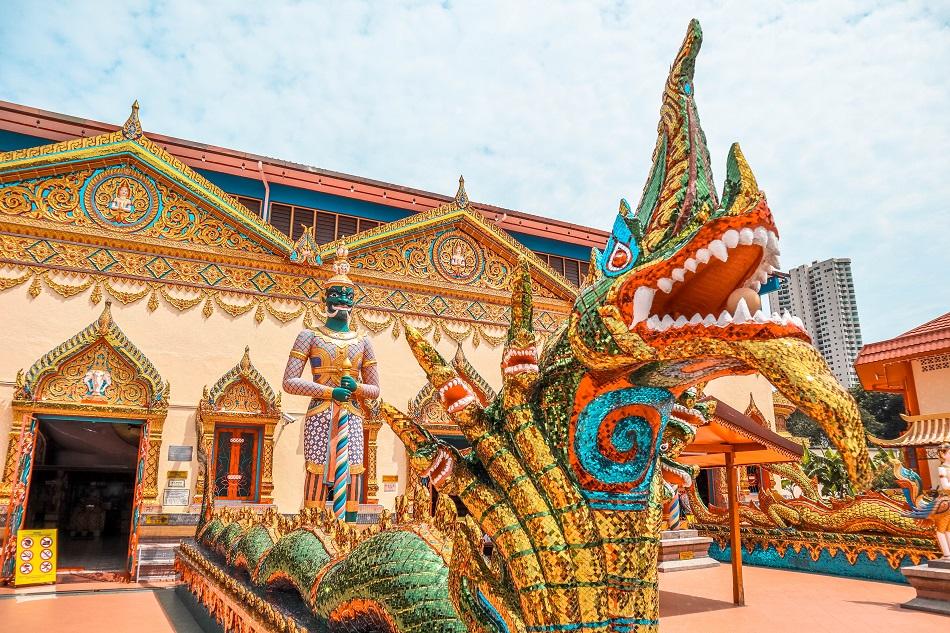 The main attraction of this temple is the 33 m long Reclining Buddha statue, situated in the main building of the temple which is the 3rd longest Reclining Buddha in the world.
The Reclining Buddha statue depicts Buddha on his death bed, lying on his right side with a smile on his face, preparing to enter Nirvana. The details on the statue are amazing and it even has the toenails polished.
-> Would you like to explore George Town by a guided tour? Check out this awesome tour!
Don't hesitate to walk behind the Reclining Buddha. Here you can calculate your Chinese zodiac (I was surprised to find out that I am a Monkey) and you can search for your corresponding Buddha statue.
Situated outside of the famous UNESCO world heritage site in George Town, Wat Chaiyamangalaran Temple can be easily reached by taxi or walking. If you choose to walk, make sure to bring some water with you and sun protection since the temple is about half an hour away from the UNESCO area of George Town.
But don't get discouraged. The Wat Chaiyamangalaran Temple is one of the must visit temples in George Town, Penang and it's definitely worth a visit.
Wat Chaiyamangalaran Temple entrance fee: free
Opening hours: 6 AM – 5.30 PM
No time to read now? Pin it for later!
2. Dhammikarama Burmese Temple
Situated right across the street from Wat Chaiyamangalaran Temple, Dhammikarama Temple is a Burmese Buddhist temple. It's interesting to visit it after visiting the Wat Chaiyamangalaran Temple which is a Thai Buddhist temple and try to notice the differences between them (it won't be that hard, I promise you).
This temple was built in 1803 and it now includes several statues and buildings. I must admit that Dhammikarama Temple is one of the most interesting ones I've seen so far in Southeast Asia. With splashes of colors and statues which feature mythical creatures, this temple is definitely one of the most beautiful temples in George Town, Penang.
Other AWESOME things to do in Penang:
The statues are quite intriguing. For example, you can see a pair of two Panca Rupa (they are called the 'Guardians of the world') holding a huge globe. These mythical creatures are considered to be the masters of land, water and air. They have the head of a lion, the body of a fish, ears and legs of a horse and horns of a deer.
If you follow the path from the globe, you will get to a pond with a beautifully carved wall behind it. Right in the middle of the pond there is a spinning flower with several arms.
Each arm has a pot at the end of it and you can try your luck and throw coins in those pots. If you make it, you will have good luck in the area that is written on the pot. I threw a coin in the 'fortune' pot. I'm just waiting for my money now.
Wat Chaiyamangalaran Temple entrance fee: free
Opening hours: 5 AM – 6 PM
3. Kek Lok Si Temple
If you're planning a visit to Penang Hill, do not hesitate to check out Kek Lok Si Chinese Buddhist temple. One of the must see temples in George Town, Penang, Kek Lok Si Temple is the biggest Buddhist temple in Malaysia.
The temple was built between 1890 and 1905 and it is located on Air Itam Mountain. Kek Lok Si is my favorite temple in George Town. I loved its beautiful, vibrant colors and there was so much to discover. There are several buildings and shrines, completed by a turtle pond and a fountain. Also, the views the temple offers over the city are incredible.
When I arrived at the base of Kek Lok Si Temple, I had two options: I could either climb the stairs or take the inclined lift for RM 3 one way. I chose to do some exercise and walk.
I firstly passed by the turtle pond. Here you can buy food from the shops nearby to feed the turtles. After climbing a few more stairs I got to the main entrance to the temple. Here you can find many souvenir shops. If you walk right past them, you will find a beautiful garden with a fountain in the middle similar to a lotus flower holding a pagoda – this was one of my favorite areas of the temple.
After visiting this garden, climb a few more stairs and you will get to another part of the temple where you can admire the amazing view over the city. Also, here you can find a traditional Chinese wishing tree. For RM 1 you can buy a ribbon for a certain wish (good fortune, money, business success, etc) and tie it to the tree.
-> Would you like to explore George Town by a guided tour? Check out this awesome tour!
After visiting the beautiful gardens and shrines in this area, you will then get to a souvenir shop which is also the start of another inclined lift. Unfortunately, this is the only way to get to the Kuan Yin statue.
The inclined lift costs RM 3 one way. I really wish there were some stairs to get to the top since the ride with the inclined lift is quite short.
Once you get to the top, the first thing you will notice is the huge Kuan Yin statue, the Goddess of Mercy. The surrounding pavilion is still in construction but the statue itself is quite impressive. There is also a beautiful pond full of koi fish.
The easiest way to get to Kek Lok Si Temple is by taxi (it should cost around RM 23 from the UNESCO area). Alternatively, you can take the 203 or 204 bus from Komtar.
Kek Lok Si Temple entrance fee: free, RM 3 for the inclined lift
Opening hours: 7 AM – 5.30 PM
4. Khoo Kongsi Temple
My list of the best temples in George Town, Penang would never be complete without the Khoo Kongsi Temple. Its incredible intricate carvings and details are some of the finest in Malaysia.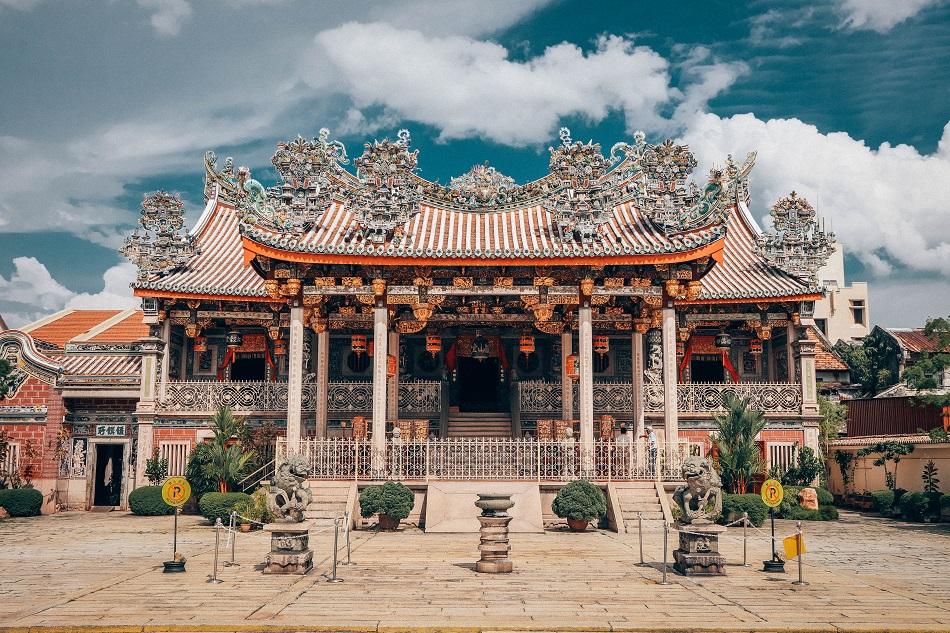 The Khoo Kongsi is actually a Chinese clan house and it was built in 1906 by the Khoo Kongsi clan which were among the wealthiest Chinese traders in the 17th century in Penang. This temple is a masterpiece, portraying the Southern Fujian architecture. Apart from the clan temple, the property also includes a theater, an association building and houses for clan members.
Just sitting in front of the Khoo Kongsi Temple, you will be overwhelmed by all the details. The first thing I noticed was the roof which is decorated with incredible mosaic structures.
Right in front of the clan house, there are two stone lions (the male is sitting on the left and the female on the right) which are the guardians of the courtyard and clan house. In between these two stone lions, there is a stone incense burner.
-> Would you like to explore George Town by a guided tour? Check out this awesome tour!
On the ground floor of Khoo Kongsi Temple you can visit the museum where the history of the Khoo Kongsi clan is explained. To enter the temple you will have to climb up the outside stairs. Right in front of the main door, there are another two stone lions that hold in their mouth two stone balls.
The most fascinating thing about all the stone carvings at Khoo Kongsi Temple is that they are made of single pieces of stone. The woodcarvings inside the temple are impressive too. They are varied in style which means that more than one craftsman worked at this incredible masterpiece.
In terms of architecture and attention to details, Khoo Kongsi Temple is definitely a work of art and a must see when in George Town. The temple is easily accessible and it is situated in the UNESCO area, near the streets famous for the street art.
Khoo Kongsi Temple entrance fee: RM 10
Opening hours: 9 AM- 5 PM
5. Yap Kongsi Temple
Just a few meters away from Khoo Kongsi Temple is the Yap Kongsi Temple. Built in 1924, this temple is also a clan house for the people in the Yap Chinese clan. The origin of the Yap clan starts in 439 BC when warrior Shen Zhu Liang defeated the troops of the Qin Dynasty. In return, Shen received a piece of land which was called the Yap district. He took the Yap surname and Yap clan was born.
The Yap Kongsi Temple's architecture is impressive although the temple is a bit smaller than the others in this article. If you are planning to see the George Town street art or visit Clan Jetties of Penang, you should definitely visit the Yao Kongsi Temple too.
I absolutely loved the vibrant colors and the attention to details which can be noticed in this temple. The main entrance is framed by two stone pillars with beautiful carvings. Also, the temple's roof features some mosaic dragons and other beautiful elements.
You can also enter inside the temple for free.
Yap Kongsi Temple entrance fee: free
Opening hours: unknown
6. Hean Boo Thean (Kuan Yin) Temple
I would say that Hean Boo Thean Temple is one of the hidden gems of George Town. If you want to avoid the crowds from the more famous temples, a visit to Hean Boo Thean is a great opportunity to explore the Malay culture. Dedicated to Kuan Yin – the Goddess of Mercy, this temple was built in 1972.
Also called the 'floating temple' of George Town, Hean Boo Thean Temple was initially much smaller (a shrine built on stilts) but it was fortified over the years to face the tides. The new temple is two storeys tall and even when I visited it a few weeks ago there were still some parts of it in construction. However, Hean Boo Thean Temple is definitely one of George Town's best temples.
-> Would you like to explore George Town by a guided tour? Check out this awesome tour!
With elements from the Southern Chinese architecture, this temple has amazing views towards the Clan Jetties of Penang. I've heard that during the night the temple is beautifully lighted in vibrant colors. Unfortunately, I didn't get the chance to see it during the night but I am sure that the views are incredible.
Other AWESOME things to do in Penang
Getting to Hean Boo Thean Temple is a bit tricky. From the main street, you will have to get through a series of narrow streets in-between floating houses (Google Maps is useless here). Getting to the temple is an experience itself and I loved getting lost a few times while discovering the local life.
On my way to the temple, I found a stall selling sugar cane juice – you have to try it, it's delicious! If you can't figure out how to get to the temple, do not hesitate to ask the local people. They will help you for sure.
Hean Boo Thean Temple entrance fee: free
Opening hours: unknown
7. Snake Temple Penang
This Chinese temple was built in 1805 for a Buddhist monk who was a renowned healer and famous for giving shelter to snakes. The legend says that when the temple was completed, snakes started to appear at the temple by themselves.
Nowadays, there are several snakes at this temple so visiting this place is not an activity for those who fear these reptiles. If you decide to visit the Snake Temple in Penang, make sure to keep a safe distance from the snakes.
If you're feeling adventurous, you can even visit the snake farm located inside the temple.
Snake Temple Penang entrance fee: free, snake farm RM 5
Opening hours: 6 am to 7 pm
8. Sri Aruloli Thirumurugan Temple
Located at the base of Penang Hill, one of the most visited tourist attractions in Penang, Sri Aruloli Thirumurugan Temple is an ancient Hindu temple. The temple is dedicated to Murugan, the Hindu god of war.
Exploring this temple feels like a step into another world. You'll be welcomed by colorful statues and beautifully decorated chambers. When visiting Kek Lok Si Temple, walk a bit and visit this beautiful Penang temple too.
Sri Aruloli Thirumurugan Temple entrance fee: free
Opening hours: 6.30 am to 8.30 pm
Where to stay in George Town, Penang
I've been searching for the best hotels in George Town for every budget. If you're looking for a good value for money hotel, check out the recommendations below.
Budget – Straits Garden Suite – comfortable and spacious apartment, good location, very clean, great pool
Mid Budget – G Hotel Kelawai – excellent location, amazing rooftop pool, spacious and clean rooms, awesome views, excellent amenities
Luxury – The Blue Mansion – excellent location, beautiful colonial building, full of history, spacious and luxurious rooms
If you want to discover more about the Malay cultural diversity, visiting these temples will be an incredible experience. Each one is unique and beautiful and there is so much to discover. I hope that my list about the must visit temples in George Town, Penang, will determine you to visit these beautiful places.
Make sure to read my Malaysia itinerary and my guide to Batu Caves, Kuala Lumpur. Enjoy this beautiful country!
May the travel bug bite you!
Disclosure: Please note that this post may contain affiliate links. If you make a purchase through these links, I will earn a small commission at no extra cost to you. I only recommend companies and products that I trust and the income goes to keeping this website running. Thanks!