I've been debating a lot with myself whether or not I should write this article. I decided to do it. If feels like it's my duty as a travel blogger to share with you not only the good parts of travel but the ugly parts too. As much as I love sharing incredible places with you, I also need to warn you about potential scams. So here it is.
I will start by saying that Laos is a beautiful country, well known for it's jaw-dropping mountains, its beautiful waterfalls (especially Kuang Si Falls) and the Vang Vieng all time favorite – tubing.
Laos is full of beauty and breathtaking scenery but there is an ugly part to it too.
I love traveling and in my one year of full time travel around the world a lot has happened to me. I understand and I know that travel is not always easy or fancy. I've been through a lot of challenges during my trip, I've been scammed and I've hit rock bottom a few times.
We planned to spend one entire month in Laos but after what we've experienced, we've shortened our trip to only 10 days and that's only because we didn't manage to find plane tickets earlier.
Below are the reasons why I will never go back to Laos.
IMPORTANT: Please note that this article only reflects my experience. It doesn't necessarily mean that everyone will experience the same things. If you plan to visit Laos, do it with an open heart and create your own opinion about it!
1. I got scammed. Many times
I haven't been scammed in one year as much as I've been scammed in Laos in 10 days. And it's not the traditional scams, the ones everyone is used to. You might expect to be asked to pay double the price or to be tricked into paying for a more expensive bus but this is not what happened to me.
I know how to avoid these typical scams but Laos is at a completely different level. Let me tell you a few stories.
The Airport Taxi Scam
After a tiring flight from Yangon, we finally landed in Vientiane. Our hotel was just 2 kilometers away from the airport. Giving the fact that we were tired, we decided to take a local taxi since our beloved Grab App is not available in Laos.
We headed to the official airport taxi counter where you'd expect to find fair prices. And when I say fair, I was expecting somewhere around $2-$3 for the 2 kilometer ride. Well, guess what? The prices were fixed and we were asked to pay $10!
I would rather walk 2 kilometers with my 17 kilograms backpack than pay $10! It's outrageous and disrespectful! Even in New York the taxis are cheaper than the $5/ kilometer Vientiane fare.
We finally decided to take the bus which was around $2 per person. Yes, maybe a fixed price might not seem as a scam but I find it totally unreasonable to pay 10$ for 2 kilometers (my hotel was really close to the airport).
Bus scams all around the country
When I say "bus scams" you'd expect the typical things – being asked for more money or paying for a luxury bus while traveling with a standard one. Well, in Laos things are different.
Apart from the fact that most buses are always late, when getting close to your destination they will leave you in the middle of nowhere. Be prepared to be left in the middle of the road or 2 kilometers outside the city in a place with no taxis or tuk tuks. The bus drivers do this to determine you to pay a couple of dollars more to get to the actual bus station.
It's a shame and it happened to me a couple of times. I refused to accept this scam. In Luang Prabang, the bus driver stopped somewhere on a narrow street, in between local houses, about 3 kilometers away from the actual bus station in heavy rain. He then asked for $2 each to take us to the bus station in the same bus. I walked. I was lucky I had an umbrella.
Another time, when arriving in Vang Vieng the bus driver stopped somewhere 2 kilometers away from the city, in the middle of nowhere. There were no taxis or tuk tuk drivers nearby and it was 11 pm. I walked again.
I refuse to give my money to people whose only obvious intention is to scam me even if this means that I have to walk through pouring rain. Unfortunately, bus scams in Laos are extremely common.
Motorbike Scams
Before arriving, I've read a lot on the internet about motorbike scams in Laos. I've read stories when people rented a motorbike and the owner had a spare key and "stole" it back. Of curse, the one who rented the motorbike had to pay for it.
I've read stories where people were asked to pay for scratches that were already there before renting the motorbike. I've read about people being blackmailed that they won't receive their passport back unless they pay for "damages".
Yes, it all happens in Laos and it's not as uncommon as you might think. Knowing all that, we still decided to rent a motorbike for our half day trip to Kuang Si Falls. We were confident that "it can't happen to us". In the morning we went straight to the reception and asked for a motorbike ($15 per day) and when the guy came, he asked for our passports.
We offered to pay around $150 deposit (under no circumstance we were going to give him our passports) but he started laughing and asked for $2000. Of course we didn't agree and we finally took a minivan to the waterfall.
Usually when traveling in SE Asia no one asks for a deposit. A passport photo is more than enough to rent a motorbike.
Tip: Don't ever leave your passport when renting a motorbike. Not in Laos, not anywhere else. It's just not safe and your passport might become a means of blackmail. Also, you never know what can happen. Maybe you need to exit the country for an emergency or return back home because something happened. You don't want to depend on others to get your passport back.
Overcharging
In most of the stores in Laos the prices are not displayed. You enter, choose the things you want to buy and then go to the cashier and the seller will tell you the price you have to pay. I have been overcharged dozens of time. How do I know? Because there were times when locals were in front of me and they were asked to pay a totally different price for the same product.
It's not even about the money in the end. I gladly paid more for tours and services in other countries because the experience was amazing and the guides didn't try to rip me off. However, when I see that someone wants to intentionally overcharge me, it somehow frustrates me.
2. The tuk tuk prices are outrageous
If you've been traveling around Southeast Asia before, you probably know that tuk tuks are usually the cheapest means of transport. Well, not in Laos.
Expect to be asked to pay $15 for a 15 minutes ride. Of course, you can try and negotiate but guess what? That won't get you anywhere. Tuk tuk drivers in Laos are not open for negotiation.
In Vientiane for example, tuk tuk drivers prefer to stay under the hot sun with no customers than driving for a fair price. This is mind-blowing considering the fact that Laos is a developing country.
As an alternative, for Vientiane at least, we used the bus. The connections aren't great but at least I chose not to support the tuk tuk business.
3. We almost got robbed
Vang Vieng is known for partying, tubing and drinking. It's the Mecca of YOLO. Again, I've been reading a lot on the internet about hotel room theft. Apparently, it happens a lot in Vang Vieng, especially because everyone gets drunk and forgets about how much money they have.
There are tons of stories on the internet like this one, this one or this one. Because we visited Vang Vieng during the rainy season, we decided to skip tubing so for a couple of days we just wandered around the city and slept a lot. Knowing that things get stolen from hotel rooms, we took all our money and gear with us at all times.
It was uncomfortable carrying everything with us but better safe than sorry. On our last day, when we arrived back at the hotel from lunch, the hotel owner was sitting right in front of the entrance. He seemed to be waiting for somebody so at first noting seemed unusual.
When he saw us, he immediately turned and made a very specific, loud whistle towards the hotel stairs. Our room was at the first floor and as we were climbing up the stairs, his wife was just coming from the direction of our room. There were no other rooms nearby. Also, our room has not been cleaned so there was no reason for her to be in our room.
We knew she had nothing to steal because everything was with us but we were angry and disappointed. We've been staying at hostels, hotels and guest houses for the past year all around Asia and we never had such experiences. We never felt so violated and unsafe as we did during our trip to Laos.
This was the tip of the iceberg, the moment when we decided to get out of this country as soon as possible.
4. Be prepared for everything
We arrived in Laos after our one month trip to Myanmar. Words cannot express the respect and admiration I have for the people in Myanmar. Their kindness has no limits and during the entire trip we felt welcomed and at home in Myanmar.
Once we landed in Laos, that was about to change. For me, when traveling to a country, the people are one of the main reasons that determine if I love it or hate it there. I had a bad experience in Laos and maybe I was a bit unlucky too but this is was my experience and I can't change that.
Although the nature is incredible, Kuang Si Falls was a delight and we had the chance to be close to elephants at the Mandalao Elephant Sanctuary, I wouldn't go back to Laos. At least, not in the near future.
I know that this is a big statement but this is how I feel right now. This shouldn't stop you from visiting this country. Different people, different experiences. I've heard many positive stories in the comments below, stories about people who had an incredible experience and loved Laos.
5. Final thoughts
Even though my experiences in Laos were not the best, this doesn't mean that the country has nothing to offer. As I've already said, there are plenty of incredible natural wonders around the country.
Take my story with a grain of salt and visit Laos with an open heart and mind, take precautions and create your own opinion about it! Let me know if you liked or not Laos in the comment section below.
May the travel bug bite you!
Pin it for later!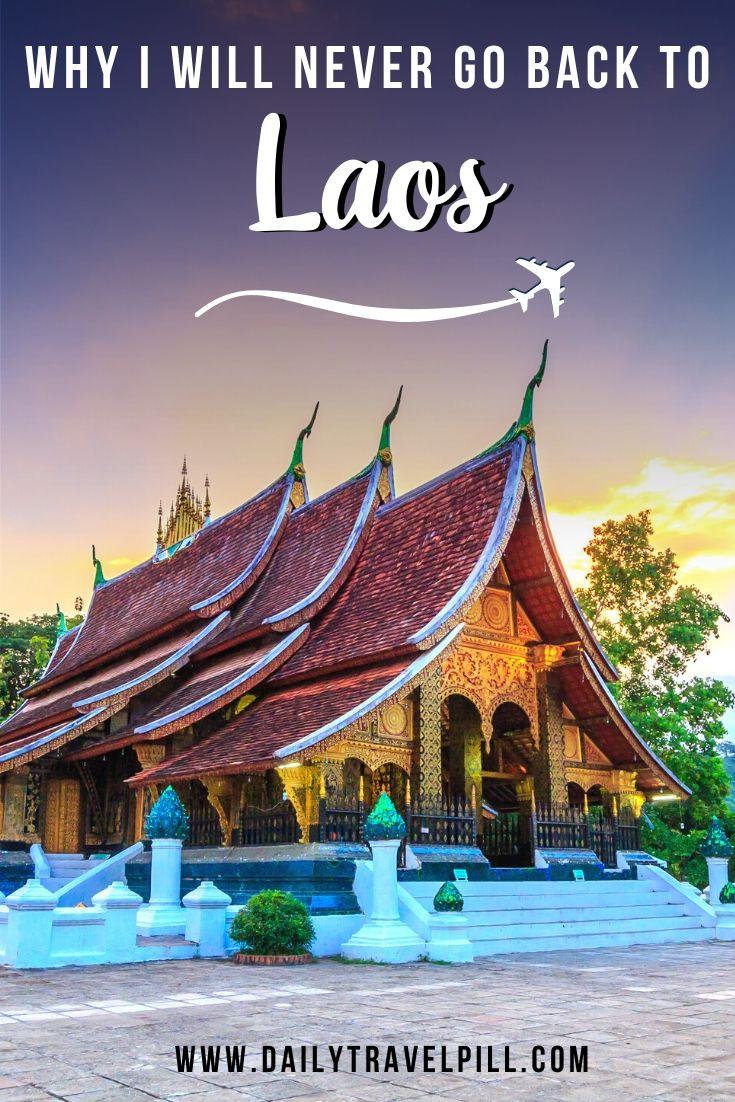 Disclosure: Please note that this post may contain affiliate links. If you make a purchase through these links, I will earn a small commission at no extra cost to you. I only recommend companies and products that I trust and the income goes to keeping this website running. Thanks!