Are you planning to spend one day in Vientiane but you're not sure about what to visit? You're in the right place.
Vientiane might not be the most exciting city to visit in Southeast Asia but there are a few tourist attractions that should be on your list. I'm going to be honest with you from the start, the temples are not as beautiful as the ones in Thailand and the city is rather dull. But in the end, I guess it's all about not setting your expectations too high.
To read why I will never go back to Laos, click here.
1. Should you visit Vientiane?
For me, after traveling for almost one year around Southeast Asia, Vientiane was a a bit disappointing. There is not much to do and there is nothing spectacular about it. I guess I got used with cities like Bangkok with sparkly temples or Kuala Lumpur with incredible skyscrapers.
I must say, if you're traveling for the first time in Southeast Asia, you might actually like it. Also, if you plan on spending just 24 hours in Vientiane, you won't have that much time to get bored. To read my entire opinion about Vientiane, you can check out this article.
While in Laos, you have to visit the famous Kuang Si Falls in Luang Prabang. Also, if you're looking for an ethical elephant sanctuary, I recommend Mandalao, also located in Luang Prabang.
No time to read now? Pin it for later!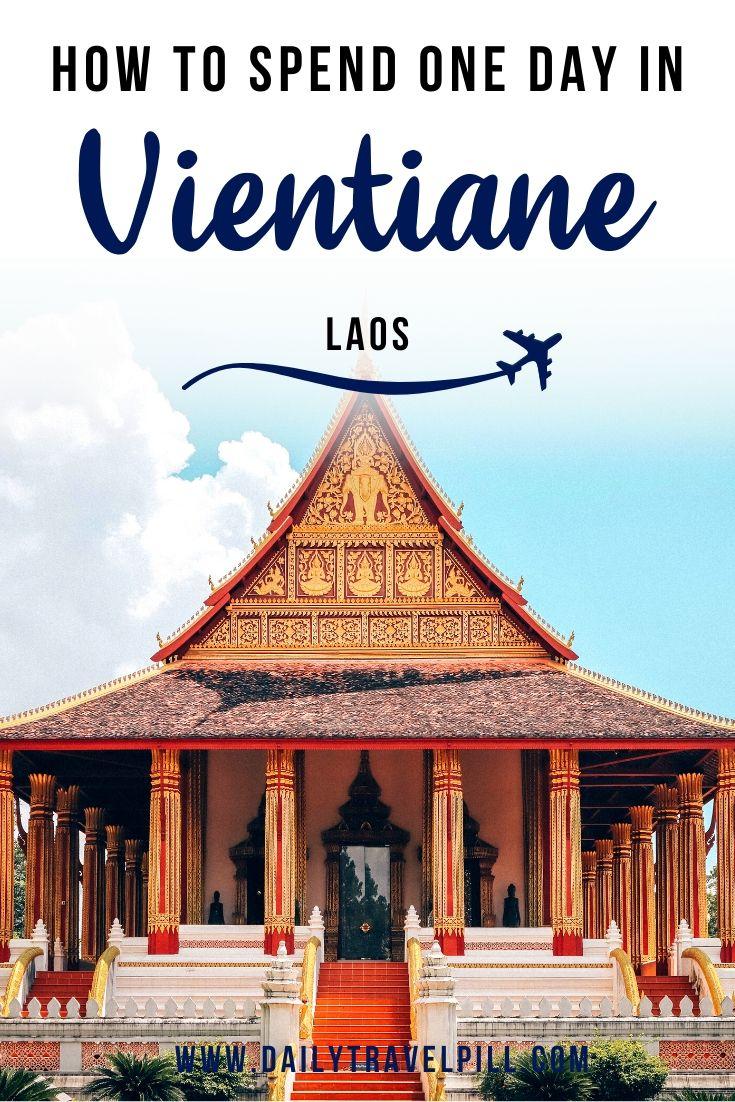 2. How many days should you spend in Vientiane?
If you still haven't decided how many days to spend in Laos' capital city, I'm here to help you. In my opinion, one full day is enough to visit the city.
However, if you're landing mid-day, you can plan another full day in Vientiane. You'll see that the top tourist attractions in the city are situated one near the other and it's pretty easy to visit them in a few hours.
If you want a hustle-free experience, you can choose a guided tour. Below are a few options. Otherwise, read the following section of this article and follow my itinerary!
3. What to do in Vientiane in one day – itinerary
Situated on the banks of Mekong River, Vientiane's main religion is Buddhism. It's the biggest city in Laos although it has a population of only 800,000 people. Below are the most important tourist attractions in Vientiane and they can all be visited in one day! Let's get to it!
Sisaket Temple
Sisaket Temple was built in 1818 in the Siamese style of Buddhist architecture. This temple is one of the landmarks of Vientiane and it holds an impressive collection of more than 2,000 ceramic and silver Buddha statues.
Although the temple is quite small, it does have its charm. I loved how peaceful it was!
Haw Phra Kaew
Situated right across the street from Sisaket Temple, Haw Phra Kaew impresses through its beautiful architecture with golden details. The temple was built in 1565 to house the Emerald Buddha which is currently in Bangkok, Thailand.
The temple is now a museum and it houses a beautiful collection of sculptures and religious artifacts.
Patuxay Monument
In the center of Patuxay Park you can find the beautiful Patuxay Victory Monument. Similar to the Arch de Triomphe in Paris, this monument is beautifully decorated with paintings depicting gods and elephants. Its four arches face the cardinal directions.
For a better view over Vientiane, you can climb to the top of Patuxay Monument. It's one of the best viewpoints in the city!
Pha That Luang
This gold covered Buddhist stupa is situated in the center of Vientiane. Although you might think that Pha That Luang is only painted yellow, the temple is actually covered in gold. The central 45 meters tall stupa is surrounded by other 30 smaller stupas which create an incredible view. To find out the difference between temples and stupas, click here.
If you have time, do not hesitate to also visit the nearby temples. They are stunning.
Vientiane Night Market
The perfect place to search for souvenirs or local products and to end your one day trip to Vientiane is the night market. Full of clothes, handicrafts, food and more, the Vientiane Night Market is a must see.
Do not forget to negotiate the prices!
4. How to get around Vientiane
The traffic in Vientiane can be a bit chaotic, especially during rush hours. When we visited, we only used the bus but depending on your needs and driving skills, you can use any means of transport from the ones below.
Motorbike
The easiest way to get around the city is to rent a motorbike for around $8 per day. However, if you're not feeling comfortable about driving in terrible traffic, I recommend taking the tuk tuk, a taxi or the bus.
Tuk tuk
You will find tuk tuks at every corner, all around the city. One thing that I didn't like about the tuk tuk drivers in Vientiane is that they always try to scam the tourists by asking outrageous fares. Below are just a few things you have to keep in mind before traveling by tuk tuk:
always ask for the price in advance. Do not accept to get in the tuk tuk if the driver doesn't agree to tell you the price.
negotiate, negotiate, negotiate. Most of the time, the drivers will ask triple the actual price.
Taxi
Taxis in Vientiane usually cost around $0.5 – $1 per kilometer. Try and persuade your driver to turn on the meter. If not, make sure to agree on the price from the beginning.
Bus
If you're arriving in Vientiane by plane, make sure to go to the bus counter at the airport and ask for a map (pictures below). There are a few bus lines around the city that cover all the important tourist attractions and they are super affordable.
In the pictures below you can see their itinerary and schedule.
5. Where to stay in Vientiane
Below are the best accommodation options, according to every budget:
I hope that you've found my Vientiane one day itinerary useful. Although it's not as glamorous and sparkly as Bangkok or Kuala Lumpur, it does have its own charm. Do you have any other suggestions of things to do in Vientiane in one day?
If you have any questions, please let me know in the comments section below.
May the travel bug bite you!
Disclosure: Please note that this post may contain affiliate links. If you make a purchase through these links, I will earn a small commission at no extra cost to you. I only recommend companies and products that I trust and the income goes to keeping this website running. Thanks!