If you're planning to spend 1 day in Helsinki, I am here to help you make the most out of your time. Helsinki is the capital city of Finland, a country with incredible natural beauty and home to Lapland (you know, the place where Santa lives).
Located on the shore of the Baltic Sea, Helsinki is the place where history, architecture, and nature blends together. Even though there are lots of tourist attractions to visit, 24 hours in Helsinki are enough if you want a taste of this city's vibe.
After visiting Helsinki twice, I'm going to share with you my recommendations if you only have one day to spend in this city.
1. How to get around Helsinki
The following itinerary is perfect if you're looking for a self-walking tour of Helsinki. Luckily, all the attractions are close to one another and within walking distance.
No time to read now? Pin it for later!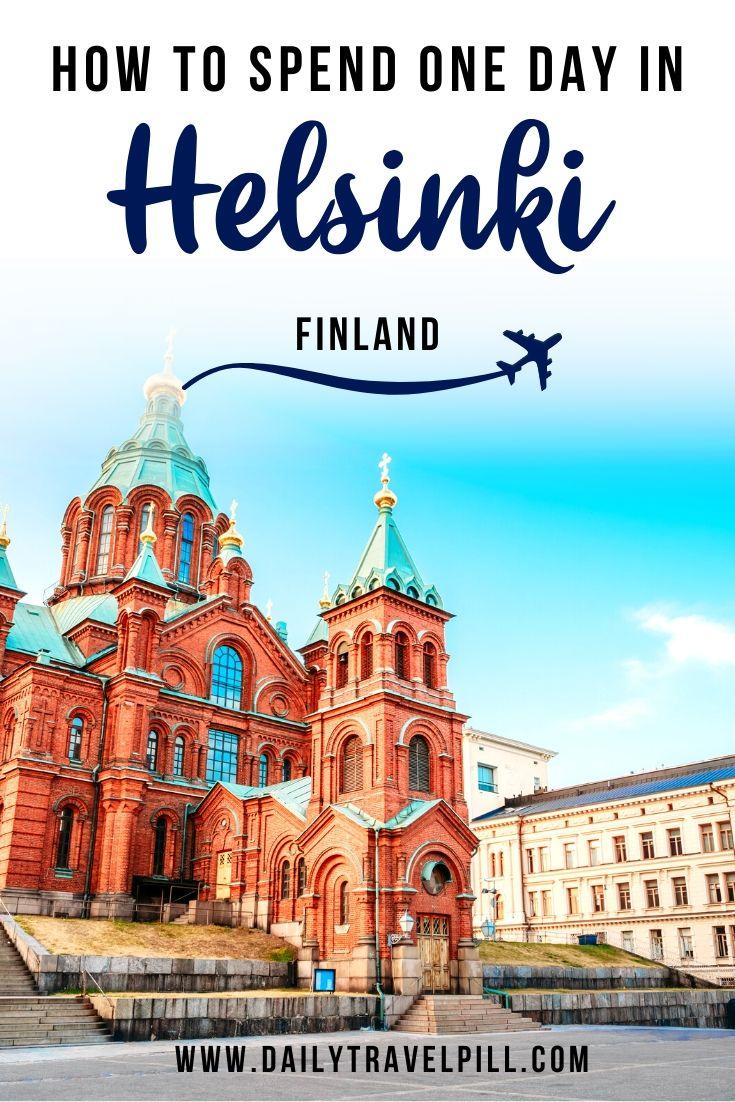 However, if you have your mind set on other tourist attractions in the city, you can easily use public transport. You can take the subway or even use the train.
-> Are you also planning to visit Lapland? Make sure to check out my guide!
2. Things to do in Helsinki in a day
Whether you're planning a day trip from Tallinn to Helsinki, or you have a long layover, this guide is perfect if you want to explore the city's main attractions.
From churches to markets and islands, Finland's capital city is perfect for a day of sightseeing. Follow this itinerary for an unforgettable trip!
Start the morning with a good coffee and some shopping at the Market Square
If you're feeling sleepy, try a strong cup of coffee at the Market Square. This is the perfect starting point for your day trip to Helsinki since many tourist attractions are located in the proximity of this market.
Market Square opens daily at 8 am. Depending on how early you arrive here, you can even explore the souvenir shops. You'll find gloves, fridge magnets, wooden handicrafts, clothes, and many other traditional Finnish items.
Moreover, Market Square is well known for the fish specialties sold here. Honestly, the salmon I had here was the best ever! Make sure to try it!
Climb to Uspenskin Cathedral and admire the views
You'll see a glimpse of Uspenskin Cathedral from the Market Square. Walk 5 minutes and you'll get in front of this beautiful Russian Orthodox Church. With a beautiful red brick facade and green roof, the Uspenskin Cathedral is the largest Orthodox Church in western Europe.
Finished in 1868, this church is one of Helsinki's main tourist attractions. Many people come here to admire the cathedral while others just want to admire the views. Either way, you should definitely include it on your itinerary.
Good to know – the cathedral is closed on Mondays. Tuesday – Friday: 9.30 am – 7 pm. Sunday: 10 am -3 pm. Saturday: 12 pm – 3 am
Take a ride in the SkyWheel Helsinki
Our Helsinki one-day itinerary continues with my favorite activity in the city – a ride in the SkyWheel. From the Uspenskin Cathedral, make your way down back to the Market Square and you'll see a big silver ferriswheel.
A fun fact about this ferriswheel is that one of its cabins was transformed into a sauna. How cool is that? If you want to admire the city from above, a ride in the SkyWheel is what you need even though the entrance fee is a bit pricey.
The wheel is one of the top things to do in Helsinki and one of the landmarks in this city.
Good to know – The wheel is opened daily from 11 am until 5 pm except for Tuesdays. A ticket costs 13 euros per person.
Hop on a sightseeing boat or take the ferry to Suomenlinna Island
When visiting Helsinki in one day, you have to take a boat trip. Depending on your interests, you can take a sightseeing boat and admire the islands near Helsinki or, if you're passionate about history, you can visit Suomenlinna Fortress.
The fortress was build during the Swedish era as a maritime fortress. The building stretches on 8 islands and is a popular tourist attraction in Helsinki.
The starting point for these activities is the Market Square. Depending on the activity you choose, a boat tour can take anything from one and a half hours to three hours.
Admire the Helsinki Cathedral
Probably the most impressive building in Helsinki is the Helsinki Cathedral. The white structure is supported by huge Corinthian columns. To get to the cathedral you'll have to climb a few stairs but it will be worth it, especially if you take the time to visit the interior.
Unlike other churches and cathedrals full of lavish details, Helsinki Cathedral's interior is simple yet elegant. After visiting and admiring this beautiful cathedral, head to the Senate Square and admire the Government Palace and the main building of the University of Helsinki.
Take a walk on Aleksanterinkatu
There are many things to do in Helsinki, but my favorite activity is shopping. Take a walk on Aleksanterinkatu Street, which happens to be one of the oldest streets in the city, and buy some souvenirs, clothes or books.
Home to both international brands such as H&M or Zara and local brands, this street is always busy with locals and tourists looking for unique items.
Admire the beautiful Temppeliaukio Church
From Aleksanterinkatu Street take a short walk (around 15 minutes) to Temppeliaukio Church. This is our last stop on our one-day itinerary of Helsinki. I know it has been a long day but due to its uniqueness, this church is worth visiting.
Also called the Rock Church, Temppeliaukio was built inside a rock. I love how nature merges with modern architecture, creating this incredible church in the heart of Helsinki.
The church is also used as a venue for concerts due to its splendid acoustics. The entrance fee is 3 euros per person but it's a small price to pay to visit this gem.
Visiting Helsinki in one day is totally doable. I hope that you've found this self-walking itinerary useful. If you're also planning to visit Tallinn, make sure to check out my guide about the most Instagrammable places in the city.
3. One day in Helsinki – where to eat
If you're looking for a place to eat near the Market Square, make sure to stop at Shelter. With a selection of yummy dishes and tasty wines, Shelter is the perfect choice for those looking for food prepared with local ingredients.
What about a tasty burger? Stop at Naughty BRGR, near Aleksanterinkatu Street, for a delicious burger. Are you a vegan? Don't worry! At Naughty BRGR you can find vegan burgers.
4. Where to stay in Helsinki
If you're planning to spend one night in Helsinki, I'm here to help you. I've been searching for the best hotels in the city, for every budget. Here are my recommendations:
Budget – 20Rooms – good locations with great connections with the city center, good WiFi, clean rooms
Mid Budget – Hotel Indigo – excellent location, spacious and modern rooms, gym, friendly staff
Luxury – Hotel Kamp – excellent location, modern and comfortable rooms, spa, high-quality facilities
If you were wondering about what to see in Helsinki in a day, I hope that this guide helped you. Even though in terms of tourist attractions Helsinki doesn't compare with it's bigger rivals such as Lisbon or Paris, there still are a lot of places to discover.
If you have any questions about spending 24 hours in Helsinki, don't hesitate to ask me in the comments section below.
May the travel bug bite you!
Disclosure: Please note that this post may contain affiliate links. If you make a purchase through these links, I will earn a small commission at no extra cost to you. I only recommend companies and products that I trust and the income goes to keeping this website running. Thanks!