The first thing that comes in mind when we think about Lapland is Santa. However, there are many other exciting activities that you can experience in this area. After my trip to this winter wonderland, I fell in love with its beauty and tourist attractions.
Lapland spans across the northern part of Sweden, Norway, Finland, and the Kola Peninsula in Russia. With untouched nature, long winters, and green lights dancing in the sky, Lapland is one of the most intriguing and fascinating places in Europe.
In this article, I'll share with you the top things to do in Lapland in winter. Be prepared for some unforgettable experiences! Oh, and bring with you all your warm clothes. Trust me, you'll need them!
1. Sleep under the stars in a glass igloo
Sleeping in a glass igloo has been a dream of mine for ages. During my trip to Lapland, I had the chance to stay at the resort where the first glass igloos were invented – Kakslauttanen Arctic Resort.
These cozy igloos offer a 360-degree view of the sky, perfect if you want to see the Northern Lights. Moreover, at Kakslauttanen we had an Aurora alarm in our room. During our stay, the sky was cloudy and we didn't see the Aurora but at least I saw it a few years ago in Iceland.
However, even though we didn't see the green lights dancing in the sky, we had a great stay at this resort and we enjoyed a bunch of unique activities.
-> Read my full review about Kakslauttanen Arctic Resort here
2. Meet the Finnish Sami people
Sami people are indigenous Finnish people that live in northern Lapland. With a colorful culture and their own language, Sami people have a population of 10,500 in Finland alone.
Reindeer herding is a central part of the Sami culture. Some other activities include handicrafts, fishing, and hunting. What I loved about the Sami people is the way they dress. With colorful clothes and a unique sense of style, the Sami really stand out.
If you really want to experience the Sami culture, you can stop in Inari. Here you'll find authentic handicrafts shops and visit the Sami museum.
3. Go on a Husky safari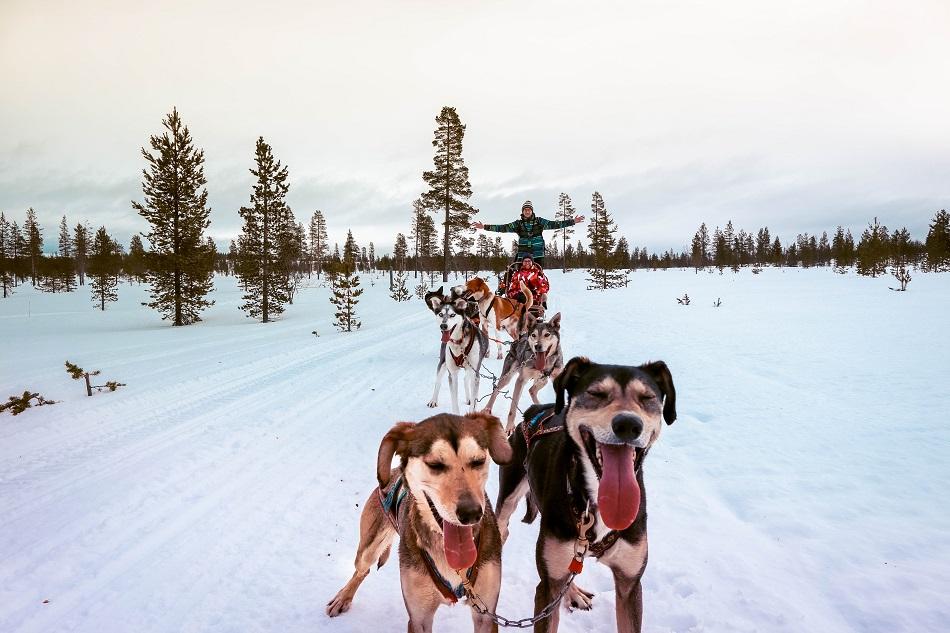 Some of the most popular activities in Lapland are husky safaris. There's something magical about sitting in a sled pulled by enthusiastic furry friends. Huskies are incredibly friendly and excited about running. They were born for these kinds of activities and they love low temperatures.
Dog sledding in Lapland is an amazing activity for both children and adults. It's fun, entertaining, and relaxing at the same time. I wrote an entire guide about what to expect from husky safaris in Lapland – you can read it here.
Good to know – huskies are incredibly friendly. Go play with them and show some love! Also, don't forget to take pictures with these cute dogs!
Husky safari options:
Rovaniemi – enjoy a 2-hours ride with huskies and visit a husky farm
Ivalo – enjoy a 2-hours ride in the frozen forest.
4. Hop on a snow tank
Have you ever been inside a tank? Now you have the chance to ride a snow tank in Lapland. One of the places where you can do this is Kakslauttanen Arctic Resort. This is one of the most unique things to do in Lapland and I warm-heartedly recommend it to you!
After being picked up from the resort late in the evening, we hopped on the snow tank and started hunting the Northern Lights. Our guide took us in the middle of the forest, a place with no light pollution – perfect to spot the Aurora.
Unfortunately, the sky was cloudy again but we warmed ourselves up inside a beautiful wooden cabin. We drank some warm tea and ate some delicious gingerbread cookies. It was an incredible experience!
-> Read all my travel guides about Finland here
5. Go on a reindeer safari
You can't visit Lapland in winter without going on a reindeer safari. You'll have the chance to meet Rudolf! Reindeer are an important part of the economy in Lapland.
Throughout time, they were used as a mode of transport. Even today, people use them for food, clothes, and decorations. Each reindeer in Finland is owned by somebody so you can't find any in the wild.
Some of Lapland's attractions are reindeer safaris. Expect a relaxing ride with these beautiful animals and enjoy the views. For one or two hours you can ride in a sled pulled by these incredible animals.
Good to know – don't get too close to reindeer. They're quite shy and they don't like to be petted.
Reindeer safari options:
Levi – enjoy a 2-hour reindeer safari in a beautiful sled
Rovaniemi – learn the tradition of reindeer herding in this awesome 2-hour tour
6. Try cross-country skiing
Cross-country skiing is somewhat of a national sport in Finland. With long and well-taken care of tracks, this sport is suitable for everyone.
Even today, in small communities, kids still go to school on skis during the winter. It's an important mode of transport in Finland and a great tourist attraction for people visiting Lapland.
After trying cross-country skiing for the first time, during my stay in Ivalo, I have to say that it's not as easy as it seems. It's quite challenging but fun at the same time. Rent a pair of skis for a few hours and try something new!
Fun fact – the longest cross-country ski track in Finland is over 300 km long
7. Go on a cruise on an icebreaker
How about going on a cruise in the frozen waters of the Bothnian Sea in Lapland? For a few hours, you'll be sailing through big blocks of ice.
When the icebreaker stops, you can walk on the frozen sea and take some pictures to remember this once-in-a-lifetime experience. If you want, you can even put on a flotation suit and get in the freezing water.
This trip will definitely be one to remember! To get to the icebreaker, you can take the shuttle bus from Rovaniemi but you can find more details about the experience here.
8. Relax in a steam sauna
The Finish sauna has a long history and it's believed to date back from 7000 BC. Nowadays, you can find around 2 million saunas in Finland. To put this into perspective, the country has a population of 5.5 million.
If you're brave enough, you can try a steam sauna when in Lapland. If you'll survive the high temperatures, imagine that after that you'll have to jump straight into cold water or snow.
I must admit that I haven't tried it. As much as I love saunas, the thought of cold water and snow scared me.
9. Go on a snowmobile adventure!
If you're looking for fun things to do in Lapland, go on a snowmobile adventure! You can rent a snowmobile for a few hours or even go on a multi-day snowmobile safari.
You'll need a driver's license to drive one of these machineries but don't worry, snowmobiles are easy to drive and control. We drove one near Ivalo and loved the experience!
We followed the tracks inside a thick forest covered in snow. It was magical!
Snowmobile options:
Levi – feel the adrenaline rush on a 2-hour snowmobile adventure
Rovaniemi – enjoy this half-day tour on a snowmobile
10. Visit or stay in an ice hotel
One of the most famous ice hotels in Lapland is Levi Ice Hotel. You can choose to simply admire the ice sculptures over a glass of wine and a delicious meal or you can even book a night in one of the ice rooms.
Another popular hotel close to Rovaniemi is Snowman World. Sleeping in a room made entirely from ice is definitely going to be a unique experience!
11. Go ice-fishing
Ice-fishing is a popular winter activity in Lapland. For many, it's a form a meditation. Imagine sitting on a frozen lake, surrounded by serene views while waiting patiently for something to happen.
This might not be an activity for everyone but it surely is something different you can try. If you are a patient person, ice-fishing can be a unique experience to try in Lapland.
12. Deliver your Christmas letter to Santa
Have you ever dreamed about meeting Santa? The real Santa? Well, we all know that Santa's home is in Lapland and the good news is that you can pay him a visit!
You can choose to spend a day at Santa Village Rovaniemi and feel like a child again! Some of the attractions include Santa's post office, reindeer rides, souvenir shops, and beautiful ice sculptures. You can reach Santa Village Rovaniemi by bus.
There are also other places in Lapland where you can meet Santa. For example, I met him at his home from Kakslauttanen Arctic Resort. Meeting Santa is one of the most popular tourist attractions in Lapland!
13. Go on a snowshoeing adventure
The best way to enjoy the stunning nature of Lapland is trekking on snowshoes. Breathe the fresh air and exercise while being surrounded by beautiful scenery.
Snowshoes are perfect in deep snow and this sport is suitable for anyone. It's one of the best things to do in Lapland in winter. Get your blood pumping and enjoy this awesome winter activity!
14. Drink a glass of Glögi
After a day full of adventures, it's time to relax and drink a glass of Glögi. This delicious drink is a traditional winter treat and is made out of spices mixed with wine or fruit juice.
You can try the alcoholic version or the non-alcoholic one, it's up to you! I had a glass of Glögi at the end of each day spent in Lapland and I loved it!
15. Admire the Northern Lights
Lapland is one of the best places to watch the Northern Lights. However, don't take them for granted. If you're unlucky, like I was, chances are you won't see them.
You'll need a clear sky, a solar storm, and no light pollution to see them. But don't worry, even if the Aurora will hide behind the clouds, there are still many other awesome things to see in Lapland.
Think about the Northern Lights as a bonus. Don't visit Lapland just to see them. There are so many other incredible activities to discover in this winter wonderland.
16. Explore Korouoma Canyon and admire frozen waterfalls
Are you ready for a breathtaking trip to a 30-km long canyon located near Rovaniemi? During the winter, the waterfalls turn into beautiful natural ice sculptures that are used for ice-climbing.
If ice-climbing is not your thing, you can still admire the 14 frozen waterfalls and take some stunning photos. The entire scenery at Korouoma Canyon is unbelievable.
17. Try Lappish food
How about some reindeer stew? I know that reindeer are cute but in Lapland they are an important source of meat and proteins. Many traditional meals include reindeer meat and if you're a meat lover, you might actually like it.
The reindeer stew is made of thin strips of meat fried in butter and served with mashed potatoes and other vegetables. I tried it and it's quite tasty!
18. Float in a frozen lake
Are you looking for some unusual activities in Lapland? How about floating in a frozen lake while admiring the Northern Lights?
Of course, you can't do this by yourself. You'll have to book a guided tour that will take you to a place with no light pollution, where you'll be surrounded by pure nature.
After that, you'll get dressed in your insulated suit, you can jump in the lake and enjoy the floating experience! If you're lucky, the Northern Lights will brighten the sky. This is a really cool experience!
19. Go skiing at Yllas Ski Resort
Did you know that Yllas Ski Resort is located in an area with the cleanest air in the world? At this resort, you'll find a wide range of winter activities, perfect for those of you who like sports. Some of them are back-country skiing, snowmobiling, winter biking, and cross-country skiing.
Get ready for powdery snow, cotton candy trees, and awesome ski slopes. The highest slope at Yllas Ski Resort has 719 meters which is perfect especially for beginners.
20. Visit the Arktikum Science Museum
Would you like to learn more about life in the Arctic? Plan to spend a few hours at Arktikum Science Museum in Rovaniemi. Here you'll find exhibitions about the history, culture, and modern life in Lapland.
Don't forget to explore the glass tunnel leading to the Ounasjoki River. If you're visiting the museum during the winter, when the night is longer, you can even see the Northern Lights through the glass tunnel.
21. Go on a horseback safari
The Finnhorse of Finish horse is a horse breed with unique characteristics, much like the Icelandic horse. If you choose to stay at Kakslauttanen Arctic Resort, you can go on a horseback safari in the snow.
You'll have a guide with you that will help you handle the horse while you'll have the chance to enjoy the ride and the views.
Final thoughts
Lapland is a magical region and there are so many things to experience here! I loved it so much that I already plan to go back and explore more of it!
If you have any other suggestions about other awesome things to do in Lapland or if you have any questions, let me know in the comments section below. Which one of these Lapland winter activities is your favorite?
May the travel bug bite you!
No time to read now? Pin it for later!
Disclosure: Please note that this post may contain affiliate links. If you make a purchase through these links, I will earn a small commission at no extra cost to you. I only recommend companies and products that I trust and the income goes to keeping this website running. Thanks!