Are you dreaming about sleeping under the stars, in a glass igloo hotel, in the heart of Lapland? Whether you're planning a romantic gateway or a relaxing holiday, choosing the perfect igloo resort might be challenging.
But don't worry, I'm here to help you! I spent 3 nights in a breathtaking resort, in the heart of the Arctic Circle. Imagine a resort in the middle of nature, with countless igloos and chalets, with great amenities, and lots of entertaining activities.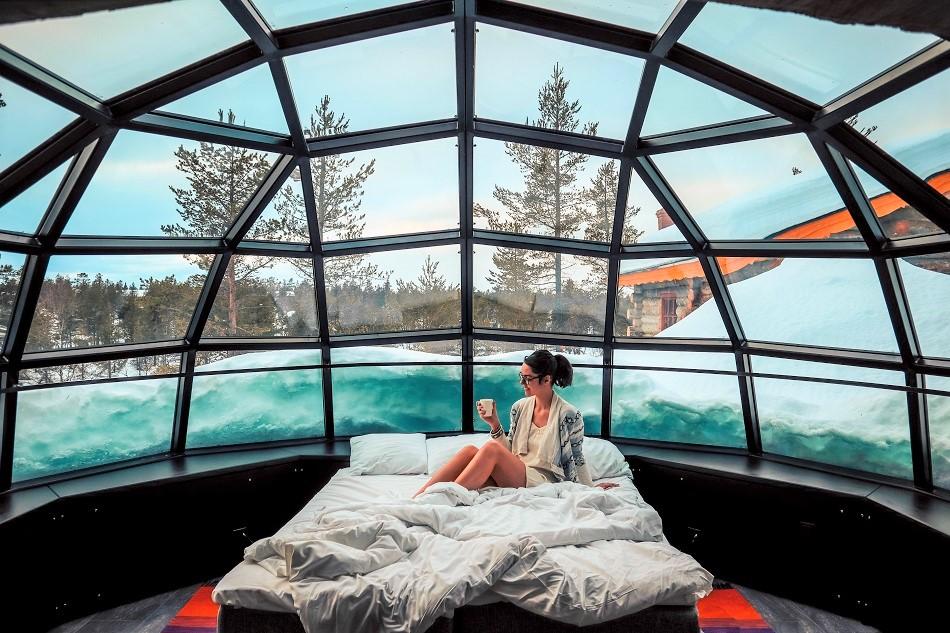 Welcome to Kakslauttanen Arctic Resort, also known as Lapland's igloo village!
Fun fact – The founder of Kakslauttanen Arctic Resort, Jussi Eriamo, is the person who invented the glass igloos.
If you're looking for a memorable experience, spending a few nights here is all you need! Read below to find out everything you need to know about Kakslauttanen Arctic Resort.
1. Kakslauttanen – the story
The story of Kakslauttanen is truly an inspiration. In 1973, Jussi Eriamo ran out of fuel while on a fishing trip in Utsjoki. Due to these unfortunate circumstances, Jussi had to spend the night in the place where his car stopped. That place was called Kakslauttanen.
He fell in love with the wilderness and beauty of this place so much that next year he came back and opened a small cafe. The business started to grow and over the years, Kakslauttanen became the most famous glass igloo hotel in Finland.
-> Find out which are the top 21 things to do in Lapland
2. How to get to Kakslauttanen Arctic Resort
The nearest airport is in Ivalo, just a short car ride away (30 minutes) from Kakslauttanen. Finnair and Norwegian operate several flights per day from Helsinki to Ivalo.
The resort offers transport from the airport, just make sure to inform the staff about your flight schedule. I really enjoyed the car ride from the airport to the resort.
I visited this awesome igloo hotel in Lapland at the beginning of March and everything was covered in thick snow. The views were simply incredible. The forests and hills were all white and from time to time a few red and blue houses stood out from behind the trees.
No time to read now? Pin it for later!
3. Reception and staff
The check-in procedures were really smooth. Once we arrived at the reception, the staff welcomed us and told us our room number. We chose to spend three nights in a Kelo-Glass Igloo, the most luxurious type of room offered by Kakslauttanen Arctic Resort.
We were handed a map of the resort and the receptionist highlighted the road to our awesome glass igloo. In front of the reception, a few sleds waited for us. We immediately put all our luggage on one sled and started pushing it towards our new home.
The staff at Kakslauttanen was helpful and kind. They helped us with the activities' schedule, info about local food, and they made sure that we had a great stay.
4. Room tour – Kelo-Glass Igloo & Standard Glass Igloo
Kelo-Glass Igloo
Even though I'm good at reading maps, I got a bit lost on the way to our room. On the way, I couldn't help but notice the beautiful architecture of the Kelo-Glass Igloos. Each spacious wooden cabin has a half-glass igloo, perfect for watching the Northern Lights.
It's no wonder why Kakslauttanen is the most famous glass igloo resort in Finland.
After about 10 minutes we finally entered our room. The log chalet was beautifully decorated, spacious and cozy. The room could easily accommodate 6 people!
The Kelo-Glass Igloo features a well-equipped kitchen, a private sauna, a fireplace, and a spacious bathroom. However, the best feature and the most important one is the Northern Lights Glass Igloo, as I like to call it.
The igloo was my favorite part of the room. In the middle, there were two comfortable beds, adjustable by remote control. I spent my nights watching the sky and admiring the stars. Away from light pollution and noise, Kakslauttanen is an oasis of relaxation.
Unfortunately, during our stay, the Aurora was a bit shy and we didn't get to see it. However, I had a memorable stay at this resort and I can't wait to go back!
If you're worried about being awake to see the Northern Lights, relax because every room at Kakslauttanen has an Aurora Alarm that goes off each time the green lights appear on the sky.
If you're looking for a comfortable and well-equipped room, don't hesitate to choose the Kelo-Glass Igloo.
Standard Glass Igloo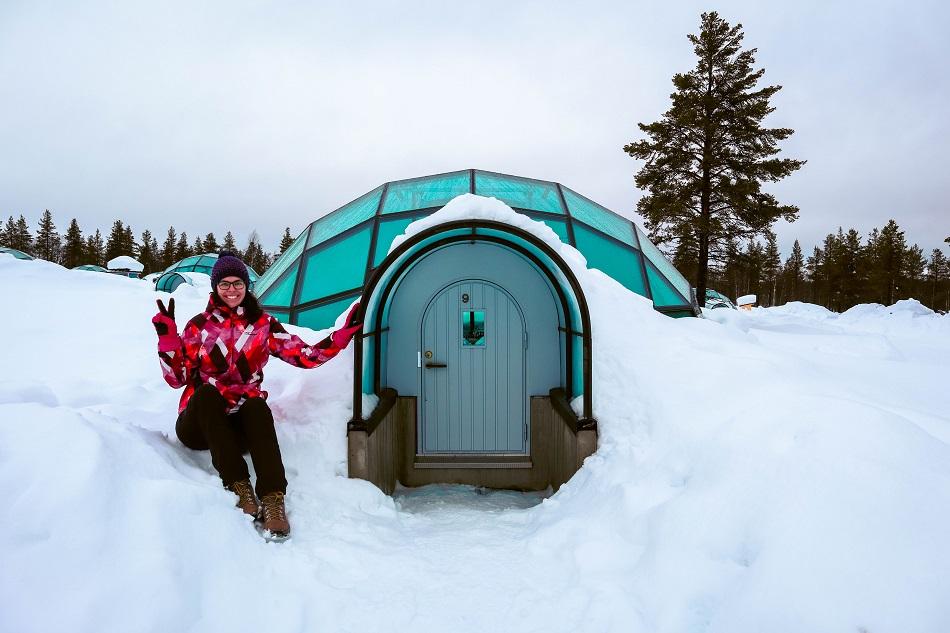 If you want to sleep in a 360-degrees glass igloo, you can choose the standard glass igloos. There are two options you can choose from – small igloos and large igloos.
The small ones can accommodate up to 2 people and they're equipped with a sink and toilet. The big disadvantage is that the standard small glass igloos don't have a shower. To get to the shower, you'll have to walk for a few minutes.
However, if you choose a large igloo, you'll have your own private shower and a bit more space. The large igloos can accommodate up to 4 people.
Which one to choose?
If space and comfort are a priority to you, I recommend choosing the Kelo-Glass Igloo. If you want to sleep in a 360-degree igloo, I recommend choosing one of the standard igloos.
No matter what you choose, I'm sure you'll have an unforgettable stay at this arctic resort in Lapland.
-> The check availability and prices, click here.
5. Activities and entertainment
Kakslauttanen offers a wide range of activities, suitable for any age. One thing is sure – you can't get bored in this place. If you're planning your visit during winter, you're in for a treat.
Apart from the beautiful landscape, the thick snow, and the beautiful Northern Lights, you can choose from tons of winter activities. I had the chance to experience most of them and it was amazing!
Husky safari
Hands-down my favorite activity was the husky safari. Sitting in a sled while being pulled by cute and enthusiastic huskies is incredible!
I know what you're thinking, "is it ethical?". The answer is yes. Huskies were born to run and they love low temperatures. I wrote an entire blog post about husky safaris, just in case you want to learn more about this activity.
Snowmobiling
One of the most popular things to do in Lapland is snowmobiling. After safety instructions, we headed inside a frozen forest on a snowmobile. I was the passenger and Dan was the driver but I loved the experience!
I'll let the photos speak for themselves.
Reindeer safari
On our first night at Kakslauttanen Arctic Resort, we went on a reindeer safari. It was already dark outside and we were pretty enthusiastic about seeing the Northern Lights.
We hopped on our wooden sled and enjoyed the ride through the wilderness. The reindeer were slowly walking through the woods while we, the passengers, searched the sky for the green lights.
The lights never showed up but the experience was incredible! I felt extremely connected with nature.
Snow tank Aurora hunting
Have you ever been inside a tank? This is your chance! After about half-an-hour inside the snow tank, we found ourselves in the middle of the forest, away from traffic and light pollution.
Even though the Northern Lights never appeared in the sky, we enjoyed a warm tea and some gingerbread cookies inside a beautiful wooden cabin.
Cross-country skiing and snowshoeing
It took a bit of convincing from Dan's part but I tried cross-country skiing and I kind of liked it. The skis are incredibly thin and long but they're pretty easy to control since the only thing you have to do is follow the tracks.
If you want to try something new, I recommend cross-country skiing. If skis scare you, you can choose snowshoeing.
Visit Santa
Who knew that Santa's home is located inside Lapland's glass igloo hotel? Yes, that's right. Santa has a beautiful home at Kakslauttanen. Even the elves have a beautiful tower!
6. Aurora restaurant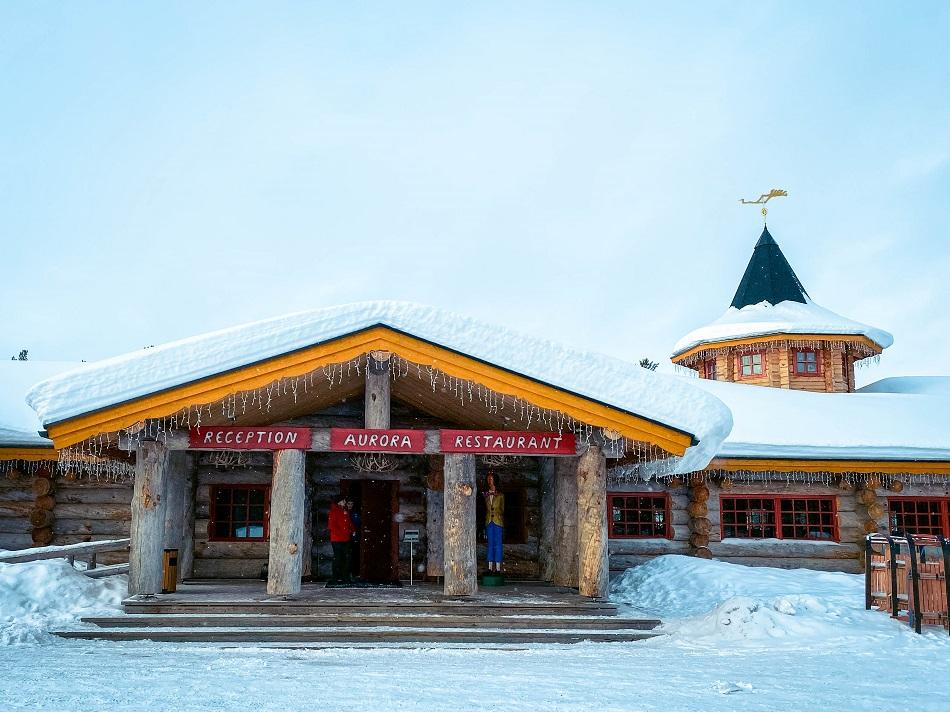 We enjoyed all our meals at the West Village Aurora Restaurant. For breakfast and lunch, we had a buffet with options for both vegetarians and non-vegetarians. There aren't many choices of food but it's enough to fill your belly.
For example, the breakfast buffet included cheese, salami, ham, vegetables, eggs, beans, bacon, cereals, croissants, and cookies.
For dinner, we chose a 3-course meal that included soup, reindeer stew, and dessert. At first, I wasn't very excited about trying reindeer meat but it ended up being quite tasty. In Finland, reindeer is an important source of meat and proteins.
I loved Aurora restaurant's design. The chandeliers were made out of reindeer antlers. But don't worry, each year the reindeer shed their antlers and new ones grow back.
Also, I loved how all around the restaurant and the resort you can see pieces of art. From sculptures, to paintings, it's a delight to search for art around the resort.
7. Other facilities
Smoke sauna and ice pool
If you want to follow the Finnish tradition of going into a sauna and then jumping straight into icy water, you can do so at Kakslauttanen. I am not a fan of cold water. Therefore, I chose to relax in my private sauna, inside my Kelo-Glass Igloo.
Souvenir shops
If you're looking for something to bring back home, you can visit one of the many souvenir shops at Kakslauttanen Arctic Resort. You can find one at the reception, another one at the Aurora restaurant, and one more at the art gallery.
You can choose from plush reindeer, fridge magnets, gloves, and many other beautiful souvenirs. We chose to buy a pair of two cute reindeer.
Art gallery
If you're an art lover, you'll absolutely love the art gallery at Kakslauttanen. From paintings to carpets, you can get a taste of the Lappish life and design.
Planetarium
Are you looking for a unique experience? Head to the planetarium and find out some interesting facts about the sun. Soon, a new movie will be available about the Northern Lights.
8. Book now!
If you're looking for a glass igloo hotel in Finland, choose Kakslauttanen Arctic Resort and you'll create some pretty incredible memories! I loved my time here and I'd go back anytime.
With tons of activities, comfortable rooms, and friendly staff, Kakslauttanen is a much-needed escape from daily worries and struggles. If you have any questions about sleeping in a glass igloo or the resort itself, don't hesitate to ask me in the comments section below.
To look for prices and availability, click here.
May the travel bug bite you!
Disclaimer: I was welcomed at Kakslauttanen Arctic Resort as a guest. As always, all opinions are my own and they reflect my true, unbiased experience. 
Disclosure: Please note that this post may contain affiliate links. If you make a purchase through these links, I will earn a small commission at no extra cost to you. I only recommend companies and products that I trust and the income goes to keeping this website running. Thanks!