After years of dreaming about visiting Lapland, my dream finally came true. I had the chance to visit Santa's home and meet him in person. His gift to me was a husky ride in Lapland – hands-down one of the best experiences of my life!
I love animals, especially dogs but nothing could prepare me for this once-in-a-lifetime experience. Huskies are cute but they are also strong and active.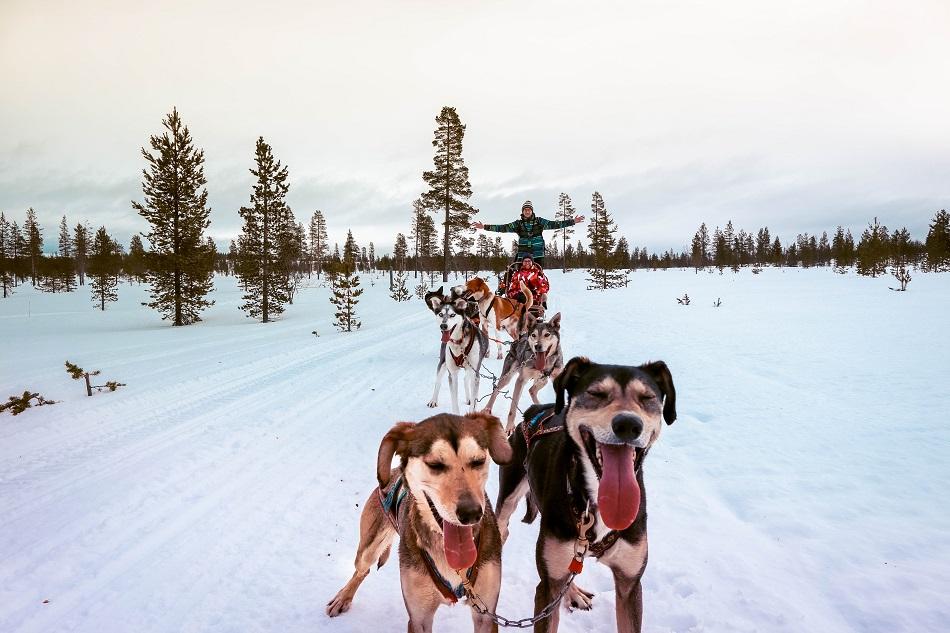 If you're planning to go husky sledding in Lapland, this guide has all the info you need. I've included important information about safety, the animals, and how to make the most out of this experience. Are you ready?
Good to know: I went on this incredible dog sledding experience during my stay at Kakslauttanen Arctic Resort.  You can read my review about this glass igloo hotel here.
1. Is dog sledding ethical?
Going on a sled pulled by huskies was a dream of mine since I was a child. I first saw it in movies and then I started researching more and more about it.
When I decided to visit Lapland, my first thought was "Now it's my chance to go husky sledding. But is it ethical? Are these animals built for such a consuming activity? Are the huskies well taken care of?".
There's a lot to consider when choosing to pay for activities that are centered around animals. I experienced it when I was looking for ethical elephant sanctuaries in Asia. It's hard to find ethical companies and tour providers.
But let's talk about huskies. They're not like ordinary pets. Huskies are born to run and they like low temperatures. They have a thick double coat that keeps them well insulated.
When I first got in the sled, the huskies were so enthusiastic and they started pushing against their harnesses, excited to start running. The longer the track, the happier they are.
When you book your husky safari in Lapland, make sure to do a bit of research about the tour company. Make sure that the dogs are well taken care of, that they look healthy.
Don't worry if you see huskies chained up. It's not a bad thing. Huskies are sociable with humans but sometimes they don't get along well with other fellow dogs. That's why it's ok to keep them in chains as long as the chain is long enough and the dogs get to exercise daily.
-> Find our which are the top 21 things to do in Lapland here
No time to read now? Pin it for later!
2. Types of huskies – introduction
Husky sledding is not as easy as it seems. Before getting to know these cute animals, you'll have to learn how to drive the sled and control the huskies. Most probably your tour includes this but I will go through the basics below.
It's important to learn a few things about these incredible animals. When we think about huskies, we imagine a dog with silver fur and blue eyes but the truth is that there is more than one breed of huskies. They can look quite different.
Here are the main breeds of huskies:
Alaskan husky – this sled dog breed has no pedigree but they are great for long-distance runs and pulling heavy loads. Their coat can have any pattern and color and they are usually medium-sized dogs.
Siberian husky – this is the most famous breed of sled dogs. With a thick double fur and triangular ears, the Siberian husky is a very strong dog.
Eurohound – they are mostly used for racing since they are very fast dogs.
Alaskan Malamute – they have excellent hunting abilities. The malamutes were used to hunt large predators such as polar bears. When we think about huskies, we most often imagine an Alaskan Malamute.
When you go dog sledding, you can have a combination of these breeds. Some have better endurance while others run faster but they all work great in teams.
Just remember that huskies are extremely friendly. They like to be petted and they like to play so go make some friends!
3. How to drive a husky sled – important things to know
Once you arrive at a husky safari in Lapland, a guide will tell you everything you need to know about driving the sled. It might seem easy but trust me, it's not. Pay attention to every little detail or your husky adventure can become a nightmare.
First, let's talk about team composition. Only two people are allowed on a sled at once. One of them is the musher, the person who sits in the back of the sled and controls it and the other is the passenger.
If you want to fully enjoy the dog sledding experience, without making any effort, choose to be the passenger. The musher has a lot of work to do!
Here are the things that a musher has to do:
control the speed of the sled – every sled has a pedal break that can be activated by pushing it with your foot. As a musher, it is your duty to make sure that the speed is optimal and safe. You'll see that huskies have a lot of energy and controlling them is quite difficult.
help the dogs uphill – there might be a portion of the track where you'll have to climb on small hills. A musher's job in these circumstances is to get off the sled and help the dogs by running. It's hard enough for the huskies to pull one passenger uphill so go help them!
never get off the sled (except the above situation) – as a musher, whatever you do, don't get off the sled. The huskies are incredibly agile and fast and you risk losing your ride.
These are the things a passenger must do:
enjoy the ride – as a passenger, your life will be easier. Just sit back, relax, and admire the views. You'll never forget this experience
take photos – you'll have your hands free so you can take as many photos and videos as you like
I chose to be the passenger and Dan was the musher. He told me that it was quite challenging to control the huskies and the sled. However, I loved being the passenger. I had lots of time to enjoy the ride and take lots of photos.
Apart from the above rules, there are a few more guidelines you should take into consideration when on a husky safari in Finland. Keep a distance of at least 5 meters between you and the next husky sled.
Also, don't overtake other teams and keep the main line tense. When going downhill, don't forget to use the break. When going uphill, help the dogs by pushing the sled.
Good to know – make sure to dress in multiple layers. It can get quite cold during the tour.
4. What's like to go on a husky safari in Lapland
It's magical! Being surrounded by happy huskies, untouched nature, and peace is one of the most incredible feelings! For a few hours, I had the chance to unwind, away from technology and daily worries.
When I arrived at the husky farm in Lapland, I was amazed by how many dogs I saw. Husky safaris are some of the most popular activities in Lapland and many tourists come here for this unforgettable experience.
Once the husky trip started, I couldn't believe my eyes! My dream finally came true, in the beautiful forest of Lapland. The huskies happily followed the trail and ate snow along the way. It was fascinating to watch them run and pull the sled with such an incredible force.
They didn't seem to be bothered by snow or cold. They actually enjoyed the ride as much as I did. When the husky ride ended, I felt lucky and humbled by this experience.
Now it was time to play with the dogs and show them some love. I never believed that huskies can be this friendly. Once I got close to them, they started playing and asking for cuddles. I could have spent hours petting them but we had to head to our next activity – snowmobiling.
Before saying goodbye to these wonderful creatures, we had the chance to hold a husky puppy. He was so cute and lovable! We took some photos as a way to remember these incredible moments and left with our hearts filled with joy and gratitude.
5. Other places where you can go husky sledding in Finland
There are many places around Finland where you can go husky sledding. We did this activity as part of our stay at Kakslauttanen Arctic Resort (the place where the glass igloos were invented). Below are other options if you plan to visit Rovaniemi:
6. Lapland husky ride FAQ
How expensive is a husky safari in Lapland?
It depends on the length of the safari. Some tours take only a few hours while others can take days, with food and accommodation included in the price. As a starting point, expect to pay around 100 euros for a 2-hour tour.
How long does a husky ride take?
As stated above, it can last anywhere from a few hours to a few days. It's up to you to choose the tour that best suits your needs.
Can I go on a husky tour during the summer?
Yes, you can. Some companies offer husky safaris on wheels. However, these kind of safaris are available only when the temperatures are relatively low. Huskies don't like heat.
Is dog sledding in Lapland dangerous?
If you respect all the rules and advice, it's not. Husky sledding is an enjoyable, wonderful experience.
Do huskies like dog sledding?
Yes, they do! Huskies were born to run and face low temperatures. They're very excited about running on long distances.
7. Where to stay in Lapland
I recommend spending a few nights at the resort where the famous glass igloos were invented. Kakslauttanen Arctic Resort is located at a short drive from the Ivalo Airport in Lapland. Here you can enjoy a few magical nights in a beautiful glass igloo. You can read my full review here.
Apart from husky rides, you can enjoy reindeer safaris, Aurora hunting inside a snow tank, and you can even meet Santa!
If you prefer Rovaniemi, here are the best hotels in town:
Budget – Motelli Rovaniemi – clean and spacious rooms, friendly staff, a bit far from the city center
Mid – Budget – Santa Claus Holiday Village – good location near the airport and city, spacious and modern chalets, breakfast included, great restaurant
Luxury – Arctic Treehouse Hotel – good location in the heart of nature, beautiful views, unique concept, breakfast included
8. Final thoughts
If you plan on visiting Lapland, you have to go on a husky safari. It was hands-down one of the best experiences of my life. Even though I went on a 2-hour husky tour, I plan to go back to Lapland and enjoy a multi-day husky adventure!
If you have any questions about this popular activity in Lapland, don't hesitate to ask me in the comments section below.
May the travel bug bite you!
Disclosure: Please note that this post may contain affiliate links. If you make a purchase through these links, I will earn a small commission at no extra cost to you. I only recommend companies and products that I trust and the income goes to keeping this website running. Thanks!