Bagan, the land of more than 2,000 temples, some of the most beautiful sunsets on this planet and breathtaking views. With so many temples to choose from, it is hard to decide which ones to see and which ones to skip. This is why, in this article, I'll talk about 11 must visit temples in Bagan.
After spending 3 days wondering around both Old and New Bagan, I have compiled a list with the most beautiful temples in Bagan. Before getting into more details, let me tell you a few words about this place.
Are you planning to backpack Myanmar? Check out this guide.
Tip: make sure to see a mix of both large and small temples. While the big ones are the most impressive, the small ones are less crowded.
About Bagan, Myanmar
Situated on the banks of Ayeyarwady River, Bagan is the place with the densest concentration of Buddhist temples in the world. Many of these temples date back from the 11th and 12th centuries.
It is estimated that there used to be as many as 13,000 temples and stupas in Bagan. Due to earthquakes and the passing of time, many temples were damaged. The government decided to remove many of them and only about 2,200 temples still remain today.
Almost every temple has inside Buddha Statues and if you are lucky enough, you can even find temples where the original paintings can be seen.
Do you want to know which is the difference between temples, pagodas and stupas? Click here.
Entrance fee
In order to enter in Bagan, you will have to pay a fee of 25,000 Kyat. The ticket is valid for 3 days. Make sure to have it on you all the time since at some of the temples you will be asked to show the ticket.
How to get around Bagan
The best way to discover the temples is to rent an e-bike. It is convenient and affordable. You can check out my full guide about renting e-bikes in Bagan.
Can you still climb the temples in Bagan?
Unfortunately, the government has banned climbing temples in Bagan. If you are lucky enough, you can find locals willing to sell you tips about which temples are still open. Keep in mind that the temples that are opened today will most probably be closed tomorrow as the police checks them from time to time.
You can check out this article to find out which are the temples you can still climb in Bagan.
What to wear in Bagan
The Bagan dress code is pretty simple: you will have to cover your knees and shoulders and take your shoes off when entering the temples. For a detailed guide about how to dress in Bagan and in Myanmar, click here.
When is the best time to visit Bagan
The best time to visit Bagan is during October – May. Starting with June, until September, is the rainy season. Although it doesn't rain daily, you can expect a few rainy days per week.
Good to know: if you want to take a hot air balloon ride above Bagan, definitely skip the rainy season. From June to September, the hot air balloons are not available.
Must visit Bagan temples & pagodas
It's time to talk about the must see temples in Bagan. Out of all the 2,200 temples and pagodas, the ones below are the most beautiful.
Click here to find out which are the most beautiful temples in Myanmar.
1. Thatbyinnyu Temple
One of the most popular temples in Bagan is Thatbyinnyu Temple. This temple has two storeys and the Buddha image is situated at the second storey. With a height of 60 meters, this pagoda was badly damaged during the 1975 earthquake and has been renovated a few years later.
2. Ananda Temple
If you are looking for Bagan must visit temples, Ananda Temple is definitely one of them. With its unique architecture and white exterior, Ananda Temple is an amazing place for photographers.
Inside the temple you can find four standing Buddha statues, each of them facing one cardinal direction.
3. Kya Zin Hpaya Temple
Even though Kya Zin Hpaya is smaller compared with the above temples, it's definitely worth visiting. The temple is well preserved and is a great backdrop for photos.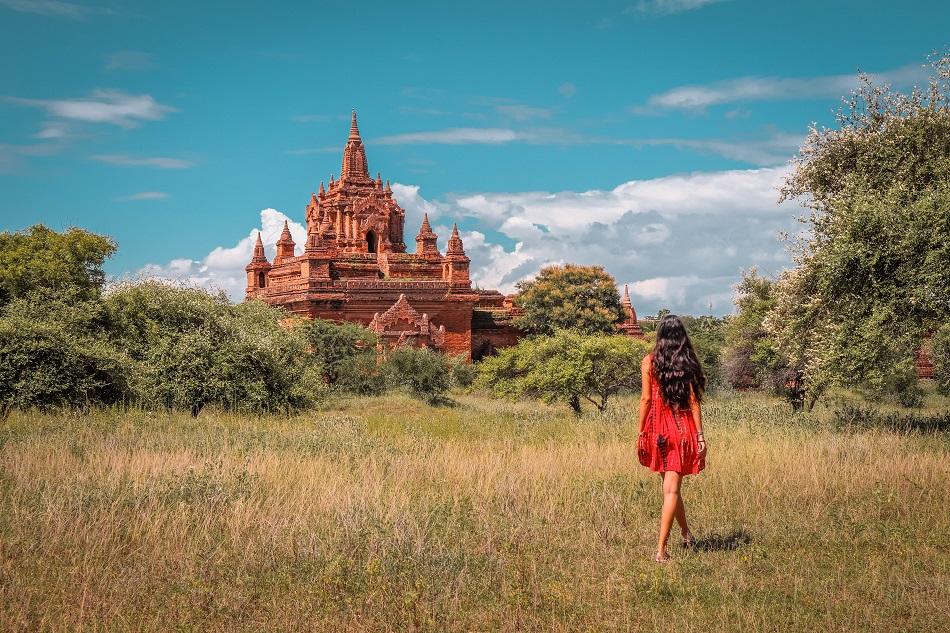 4. Sunrise Temple
As the name states, the Sunrise Pagoda is one of the best temples in Bagan for watching the sunrise. Although this temple was still open when we visited (september 2018), it is most probably closed now. However, if you are looking for a beautiful, small temple this is the perfect choice.
5. Shwesandaw Pagoda
This five storeys high pagoda is one of the most impressive temples in Bagan. Even though climbing on Shwesandaw Pagoda is not allowed anymore, it's definitely worth visiting.
6. Gawdawpalin Temple
Gawdawpalin Temple is the second largest temple in Bagan with a height of 55 meters. This is a two storey temple with an incredible legend. It is said that the king committed crimes against his ancestors and he was punished with blindness. The Gawdawpalin Temple was built as an atonement and his vision has miraculously returned.
7. Myauk Guni Temple
Myauk Guni is one of the most beautiful, hidden temples in Bagan. Situated right next to Taung Guni Temple (another hidden gem), this temple is extremely well preserved and it has some beautiful architectural details.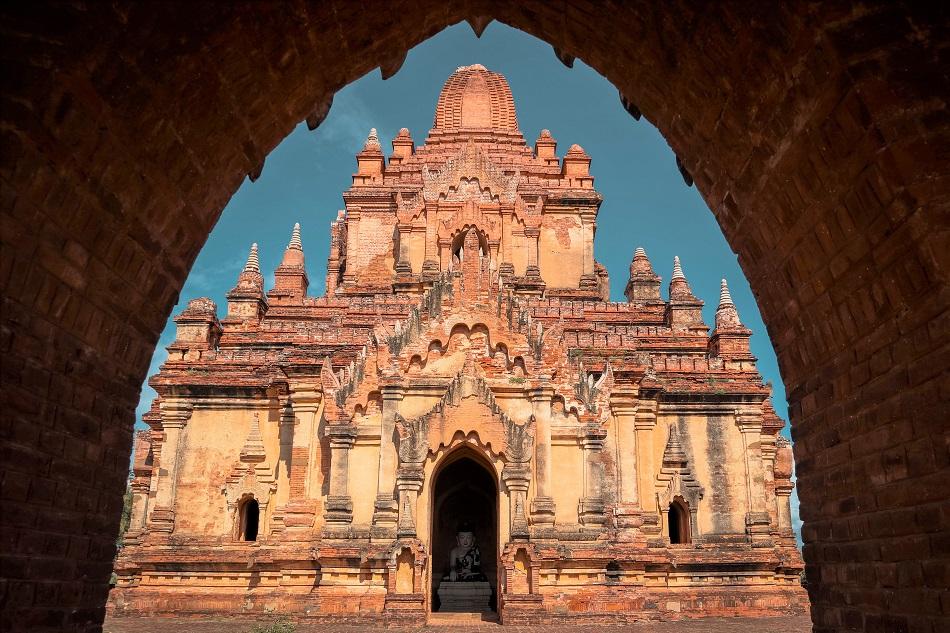 8. Dhammayan Gyi Temple
You can't explore the Bagan temples without visiting the Dhammayan Gyi Temple. Although this temple was never finished, the legend says that it was supposed to be tallest temple in Bagan.
9. Dhammayazaka Temple
Situated at the edge of Bagan, in the middle of rice fields, Dhammayazaka Temple is mostly visited by locals (you won't find many tourists here). This temple is a great opportunity to soak in the local culture.
10. Let Put Kan Temple
If you want to visit a big temple and have it all for yourself, Let Put Kan is the right choice. This amazing Bagan temple is situated outside the usual touristy routes. Although it is quite hard to get to it, the 20 minutes ride with the electric bike is totally worth it.
11. Bulethi Temple
Bulethi Temple impresses through its beautiful architecture. Although the temple is closed and climbing is not allowed, I would recommend visiting it.
Where to stay in Bagan
Low Budget – Crown Prince Hotel – good location, excellent breakfast, friendly staff
Mid Budget – Bagan Thande Hotel – excellent location, good value for money, clean
Luxury – Aureum Palace Hotel & Resort – view towards the temples (the best), extremely clean, spacious rooms
If you were looking for the must see Bagan temples, I hope that my recommendations helped you. For a full guide to help you plan your Myanmar trip, check out the Lonely Planet tips & tricks.
May the travel bug bite you!
More about Myanmar:
Pin it for later!
Disclosure: Please note that this post may contain affiliate links. If you make a purchase through these links, I will earn a small commission at no extra cost to you. I only recommend companies and products that I trust and the income goes to keeping this website running. Thanks!