The country of golden temples, balancing fishermen and rice fields, Myanmar is still an underrated tourist destination. The lack of tourists is pure gold for the country's culture and traditions. Myanmar is one of the few countries around the world where you'll feel like you've stepped into another world.
The daily life around Myanmar isn't spoiled by mass tourism, everything is authentic and fascinating at the same time. But if you really want to feel the country's vibe, you should visit some off the beaten path destinations. Below I am sharing with you 10 hidden gems in Myanmar that will make you book your flight tickets right now.
If you're planning to backpack around the country, check out this amazing guide.
1. Mingun Pagoda
If you're traveling to Mandalay, you should definitely take a half day trip to Mingun. This amazing village hides the incomplete pagoda of Mingun which holds the world record for the biggest pile of bricks.
Built in 1790, the Mingun Pagoda was supposed to be the biggest pagoda in the world but it was left unfinished. Later, an earthquake caused huge cracks in the pagoda making it look like a scene from a movie. Not only is Mingun Pagoda situated close to Mandalay – one of the main attractions in Mynamar – but it's also close to another Myanmar hidden gem (read more below).
2. Hsinbyume Pagoda
There are many temples all around Myanmar but none is as beautiful as the Hsinbyume Pagoda in Mingun. This round-shaped, white temple has 7 different terraces which can be explored and represent the seven mountain ranges surrounding Mount Meru (the center of the universe in Buddhist cosmology).
You can even climb on top of the temple and enjoy the views around Mingun. The Hsinbyume Pagoda is one of the emerging travel destinations in Myanmar and it's easy to see why – its beauty is simply breathtaking.
Read more about the differences between temples, stupas and pagodas.
3. Take the circular train around Yangon
Yangon is one of the top travel destinations in Myanmar but few people know about this awesome way to explore the city. Take the circular train around Yangon and experience the local life first-hand.
For about three and a half hours make your way through local neighborhoods, vegetable markets and small towns. This circular train will certainly be an experience you won't forget soon. For a full guide about this ride, click here.
4. Hsipaw
Getting to this Myanmar hidden gem is not easy nor fast. Take the train from Mandalay for 11 hours and you'll find yourself deep in the heart of Myanmar. With beautiful hot springs, waterfalls and trekking opportunities, Hsipaw is one of those places where you'll see the local life unfold in front of your eyes.
5. Hpa An
A few hours away from Yangon, Hpa An is one of the most beautiful destinations in Myanmar. With endless rice fields, limestone mountains, temples and caves, Hpa An has so much to offer to the adventurous traveler.
Rent a tuk tuk for the day and explore all it has to offer. You will be amazed by its raw beauty and friendly locals. If trekking is your thing, you should definitely climb Mount Zwekabin. If not, just admire the landscape and explore the beautiful temples and fascinating caves. Read more about Hpa An here.
6. Win Sein Taw Ya
This jaw-dropping Myanmar hidden gem is measuring 180 meters in length and is 30 meters tall. Holding the record for the biggest reclining Buddha in the world, the Win Sein Taw Ya is a unique sight. The statue is surrounded by several other temples, statues, stupas and shrines.
You can visit this impressive statue as a day trip from Hpa An but for more details about how to get there, read my complete guide.
7. GoKteik Viaduct
Built during the colonial times, the Gokteik Viaduct is one of the marvels of engineering in Burma. This spectacular railway bridge is almost 700 meters long and over 100 meters tall.
The reason why most of the tourists choose to travel from Mandalay to Hsipaw by train is the viaduct itself. Traveling by bus is much faster but nothing can compare to the view from the top of the Gokteik Viaduct.
8. Mrauk U
Bagan is definitely one of the top destinations in Myanmar but has anyone heard about Mrauk U? Not really. This archaeological site hosts hundreds of temples which sprawl across hills and valleys and there are almost no tourists around to bump into.
Get ready to experience some of the most magical sunrises at Mrauk U while exploring its temples. If you are a culture enthusiast, you can also explore the nearby Chin Villages. To check out how to dress when visiting temples in Myanmar, click here.
9. Ngapali Beach
Get ready for powdery white sand, turquoise water and tall palm trees at one of the most beautiful beaches in Southeast Asia. Although there are a few resorts on the beach, Ngapali Beach is still unspoiled by touristy activities.
Take a few days to really enjoy the beach and relax in this small hidden paradise. You won't regret it!
10. Kakku Pagodas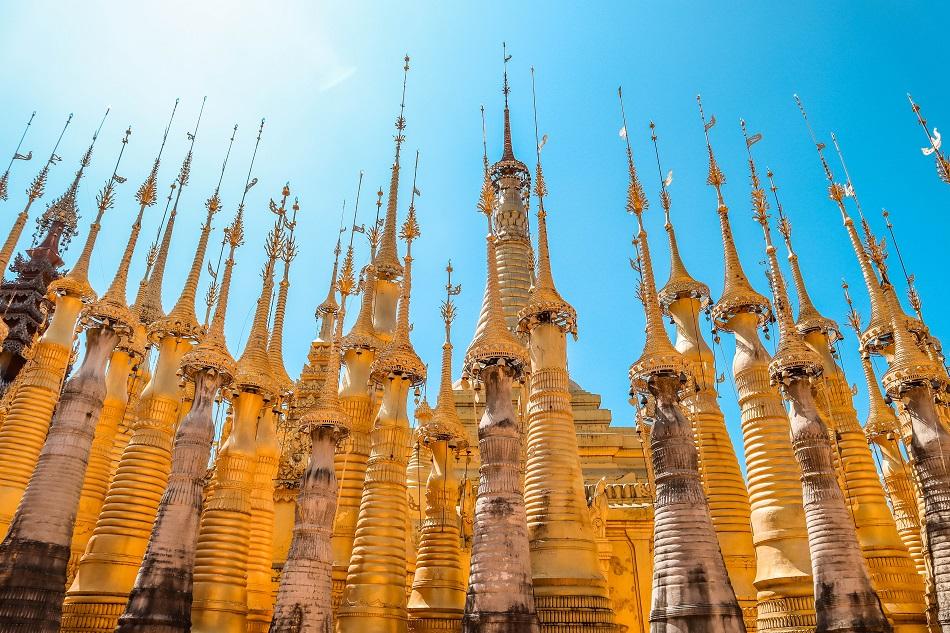 Situated at a short ride away from Inle Lake, the Kakku Pagodas is an impressive site with more than 2500 ancient pagodas. Right in the middle of these pagodas sits a 40-meters tall stupa.
Bring some comfortable shoes and wander among these incredible structures. You can also find a similar site but with fewer stupas at Inn Dein Pagoda, Inle Lake.
These are some of the most beautiful hidden gems in Myanmar. Of course, there are many other amazing places to explore but you'll need a lifetime to visit everything that Myanmar has to offer. If you're planning to backpack Myanmar, make sure to check out this guide.
May the travel bug bite you!
Pin it for later!
Disclosure: Please note that this post may contain affiliate links. If you make a purchase through these links, I will earn a small commission at no extra cost to you. I only recommend companies and products that I trust and the income goes to keeping this website running. Thanks!