When visiting Mandalay, a trip to the nearby Mingun is a must. Mostly known for the Mingun Pahtodawgyi, a gigantic unfinished pagoda, Mingun is also worth visiting for the Hsinbyume Pagoda (the famous round shaped, white pagoda).
The half day trip to Mingun was one of the highlights of our trip to Mandalay. It felt like a breath of fresh air after experiencing all the Mandalay traffic. Situated on the Irrawaddy River, approximately 10 kilometers north of Mandalay, Mingun is home to many Buddhist temples, monasteries and meditation centres.
For the ultimate guide to Mandalay, click here.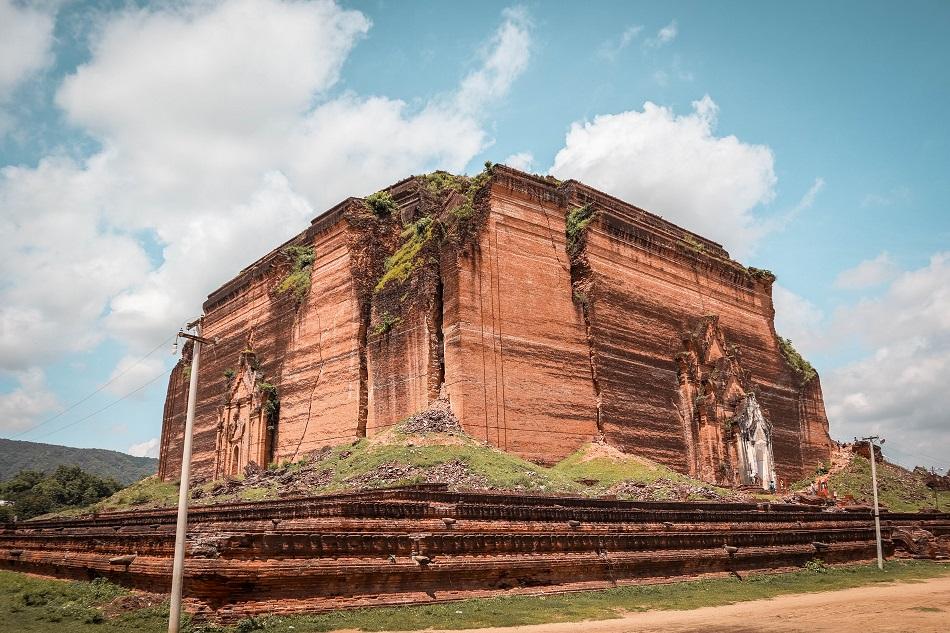 1. How to get from Mandalay to Mingun
Book a private tour
For a hustle-free experience, I recommend booking a private tour. Although the tours are a bit more expensive than taking the boat, you won't have to worry about transport and itinerary. Another advantage is that the tours recommended below include a few other incredible destinations. Check them out!
These are a few awesome tours to Mingun:
Take the boat
Getting to Mingun by boat is the best choice. However, in order to take the boat from Mandalay to Mingun, you will have to wake up early since the boats only leave at 9 am from Mingun Jetty.
Mingun boat price: the ticket costs 5,000 Kyat per person, one way. However, if you're traveling to Mingun during the rainy season, when there are not that many tourists, they would require at least 6 people per boat. If you are less than 6 people, you'll have to pay a total of 30,000 Kyat per boat.
Mingun boat schedule: The boats to Mingun leave every morning at 9am (make sure to be there a bit earlier, at 8.30am). To get back to Mandalay, you'll have to take the same boat (they will wait for you in Mingun) at 12.30pm sharp.
The boat ride to Mingun will take about one and a half hours and you will pass by small, floating villages. It's a very interesting ride and you'll also see Burmese fishermen along the way. Another interesting thing is that here, in this area, many people have fully functional homes on their boats.
!!! Bring your passport with you. You will need it when buying the tickets !!!
Note: If you want, you can rent a private boat from Mingun Jetty, any time of the day for about 30,000 Kyat
Take a taxi
For about 30,000 Kyat you can rent a taxi for one entire day. You can take advantage and also visit other tourist attractions in and around Mandalay such as: U Bein Bridge, Sanda Muni Pagoda or Mandalay Hill.
Another option would be to use the Grab App. Just make sure that the driver is willing to wait for you in Mingun because most probably you won't find another Grab taxi from Mingun to Mandalay.
2. Things to know before visiting Mingun
After arriving in Mingun port, you will have to walk on a narrow path with many local vendors selling food or souvenirs. The prices here are a bit higher than in other shops along the main street in Mingun (especially if you want to buy some water or a Coca Cola).
Before getting to the main street, you will arrive at a ticket booth where you will have to pay 5,000 Kyat per person in order to enter the Mingun area. After paying the entrance ticket to Mingun, you are free to wander around and visit any of the attractions and you won't have to pay any other entrance ticket.
Are you planning to backpack Myanmar? Read all about budget, destinations and more here.
3. Things to do in Mingun
One thing that you should keep in mind before visiting Mingun is that here you will visit many temples and important Buddhist structures. Therefore, you should dress accordingly in order to show respect to the local culture. For a full guide about how to dress at temples in Myanmar, click here.
Hsinbyume Pagoda
After arriving in the Mingun port, head to the Hsinbyume Pagoda first before all the tourists get there (you can check out my full guide about this pagoda here).
This must see Mingun attraction is gaining popularity due to Instagram. One of the most beautiful temples Myanmar, the Hsinbyume Pagoda was built by the Bagydaw prince as a way to show his love for his first wife, Queen Hsinbyume, who unfortunately lost her life during childbirth.
This temple is also called Myatheindan Pagoda. It impresses through its beautiful architecture and white terraces which look like waves. Feel free to explore the terraces and climb on top of the pagoda. The view from above is amazing and you can even see the Mingun Paya from there.
To find out the differences between temples, pagodas and stupas, click here.
Mingun Bell
The Mingun Bell was cast in 1808 in order to be used in the Mingun Paya. The bell weights 90 tons and is the second largest bell in the world. You can find the bell on your way from Hsinbyume Pagoda to Mingun Paya, under a wooden roof. Feel free to get close to it and take some photos.
Mingun Paya or Pahtodawgyi
This incomplete stupa in Mingun was built by King Bodawpaya in 1790 and it was intentionally left unfinished. The construction was stopped when a prophecy was revealed: as soon as this pagoda was going to be finished, the country would also be gone. Therefore, the pagoda only reached one third (50m) of the planned height.
If finished, the Mingun Paya would have measured 150 meters and its height would have made it the biggest pagoda in the world. Now, the pagoda only holds the record for the biggest pile of bricks.
An earthquake in 1839 caused huge cracks on the building's facades and now the temple is more of a tourist attraction than a religious site. However, a small shrine can be found inside the pagoda which serves as a place of meditation. The structure itself is very impressive and it looks like a scene from a movie.
Check out these amazing hidden gems around Myanmar. Some of the most beautiful destinations in the country!
Sat Taw Yar Pagoda
One of the top things to see in Mingun is the Sat Taw Yar Pagoda. Although it's not as impressive as the Hsinbyume Pagoda, Sat Taw Yar Pagoda's architecture is beautiful. I personally loved its intricate details and white facades. With beautiful views over the Irrawaddy River, this pagoda is worth visiting when in Mingun.
Lions of stone
You've probably already seen the two big lions of stone when arriving in the Mingun port but if you haven't, take a few minutes to admire them. These 29 meters high lions are meant to guard the Mingun Pagoda.
Even though they are severely damaged after the earthquake, some of the original details can still be seen.
4. Where to stay in Mandalay
Low Budget – Hotel Aurora – clean and comfortable rooms, good location, good breakfast
Mid Budget – Royal Naung Yoe Hotel – central location, friendly staff, clean rooms
Luxury – Nwe Waddy Hotel – beautiful pool, good location, spacious rooms
If you are planning a day trip from Mandalay, Mingun is definitely one of the best choices. For more advice about how to plan your trip to Maynmar, check out the Lonely Planet guide.
I hope that you've found my Mingun travel guide useful and don't forget, if you have any questions, let me know in the comments section below.
May the travel bug bite you!
More about Myanmar:
Pin it for later!
Disclosure: Please note that this post may contain affiliate links. If you make a purchase through these links, I will earn a small commission at no extra cost to you. I only recommend companies and products that I trust and the income goes to keeping this website running. Thanks!