If you'd ask me which is my favorite destination in Japan, I'd answer Nara in a heartbeat.
This beautiful city has something that makes it truly unique – there are thousands of deer roaming free everywhere. If you're planning a trip to Japan, a day trip to Nara is a must!
Be prepared to make friends with these cute animals and definitely bring some biscuits. Deer LOVE biscuits! You'll see these cute animals everywhere at crossroads, on the streets, between the cars, in the parks. Everywhere!
Honestly, when I decided to visit Nara, I expected to see a few deer, maybe 10. Well, I was wrong. There are thousands of them and they are friendly too!
There are many interesting things to do in Nara but before getting to this part, let me tell you a little bit about Nara's history and a few tips & tricks about getting to Nara from Osaka, Kyoto, and Tokyo.
Oh deer, let's get into business! 🙂
1. A few interesting facts about Nara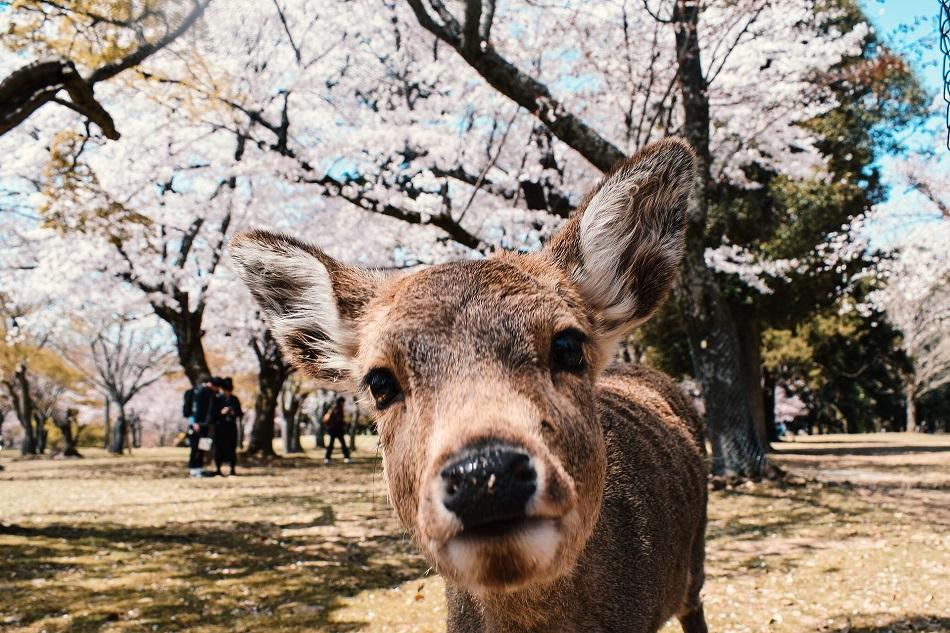 Ok, so the first thing you might ask yourself is "Why are there so many deer living in Nara and why are they allowed to roam the city?". To find the answer, we have to go back in time a few hundred years.
-> Read my complete guide about visiting Osaka on a budget here.
The story says that one of the four gods of Kasuga Shrine once visited Mount Mikasa, located in Nara. He was seen riding a white deer and since then, deer were considered sacred animals. Killing one of these animals was punishable by death and the last breach of this law was recorded in 1637.
Some years later, after World War II, the deer were no longer considered sacred animals but they were designated as national treasures and protected as such since then.
2. Things you need to know before visiting
If you're planning to spend one day in Nara, there are a few things that you should know before getting there. I will list them down below:
No time to read now? Pin it for later!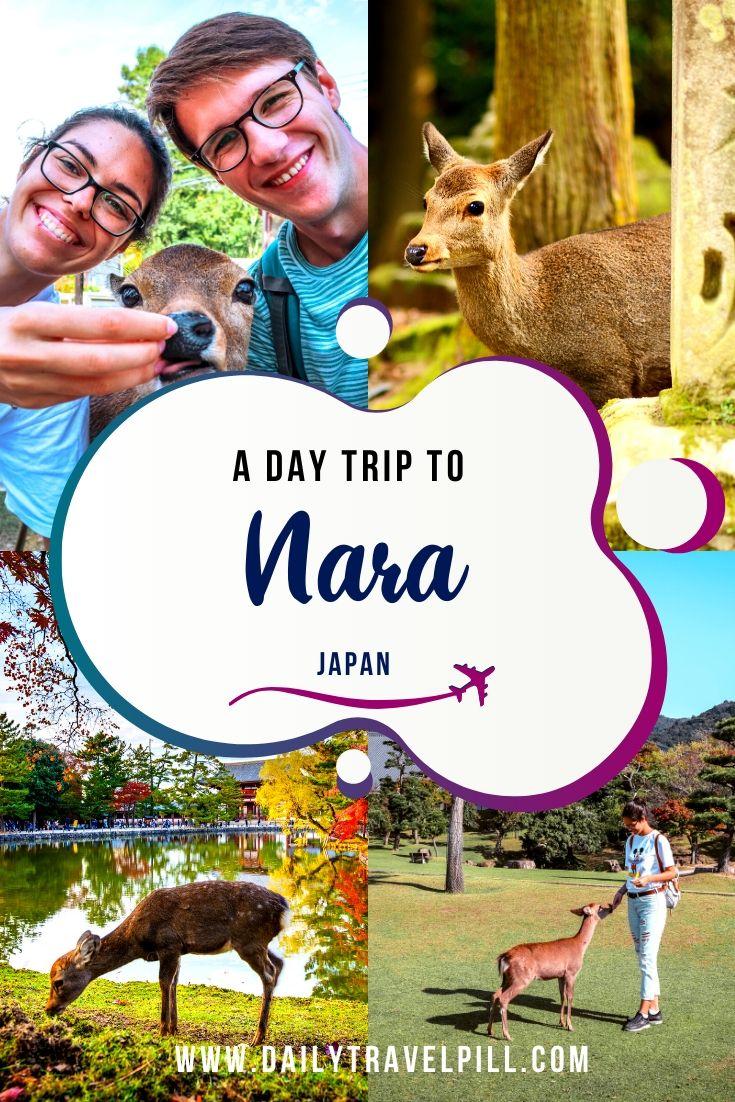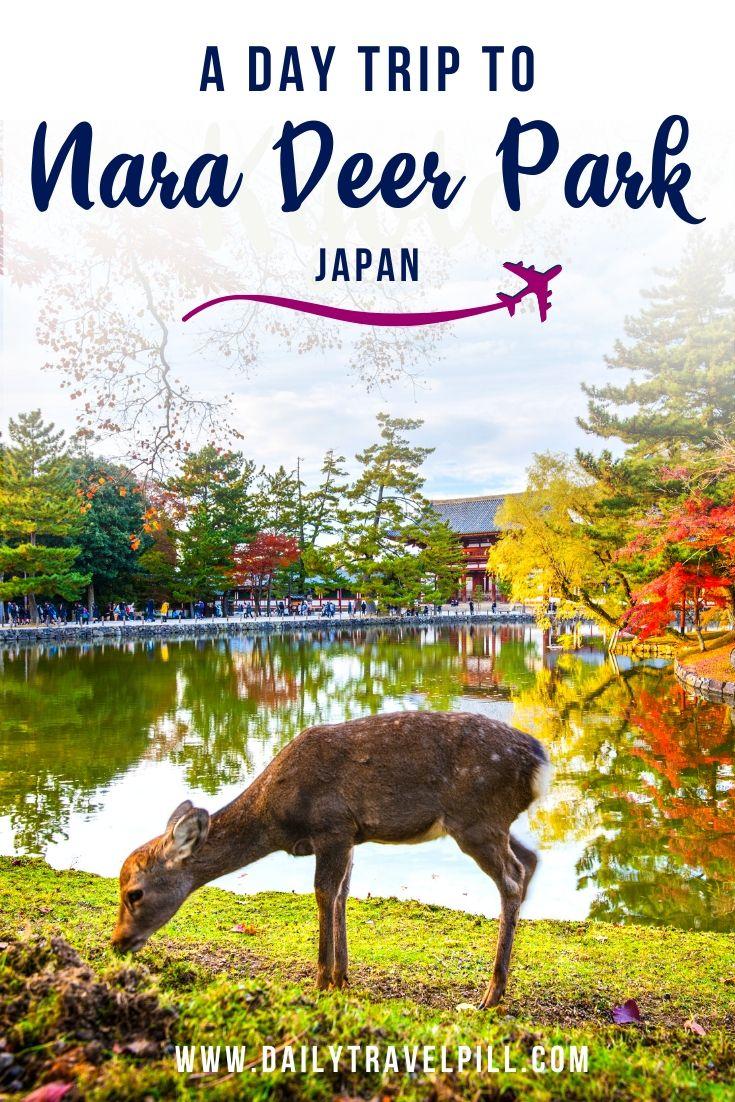 3. The perfect Nara itinerary
Seeing the deer might make the top of the list of any Nara itinerary but there are so many other incredible tourist attractions in this city that are worth visiting. In this section, I will share with you all the places you can visit during a one day trip to Nara.
Be prepared to see incredible temples, beautiful Japanese gardens and find out more about the Japanese culture.
Good to know: If you plan to also visit Osaka, Kyoto or Kobe, I recommend buying a transport pass for the Kansai area. This will allow you to save a lot of money on trains & buses.
-> Are you looking for the perfect Japan itinerary? Check this out!
Walk around Nara Park
From the train station, take a walk for about 20 minutes and you will arrive at the incredible Nara Park. The park is full of deer so get your camera ready! You'll definitely want to take photos.
What I loved about the park, apart from the hundreds of deer resting there, was that there are many locals dressed in traditional Japanese clothing. Apparently, locals from nearby cities come here dressed in kimonos to take photos alongside deer.
If you want to feed the deer, you will find many vendors scattered across the park selling special deer crackers for ¥150/ 10 crackers. My advice would be to keep the crackers hidden somewhere (although deer have a great sense of smell) and only give the deer one cracker at a time. Otherwise, they won't leave you alone until you give them all the crackers.
Deer in Nara are used to being fed and some of them are extremely polite too. They will bow their heads and they will see that you have food in your hand and in return, they are expecting a cracker. Don't withdraw the food or you risk being chased around the city by a hungry deer.
Admire the beautiful Tōdai-ji Temple
One of the most popular tourist attractions in Nara is the Tōdai-ji Temple. After admiring the deer, it's time to explore the cultural side of Nara. This temple is listed as a UNESCO Heritage Site and it's known for housing the world's largest bronze statue of Buddha Vairocana.
Although the temple was destroyed by fire twice, it has been rebuilt and its architecture is truly remarkable. Inside you will find intricate sculptures and you will have the chance to discover the unique style of Japanese temples.
After visiting the beautiful Tōdai-ji Temple, you can also visit the nearby Nigatsu-do Temple.
Entrance fee: for the Great Hall, you will have to pay an entrance fee of ¥600 but if you want to visit the museum too, the entrance is ¥800. If you are on a budget, you can definitely admire the temple from the outside.
Discover the Neiraku Museum and Isuien Garden
If you are planning to visit Nara in one day, a stop at Neiraku Museum and Garden is a must. The museum houses more than two thousand art pieces that survived the 1945 air ride at Kobe City. The collection includes ceramics, Chinese bronzes, and many more beautiful objects.
After you're done visiting the museum, head directly to the Isuien Garden. Thise garden actually has two sections, designed at different time periods. The Front Garden is a Japanese style garden while the Back Garden was designed during the Meiji Era. There are also a couple of tea houses where you can enjoy a traditional Japanese tea ceremony.
Entrance fee: ¥900 for adults for both the museum and the garden.
Explore the Yoshiki En Garden
Named after the Yoshikigawa River, the Yoshiki En Garden is one of the top places to visit in Nara. The good news is that the entrance fee to this garden is free for foreign tourists. You can walk around the narrow paths, admiring the beautiful vegetation for free.
I absolutely love walking around Japanese gardens. The plants are beautifully trimmed, the water ponds relax me and the sound of birds is present everywhere. This Japanese garden should definitely be on your Nara itinerary!
Entrance fee: FREE for foreign tourists
Go shopping on Higashimuki Street
After a day in Nara, full of sightseeing, it's time to end this itinerary with some shopping. Higashimuki Street is the perfect place to shop for souvenirs, clothes or accessories. You can also find a few local restaurants in case you are hungry.
I bought a few deer shaped key chains as a souvenir.
4. How to get to Nara
If there is one thing that Japan excels at, that is transport. With its super-fast trains and excellent connections, getting around Japan is extremely easy and fast even when the distances are quite long.
In this section, I'm going to share with you all the details about how to get to Nara, no matter if you are traveling from Osaka, Kyoto or Tokyo. Make sure to read all these tips & tricks when planning your day trip to Nara as they will save you time and money.
Good to know: When you will arrive at the Nara train station, look for a big city map. There you will also find free paper maps to help you get around the city.
-> Osaka to Nara day trip
Good to know: If you are planning to travel around the Kansai area (Osaka, Kobe, Kyoto, Nara), I recommend buying a train pass. It will save you a lot of money!
Reaching Nara from Osaka is extremely easy by train. From Osaka-Namba Station take the Kintetsu-Nara Line train for about 40 minutes to Kintetsu Nara Station. From here you will have to walk for about 20 minutes to reach Nara Park.
The ride costs only ¥560 for a one-way ticket. Visiting Nara as a day trip from Osaka should be a no-brainer. If you are looking for the best Osaka itinerary, click here.
Another alternative to get to Nara from Osaka is to take a guided tour. If you prefer a hustle-free day trip, I've searched for the best tours to Nara. Here they are:
Where to stay in Osaka
I've been looking for the best accommodation in Osaka, for every budget. If you are planning to spend a few nights in this beautiful city, here are my recommendations:
-> Kyoto to Nara day trip
If you want to get from Kyoto to Nara by train, take the Kintetsu Limited Express Line from Kyoto Station to Kintetsu Nara Station. The ride will take about 35 minutes and it will cost ¥1130 for a one-way ticket.
If you have a Japan Rail Pass, you can take the JR Nara line from Kyoto Station to JR Nara Station. The journey will take about 70 minutes and the trains run three times an hour.
If you prefer visiting Nara by a guided tour, here are some options:
Where to stay in Kyoto
Finding the perfect accommodation in Kyoto can be challenging, but I am here to help you. Bellow is the best accommodation in Kyoto, for every budget:
-> Tokyo to Nara day trip
A day trip from Tokyo to Nara might a bit tiring since the distance is quite big. The first step is to take the Tokkaido-Sanyo Line Shinkansen from Tokyo Station to Kyoto. If you choose the Kodama and Hikari trains, these are covered by the JR Pass.
To get from Tokyo to Kyoto it will take about 2 hours and 40 minutes. To book a return train ticket from Tokyo to Kyoto, click here.
Once you get to Kyoto, follow the steps above. Be prepared for a 4 hours ride to get to Nara plus 4 hours to get back to Tokyo. It's going to be a long day and a day trip from Tokyo to Nara will cost you quite a lot.
My recommendation: Plan to spend one night in Nara or Kyoto.
Where to stay in Tokyo
With over 13 million people living in Tokyo, finding the perfect accommodation can be overwhelming. I've searched for the best accommodation in Tokyo and here are my recommendations:
5. Nara FAQs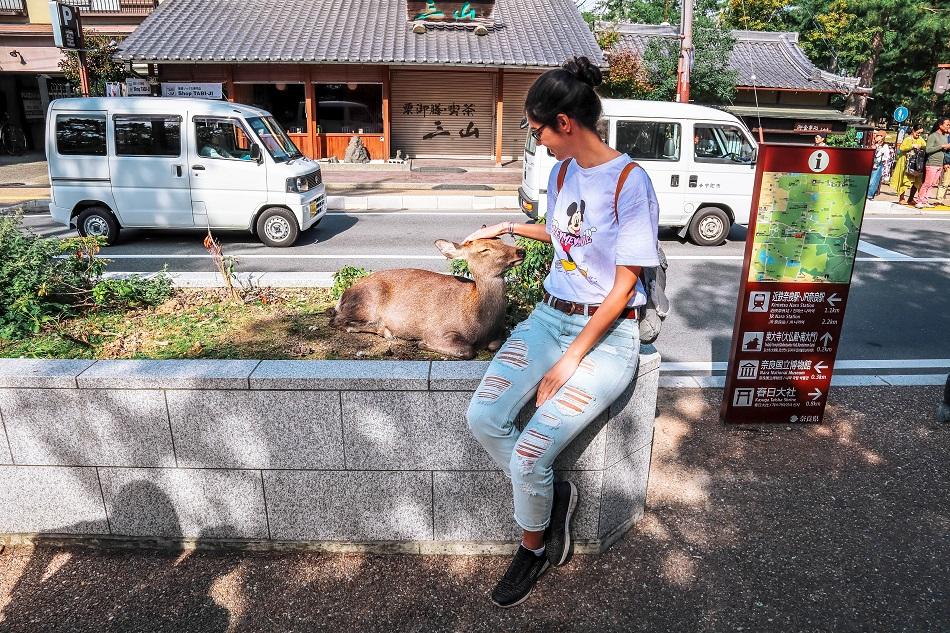 How many deer live in Nara?
There are approximately 1500 deer roaming freely around Nara. Deer in Nara have been designated as natural treasures and you can see them in parks, on the streets, and on the sidewalks. They are everywhere!
What to feed the deer of Nara?
If you want to feed the deer in Nara, is recommend that you buy special crackers or "shika senbei". These crackers can be found at small local stalls across Nara Park. It's important to feed the deer these special crackers because they are made without sugar. Also, a portion of the profit generated by the sale of these crackers goes to the protection of deer.
What do the deer in Nara eat?
Apart from the crackers, deer can find food on their own. They usually eat grass.
Where to buy crackers for the deer in Nara?
As you will enter Nara Park, you will see lots of small stalls selling deer crackers. The price of 10 crackers is ¥150. If you want to enjoy the company of these cute animals, buy as many crackers as you can. 🙂
Are the deer in Nara aggressive?
Usually not but you have to keep in mind that deer are wild animals. There have been cases when the deer kicked or bit both locals and tourists. I recommend being alert at all times.
Can you touch the deer in Nara?
Yes, you can. However, be extra careful when touching them. Deer are wild animals and wild animals are unpredictable.
6. Where to stay in Nara
If you plan to stay one or more nights in Nara, I am here to help you. Nara is a beautiful city and it has a lot to offer and there are many accommodation options. Below you can find the best hotels in Nara for every budget:
I hope that this guide helped you plan your Nara day trip. Nara was definitely my favorite city in the entire Japan and I would go back in a heart beat. If you have any questions, do not hesitate to ask me in the comments section below.
May the travel bug bite you!

Disclosure: Please note that this post may contain affiliate links. If you make a purchase through these links, I will earn a small commission at no extra cost to you. I only recommend companies and products that I trust and the income goes to keeping this website running. Thanks!