El Nido's beauty is well known around the globe. Tourists from every corner of the world come here to admire the spectacular scenery, enjoy the pristine beaches, and discover the incredible marine life.
Taking a boat tour and exploring the jaw-dropping Bacuit Bay that hosts 45 islands is one of the top tourist attractions in El Nido. To do that, you will have to take an island hopping tour that will take you to some of the most beautiful places you'll ever see.
There are four tours available but the best island hopping tour in El Nido is tour A. It will take you to the best beaches and the most incredible snorkeling spots. Be prepared for a day full of adventures.
Are you ready to find out everything you need to know about El Nido island hopping tour A? I'm here to share my experience and help you have the best time!
1. Which El Nido island hopping tour to choose
There are four El Nido island hopping tours available and they are called Tour A, Tour B, Tour C, and Tour D. I will tell you below which destinations each of these four tours cover:
Book Tour A – The most popular and includes the best attractions but it can get crowded. It includes Small Lagoon or Big Lagoon, Secret Lagoon, Shimizu Island, 7 Commando Beach.
Book Tour B – More relaxed but with awesome attractions. It includes Snake Island, Pinagbuyutan Island, Entalula Beach, Cudugnon Cave, Snorkeling.
Book Tour C – Second most popular, with some of the best beaches. It includes Helicopter Island, Mantiloc Shrine, Secret Beach, Star Beach, Hidden Beach.
Book Tour D – Short tour and less crowded. It includes Ipil Beach, Cadlao Lagoon, Paradise Beach, Pasandigan Beach, Natnat Beach, Bukal Beach.
Maybe these names don't mean anything to you but one thing is sure. The tour which covers the most beautiful and popular destinations is tour A. It's no wonder it's the most popular one!
No time to read now? Pin it for later!
Kayaking inside the Big Lagoon while being surrounded by crystal clear water is definitely a once-in-a-lifetime experience. Also, snorkeling at the beautiful 7 Commando Beach is another highlight of tour A and Shimizu Island doesn't disappoint either.
If you only have time for one tour while in El Nido, my recommendation would be to choose tour A. If you still have time for another tour, go for tour C!
2. Where to book your El Nido tour
Once you've decided which tour you want, it's time to book it. You have two options: you can book your tour in El Nido town or online. I will go into more details about each of these two options.
Book your tour in El Nido town
There are many tour agencies available in El Nido town. One thing that you have to keep in mind is that on top of the price, you will have to pay the environmental tax which is 200 PHP per person and is valid for 10 days!
If you plan to take another island hopping tour in El Nido in the following days, keep the receipt for the environmental tax so you won't have to pay it one more time.
Book your El Nido tour online
There are only a limited number of passes for the Big and Small Lagoon (part of tour A) per day. If you are visiting El Nido during the high season (November – June), it might be pretty hard to find a tour agency which still has passes available. This is why I recommend booking your tour online.
3. Things to know before going on an island hopping tour
No matter which island hopping tour you're going to choose while in El Nido, there are a few things that you should be aware of. I didn't know much of this stuff and it would have helped me a great deal if I knew all this beforehand.
Food and water are included – Every island hopping tour in El Nido includes a delicious meal (expect fish, seafood, rice, potatoes, fruits, and water).
Snorkeling gear is included – Usually, the snorkeling gear is included in the price of the tour but it's better to ask when booking the tour, just to be sure.
Having a dry bag is a must – Buy a sturdy, qualitative dry bag. You will have to walk through water to get on and off the boat and you want to keep your valuables and electronics safe. Dan, my boyfriend, fell into the water with his camera while in the Philippines. It can happen!
Having a Go Pro is best for photos and videos – I recommend buying or bringing a Go Pro with you. The Go Pro is awesome because you can use it both underwater and on land.
You are not allowed to have plastic bottles with you – As I've already said, water will be provided by your tour company. Bringing a plastic bottle is not necessary.
Rent protective water shoes, you will need them – Before hopping on your boat, you will see many people on the beach renting water shoes. Definitely get a pair! In some areas, there are sea urchins. Also, to get to some of the beaches, you will have to walk through water and there are many stones on the bottom of the sea.
I recommend wearing a UV protective blouse – The sun is extremely harsh. Instead of using sunscreen which can damage the reefs, I recommend wearing a UV protective blouse. I have one and I love it!
There are no bathrooms – When going on any tour in El Nido, you have to keep in mind that there are no bathrooms. Not on the boat or on the beaches.
Good to know: Usually the tours start at 9 am and end at around 4 pm. Be prepared for a long day, full of adventures!
4. El Nido tour A route
Let's get into more details and see where the El Nido tour A will take you. This is the standard itinerary for the tour A but the order of the following destinations can change and is up to the tour company.
Good to know: Due to the fact that all the tours in El Nido are highly regulated, the tours are quite standard. Therefore, don't expect to be the only one at any of the following destinations. There will probably be several other boats full of tourists. The only way to avoid the crowds is to book a private tour or go during the low season.
7 Commando Beach
Tall coconut trees, a few wooden beach bars, a pristine beach, crystal clear water – this is what the 7 Commando Beach looks like. This beach will be your first stop on your tour A itinerary.
-> To read my full 7 Commando Beach review, click here.
You will have around 40 minutes to enjoy your time at the 7 Commando Beach. You can buy a refreshment from one of the beach bars, swim or go snorkeling. If you want to snorkel, make sure to follow the instructions and only snorkel in the designated area.
Good to know: the 7 Commando Beach might not be the best place for snorkeling in El Nido but if you are a beginner, snorkeling for the first time, this is the perfect place to practice your snorkeling skills.
Small Lagoon or Big Lagoon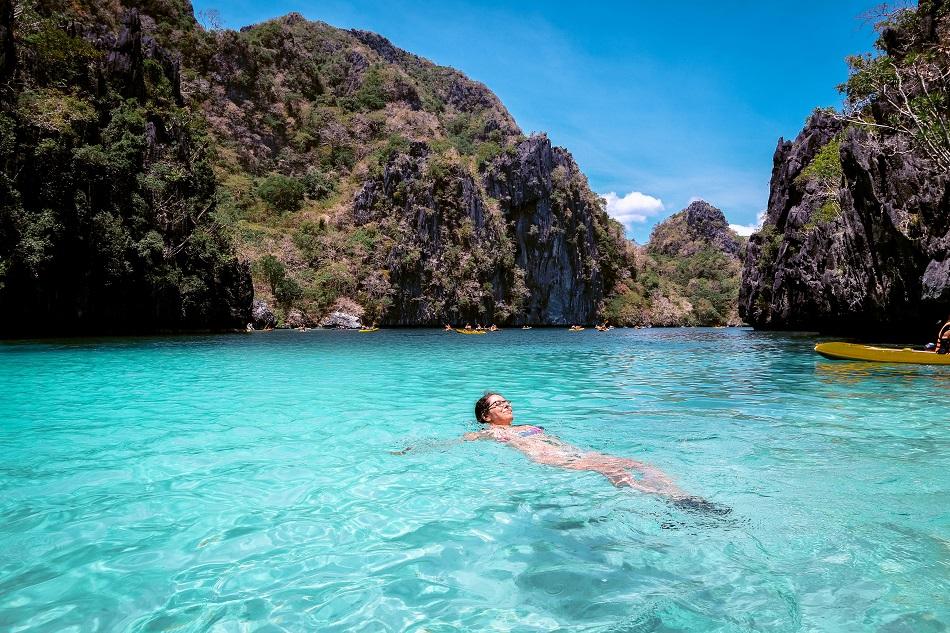 The first thing that you need to know is that you will have to choose between visiting the Small Lagoon or the Big Lagoon. The tours usually include only one of these two lagoons. My recommendation would be to choose a tour which includes the Big Lagoon.
However, given the fact that most of the tourists choose the Big Lagoon, the Small Lagoon is usually less crowded. If you want to experience the incredible limestone mountains without seeing tens of tourists around you, I recommend choosing the Small Lagoon.
The second thing that you need to know is that in order to visit these lagoons, you will have to rent a kayak which costs 200 PHP per kayak (2 people). The price of renting the kayak is usually not included in the price of the tour (make sure to ask about it when booking your tour).
All in all, both lagoons are incredibly beautiful. The tall limestone mountains and crystal clear water will definitely take your breath away. Our stop at the Big Lagoon was one of the highlights of our El Nido tour A.
Shimizu Island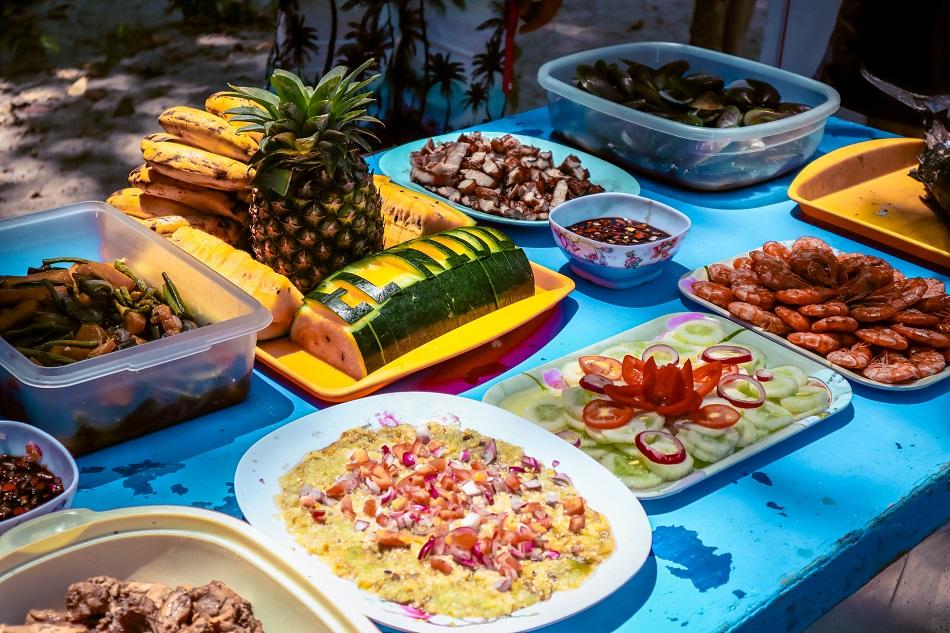 After seeing so many incredible places, it's time for lunch. I was pleasantly surprised by the abundance of food we were offered. Honestly, I expected some fruits and maybe some rice with chicken but instead, the lunch was a true feast.
We were offered grilled fish, rice, noodles, seafood, chicken and fruits. There was plenty of food for everyone. We sat on some big logs on Shimizu Island and had our lunch while admiring the beautiful view in front of us.
After lunch, you will have 10 or 20 minutes to swim or explore the island. We chose to explore the island and found some really incredible places hidden between the limestone walls.
Secret Lagoon
The last stop of the day is at the Secret Lagoon. I have to say that the Secret Lagoon was my least favorite destination, part of El Nido tour A. The reason why I'm saying this is because the lagoon itself is pretty small and there are too many tourists crammed inside.
I guess the Secret Lagoon is not that secret after all. To enter the Secret Lagoon, you will have to get through a hole. After getting on the other side, you are basically inside the lagoon.
Even though the lagoon itself is pretty crowded, the nearby beach is pretty spectacular. It looks like a scene from a movie. Tall coconut trees sitting at the base of the limestone mountains are followed by incredible white sand and turquoise water. If I had the chance, I could stay and admire this view all day long and not get bored.
All in all, I absolutely loved the tour A in El Nido. Even though I have traveled for one month around the Philippines, this tour was the highlight of my trip. To read more about the Philippines, click here.
5. Other things to do in El Nido
If you have more time to spend in El Nido, there are some other incredible places that are worth visiting too. One of my favorite beaches in the area is the Las Cabanas Beach which is situated nearby the El Nido town. Perfect for swimming, this beach is also one of the best places in El Nido to watch the sunset.
Another beach that I absolutely loved is the Twin Beach, situated a bit further north. The Twin Beach forms where the Calitang and Nacpan beaches meet. I love this place because not many tourists get here and you can enjoy the natural beauty of this place in peace.
Also, don't miss the Corong Corong Beach. Situated near the El Nido town, this beautiful beach offers some of the most incredible views in the area. Buy a beer from one of the local bars, sit back, and relax.
6. Where to stay in El Nido
Looking for accommodation in El Nido is a challenge. Most of the hotels are pretty basic and there aren't too many options to choose from. However, I've been searching for the best accommodation in El Nido, for every budget. Please find my recommendations below:
Budget – Carandang Inn – close to the city center, clean rooms, friendly owners
Mid Budget – La Colonial – good location, beautiful pool, clean & spacious rooms, friendly staff
Luxury – Frangipani – modern & clean rooms, beautiful design & view, breakfast included, good location
I am sure that you will have a great time visiting the Philippines. Going on an island hopping tour is a must when in El Nido and the views won't disappoint you! I hoped that I've helped you plan your El Nido tour A. If you have any questions, do not hesitate to ask in the comments section below.
May the travel bug bite you!
Disclosure: Please note that this post may contain affiliate links. If you make a purchase through these links, I will earn a small commission at no extra cost to you. I only recommend companies and products that I trust and the income goes to keeping this website running. Thanks!