Just like the famous Ha Long Bay in Vietnam or Krabi in Thailand, El Nido is well known for its incredible beaches and limestone mountains. There are many beautiful beaches to choose from in El Nido but one of the best is definitely the Corong Corong Beach.
This hidden paradise is everything you need if you are looking for one of the best views on Palawan Island. Surrounded by mountains and guarded by tall palm trees, this stretch of sand is the perfect place to relax and watch the sunset.
-> Read about the most beautiful beaches in El Nido here.
Find out below everything you need to know about Corong Corong Beach, El Nido.
About Corong Corong Beach
Situated just a short walk away from the El Nido City, this beach is a bit less touristy and less crowded. On one end of the beach you will find a few local homes built on tall wooden stilts. This is a great opportunity to witness the local's daily life.
As you'll walk towards the Las Cabanas Beach, you'll see a few cottages on the sea shore and a few small bars and restaurants well hidden between the tall palm trees. If you're looking for a more remote beach in El Nido, where you won't be surrounded by hundreds of tourists, Corong Corong Beach is the perfect place for you!
No time to read now? Pin it for later!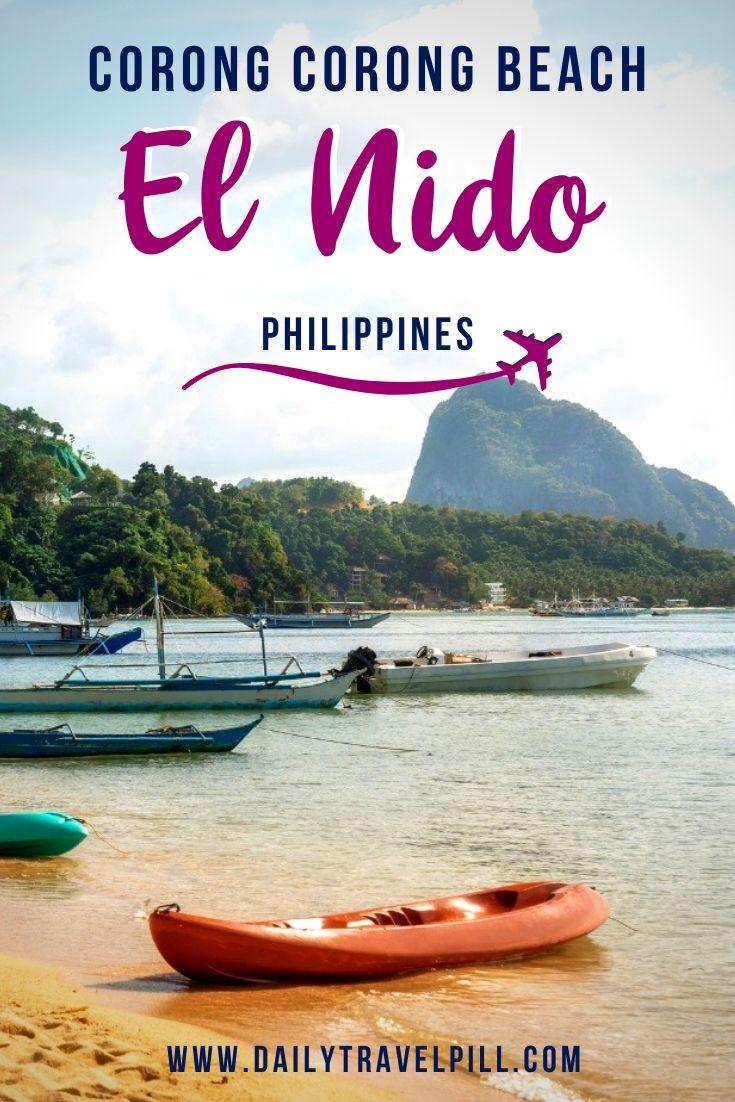 Restaurants & bars
Although there aren't many tourists on this beach, you'll find a few restaurants and bars to buy some snacks or refreshments. The prices are a bit more affordable than in El Nido City. The best part is that you can drink a beer and enjoy the breathtaking views!
Entrance fee
Paying an entrance fee when visiting a beach in the Philippines is not something unusual. However, there is no entrance fee at Corong Corong Beach.
Things to keep in mind
There might be areas where you won't have mobile signal
The power is out frequently in all El Nido area
You'll have to walk or take a tricycle to the city to find an ATM
The water is quite shallow at Corong Corong Beach
Things to do at Corong Corong Beach
While the views themselves might be enough to decide to visit the Corong Corong Beach, there are some other activities too. Below are some of the things you can do when visiting this beautiful beach.
Take an island hopping tour
Probably the most popular tourist attraction in El Nido is to take an island hopping tour. There are four standard tours but the most popular ones are tour A (read my full tour A review here) and tour C. I did tour A and loved it! The pristine beaches, the beautiful mountains and the turquoise water were out of this world.
You can book these tours online so you won't have to worry about not finding empty spots.
Book Tour A – The most popular and includes the best attractions but it can get crowded. It includes: Small Lagoon or Big Lagoon, Secret Lagoon, Shimizu Island, 7 Commando Beach.
Book Tour B – More relaxed but with awesome attractions. It includes: Snake Island, Pinagbuyutan Island, Entalula Beach, Cudugnon Cave, Snorkeling.
Book Tour C – Second most popular, with some of the best beaches. It includes: Helicopter Island, Mantiloc Shrine, Secret Beach, Star Beach, Hidden Beach.
Book Tour D – Short tour and less crowded. It includes: Ipil Beach, Cadlao Lagoon, Paradise Beach, Pasandigan Beach, Natnat Beach, Bukal Beach.
Take a walk on the beach
Corong Corong Beach is about 500 meters long. Take a walk, watch the views, drink a fresh coconut and relax.
Watch the sunset
This beach is one of the best places in El Nido to watch the sunset. The sunsets in the Philippines are incredible. With pink and orange skies, mountains in the distance and boats reflecting into the water, watching the sunset at Corong Corong Beach should definitely be on your list.
Bring a blanket or a towel, get your camera ready and enjoy one of the most beautiful sunsets in the world.
How to get to Corong Corong Beach
There are basically two transport options to get around El Nido – renting a motorbike and taking a tricycle. Depending on where your accommodation is situated, getting to Corong Corong Beach can take between a few minutes and half an hour.
The beach can be reached in just a few minutes from El Nido City.
By motorbike
Most of the hotels/ hostels in El Nido rent motorbikes to their guests. If you want to rent one, just ask at your hotel's reception. The cost for renting a motorbike for one day in El Nido is somewhere around 600 pesos.
The advantage of renting a motorbike is that you can make your own schedule and you can visit some other nearby attractions such as the Twin Beach or Las Cabanas Beach.
Good to know: if you haven't driven a motorbike before, I recommend choosing another mode of transport. Traffic in El Nido can get pretty crazy.
By tricycle
Tricycles in the Philippines act like local taxis. You can take a tricycle from El Nido City to Corong Corong Beach for just 50 pesos.
Where to stay near Corong Corong Beach
If there is one thing you need to know before visiting El Nido, this is it – don't expect too much from the accommodation. The options are quite limited, the prices are high and the amenities are not the best.
However, I've searched for the best hotels near Corong Corong Beach and these are my recommendations. Choose the option that best fits your budget.
Budget – Greenviews – room with fan, beautiful views, good location
Mid Budget – Dreamland – air conditioning, sea view, clean rooms, friendly staff, breakfast included
Luxury – Last Frontier Beach Resort – situated right on the beach, beautiful pool, clean & spacious rooms, breakfast included
Corong Corong Beach is definitely one of the most beautiful beaches in El Nido. It's quiet, and it offers some of the most incredible views on the Palawan Island. If you have any questions, do not hesitate to ask me in the comments section below.
May the travel bug bite you!
Disclosure: Please note that this post may contain affiliate links. If you make a purchase through these links, I will earn a small commission at no extra cost to you. I only recommend companies and products that I trust and the income goes to keeping this website running. Thanks!