Osaka is one of the busiest cities in Japan, packed with cultural attractions and fun activities. Despite being a big city, it's extremely easy to get around the city. Therefore, one day in Osaka is more than enough to experience the city's vibe and explore its top attractions.
If you are wondering what to do in Osaka in one day, this itinerary is for you. I'm not gonna lie, it's going to be a bit tiring but at the end of the day you'll have some incredible memories.
Put on your most comfortable shoes and get ready to experience Osaka!
1. How to get to Osaka
By air
Osaka's Kansai International Airport is one of the biggest airports in the country and it serves both national and international flights. You can get to Osaka by plane from Tokyo or other major Asian cities.
By train
You can travel to Osaka by train from all the major cities across Japan. With Japan Railway, you will have a comfortable and fast journey. You can purchase a JR Pass here – this will save you a lot of time and money!
By bus
The cheapest way to travel around Japan is by bus. Although it might not be the fastest option, traveling by bus has its advantages, one of them being the amazing views you're going to see. To save up some money, you can buy a Japan bus pass.
No time to read now? Pin it for later!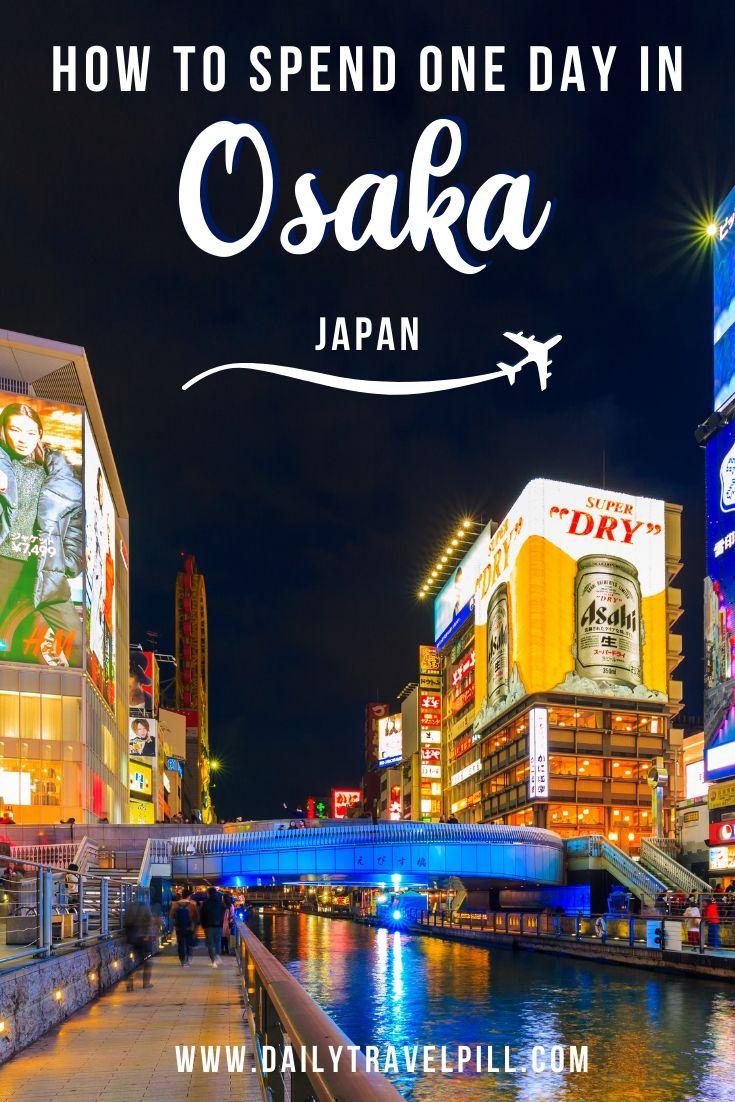 2. How to get around Osaka
The easiest way to get around Osaka is by subway. There are stations near the most important tourist attractions and it's also a budget-friendly option. Traveling by subway in Osaka will take you to your destination in no time. You can check out the subway and train map here.
Good to know: With an Osaka city pass you will have access to the top tourist attractions (Osaka Castle, Umeda Sky Building & more) + unlimited use of the subway system and buses.
3. Osaka in one day itinerary
Osaka is a big city with many tourist attractions but I've included only the best in this itinerary. Get ready to find out about Osaka's history, experience its spiritual side and have some fun in some of the most popular districts around the city.
Taking a day trip to Osaka is definitely a challenge but I am here to help you. If you have more than a day in Osaka, make sure to stop for a dose of adrenaline at Universal Studios Japan.
If you would like a hustle-free experience, I would recommend booking online a tour. Here are some of the best tours available in Osaka:
Admire the famous Osaka Castle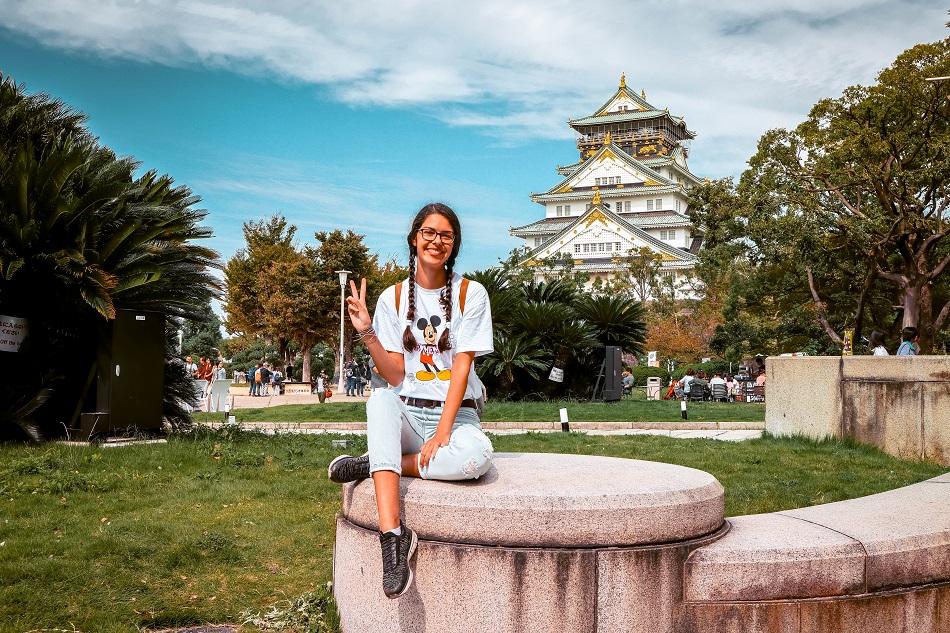 With the Osaka City Pass the entrance to Osaka Castle is free!
Not a morning person? Don't worry. Osaka Castle only opens at 9 am. However, I recommend getting there a bit earlier since the Osaka Castle Park is worth exploring too. Beautiful ponds, trimmed trees and gardens are the perfect start for a morning.
Good to know: Are you traveling to Osaka in spring? You're in luck. The Osaka Castle is one of the best places to enjoy the cherry blossoms.
For a panoramic view over Osaka, climb to the top of the castle either by stairs or elevator. Usually the queue to the elevator is quite long so I recommend taking the stairs. As you will make your way to the top, you will pass by several exhibitions with historical Japanese art pieces.
How to get to Osaka Castle – Getting to Osaka Castle is extremely easy by train. The closest train station is Tanimachi Yonchōme Station or Osaka Business Park.
Entrance fee – exploring the Castle gardens is free but getting inside costs 600 yen.
Enjoy the best views from Abeno Harukas
Are you ready to experience some of the best views over Osaka from the tallest skyscraper in Japan? If you are on a budget, you can enjoy the views for free from the 16th floor rooftop plaza. This outdoor terrace decorated with glass walls and beautiful trees is perfect to watch the city from above.
However, if you want to get to the top of the building at the 60th floor, and enjoy a panoramic view, you will have to pay an entry ticket. Abeno Harukas also houses a hotel, an art museum and the largest department store in Japan. Quite a record breaker!
How to get to Abeno Harukas – From the Osakajokoen Station near the Osaka Castle take the JR to Tennoji Station (this is the closest station to Abeno Harukas).
Entrance fee – Getting to the Abeno Harukas observation deck costs 1500 yen
Discover Osaka's spiritual side at Shitenno-Ji Temple
This Osaka one day itinerary wouldn't be complete without visiting one of the city's beautiful temples. Shitenno-Ji is one of the oldest temples in Japan and it was originally built in year 593. Although throughout the years it was burnt down several times, the temple was always reconstructed to reflect the original architecture.
How to get to Shitenno-Ji – the temple is just a short walk away from Abeno Harukas.
Entrance fee – You can visit the temple for free but if you want to explore the interior garden or the treasure house, you will have to pay an entry fee of 300 yen.
Admire the quirky Shinsekai
Built in 1912 to resemble both New York and Paris, Shinsekai district thrived until the World War II. After the war, it became one of the poorest areas in Osaka. After the destruction of Tsutenkaku Tower in 1943, it seemed that there was no future for Shinsekai.
However, the tower was reconstructed and the Shinsekai became a tourist attraction for foreign visitors with a wide selection of restaurants and entertainment. The district's over-the-top architecture and neon lights makes it one of the quirkiest places in Japan.
The centerpiece of Shinsekai still remains the reconstructed Tsutenkaku Tower which can be visited. From the top, you can admire the panoramic view over Osaka.
How to get to Shinsekai – The Shinsekai district is just a short walk away from the Shitenno-Ji Temple.
Entrance fee – There is no entrance fee to wonder around the area but climbing the Tsutenkaku Tower costs 700 yen (additional 500 yen for the open-air deck).
Take a step back in time at Hozenji Yokocho
Located in the busy district of Minami, near Dotonbori, Hozenji Yokocho is a narrow street full of Japanese restaurants and bars. Taking a walk on this street feels like going back in time. Take your time to admire the architecture, the shops and while you are there don't forget to also stop at the Hozenji Temple.
How to get to Hozenji Yokocho – From Shinsekai take the subway from Dobutsuen-Mae Station to Namba Station.
Entrance fee – free
Admire the light spectacle at Dotonbori
You may feel a bit tired right now but if you only have 1 day in Osaka, you can't leave without visiting the famous Dotonbori. Be prepared to see thousands of neon lights, all reflecting upon the Dotonbori-gawa Canal.
Try the local restaurants, admire the views and be a part of the chaos. Dotonbori will amaze you with its fast-paced rhythm. If you really want to experience the local entertainment culture, head to an arcade like Round One Stadium and release your inner child!
If you're in for some shopping, head north to Shinsaibashi, the most popular shopping area in Osaka. This almost 600 meters long street is full of local shops and international brands such as H&M, Zara and many more.
How to get to Dotonbori – It's just a short walk away from Hozenji Yokocho
Entrance fee – free
Bonus: Gotta catch 'em all at Pokemon Center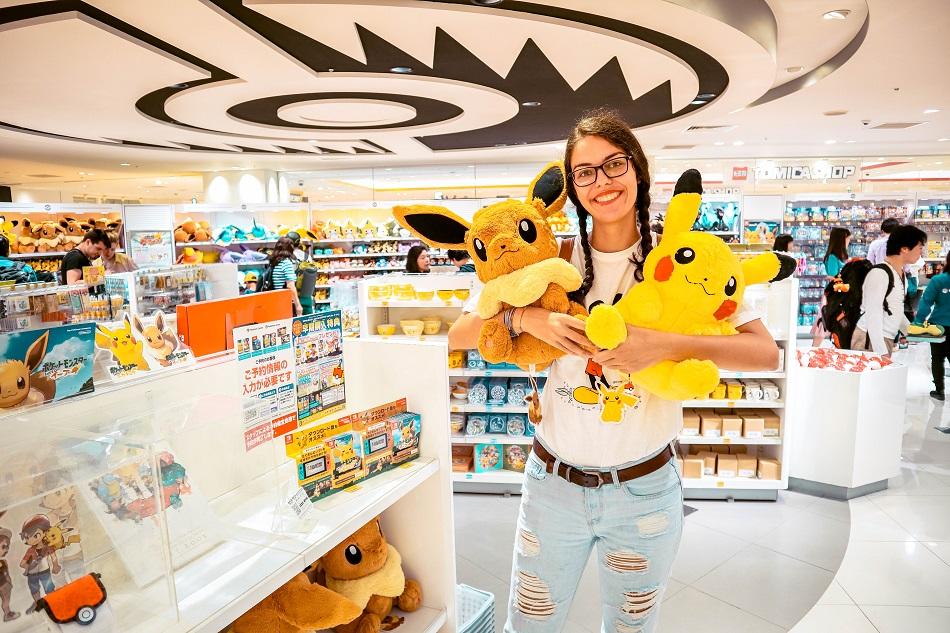 Do you know those cute little creatures from the world-famous-game Pokemon Go? If you are a fan, you have to stop at the Pokemon Center and buy some souvenirs.
With thousands of plush toys, accessories, clothing items and other Pokemon related items, the Pokemon Center is the perfect place to end your one day trip to Osaka. Which is your favorite Pokemon? Read my full guide about the Pokemon Center Osaka here.
How to get to the Pokemon Center – From Dotonbori take the subway from Namba Station to Umeda Station.
4. Do you have more than one day in Osaka?
If you have more than 24 hours in Osaka, there are a few other exciting activities to do such as spending an incredible day at the Universal Studios. I've been to many theme parks but the Osaka Universal Studios was my favorite one.
Get ready for a day filled with adrenaline and happiness. This park is the perfect escape from the adult life. Are you a Harry Potter fan? Then you'll love the Wizarding World of Harry Potter area. Click here to find out which are the best rides at Universal Studios Japan.
Also, make sure to take a day trip to Nara. Nara is the city where deer roam free. They're super-friendly and you can even feed them crackers! To find out more about this cute city, click here.
If you're planning to explore other cities in Japan, make sure to buy a JR Pass for unlimited train rides.
5. Where to stay in Osaka
I've searched for the best accommodation in Osaka, suitable for every budget. If you only have one day in Osaka, it's best to find accommodation close to the city center. Here are my recommendations:
Budget – Hotel Seagull – excellent location, fully furnished apartment, very clean
Mid Budget – Chuan House – excellent location, beautiful studio apartment, very clean & modern, friendly staff
Luxury – St Regis Osaka – excellent location, luxurious and comfortable rooms with view over the city, excellent service & staff
I hope that you'll have a great time exploring Osaka in one day. This beautiful city is full of surprises and intriguing tourist attractions. If you have any questions, don't hesitate to let me know in the comments section below.
May the travel bug bite you!

Disclosure: Please note that this post may contain affiliate links. If you make a purchase through these links, I will earn a small commission at no extra cost to you. I only recommend companies and products that I trust and the income goes to keeping this website running. Thanks!