We all know that Japan is one of the most expensive countries in the world. Everything from transport to accommodation and food costs a fortune but this doesn't mean that there aren't any tricks to avoid breaking the bank.
I am here to help you explore Osaka on a budget and get the most out of this city. I've prepared a list of free things to do in Osaka as well as some awesome money saving tips and tricks.
If you're planning to backpack in Japan, I have the perfect guide for you! Find out which are the costs, which is the best itinerary and more!
1. Introduction to Osaka
Good to know – For unlimited rides on subway and buses and free entrance to all major tourist attractions in Osaka, I recommend getting an Osaka City Pass. You'll save a lot of time and money.
Situated in the Kansai region, Osaka is the third largest city in Japan. Although most of the tourists traveling to Japan, choose to visit Tokyo, Osaka should definitely be on your itinerary.
This city has something to offer to every type of traveler. For those in search of adrenaline, a visit to one of the top amusement parks in the world – Universal Studios Japan – is a dream. Incredible roller coasters and an entire Harry Potter theme park are waiting for you! Check out this post to see which are the best rides at USJ.
For those passionate about history and culture, the Osaka Castle and the Shitenno-Ji Temple are a true delight. You can even visit the Pokemon Center, where you can make friends with your favorite characters!
If there is one word that best describes Osaka, that is "diversity".
-> Only have one day in Osaka? Read this awesome itinerary!
2. Osaka budget breakdown
In this section, I will talk about what you should expect from Osaka in terms of prices. I've spent 4 days in this beautiful city and I have a pretty good idea about prices. Here is a breakdown on what you should expect to spend in Osaka for one day:
Accommodation – $30 (this is the price for a basic hostel or hotel)
Food – $20
Transport – $6
Activities – $10
Total per day per person $66.
No time to read now? Pin it for later!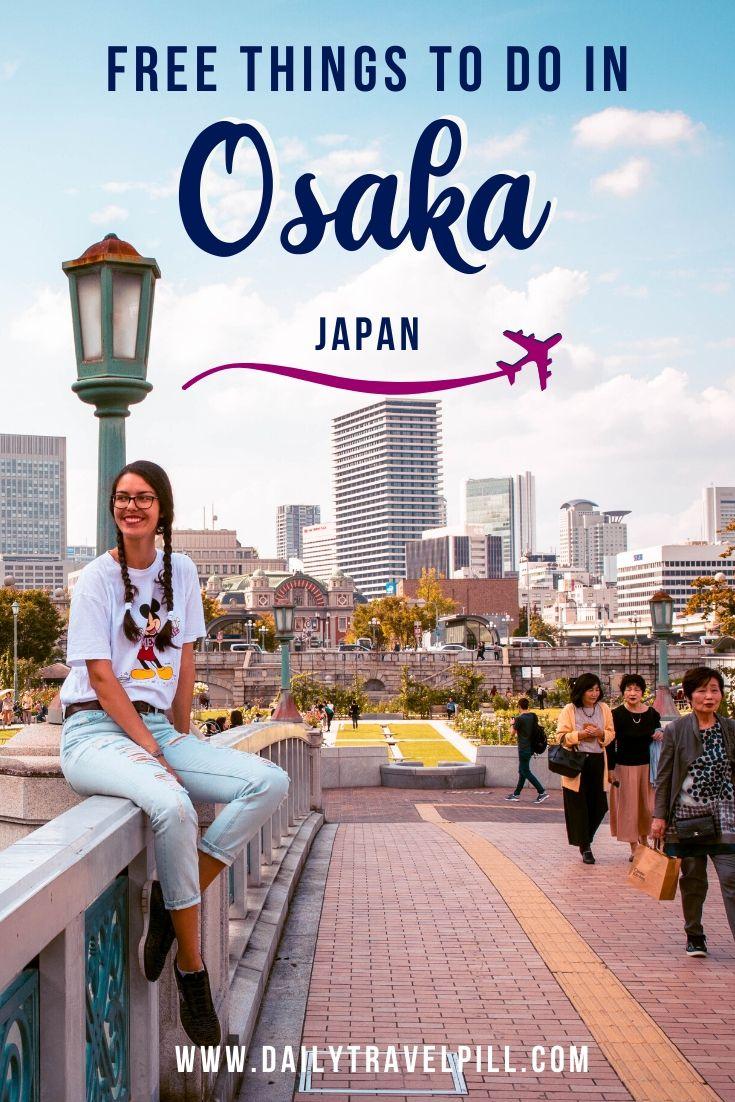 3. How to save up money in Osaka
There are some tricks that nobody tells you about when visiting Japan. If you want to travel to Osaka on a budget, I'm here to share with you some awesome money-saving advice.
Get a Train Pass
If you're planning to travel around Japan by train, don't hesitate to get a train pass. With this pass, you can travel to Osaka, Kyoto, Nara, Tokyo, Hiroshima and many other destinations for free!
Traveling by train in Japan is really expensive but the JR Pass can save you hundreds of dollars!
Get the Osaka City Pass
You can get to Osaka City Pass for 1 or 2 days. This affordable city pass guarantees you free entry to some of the most important tourist attractions in the city such as the Umeda Sky Building, Tombori River Cruise, Osaka Castel Museum and many others. BONUS: it also includes free subway and bus transport in the city! Book here.
Get the best price for Universal Studios
One of the most exciting and adventurous things to do in Osaka is going to Universal Studios. This theme park brings to life scenes from your favorite movies such as Harry Potter, Minions, Jurassic Park or Spider-Man.
While you're there, make sure to try The Flying Dinosaur. It was my favorite attraction in the entire park. Book your ticket to the Universal Studios Japan here.
4. Free things to do in Osaka
The good thing about Osaka is that there are many free tourist attractions. Even the paid attractions have beautiful gardens that can be visited for free which is a big plus. You really don't have to break the bank to visit this city.
If you plan to visit Osaka on a budget, you'll definitely want to visit the places below. Here are 8 free things to do in Osaka.
Good to know: Getting to all the locations below is very easy if you choose to take a Hop on & Hop off bus.
Admire the Namba Yasaka Shrine
This is not your usual temple. Known for its unique architecture, the Namba Yasaka Shrine's stage looks like a lion head. Measuring 12 meters high and 11 meters wide, this eye-catching shrine is one of the most intriguing tourist attractions in Osaka.
Visit the Hozenji Temple
Located in the busy district of Minami, near Dotonbori, the Hozenji Temple is particularly beautiful especially during the evening when the lanterns are lit. The temple was originally built in 1637 but it was mostly destroyed during the WWII.
The only area that remained untouched is the small temple you can find today near the famous Hozenji Yokocho. Walking on this tiny street with local restaurants is like stepping back in time. The temple and the Hozenji Yokocho Street are two of the most beautiful places you can visit for free in Osaka. Make sure to add them to your itinerary!
Play at the Pokemon Center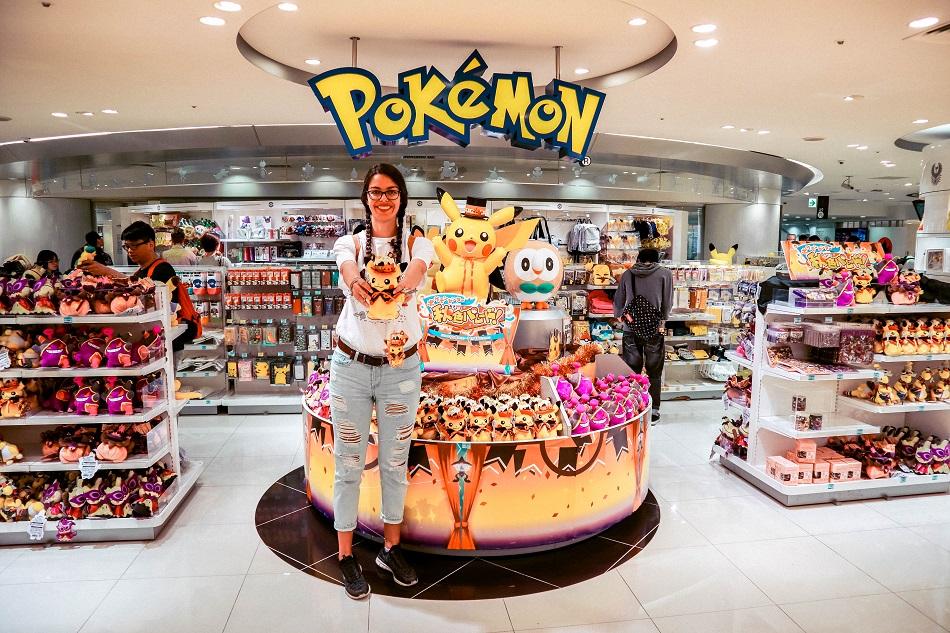 This is for your inner child. If you are a Pokemon fan, you definitely have to visit the Pokemon Center store. I must admit that while visiting it is free, there will be temptation everywhere around you but it's so worth it!
Meet your favorite Pokemon characters and become a child again for a few minutes. The Pokemon Center waits for you. Gotta catch 'em all!
Visit the Osaka Castle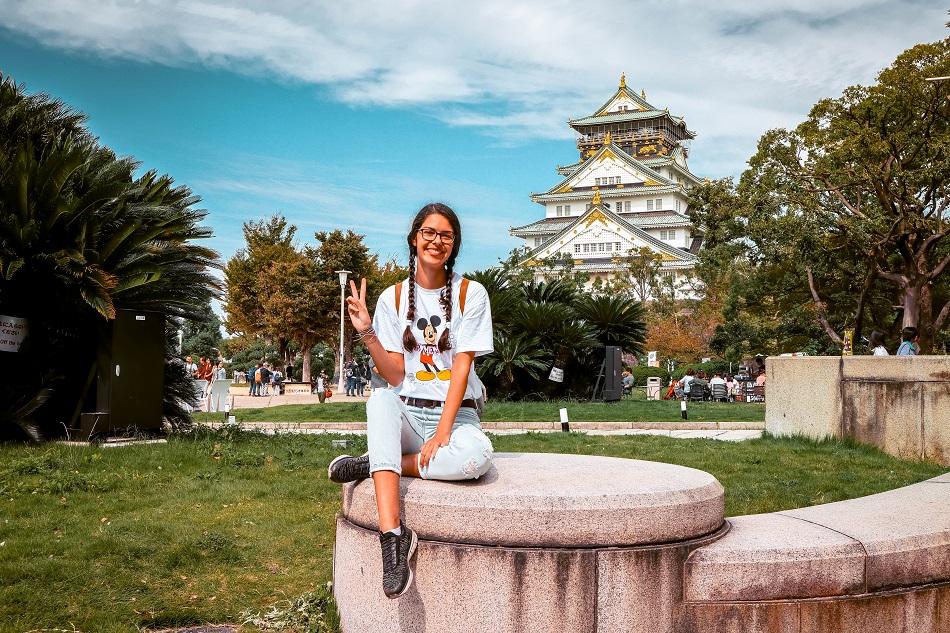 Osaka Castle is probably the most visited attraction in the city. The good news is that even though for getting inside the museum you will need a ticket, you can admire the castle and walk around the gardens for free!
If you want to save up some money but still visit the Osaka Castle Museum, you can try the Osaka Pass and get free admission. Otherwise, explore the gardens, take some photos with the castle and find out more about the city's history.
View Osaka from above at Abeno Harukas
Get ready for the best views over Osaka. You can get to the 16th floor observation desk at Abeno Harukas for free. The views are truly spectacular! I recommend going during the evening, when the sun starts to set. You'll have the chance to see how the city lights up!
If you want to experience the views from the 60th floor, you will have to pay an entrance fee of 1500 yen per person. However, if you're planning to visit Osaka on a budget, the free view from the 16th floors is pretty spectacular too.
Explore the quirky Shinsekai
Shinsekai was initially built to look like Paris and New York. After surviving World War II, this district became one of the poorest in Osaka but in recent years it came back to life.
Tsutenkaku Tower is the centerpiece of Shinsekai and from the top of it, you can admire the views over Osaka. Shinsekai district is free to visit. You can explore the local shops, admire the architecture around you and be a part of the local life.
See the light show at Dotonbori
This is certainly the most popular area in Osaka. Situated near the famous Shinsaibashi shopping district, Dotonbori is a delight to admire during the night. There are thousands of neon lights reflecting into the river which create an amazing spectacle.
There is no entrance fee to Dotonbori which makes it a great destination for all of you who are traveling on a budget.
Admire the Shitenno-Ji Temple
Shitenno-Ji is Osaka's most beautiful temple. Its incredible architecture with beautiful details makes it one of the top tourist attractions in Osaka. You can visit the temple for free. You only have to pay an entrance fee if you want to visit the interior garden.
6. Awesome day trips from Osaka
Good to know – to save money on transport, buy a JR Pass.
If you're spending a few days in Osaka, you have enough time to explore some nearby destinations. One of the highlights of my backpacking trip to Japan was Nara.
The train ride from Osaka to Nara only takes 40 minutes. This city is world-famous for the hundreds of deer roaming free on the streets. And it gets even better! The deer are super-friendly and you can feed them crackers!
I've written an entire guide about Nara where you'll find all the info you need to explore this beautiful and unique city.
Another awesome city you can visit as a day trip from Osaka is Kyoto. Discover the incredible Bamboo Forest, eat some delicious Japanese food at Nishiki Market, and visit the famous Fushimi Inari Shrine.
I've written an awesome guide about spending a day in beautiful Kyoto. Check it out here!
7. Where to stay in Osaka
I recommend staying somewhere close to the city center, especially if you only have one or two days in Osaka. However, this comes at a cost. I've been searching for the best accommodation in Osaka and below are my recommendations:
Budget – Hokko Marina – good location, very clean, super-friendly staff
Mid Budget – Chuan House – excellent location, beautiful studio apartment, very clean & modern, friendly staff
Luxury – St Regis Osaka – excellent location, luxurious and comfortable rooms with a view over the city, excellent service & staff
I hope that I've helped you get an idea about how to travel to Osaka on a budget. These free things to do are great to save up some money and at the same time experience the local culture.
May the travel bug bite you!

Disclosure: Please note that this post may contain affiliate links. If you make a purchase through these links, I will earn a small commission at no extra cost to you. I only recommend companies and products that I trust and the income goes to keeping this website running. Thanks!