If there is one place that you need to visit when in Kyoto, that's the Bamboo Forest. This iconic forest is one of the most photographed locations in Kyoto, together with Fushimi Inari Shrine and Gion neighborhood.
Walking inside this dense bamboo forest is an incredible experience. Seeing how the tall bamboo pillars stretch towards the sky while the sun tries to make its way to the ground is a unique sight.
When I've decided to visit the Bamboo Grove in Kyoto, I honestly had no expectations whatsoever. I thought "well, it's just a bamboo forest, right?". Nothing could have prepared me for what I was about to see and let me tell you something, this forest is now my favorite Kyoto tourist attraction.
Other AWESOME tourist attractions in Kyoto:
In this guide, I'll share with you how to get to the Bamboo Forest in Kyoto. You'll find out everything you need to know about transport options and prices. Moreover, I'll also share some very important tips & tricks that will help you have the best experience when visiting this breathtaking forest.
-> Planning a day trip to Nara Deer Park? – read my full guide
1. About Bamboo Grove Kyoto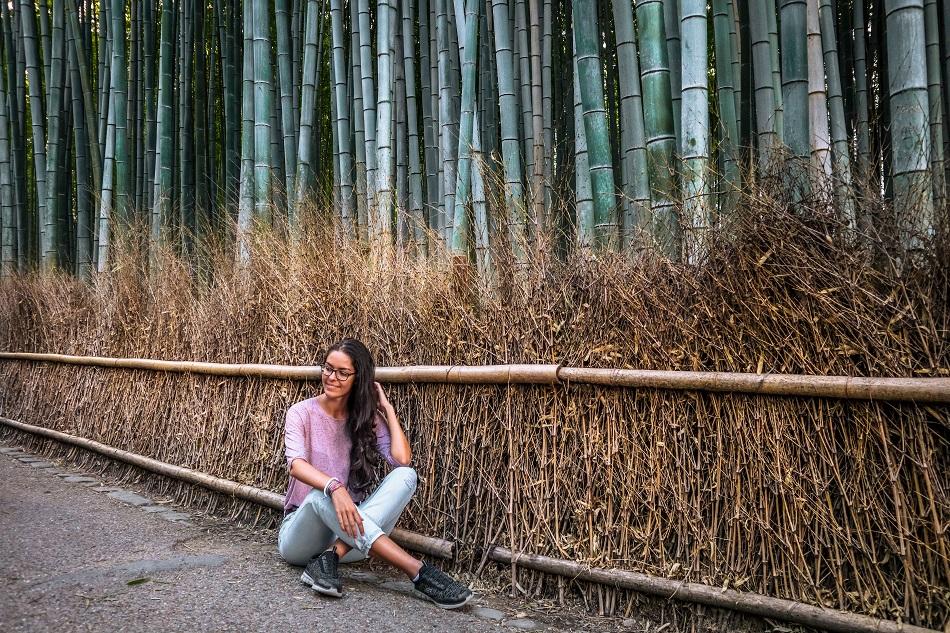 Before getting into more details about transportation options, I want to share with you a few things about the Arashiyama Bamboo Grove. It's important to know a few things about this place before visiting it.
Arashyiama Bamboo forest is part of the Sagano Bamboo Forest and is located just outside of Kyoto. Bamboo is a very strong plant and it plays an important role in Japanese culture. It is a symbol of prosperity, purity, and innocence.
Until recently, in the event of an earthquake, people would hide inside bamboo groves because their strong roots would firmly hold the earth together.
-> Planning to visit Osaka? Read this amazing itinerary!
2. The best time to visit Arashiyama Bamboo Forest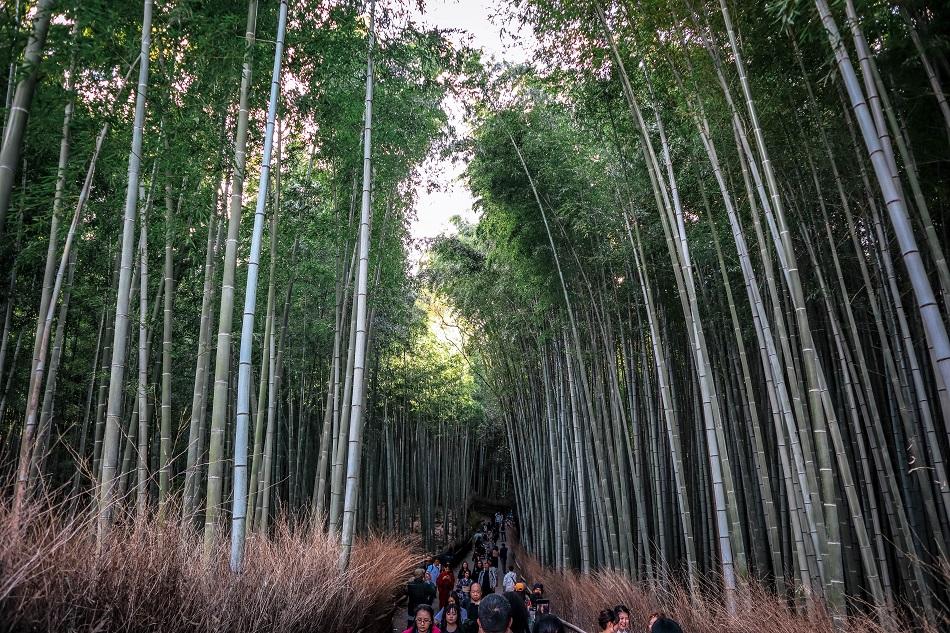 Visiting the Bamboo Forest is a must even if you only have one day in Kyoto – this is one of the most popular tourist destinations in the city which means that most probably the forest will be packed with tourists.
Don't panic! There is one thing that you can do to avoid the crowds – wake up early and be there before 8 am! Make sure to be at the forest at sunrise and you'll be able to take photos without any tourists in the background. If you visit during the middle of the day, be prepared to make your way through hundreds of tourists.
No time to read now? Pin it for later!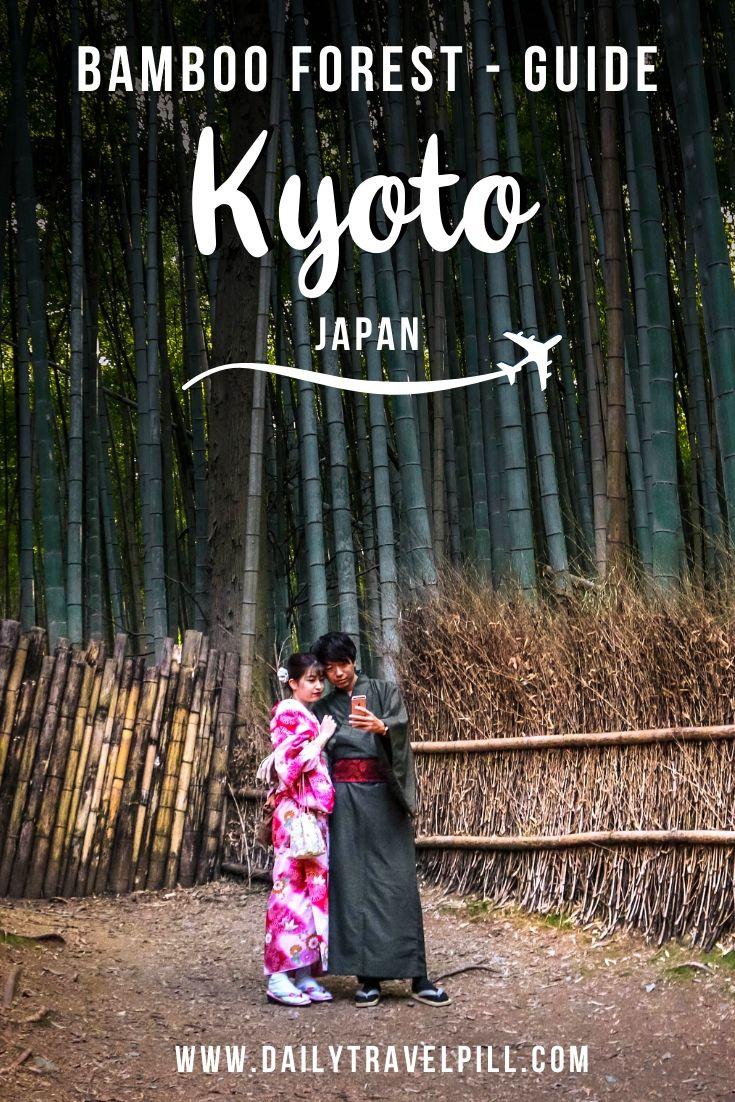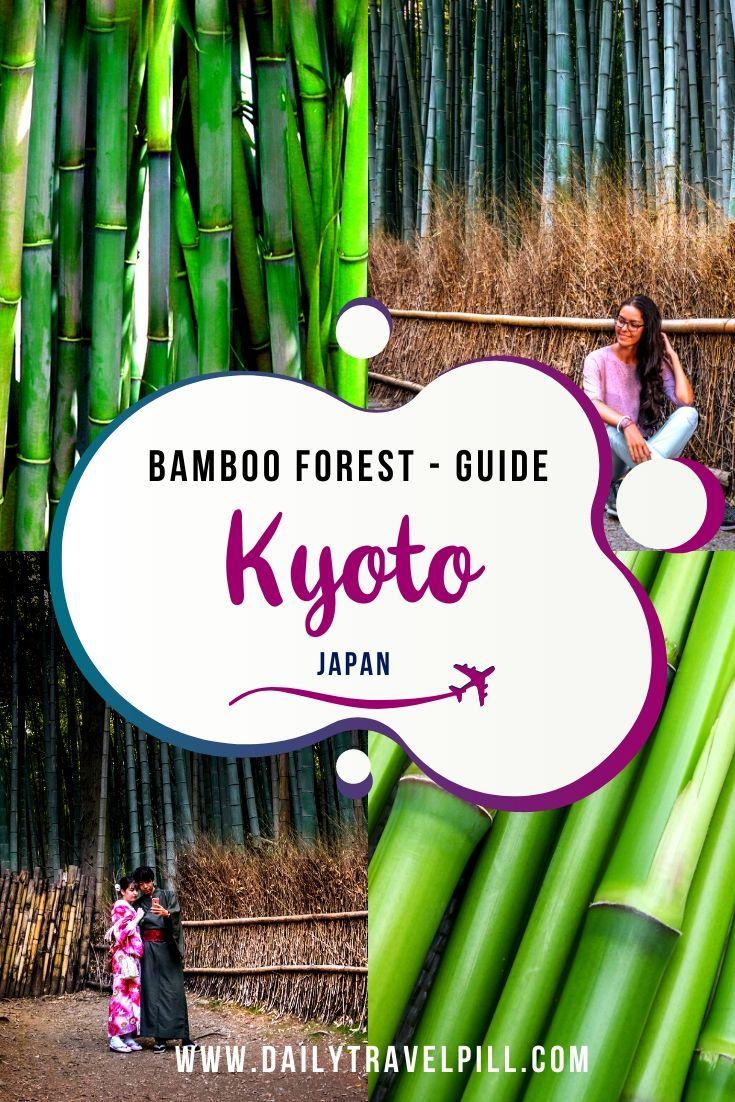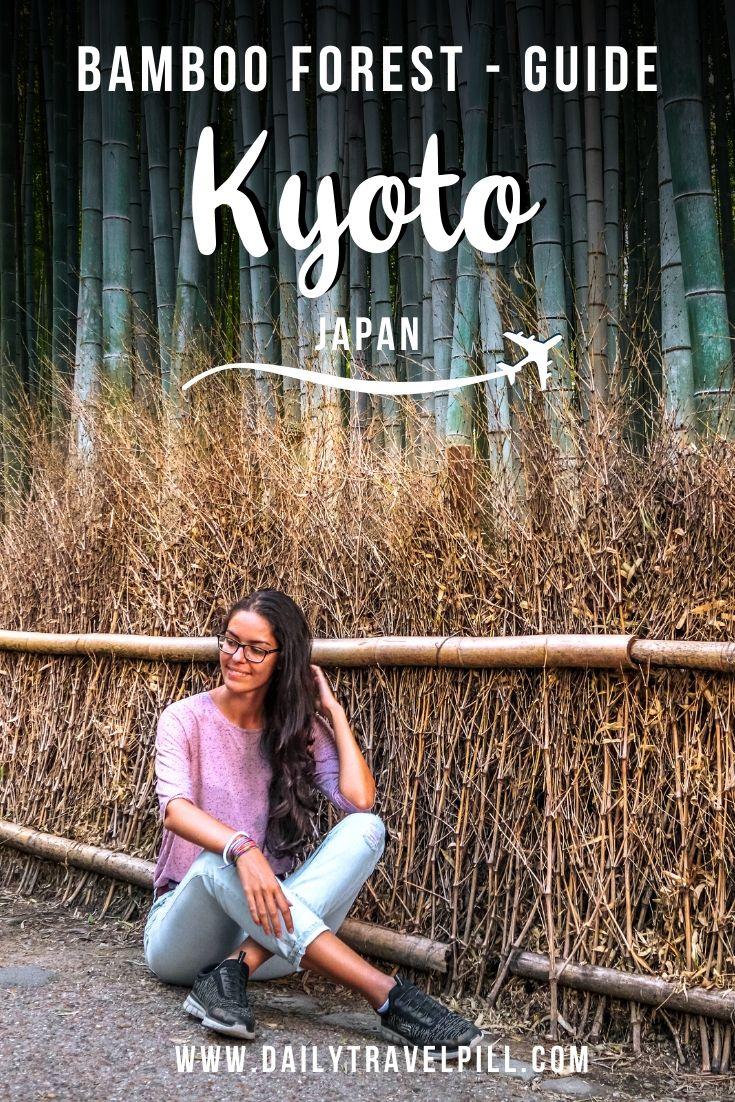 Good to know: try to avoid visiting during the weekends. During the weekend, the Bamboo Forest is even more crowded.
3. Bamboo Forest entrance fee and opening hours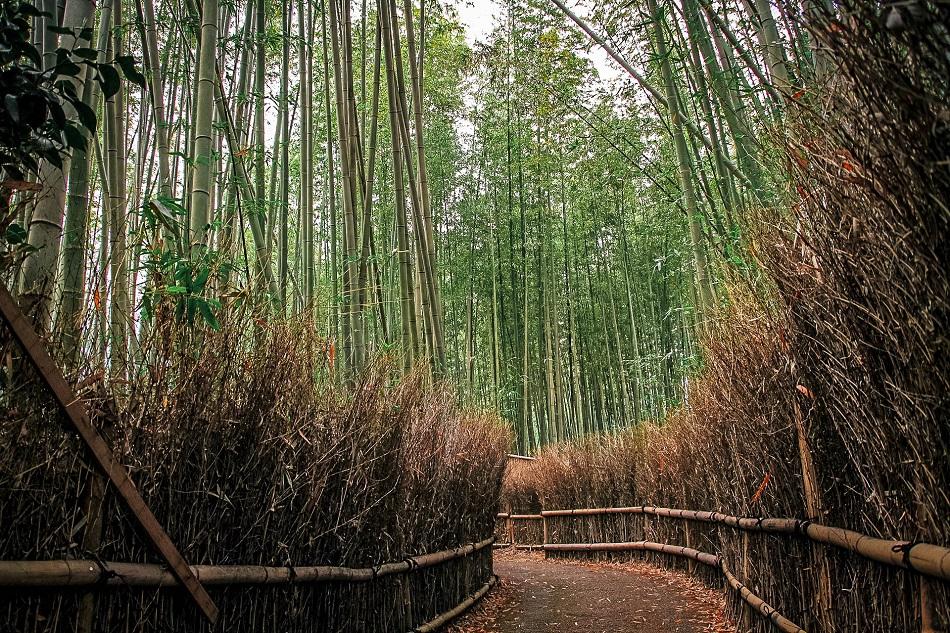 The Kyoto Bamboo forest is open 24/7 and there is no entrance fee. However, if you want to visit the nearby Tenryū-ji Temple, you will have to pay an entrance fee of 500 JPY. Also, the temple is open between 8.30 am and 5.30 pm.
4. Transport to Kyoto Bamboo Forest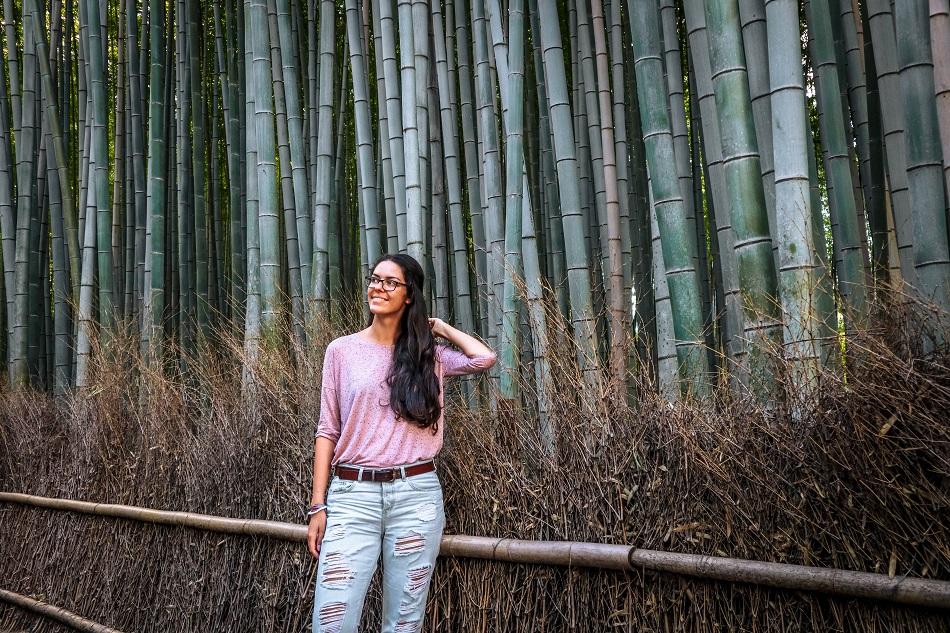 Now that you know a few things about this place, let's get into more details about how to get to the Arashyiama Bamboo Forest. There are plenty of transport options and I'll talk about each of them.
Kyoto to Bamboo Forest by train
The fastest way to get to the Bamboo forest from Kyoto is by train. You will have to disembark at Saga-Arashiyama Station and from there you'll have to walk another 10 minutes to the forest.
The ride from Kyoto will cost approximately 240 JPY and it will take around 20 minutes.
Good to know: I strongly recommend getting a JR Pass if you are planning to travel inside the Kansai area (Osaka, Kyoto, Kobe, Nara). It will save you a lot of money and time. If you have a JR Pass, take the JR Sagano Line to the Saga-Arashiyama Station.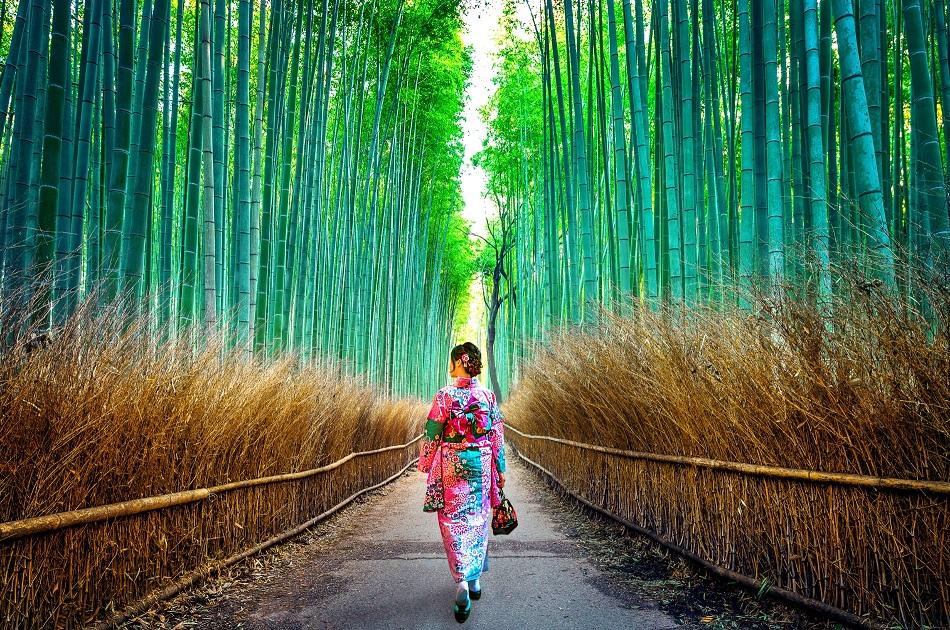 Kyoto to Bamboo Forest by guided tour
If you want a hustle-free experience, I recommend visiting the Kyoto Bamboo Forest with a guided tour. You won't have to worry about transport or making an itinerary.
Here are the best tours for the Arashyiama Forest:
Arashyiama Bamboo Forest half day tour – click here (includes tour guide, hotel pick up)
Arashyiama Rickshaw Tour – click here (experience the Bamboo forest in a traditional rickshaw)
Kyoto to Bamboo Forest by bus
You can take the Kyoto Bus 27 from the Kyoto Station. The ride will take around 50 minutes and it will cost you 230 JPY. Taking the bus from Kyoto to the Bamboo Forest is not the fastest transport option but the good part is that you'll get the chance to admire the city.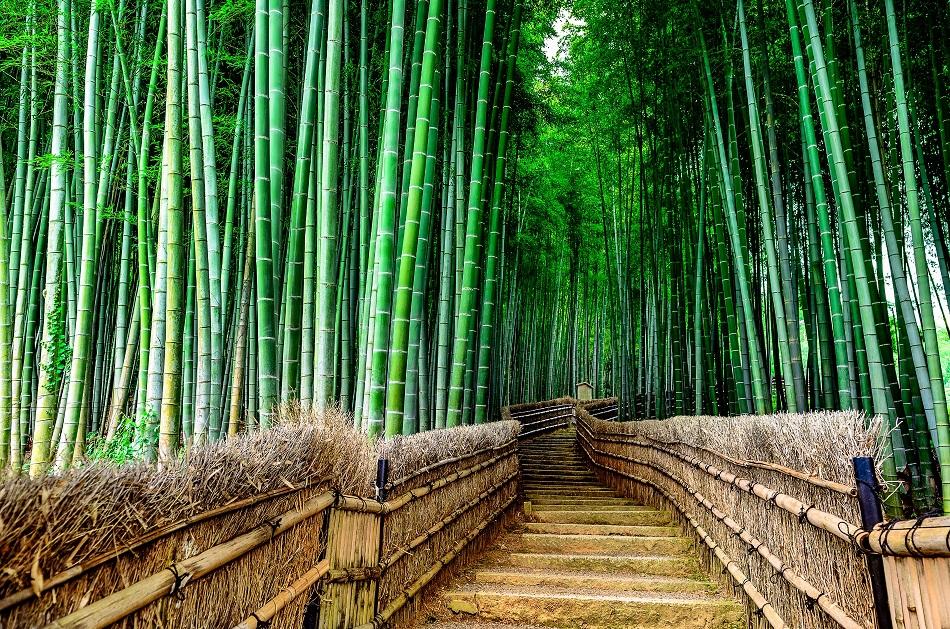 5. Where to stay in Kyoto
I've searched for the best accommodation in Kyoto, for every budget. If you are looking for a good value for money hotel, I've got you covered! Here are my recommendations:
Luxury – Hotel Granvia – beautiful pool, incredible views, excellent location, comfortable & luxurious rooms, breakfast included
Mid Budget – Solaria Hotel Premier – excellent location, incredible architecture & views, clean & modern rooms, excellent facilities
Budget – Sanjo Okawa – good location, clean & spacious rooms, good WiFi, access to washing machine
I hope that you've found my guide about the Bamboo Forest in Kyoto useful. Walking around this forest is a truly unique experience. Get your camera ready because you'll want to take hundreds of photos!
Getting to the Arashyiama Bamboo Forest from Kyoto is easy if you choose public transport but it's even easier if you choose a guided tour. No matter which transport option you choose, I'm sure you'll have a great time.
If you have any questions, don't hesitate to let me know in the comments section below.
May the travel bug bite you!

Disclosure: Please note that this post may contain affiliate links. If you make a purchase through these links, I will earn a small commission at no extra cost to you. I only recommend companies and products that I trust and the income goes to keeping this website running. Thanks!