A visit to Kyoto is never complete without a stop to Nishiki Market and Teramachi Street. These two nearby streets are some of Kyoto's top tourist attractions and for good reason.
Here you will find endless rows of shops and stalls, selling anything from souvenirs to clothes and food. There is no better place to really experience the daily life of Japanese people and to explore more of the local culture.
When planning your Kyoto itinerary, save a few hours to visit the Nishiki Market and Teramachi Street. You'll be surprised by what you'll find here.
1. Things to know before visiting the Nishiki Market and Teramachi Street
There are some things that you should take into consideration if you're planning to visit these famous Kyoto shopping streets. I'll list everything you need to know below:
Both shopping streets can get pretty crowded. To avoid the tourists, make sure to be there early in the morning when the shops open (9 am-10 am)
These narrow and busy streets can represent a challenge for people with limited mobility
Most vendors don't speak fluent English but they are friendly and willing to help you
-> Read this awesome Japan itinerary!
2. Teramachi Street Kyoto
Teramachi actually means "Temple Town" and the street got this name due to the high concentration of temples that can be found along its Eastern side.
This covered shopping arcade is very popular in Kyoto. Teramachi Street is not only a tourist attraction but also a place where locals come to shop for clothes, home decor, and accessories.
Other AWESOME things to do in Kyoto:
This place is always bustling with tourists and locals, all searching for the best products at the lowest prices. If you're looking for souvenirs, Teramachi Shopping Street is the place to go!
Here you will find a variety of both traditional and modern items, including kimonos, traditional Japanese hair accessories, Japanese jackets, pottery, and Buddhist objects.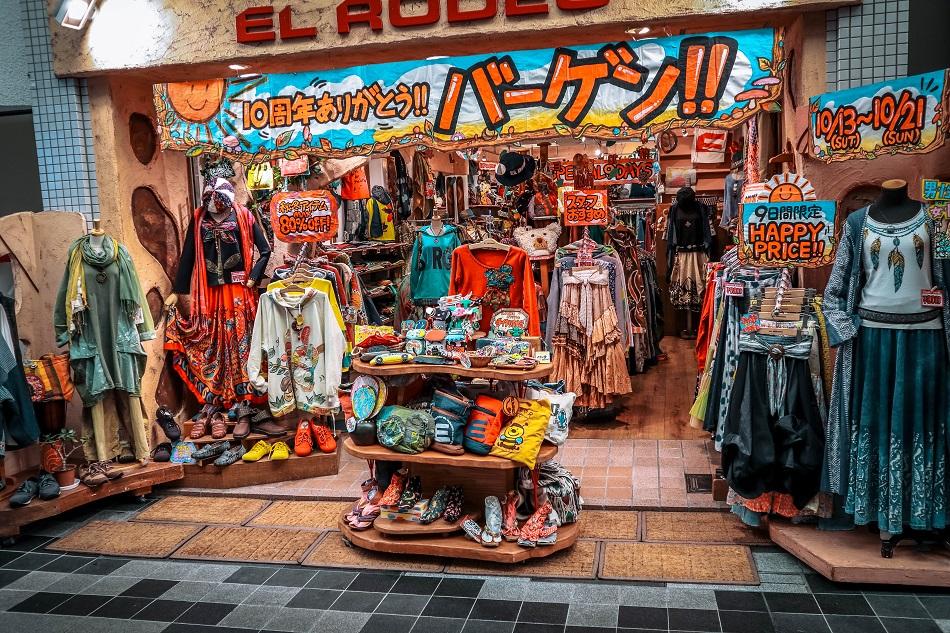 In addition to that, you'll also find many bookstores, tea shops, and art galleries. Before visiting the Teramachi Shopping District make sure to set a spending budget or you'll end up emptying the bank!
Good to know: Parallel to Teramachi Street is Shinkyogoku Shopping Street. On Shinkyogoku Street you'll find a number of fashion stores such as Sketchers, Zara, and many other incredible local brands. Also, if you like arcade games, you'll find plenty here.
If you have time, make sure to stop at the Daiso store which sells all kinds of items for just 100 JPY. These kind of stores are pretty popular among both tourists and locals. Here you can find many bargains at a fixed price.
Teramachi Street Kyoto opening hours – 10 am to 6 pm
3. Nishiki Market Kyoto
More than 400 years old, Nishiki Market is one of the oldest and most popular food markets in Japan. The market has more than 100 stalls, selling delicious Japanese delicacies.
Once you enter the market, expect a busy street filled with locals and tourists in search of their next meal. The food is displayed in front of the stalls, inviting you to taste it!
Good to know: most vendors offer samples. Don't hesitate to try them! From pickles to nuts and meat, everything is simply delicious!
Also known as "Kyoto's kitchen", Nishiki Market offers a wide variety of seafood, spices, vegetables, tofu, and cooked food. If you're feeling adventurous and you want to try some of the dishes, I recommend the fish cake, takoyaki and tako tamago.
Some of the best restaurants at Nishiki Market are The Snoopy Cafe and Gogyo Ramen. If you're feeling hungry in Kyoto, now you know where to eat.
Before leaving the market, don't forget to buy some souvenirs. No souvenir is better than a pair of Japanese chopsticks. Learning how to use them might be a challenge but you can't leave the famous Nishiki Food Market without some chopsticks.
Good to know: Since you're in the area, pay a visit to the beautiful Tenmangu Shrine. Built over 1000 years ago, this shrine has been moved several times until its current location near Nishiki Market.
Nishiki Market Kyoto opening hours – 9 am to 6 pm
4. How to get there
The easiest way to get to both Nishiki Market and Teramachi Street is to take the subway to Shijo Station. From there, you will have to walk for about 5 minutes before reaching the Kyoto Shopping District.
Good to know: After visiting these two shopping streets, I recommend walking for a few minutes to the famous Gion neighborhood and Yasaka Shrine. If you're lucky enough, you can even see a geisha in Gion.
If you're planning to travel a lot inside Japan, a JR Pass will save you lots of time and money. With this pass you'll get unlimited train rides between most cities in Japan.
-> Heading to Osaka? Read this awesome guide!
5. Where to stay in Kyoto
If you are looking for good-value-for-money hotels in Kyoto, you are in the right place. I've been searching for the best hotels for every budget. Here are my recommendations:
Luxury – Hotel Granvia – beautiful pool, incredible views, excellent location, comfortable & luxurious rooms, breakfast included
Mid Budget – Solaria Hotel Premier – excellent location, incredible architecture & views, clean & modern rooms, excellent facilities
Budget – Sanjo Okawa – good location, clean & spacious rooms, good WiFi, access to washing machine
Nishiki Market is heaven for foodies and Teramachi Street is heaven for shopping addicts. I hope that my guide about these two streets helped you plan your Kyoto itinerary. If you have any questions, don't hesitate to let me know in the comments section below.
May the travel bug bite you!
Pin it for later!
Disclosure: Please note that this post may contain affiliate links. If you make a purchase through these links, I will earn a small commission at no extra cost to you. I only recommend companies and products that I trust and the income goes to keeping this website running. Thanks!