Welcome to Hallstatt, the small town where fairytales come true. This quaint Austrian village has become incredibly popular among tourists due to its undeniable charm and beauty.
With only 778 residents, Hallstatt is becoming one of the most visited towns in Austria. Wooden houses guarded by tall mountains are sitting right on the edge of Hallstatt Lake. The view is truly incredible and a dream for any photographer.
If you are searching for the best viewpoints in Hallstatt, you are in the right place. These Hallstatt photography locations are great for both amateur and professional photographers. Grab your camera and get ready to shoot some incredible views.
Hallstatt photography tips
Before talking more about the best photography locations in Hallstatt, I want to share with you a few photography tips that will make your life easier.
Summers can get pretty busy in Hallstatt. If you don't want to worry about hundreds of tourists getting into your shot, avoid summer, Christmas and national holidays
Make the most out of your time. Hallstatt is an expensive town. Wake up early and start shooting.
Bring all the gear you need with you (charger, cables, lenses, memory cards). Hallstatt is very small and you won't find electronics shops.
No time to read now? Pin it for later!
1. Hallstatt City
Part of Hallstatt's charm is its beautiful wooden houses. Head to the city center and look up. You'll see layers of beautiful homes lined up at the base of the mountain.
Don't be afraid to get lost. Hallstatt is a small town after all. Explore the small alleys and find the best viewpoint. I loved exploring small streets with beautiful restaurants and boutique stores. 
-> Are you planning to visit Salzburg too? Read my awesome travel guide!
2. Hallstatt Salt Mine
One of the most popular photography places in Hallstatt is the salt mine. Take the funicular, as I did, or hike to the salt mine and you will be rewarded with an impressive view towards the town and the Hallstatt Lake.
If you're lucky, you can even catch one of the boats that connects Hallstatt to the nearby cities. For a splash of red and orange, visit this Hallstatt viewpoint during autumn.
3. Hallstatt World Heritage Skywalk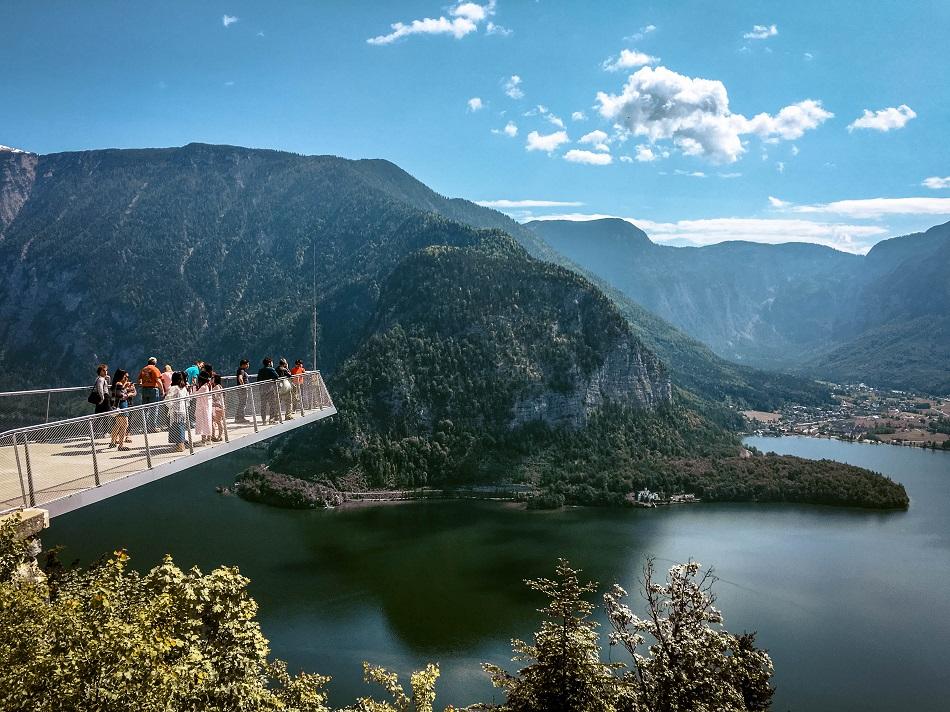 The Hallstatt World Heritage Skywalk is just a short walk away from the salt mine. I recommend arriving here early in the morning if you want to have the place to yourself.
During peak season and weekends, the platform can get pretty busy just like in the picture above.
4. Hallstatt classic view
This is by far the best view in Hallstatt. This town became famous due to this incredible viewpoint and now everyone wants to take photos here.
You can find this famous Hallstatt viewpoint on Google Maps by searching for "Hallstatt Postcard Angle". I have to warn you, this place is quite busy. Getting up early in the morning will save you a lot of time.
5. Hallstatt Catholic Church
One of Hallstatt's secrets is the view from the Catholic Church, near the Ossuary. Not many people know about this place but the view towards the city and its other church is truly amazing.
While you are here, pay a visit to the Hallstatt Ossuary too. Unusual and creepy at the same time, the Ossuary is one of the must see attractions in town.
6. Seehotel Gruner Baum
You can get a decent view to Marktplatz from ground level but the best view can be admired from the Seehotel Gruner Baum. You'll probably have to spend a night here in order to get the shot but I think it's worth it.
Marktplatz is the central point of Hallstatt and the perfect place to admire the village's architecture.
7. Hallstatt Lake viewpoint
This is one of the less photographed perspectives of Hallstatt but one of the best ones at the same time. To get this shot, take a boat tour on Lake Hallstatt and get your camera ready.
As soon as the boat starts moving, you'll be able to shoot Hallstatt from this amazing angle. Isn't the city's reflection into the water simply beautiful?
How to get to Hallstatt
Getting to Hallstatt from Vienna and Salzburg is very easy and comfortable if you choose a guided tour. You won't have to worry about changing trains or researching for the perfect itinerary. Below are a few options of guided tours.
Guided tours from Vienna:
Guided tours from Salzburg:
As an alternative, you can also rent a car. This option might be a bit more convenient if you are a small group of people.
If you choose to travel by train, keep in mind that there are no direct trains from Vienna and Salzburg to Hallstatt. You will have to change trains and even take a boat to reach this fairy-tale city.
Where to stay in Hallstatt
I've searched for the best hotels in Hallstatt, for every budget. Below are my recommendations.
Good to know: There are only a few hotels to choose from in Hallstatt. In order to find a hotel suitable for your budget, make sure to book it at least a few weeks in advance.
If you were wondering where to take photos in Hallstatt, I hope that you found this guide helpful. Hallstatt is a beautiful town with many incredible photography opportunities. I loved photographing every corner and uncovering its secrets.
-> Are you planning to visit Vienna too? Read my awesome travel guide!
May the travel bug bite you!
Disclosure: Please note that this post may contain affiliate links. If you make a purchase through these links, I will earn a small commission at no extra cost to you. I only recommend companies and products that I trust and the income goes to keeping this website running. Thanks!