Hallstatt is one of the most picturesque towns in Europe. With wooden houses, a beautiful lake in front of it guarded by majestic mountains, and some of the most incredible views, Hallstatt should be on your itinerary when visiting Austria.
After spending a few days in Salzuburg, we decided to visit this fairytale town and explore it for an entire day. We saw many pictures from Hallstatt on the internet but nothing could have prepared us for what we were about to see. You can check out the best viewpoints here. 
If you're planning to spend one day in Hallstatt, I'm here to help you. In this post, you'll find all the information you need about this beautiful town together with some really useful tips & tricks.
1. Is Hallstatt worth visiting?
So, you're traveling to Austria but you're not sure whether or not you should visit Hallstatt? The truth is, Hallstatt was my favorite part of my road trip through Austria and I couldn't recommend it enough!
It's true, sometimes it might get busy and everything in Hallstatt is quite pricey but hey, those views are definitely worth it! This little town, overlooking the Hallstatt Lake will surprise you at every step.
Here are just a few reasons to convince you to spend at least one day in Hallstatt.
No time to read now? Pin it for later!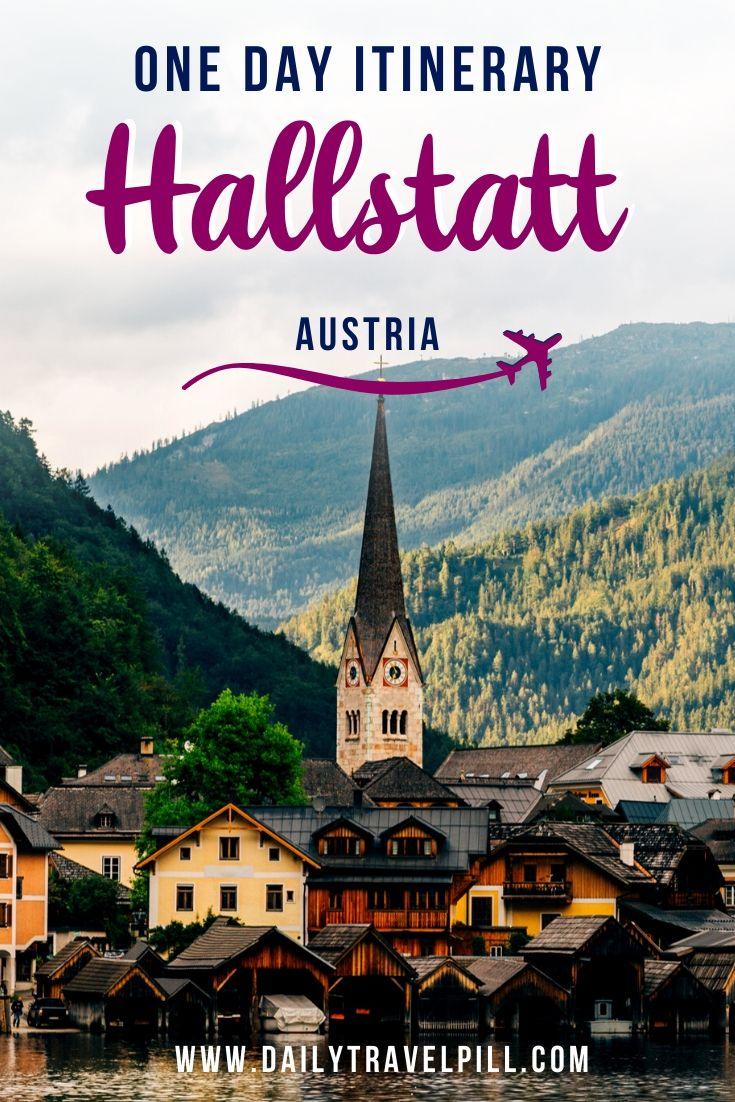 The views are breathtaking
I've said it before and I'll say it again. Nothing can compare with the view from the famous Hallstatt lookout point or the view from the Hallstatt Salt Mine platform.
I know that planning to visit Hallstatt in one day may sound difficult but you'll have plenty of time to enjoy the best of this little town. Don't forget your camera home because you'll want to photograph those cute houses, traditional stores, and the surrounding mountains.
You'll escape the hustle and bustle of bigger cities
If you're travelling to Hallstatt from Vienna, this town will feel like a breath of fresh air. It's so small that you can easily walk from one end to the other in just fifteen minutes.
Also, visiting Hallstatt is a great way to discover more about the culture of Austria. Hallstatt is a well-preserved town, with incredible architecture, many traditional restaurants and friendly locals who will make sure that you'll have an unforgettable experience.
2. The best time to visit Hallstatt
Hallstatt is a charming town, no matter the season. During the winter, the snow that covers the town and the smoking chimneys will invite you to drink a hot cup of tea in one of the traditional restaurants. During the summer, the sun glowing over the mountains will invite you to go hiking.
You can visit Hallstatt any time you want but if you'd like to avoid the hot summer days and the cold winter, I recommend visiting Hallstatt in spring or autumn.
Good to know: Hallstatt tends to get very busy during summer. For a more relaxed experience, without too many tourists, I recommend visiting it in spring, autumn or winter (avoid Christmas). One thing to keep in mind if you plan to visit Hallstatt in winter is that the salt mine and the funicular are closed.
You can visit Hallstatt as a day trip from Salzburg. You can also book online a tour from Vienna to Hallstatt.
3. Interesting facts
Before telling you more about the perfect one-day Hallstatt itinerary, I want to share a few interesting facts about this town. When visiting a new place, it's nice to know a little bit about its history.
Hallstatt has a population of only 778 people. Almost all its residents work in the tourism industry, promoting their beautiful town.
Hallstatt is a very small town. You can walk from one end to the other in 15 minutes.
A replica of Hallstatt has been built in China. You can read more about it here.
Hallstatt is well-known for its salt production, dating back to prehistoric times. If you want, you can even visit the salt mine.
Hallstatt is visited by almost 1 million people yearly. During the past few years, Hallstatt took the internet by storm, especially due to its charming look.
4. One day in Hallstatt – itinerary
Is one day in Hallstatt enough? Well, one day is definitely enough to catch the town's vibe and visit its most important tourist attractions.
I recommend spending one night (preferably the one before) in Hallstatt. You'll have more time to explore the city and you can wake up early in the morning and get a head start on the other tourists.
That being said, let's see what you can cover in 24 hours in Hallstatt. I'm not gonna lie, it's going to be tiring but at the end of the day, you'll look back and remember all the incredible places you've visited (you'll forget about your aching legs).
If you're interested in a guided tour, I recommend this 2-hour guided tour in Hallstatt with a professional photographer.
Take the funicular to the salt mine and World Heritage Skywalk
From the town, you can take the funicular or hike (about one hour) to the salt mine and the famous World Heritage Skywalk. If you want to visit the salt mine, keep in mind that the guided tour takes 70 minutes. When we visited, we decided to use that time to explore more of Hallstatt instead.
One place you should definitely visit is the World Heritage Skywalk. This glass platform offers the best view over the entire Hallstatt town, lake, and surrounding mountains. There is no separate entrance fee to the skywalk.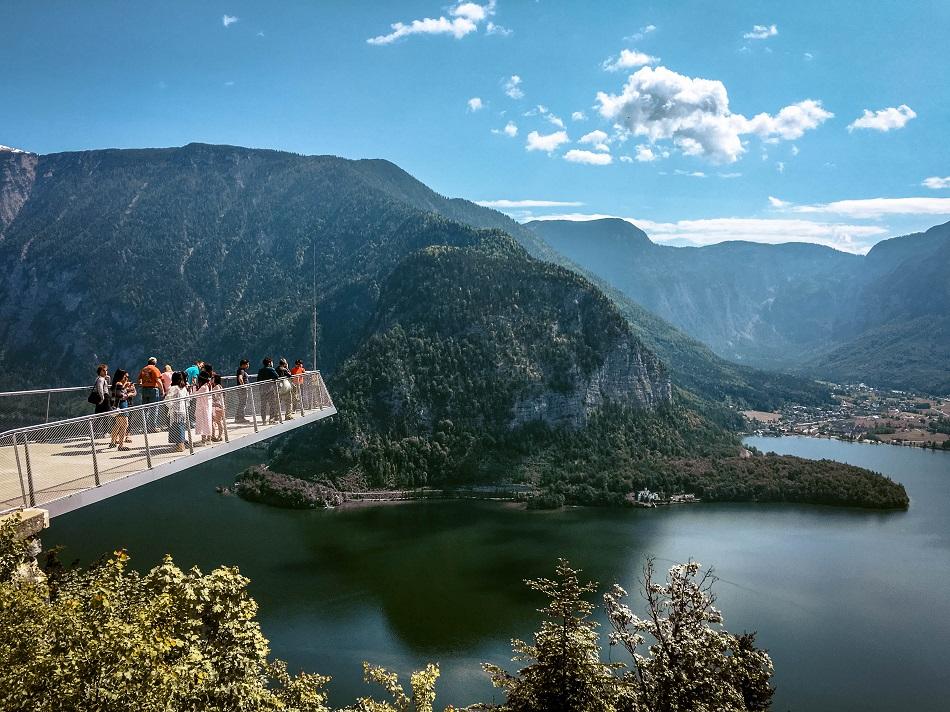 Taking the funicular (round trip) will cost you 18 euros. For the salt mine entrance fees and opening hours, visit this website.
Good to know: If you plan to visit the salt mine, plan 2.5 hours for this attraction (funicular + salt mine + World Heritage Skywalk). If you decide not to visit the salt mine, 1.5 hours should be enough.
Alternative: take a boat ride on the lake
Do you want to see Hallstatt from a different angle? The best way to do that is to go on a boat tour. The tours at Hallstatt will take you to Hallstatt Bahnhst and Obertraun, another two beautiful towns. You don't have to get off the boat, just sit back and admire the views.
The boat tour on Hallstatt Lake was definitely one of the highlights of my trip. You can book a boat tour from ATO Hallstatt Lahn. To check out the prices, click here.
Go shopping for cute souvenirs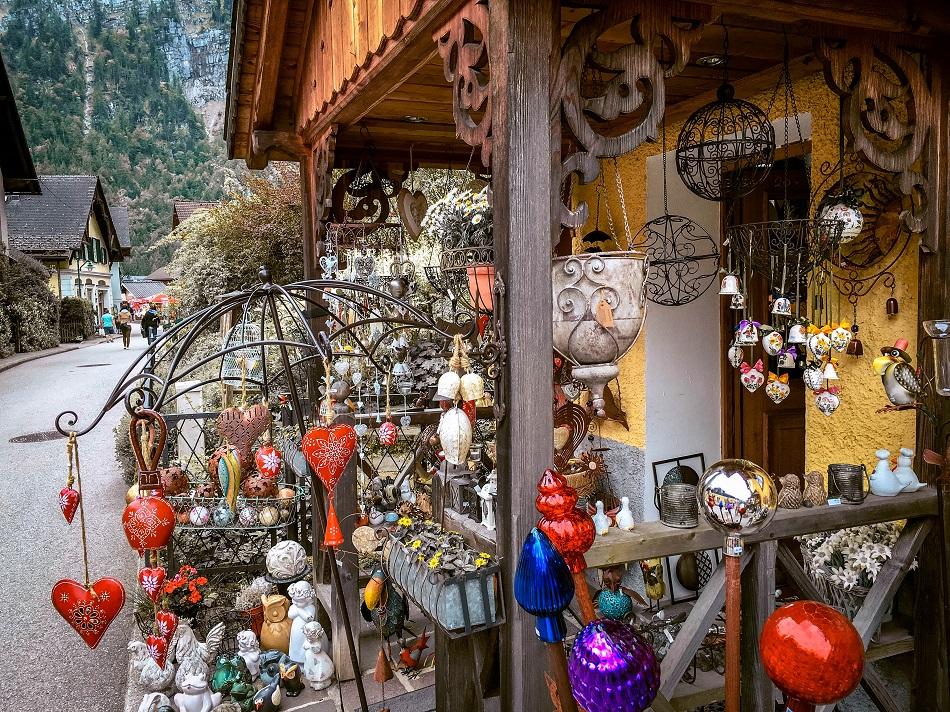 Hallstatt is full of authentic souvenir shops. From handmade pottery, fridge magnets, home decor, and accessories, you can definitely find the perfect souvenir in Hallstatt. Just take a walk on the Old City streets and you'll find beautiful boutique stores.
Don't look for bargains because you won't find them here. The souvenirs are pricey but the memories you'll create in Hallstatt are priceless. We ended up buying a fridge magnet and a beautiful handmade bowl.
Visit the Hallstatt Ossuary
This is a really unusual place and definitely not for the faint of heart. The Hallstatt Ossuary is a small chamber where a collection of skulls and other human bones are on display.
The skulls are beautifully painted with flowers and leaves. Also, the name and profession of the deceased are inscribed on them. It's quite spooky but definitely worth a visit.
Hallstatt is a small town, with limited burial ground. Over the years, the cemeteries started to fill and the bodies were exhumed in order to make room for other people. Due to space scarcity, those bones were taken to the Hallstatt Ossuary which is now one of the most visited tourist attractions in Hallstatt.
Find the famous lookout point
You can't visit Hallstatt without taking a photo from the famous lookout point. You can find it on Google Maps as "Postcard Angle". This lookout point offers the best view towards to city but it can also be quite busy.
-> Check out other incredible viewpoints in Hallstatt.
Eat at a local restaurant
After a full day of sightseeing, you must be really hungry. Visiting Hallstatt in one day is exhausting but the good news is that you can recharge your batteries with some delicious, local food.
Among the best restaurants in Hallstatt are Braugasthof and Brauhaus. If you're looking for a delicious dessert, make a stop at Cafe Derbl. Here you will find tasty Austrian desserts and homemade sweets. I highly recommend trying the cream strudel with vanilla sauce.
Admire the Old Town
Your day of exploring Hallstatt is getting close to the end. Take the last few hours to admire the Old Town. Visit the beautiful Marktplaz and take a few photos with the beautiful traditional homes.
5. Hallstatt day trip – budget
Let's talk about how much money you'll need for one day in Hallstatt. As I've already said, Hallstatt is an expensive town. Here is a budget breakdown for one person:
Accommodation (if necessary) – around 100 euros per night
Food – 20 euros per meal
Snacks & souvenirs – 10 euros
Entrance fees – around 30 euros
TOTAL = 100 + 20 x 2 +10 + 30 = 180 euros (without transport to Hallstatt)
6. How to get to Hallstatt
If you're looking for transport options to get to Hallstatt, you are in the right place. Planning a day trip to Hallstatt from Salzburg or Vienna might be challenging but I am here to help you. Here are all the transport options.
Salzburg to Hallstatt
Rent a car
The easiest way to get from Salzburg to Hallstatt is to rent a car for one or two days (if you plan to spend one night in Hallstatt). The trip from Salzburg by car should take around one and a half hours.
Once you arrive in Hallstatt, you can choose between the three public parking areas available. If you want to be as close to the Old Town as possible, choose P1 or P2.
Guided Tour
For a hustle-free experience, book a guided tour. There are tours available for both Vienna and Salzburg and they're super-affordable. Below are a few choices.
Guided tours from Salzburg:
By train
Traveling from Salzburg to Hallstatt by train is not the fastest transport option. The ride can take 2 to 3 hours, depending on the connections and you will have to change trains at Attnang-Puchheim and disembark at Obertraun.
From Obertraun, you will have to take the ferry to Hallstatt which will take another hour. Traveling by train to Hallstatt takes a lot of time and it can be tiring. Make sure to spend one night in this beautiful town and the next day you will wake up fresh for exploring.
By bus
Choosing to travel by bus from Salzburg to Hallstatt can be a little complicated. You will have to take the 150 bus from Salzburg to Bad Ischl and then take the bus 542 to Hallstatt. The ride will take about 3 hours – one way.
If you choose to travel by bus, I strongly recommend spending one night in Hallstatt.
Vienna to Hallstatt
Travelling from Vienna to Hallstatt by train takes at least 4 hours (you will also need to take the ferry from Obertraun to Hallstatt). It is a difficult and tiring trip by train.
I strongly recommend choosing a guided tour from Vienna. You won't have to worry about transport or itinerary. Below are a few options.
Guided tours from Vienna:
7. Where to stay in Hallstatt
I've been searching for the best accommodation in Hallstatt, for every budget. This charming town has some of the best hotels in Austria but everything comes at a price. Below are my recommendations.
Good to know: Giving the fact that Hallstatt is a small town, there are only a few hotels to choose from. Make sure you make your booking well in advance in order to find a good hotel for your budget.
I hope that this guide helped you plan the perfect one-day itinerary in Hallstatt. I am sure that you will instantly fell in love with this charming Austrian town. If you're also planning to visit Salzburg, read my awesome travel guide!
If you have any questions, do not hesitate to let me know in the comments section below.
May the travel bug bite you!
Disclosure: Please note that this post may contain affiliate links. If you make a purchase through these links, I will earn a small commission at no extra cost to you. I only recommend companies and products that I trust and the income goes to keeping this website running. Thanks!