If you're planning to spend one day in Kyoto, you're in the right place. A day trip to Kyoto will take you to a city where the old and new create the perfect skyline. A city where traditional meets modern.
No matter if you're passionate about history, culture, food or nature, Kyoto has something for you. With stunning Japanese gardens, 1600 Buddhist temples and 400 Shinto shrines, Kyoto is a cultural melting pot.
I visited Kyoto for a few days on my way from Osaka to Tokyo and I absolutely loved it! If you're planning your Japan itinerary, spending one day in this beautiful city is a must!
In this post, I'll share with you everything you need to know to plan your Kyoto one day itinerary. Before getting into detail about this city's tourist attractions, let's talk about how to get to Kyoto.
1. How to get to Kyoto
By air
The nearest airport to Kyoto is in Osaka. Osaka Kansai International Airport has amazing national and international connections but from there you'll still have to take the train or a bus to reach Kyoto.
By train
Trains in Japan are blazing-fast, comfortable but not very affordable. However, if you plan to visit more than a city during your Japan trip, I recommend getting a JR Pass which includes unlimited train rides across Japan.
Trust me, you'll save a lot of money with a JR Pass. The train connections are great and you can easily travel between cities like Osaka, Kobe, Kyoto, Tokyo or Hiroshima.
By bus
Yes, trains in Japan are awesome but they are expensive too. If you have plenty of time and don't mind spending a few extra hours on transport, you can easily travel around Japan by bus.
You can take the bus from all major cities (Tokyo, Osaka) to Kyoto. To find out more about buses in Japan, click here.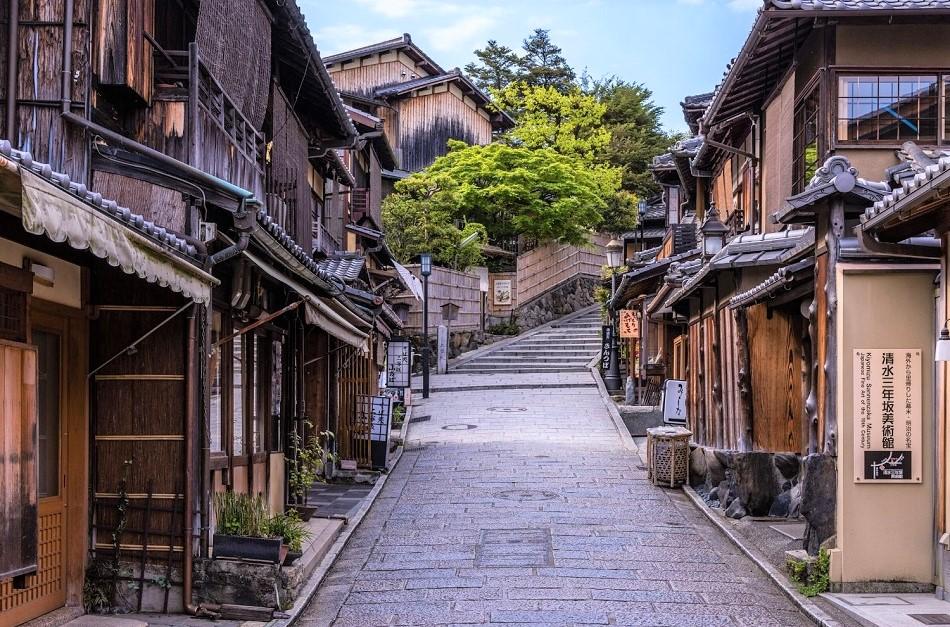 2. How to get around Kyoto
The easiest and fastest way to travel around Kyoto is by subway. The subway system works great and there are stations near all the major tourist attractions.
Good to know: To save some money, you can buy a transport pass which will grant you access to buses, trains, and subway in the Kansai area. With this card, you won't have to worry about buying tickets each time you want to use public transport.
No time to read now? Pin it for later!
3. Kyoto one day itinerary
Is one day in Kyoto enough?
24 hours in Kyoto might not seem like much, but it's more than enough to experience the city's vibe and visit the most important tourist attractions. However, don't expect it to be a relaxing day.
You'll have to wake up early in the morning and walk a lot. You'll start the day by visiting two of the most popular tourist attractions in Kyoto – Fushimi Inari Shrine and Arashyiama Bamboo Forest. It's best to visit these first since they are located quite far from the city.
After visiting the Bamboo Forest, you'll return to the city center and explore a few other fascinating attractions. So, are you ready? Here are the things to do in Kyoto in one day.
Good to know: I recommend getting a Kyoto sightseeing pass which includes free entrance fee to all the major tourist attractions in Kyoto.
Explore the beautiful Fushimi Inari Shrine
Our Kyoto one day trip starts with a visit to the famous Fushimi Inari Shrine. Even if the name doesn't sound familiar, I'm sure you've seen hundreds of pictures with this shrine. The traditional red gates called Senbon torii makes Fushimi Inari Shrine one of the most photographed tourist attractions in Kyoto.
There are more than 1,000 torii gates along the main path. The reason why there are so many red gates is that between 1603 and 1868 the custom was to donate a torii to make a wish come true or to thank for a wish that became true.
-> Read more about Japan here
Make sure to wake up early in the morning and get to this shrine as early as possible. Fushimi Inari is a popular attraction for both locals and tourists so it gets extremely busy during the day.
Although this shrine is beautiful and the perfect place to learn more about the Japanese culture, I've found it a bit too busy for my taste. Don't be disappointed if all your photos will have dozens of tourists in the background.
How to get to Fushimi Inari Shrine – take the JR Nara Line from Kyoto
Entrance fee – FREE
Be amazed by Arashiyama Bamboo Forest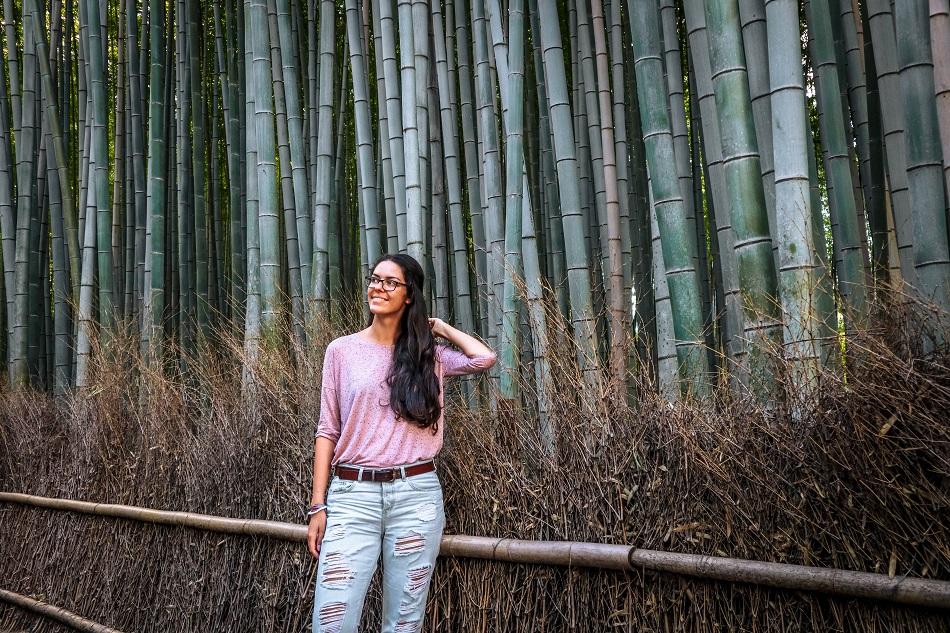 One day in Kyoto would never be complete without a stop at Arashiyama. This forest was a big surprise for me. I expected it to be "just" a bamboo forest but it ended up being unreal. Walking along the tall bamboo pillars is a truly unique experience.
The forest is part of Sagano Bamboo Forest and it consists of a series of paths surrounded by beautiful bamboo. A walk inside Arashiyama Forest feels like a breath of fresh air from the noise and crowdedness of Kyoto.
While visiting the forest, I recommend taking a short detour and visiting the Tenryū-ji Temple too. The entrance fee to the temple is 500 JPY but it's worth it.
How to get to Arashiyama Bamboo Forest – the fastest way is to take the train from Kyoto.
Entrance fee – FREE
Good to know: A JR Pass is what you need if you plan to travel a lot inside the Kansai area. With it you'll get unlimited train rides!
Go shopping at Nishiki Market & Teramachi Street
Our Kyoto one-day itinerary continues with a short session of shopping. A stop at Teramachi Street is a must. With many local shops selling kimonos, clothes, accessories and home decor, this street is perfect for buying souvenirs.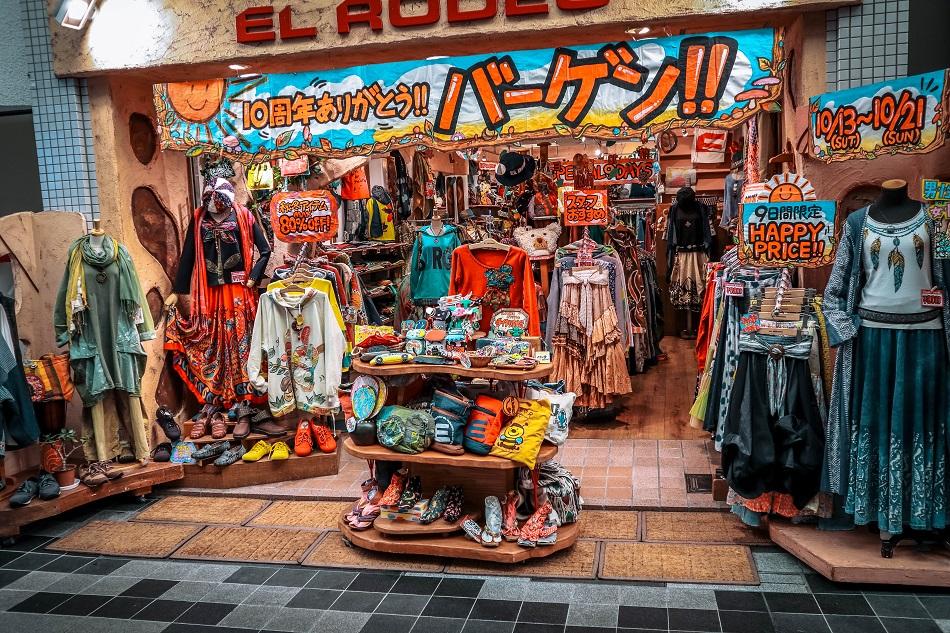 After a shopping spree and some tiring sightseeing, it's time to head to Nishiki Market and try some of the local delicacies. Here you will find anything from pickles to seafood and fried meat.
Don't hesitate to try some of the local dishes! Everything is simply delicious! Read my full guide about this shopping district here.
How to get to Nishiki Market and Teramachi Street – take the subway from Arashiyama and change at Matsuo-Taisha Station.
Entrance fee – FREE
Admire the Yasaka Shrine
Yasaka Shrine, also known as Gion Shrines is one of the most popular shrines in Kyoto. Don't be surprised if you see locals dressed in kimonos taking photos here.
It's a very popular place for photo shoots. At the entrance of the temple, there are a few kimono rental places, in case you want to blend in and wear a beautiful kimono.
After visiting the temple, take a few minutes to walk around the Maruyama Park, situated right after the temple. It's a great way to relax and unwind. Nobody said that visiting Kyoto in one day would be easy.
How to get to Yasaka Shrine – from Temabashi Street, Yasaka Shrine is just a short walk away
Entrance fee – FREE
Find a geisha in Gion
A Kyoto day trip is never complete without visiting the famous Gion neighborhood. Have you read the "Memoirs of a geisha"? Or maybe, you've seen the movie. Yes, geishas are real and even though it's an old tradition, they are still present in Kyoto today.
If you want to see a real-life geisha, head to Gion at 5.45 pm sharp. That's when the geishas leave their homes to go to their appointments. Most of them will walk on back alleys to avoid tourists but you can also try to wait at Tatsumi Bridge.
If you want to make sure that you see a geisha, you can book a guided tour. You'll also get the chance to learn more about the daily life of a geisha.
When we visited Kyoto, I had the chance to see a maiko (geisha apprentice) and two geishas. They are extremely beautiful and it was an honor for me to see them. They are living works of art.
Good to know: Don't try to stop them for photos. I'm sure they're tired of all the tourists stopping them and asking for photos. You can photograph them from distance and still admire their beauty.
Seeing a geisha is the perfect end to your one day of sightseeing in Kyoto. Are you also planning to visit Osaka or Nara? Read below my recommendations.
Other AWESOME things to do in Kyoto:
4. What to visit beyond Kyoto
Good to know: If you plan more cities in Japan, I recommend getting a transport pass. A pass is less expensive than buying separate train tickets. It's convenient and affordable.
Explore beautiful Osaka
If you want to explore more of Japan, I recommend visiting the incredible Osaka for a few days. This beautiful city has something for everyone. If you're in search of adrenaline, you can visit Universal Studios Japan, if you're passionate about culture, you can spend a few hours at the Osaka Castle.
If you like Pokemon, I totally recommend paying a visit to the Pokemon Center. Discover your favorite characters and bring your inner child to life! You can read more about Osaka here.
Good to know: With Osaka City Pass for 1 or 2 days you'll get free access to most of this city's tourist attractions. This pass will save you lots of money. The pass also includes free transport around the city.
Explore Japan's cutest city – Nara
Nara is the city where cute deer roam free. You'll see them on the streets, inside the parks, on the sidewalks, everywhere! Nara is definitely my favorite city in Japan.
Buy some deer crackers and be ready to make some deer friends. They're friendly and looking for attention! If you want to read more about Nara, you can check out my complete guide about this incredible city here.
5. Where to stay in Kyoto
I've searched for the best hotels in Kyoto, for each budget. If you're looking for a good value for money hotel to spend one or more nights, I've got you covered. Here are my recommendations:
Luxury – Hotel Granvia – beautiful pool, incredible views, excellent location, comfortable & luxurious rooms, breakfast included
Mid Budget – Solaria Hotel Premier – excellent location, incredible architecture & views, clean & modern rooms, excellent facilities
Budget – Sanjo Okawa – good location, clean & spacious rooms, good WiFi, access to washing machine
If you were wondering what to do in Kyoto in one day, I hope that this blog post helped you. It won't be easy to visit all the main tourist attractions in one day but it's totally doable. I am sure you'll love Kyoto as much as I did.
If you have any questions, don't hesitate to let me know in the comments section below.
May the travel bug bite you!

Disclosure: Please note that this post may contain affiliate links. If you make a purchase through these links, I will earn a small commission at no extra cost to you. I only recommend companies and products that I trust and the income goes to keeping this website running. Thanks!