A trip to Japan is never complete without visiting Mount Fuji. Seeing this incredible volcano is a once-in-a-lifetime experience that you shouldn't miss. The good news is that you can take a day trip from Tokyo to Kawaguchiko and admire Mount Fuji from up close.
We were lucky enough to catch a glimpse of Mt. Fuji before it hid behind the clouds. Seeing Japan's icon, even for 10 minutes was incredible.
-> Looking for the perfect Japan itinerary? Click here!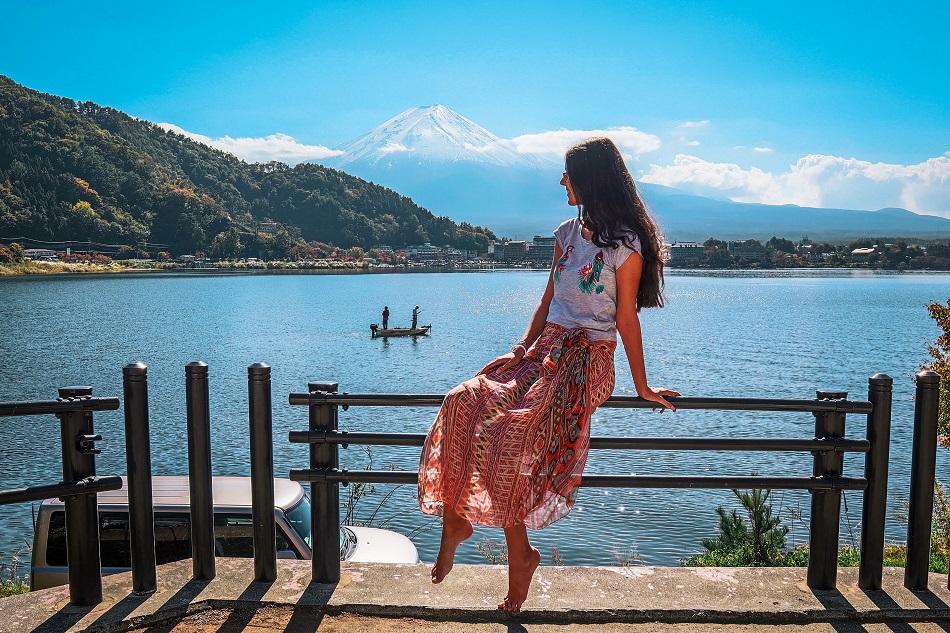 Kawaguchiko offers the best view toward Mount Fuji which makes it the most popular lake among the Fuji Five Lakes. Before telling you more about how to get from Tokyo to Kawaguchiko, let's talk a bit about Mount Fuji.
1. Mount Fuji interesting facts
Mt. Fuji is the tallest mountain in Japan – Standing at 3,776 meters (12,380 feet), Mt. Fuji is officially the tallest mountain in Japan.
The first person to ever climb Mt. Fuji was a monk in 663 – An interesting fact is that women were not allowed to climb the mountain until the 19th century.
Mt. Fuji is still active – The last time Fuji erupted was more than 300 years ago.
There are actually 3 volcanoes at Mt. Fuji – They are placed on top of one another that form Mt. Fuji.
The sunrise from Mt. Fuji has its own name – Seeing the sunrise from the top of Mt. Fuji is an incredible experience and it has its own name – Goraiko
No time to read now? Pin it for later!
2. The best time to visit Kawaguchiko
Mt. Fuji is quite shy and most of the times it hides behind thick clouds and traveling from Tokyo to Mt. Fuji just to see a bunch of clouds is not fun.
If you want to maximize your chances to see Mt. Fuji, I recommend visiting it between February and October when the weather is colder. Also, make sure to be there early in the morning to avoid the fog and the clouds.
-> Planning to backpack in Japan? Read this guide!
3. The best viewpoints in Kawaguchiko
If you want to spend one day in Kawaguchiko, you have to be prepared. Below are the best viewpoints of Mt. Fuji in Kawaguchiko. If you only have one day, I recommend choosing two of the following viewpoints.
3.1. Promenade in front of Kawaguchiko Hotel New Century
This promenade offers one of the best views towards Mt. Fuji. It's not very touristy and you'll be able to admire Fuji's reflection into the lake. If you'll be here in the morning, you'll also have the chance to see the local fishermen in action.
3.2. Chureito Pagoda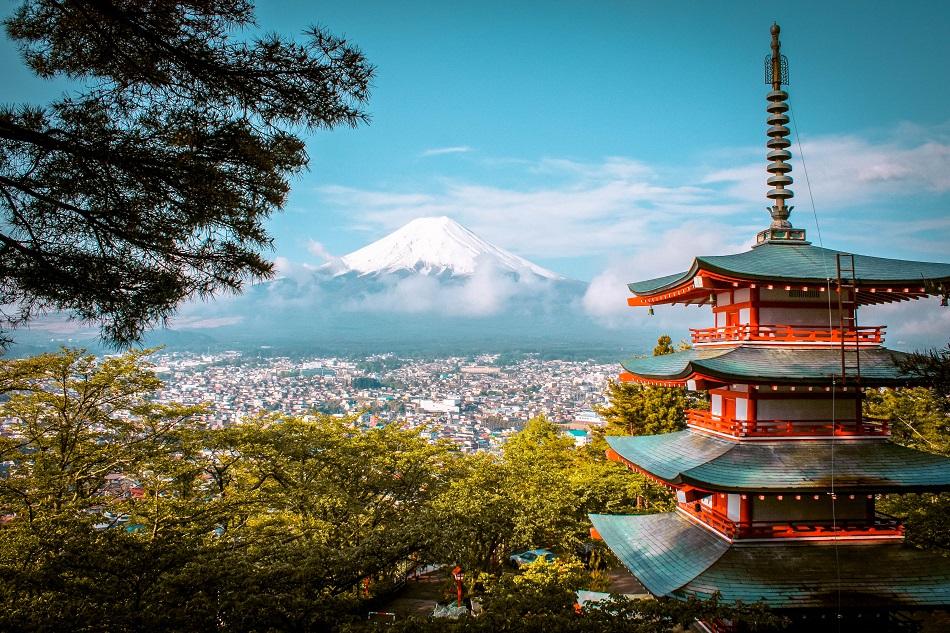 Chureito Pagoda is one of the most important tourist attractions in Kawaguchiko and one of the places with the best view toward Fuji. Visiting this pagoda is the perfect opportunity to learn more about Japanese culture and admire the views at the same time.
3.3. Mount Fuji Ropeway
Take the scenic Mount Fuji Panoramic Ropeway and admire the lake, the town, and Mt. Fuji from up above. The only downside is that this viewpoint will be quite busy since many tourists choose to take the cable car.
3.4 Oishi Park
Another incredible viewpoint is Oishi Park. This one is quite far from the city but the views it offers are quite spectacular. It also gets bonus points for not being touristy.
4. Things to do in Kawaguchiko in one day
One day in Kawaguchiko is enough to explore its main attractions and catch a glimpse of Mt. Fuji. Below are the must see places around this beautiful lake.
rent bicycles (500 yen/ hour)
rent a paddle boat(1000 yen/ hour)
Try the world's steepest roller-coaster at Fuji-Q Highland Theme Park
take the Ropeway (900 yen/ round trip)
visit Chureito Pagoda (free entrance)
Fuji Omuro Sengen Shrine & Kawaguchi Sengen Shrine (free entrance)
5. How to get from Tokyo to Kawaguchiko
Getting from Tokyo to beautiful Kawaguchiko is very easy if you choose public transport. I'll give you more details about each transport option in the section below.
5.1. Tokyo to Kawaguchiko guided tour
The easiest way to get to Kawaguchiko from Tokyo is by booking a guided tour. With a tour, you won't have to worry about finding transport or researching for an itinerary.
Just sit comfortably and enjoy your relaxing day trip to Kawaguchiko. Below are the best guided tours available.
Lake Kawaguchiko and Kametaya Brewery tour – click here
Lake Kawaguchiko and flower fields tour (only during summer) – click here
Good to know: make sure to book your tour at least a few days in advance. Mt. Fuji is a popular tourist attraction and during the peak season, the tour tickets sell pretty fast.
5.2. Tokyo to Kawaguchiko by train
If you don't have a JR Pass, I don't recommend taking the train. It's more expensive than the bus and you'll have to change lines to reach Kawaguchiko. If you have a lot of luggage, traveling by train can be a bit uncomfortable.
However, if you have a JR Pass taking the train from Tokyo to Kawaguchiko is cheaper than taking the bus.
You can take the train from Shijuku Station (JR Chuo Line-Limited Express) and disembark at Otsuki Station. If you have a JR Pass, you won't have to pay for this ride.
From Otsuki Station you will have to change the line and take the Fujikyuko Line until Kawaguchiko. This train ride is not covered by the JR Pass and the ticket costs 1,140 yen.
Train price: For JR Pass holders the price is 1,140 yen. For non-JR Pass holders the price is 4,510 yen.
Travel time: 2 and a half hours
5.3. Tokyo to Kawaguchiko by bus
Taking the bus is affordable, reliable and convenient. Japan's infrastructure is great and the highways are pretty amazing. Keep in mind that when going back to Tokyo, the traffic can cause delays.
Depending on where in Tokyo you're staying, you can take the bus from one of the following stations:
Shibuya Station
Shinjuku Station
Tokyo Station – Yaesu South Exit
Good to know: Make sure to buy your ticket at least one day in advance, especially if you plan to visit Mt. Fuji during summer. You can also book your tickets online here.
Bus price: 1,750 – 2,100 yen per person
Travel time: about 2 hours
Final thoughts about transport to Kawaguchiko
The easiest and most comfortable option is to book a guided tour from Tokyo to Kawaguchiko. Usually, the tours also include other tourist attractions which is awesome.
However, if you want to be the master of your schedule, I recommend taking the bus. You can book your tickets directly at one of the stations or online.
Taking the train is a bit of a hustle. You'll have to change trains and the journey itself will take longer than the bus. If you're planning a day trip from Tokyo to Kawaguchiko I recommend booking a guided tour or taking the bus.
6. Where to stay in Kawaguchiko
If you want to spend the night in Kawaguchiko, I am here to help you. I've been searching for the best accommodation, for every budget. Here are my recommendations:
Luxury – Fufu Hotel – excellent location, excellent view of Mt. Fuji, modern & luxurious rooms, breakfast & dinner included, excellent staff and amenities
Mid Budget – Lakeland Hotel – good location, clean & spacious rooms, breakfast & dinner included
Budget – Togawaso – good location, beautiful view toward Fuji, Japanese-style rooms, friendly staff
If you're planning a day trip from Tokyo to Kawaguchiko, I hope that you've found this guide useful. I loved visiting Kawaguchiko and admiring Mt. Fuji. It was one of the highlights of my trip to Japan!
If you have any questions, don't hesitate to let me know in the comments section below.
May the travel bug bite you!

Disclosure: Please note that this post may contain affiliate links. If you make a purchase through these links, I will earn a small commission at no extra cost to you. I only recommend companies and products that I trust and the income goes to keeping this website running. Thanks!