The Pokemon global phenomenon has touched millions of people across the globe. From children to adults, everyone fell in love with Pikachu. I grew up with the Pokemon cartoons and years later when the Pokemon Go game was released, I was hooked again.
When I decided to visit Japan, the first thing that came into my mind were the cute Pokemon characters. I was thrilled when I found out that there is a Pokemon Center in Osaka and I made it a top priority to visit it.
Osaka has lots of awesome tourist attractions such as Universal Studios Japan, Osaka Castle, and Osaka Aquarium but if you're a Pokemon fan, you have to visit the Pokemon Center!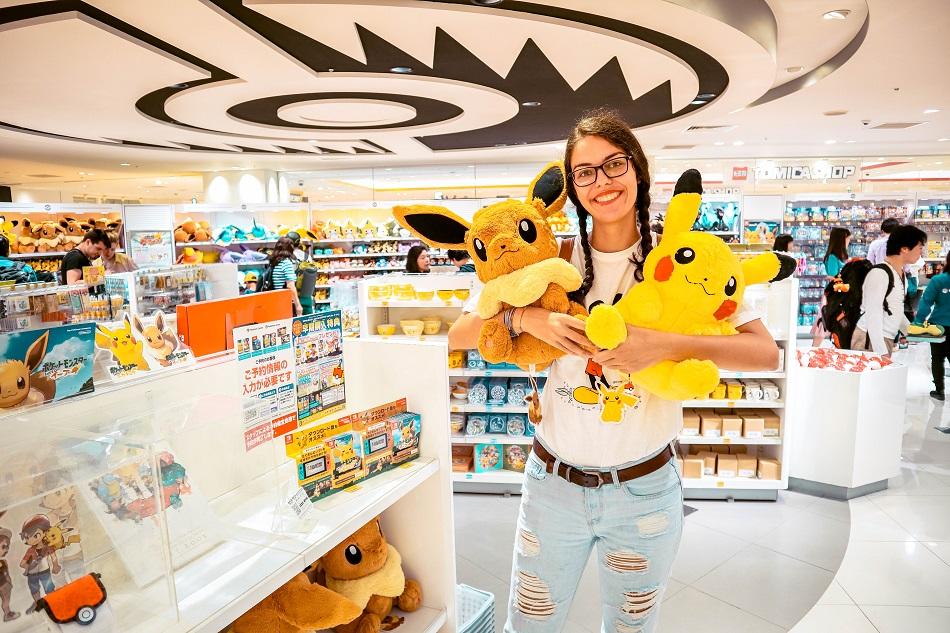 If you are a fan like myself and are planning to visit the Osaka Pokemon Center, read below to find out what to expect from your visit.
Good to know – If you want to save money and time, buy an Osaka City Pass. This pass includes unlimited subway & bus rides and free entrances to all major tourist attractions. Click here for more details.
1. Short introduction to Pokemon
Created in 1995, the Pokemon mania started as a video game for Game Boy. The players were assigned as Trainers and their goal was to collect the Pokemon species in order to complete the Pokedex (very similar to today's version of Pokemon Go).
Later on, an anime television series based on the game was released. It was originally broadcast on TV Tokyo in 1997 but it soon became widely popular across the globe. I remember that when I was a kid (around 1999-2000), watching the Pokemon tv series was the highlight of my day!
No time to read now? Pin it for later!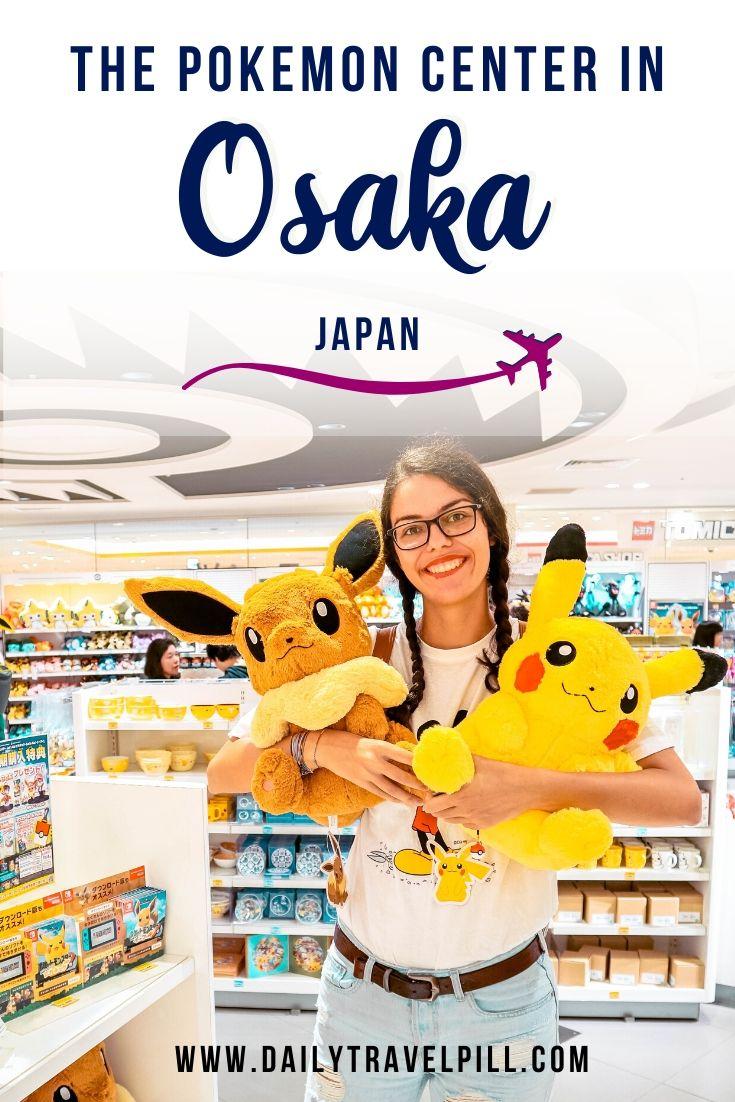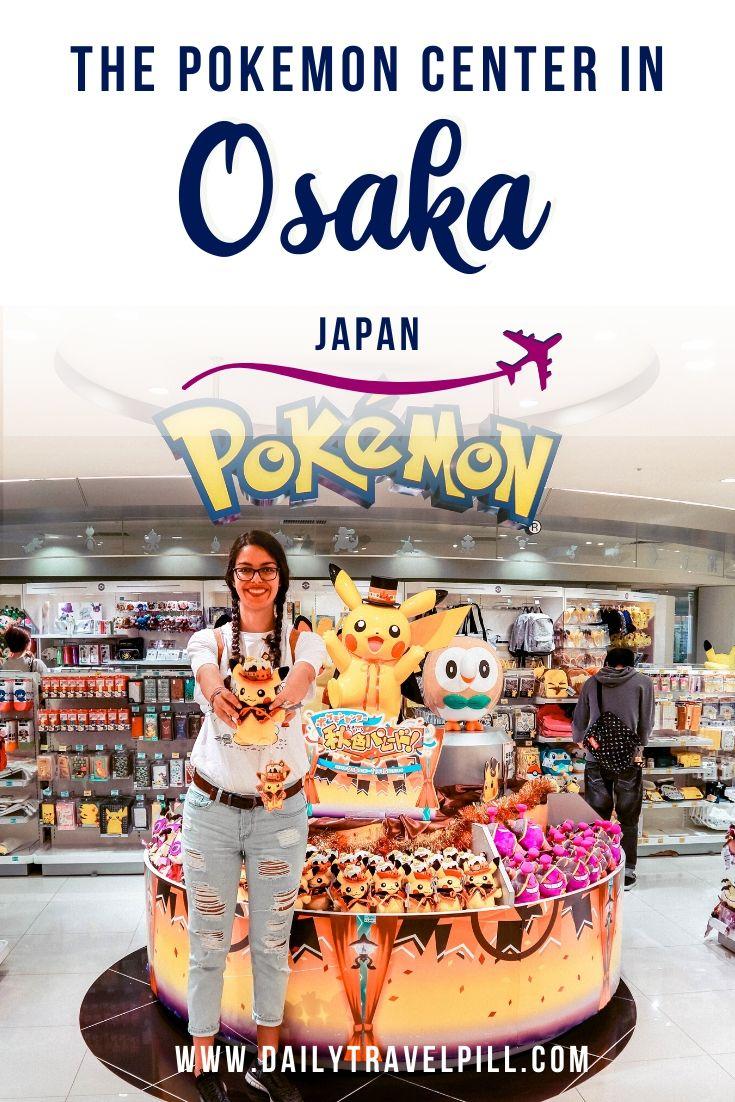 There is also a Pokemon trading card game where the goal is to collect Pokemon cards with valuable strengths in order to beat opponents.
This year, on 10th May 2019, the Pokemon Detective Pikachu movie was released. I just can't wait to see it!
More AWESOME Osaka guides:
2. Osaka Pokemon Center Store
If you are a Pokemon enthusiast visiting Osaka, a trip to this store will be a once in a lifetime experience. You will find a beautifully designed store full of Pokemon merchandise and collectibles. This shop will make you feel like you are a part of the Pokemon story and this is what I loved the most about it.
I freaked out a bit when entering the store. Being such a big Pokemon fan, I felt overwhelmed (in a good way) by all the stuffed toys, poke balls and clothing items. I don't even want to imagine what would have happened if I had the chance to visit the Osaka Pokemon Center as a kid. Probably I would've moved there. Forever.
When entering the store, be prepared to see many shoppers and children going nuts over the merchandise.
There are Pokemon elements all across the store and even the checkout counters are beautifully designed with the colors of Poke Balls – red and white. The Pokemon Center Umeda has many sections – clothes, accessories, plush toys and even food.
The store is easy to get around and spacious.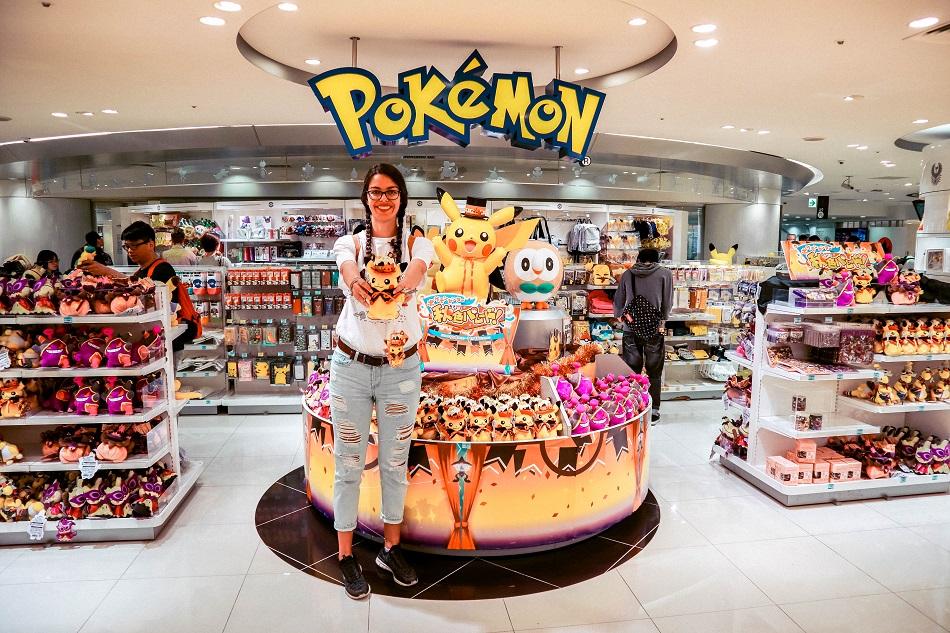 Things you can buy & prices
I'll tell you from the start that everything in this store is pricey. Japan is known for being one of the most expensive countries and the Osaka Pokemon Store is not an exception.
For a small plush Pokemon expect to pay $16 while a phone case costs $20. You can even find buckets of Pokemon noodles for $1,5. Other things you can find inside the store – glasses, action figures, backpacks, hoodies, costumes, pencils and notebooks all with Pokemon prints. Are you ready to spend some money?
Other activities
At the exit you will find some Pokemon video games where for just a few bucks, you can release your inner child. Also, there is an area specially designed for playing Pokemon card games. Here you will see many locals focused on winning but you can give it a try and join them if you want!
Don't be surprised if people come to you asking to exchange pokemons in Pokemon Go.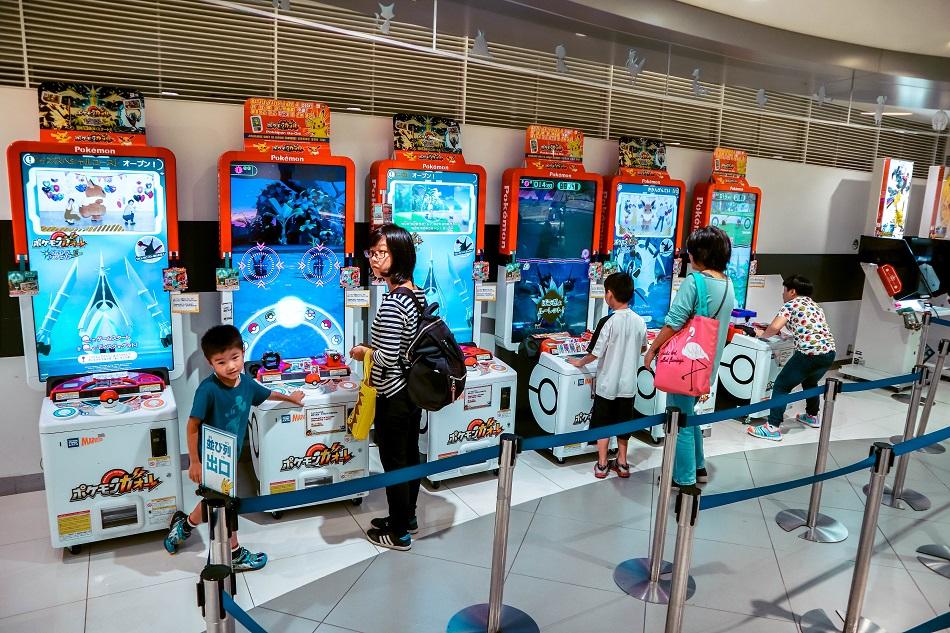 Opening hours
The Osaka Pokemon Center is opened every day from 10 am until 10 pm.
3. Osaka Pokemon Center location

The Pokemon Center is located on the 13th floor of the Daimaru department store, right near the Umeda Station. To get to Umeda Station you can take the subway. For free subway rides in Osaka, get the Osaka City Pass!
If you're planning to explore more of Japan, I recommend getting a JR Pass. Trains can be super-expensive but with a pass, you'll save lots of money!
4. Where to stay in Osaka
I've searched for the best accommodation in Osaka and below are my recommendations. Choose the best option for your budget.
Budget – Rakuten Stay – good location, very clean rooms, beautiful design, excellent staff
Mid Budget – Hare Shin – traditional yet modern design, spacious rooms, good location, very clean
Luxury – Marriott Hotel – incredible views, excellent location, fitness center, clean & spacious rooms, excellent staff
I really loved the Osaka Pokemon Center and I felt relieved that I am not the only one who is still trapped inside the Pokemon fantasy. This shop is a must see if you are a Pokemon fan! If you have any questions, do not hesitate to ask me in the comments section below.
May the travel bug bite you!

Disclosure: Please note that this post may contain affiliate links. If you make a purchase through these links, I will earn a small commission at no extra cost to you. I only recommend companies and products that I trust and the income goes to keeping this website running. Thanks!