This month is all about the Philippines. We've spent an entire month in this beautiful country and we fell in love with many places but we've been through a lot too so bare with me. I promised to share personal stories in this journal and this is exactly what I'm gonna do.
Be prepared to read about how we lost a ferry, how we booked the wrong flights and many more funny yet frustrating stories. I think that this past month was the most challenging one in our entire one year and three months on the road.
Are you curious yet? Let's get to it!
1. Travel
General thoughts
We've found the Philippines to be a bit more expensive than the rest of the Southeast Asian countries. It's not something to be scared of but a thing you should take into consideration if you are on a tight budget.
Also, I have to say that the internet is terrible. So if you're a digital nomad that has to work remotely, maybe the Philippines is not the right choice. We had hotels and guesthouses with literally no WiFi. In Cebu the internet is decent and probably in Manila too but as you move towards more remote places such as Siquijor, El Nido or Coron the internet is very poor (even the sim card didn't have signal at times).
-> Read all my Philippines travel guides here
The beaches in the Philippines are INCREDIBLE. Yes, they are as beautiful as in the pictures and you can find many beaches with no tourists (if you know where to look). We only had the chance to explore Puerto Princesa, El Nido, a bit of Coron, Bohol, Siquijor and Siargao but I am sure that there are many more incredible places across the country.
I will take you through each of the destinations that we visited and tell you our adventures.
Puerto Princesa
Our first destination in the Philippines was Puerto Princesa, Palawan. The first thing that hit me were the Filipino tricycles. I thought that I've seen it all in terms of transportation but I was taken by surprise by these interesting tricycles. They are basically the local taxis and everyone is using them, both locals and tourists. You should definitely ride one when in the Philippines!
We only had one day to explore the area but we managed to find the most beautiful beach ever! With crystal clear water, powdery white sand, countless palm trees and almost no tourists, Nagtabon Beach is our favorite beach in the entire Asia so far.
-> Read all my Philippines travel guides here
We knew that there were many touristy activities such as visiting the Underground River or taking an island hopping tour in Honda Bay but we chose to stay away from the chaos and I am glad that we did. Nagtabon Beach was pure paradise and we had the entire day to enjoy it and relax.
El Nido
Okay, so the first thing that comes into my mind when thinking about El Nido is – lots and lots of tourists. The place is packed with tourists and El Nido is probably the most expensive destination in the Philippines.
There are four standard tours (A, B, C, D) that will take you to nearby islands and beaches. The views are absolutely spectacular. We chose tour A (the most popular one) and loved it! Will I ever go back? probably not. Did I like it? yes and I am glad that I had the chance to see El Nido.
Now, don't get me wrong. The reason why I'm saying that I'm probably not going back to El Nido is because I prefer more remote and less touristy destinations even if the views are less spectacular.
I believe that everyone who is visiting the Philippines should go to El Nido. It is probably the most beautiful destination in the country but the most crowded one too. Luckily, we managed to find an incredible hidden beach, away from all the tourists (I will share more about it in a future blog post) and we spent an entire day there.
-> Read all my Philippines travel guides here
Now let's talk about our accommodation. We chose a guesthouse somewhere near the Twin Beach but we had no idea that the place had no WiFi. Not even our sim card was working so every time we wanted to talk with our parents or friends back home we had to go to another guesthouse nearby. Also, the guesthouse was a very modest one and we basically stayed in a local's courtyard. Check out the photo below to see what I'm talking about.
Coron
I was really excited about our trip to Coron but guess what? I got sick and we didn't manage to do any island hopping tours (this was the main reason why we chose to visit Coron). So we mostly stayed inside and I wrote a couple of blog posts while I was being extremely frustrated that I can't visit anything.
Knowing that you are in an incredible place but you can't visit it is one of the worst feelings ever. I was really looking forward to our trip to Coron. Now I guess I have a pretty good reason to come back to the Philippines.
Bohol & Panglao Island
From Coron we took a plane to Cebu city and from there we took a ferry for a few hours to Bohol. We actually stayed on Panglao Island which is a small island just a few hundred meters away from Bohol. The two islands are connected by two bridges which was awesome because we could explore all the attractions we wanted by motorbike.
We only had 3 days to explore Bohol and on our first day we headed to the most popular attraction – the Chocolate Hills. I've seen many documentaries about this place when I was little but I never imagined that sometime I will have the chance to visit it.
The Chocolate Hills were pretty spectacular but the rain chased us away pretty fast so we didn't have much time to admire them. On Bohol Island we also visited a few beautiful waterfalls but the most impressive one by far was the Pahangog Waterfall.
We also made friends with some cute tarsiers. Did you know that tarsiers are one of the smallest primates and their eyeballs are the size of their brain? They can also rotate their necks a full 180 degrees in either direction which is kinda awesome.
-> Read all my Philippines travel guides here
On our last day on Bohol, we went on an island-hopping tour which even though at the beginning didn't seem to be promising, it turned out to be spectacular. My favorite part of the tour was our stop at the Virgin Island which is basically a small sand bar surrounded by crystal clear water. Just like in the movies!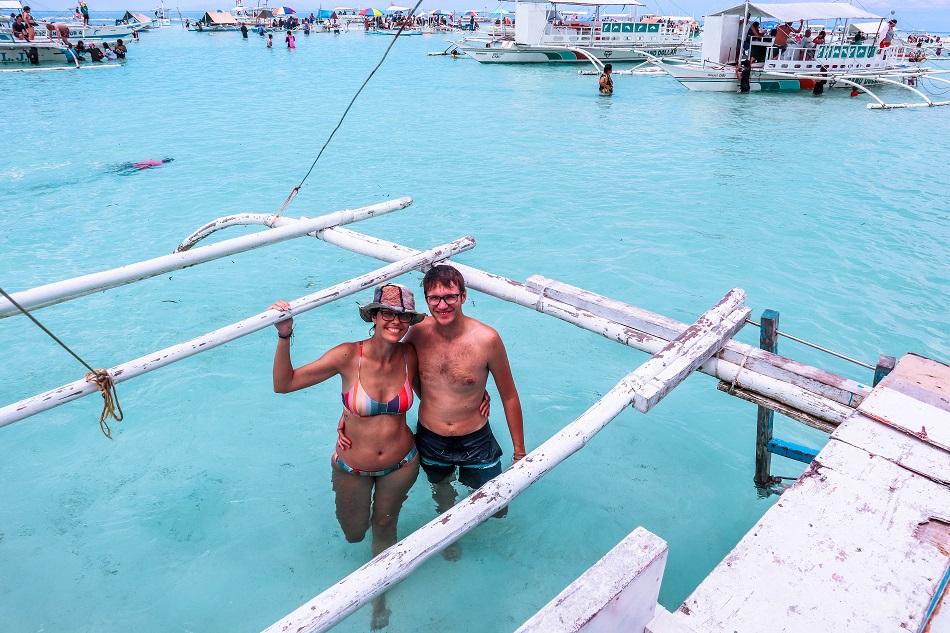 Siquijor Island & swimming with the turtles at Apo Island
This is where the fun begins! We absolutely loved the laid-back vibe of this island and we decided to spend two extra days here. It appears that not many tourists come to Siquijor – a big plus for us from the start!
On our fist day here we decided to go to one of the beaches called Tubod Beach. We hopped on our scooter and drove for about 45 minutes but when we reached the beach, we were asked to pay an entry fee which we did. We also noticed that they rent snorkeling masks so we said "Why not"?
NOTE: I've never snorkeled before. I was always afraid of swimming in deep water.
With a lot of help and encouragement from Dan's part, I faced my fear and shoved my face into the water. With my eyes wide open, I discover a new world. A world where everything seems to happen at a slower pace, a world without noise. I loved it! I loved it so much that I snorkeled for more than an hour. Colorful fish, colorful reefs – everything was new to me. Simply fascinating!
Now that I was a pro-snorkeler (yes, I made up that world) it was time to take it a step further. We booked a day trip to Apo Island to swim with the turtles. I must admit that I was a bit scared. Not about the turtles but about the snorkeling experience itself.
We packed our swim suit, took the boat and headed to Apo Island. The island itself was beautiful. Small, with a few local homes on the shore and surrounded by the most incredible blue water I've ever seen.
For every 4 people there was a local guide who was going to guide us in our journey of making friends with the turtles. When I saw the first turtle, I felt like I was being part of a National Geographic documentary. The whole experience felt surreal. The turtle was so close to me but it didn't seem to mind my presence. It slowly moved the fins, making its way to the surface, for a breath of fresh air.
-> Read all my Philippines travel guides here
Swimming with the turtles at Apo Island was probably one of the most exciting and beautiful experiences of my entire life (alongside with seeing the pandas in China and meeting the elephants in Laos).
The rest of our days were spent soaking up the sun, exploring remote beaches and visiting jaw-dropping waterfalls. Speaking of waterfalls, check out the photo below of the Cambugahay Falls.
The road to Siargao Island
Our attempt to get to Siargao Island deserves its own chapter. We've been through so many things to get to Siargao that at some point I was thinking that maybe we are not meant to get there.
The string of bad luck started on Siquijor Island, on the day of departure when Dan went to the ATM to get some cash and the machine didn't give him the cash even though it took the money from our bank account. We tried to exchange some dollars but with no luck. Apparently, at most of the banks in the Philippines you have to have a local bank account in order to be allowed to exchange USD.
Moving on, we got on our first boat to Cebu City and the plan was to take another overnight boat (a total of 14 hours) to get to Siargao. Of course, there was another option – taking the plane – but why spend a few extra bucks for comfort when you can take a boat for 14 hours?
We got to Cebu City but there were no more seats available on the boat for the next 5 days. It was Easter in the Philippines and all the locals were going back to their families. Duh!
We didn't let this small incident affect our mojo so we said " You know what? No problem, we'll just take the plane the next day and we'll be fine!" (the accommodation in Siargao was already booked and paid so we had to find a way to get there). I opened up the skyscanner application (it was already about 8 pm), searched for tickets and found some really cheap ones. You know that saying "too good to be true"?
Booked those tickets but when I received the confirmation email I noticed that I got the wrong month. We wanted to travel in April not in June. This is what happens when you do things in a hurry.
We were already tired, very hungry and frustrated so we decided to go to McDonalds, eat some junk food and take our time to book another set of tickets – with the correct dates this time. Said and done. The only problem was that only our return tickets were confirmed. When we called the company to ask about our ongoing flight they said that the flight was fully booked and that there is nothing they can do.
Basically we were left with two return tickets from Siargao to Cebu but with no tickets to Siargao. This is when we really panicked a little. We've already spent a lot more than we initially planned and I started to think that maybe we were not meant to go to Siargao.
However, given the fact that our accommodation was already booked and we already had our return tickets, we started searching for alternatives. After a few hours we found some plane tickets for the following day.
After a lot of hustle and frustration we finally got to Siargao. But our bad luck continued.
-> Read all my Philippines travel guides here
Siargao Island
Siargao was our last stop in the Philippines and the destination we were the most excited about. We had an entire week to explore this island and we fell in love with it instantly.
We visited some incredible beaches, got lost between the palm trees and soaked up the sun. Siargao is a true paradise with millions of palm trees across the island and only a few tourists. Most of the tourists come here to surf but we had other plans. We wanted to really experience the island life and have a quiet and relaxing week.
On our last two days on the island we decided to book some tours – one island hopping tour and one tour to the famous Sohoton Cove.
The island hopping tour was going to take us on three remote islands but right when we arrived on the first one, Dan fell into the water with his backpack with all our gear and his camera. Fortunately, the things in his backpack were in plastic bags and nothing happened to them. However, his camera was not that lucky.
It was an awful start for our tour. Dan has his own Youtube channel and he is documenting our journey through videos so losing his camera was a big deal. I tried to cheer him up but with no success. Although we tried to enjoy the trip and relax, the day was ruined.
The following morning we took the boat for almost 3 hours to get to Sohoton Cove. Sohoton Cove consists of a bunch of round islands covered by vegetation. It's a pretty incredible place. The only problem was that when we arrived there, it was heavily raining.
We waited for a little over an hour and finally the sun started to take over the sky. We explored the jellyfish lake, some caves and jumping points and then in was time to get back to our resort. Traveling by boat for 3 hours is definitely not comfortable, especially through a storm.
The road back was "bumpy" to say the least. We passed through huge waves, we were splashed by tons of water and we prayed to make it back safe. Fortunately, everything was fine and apart from freezing, nothing major happened.
One thing that surprised me during our trip to Siargao was the tide. During the low tide, the water was withdrawing by tens of meters. Check out the photo below to see what I'm talking about.
-> Read all my Philippines travel guides here
Final thoughts
The beaches in the Philippines are the best I ever saw. The water is too blue to be true, there are countless snorkeling opportunities and you can easily find empty beaches. Even though we've been through a lot, I am sure that in a few years we will be laughing about all these experiences. Sometimes bad things turn into good stories.
Travel plans
After the Philippines we're heading to a destination we've been wanting to visit for a long time – Java, Indonesia. I feel like there are many more beautiful places in Indonesia apart from Bali and I am really excited to explore Java.
We will be landing in Jakarta and then we will slowly make our way to the eastern part of the island. After Java, it's Bali time or work work work work….time.
Yep, that's right. For me, Bali is the place where I go to work and catch up with my content. I still have tons of blog posts to write about Japan, Indonesia and Philippines so wish me luck.
2. Blog, Instagram & Youtube
I am really proud of my blog. It's my little baby and I am really happy that it's growing organically at a steady pace. With most of the traffic coming from Google, Daily Travel Pill now has close to 70,000 monthly page views. Nothing makes me happier than seeing my blog grow.
I love sharing my experience with you and I am over the moon when I see that people appreciate my content.
In the following months I will be focusing on learning how to effectively use affiliate marketing. It's one of my goals for the near future.
What works for me:
writing detailed guides for specific locations. Instead of writing a blog posts about things to do in Bali (which I know will never rank on Google), I write about each waterfall separately, each temple and so on. Yes, it's a lot more work but it's working in terms of SEO.
creating beautiful photos. Photography is one of my biggest passions and I love to include beautiful images in my blog posts
If you want o keep up with my journey, definitely follow me on Instagram! I try to post as often as possible but most of the times I only post twice/ three times a week. I put a lot of effort in each photo I post and I hope that you will like my content!
Regarding Youtube, there is not much to say. The plan was to post a Lightroom tutorial every two weeks but with all our traveling I am afraid that Youtube fell on the last place, after my blog and my Instagram account. I am not sure whether or not I will have the time to make Youtube videos in the near future so I won't promise anything.
If you're still reading, you're probably the only one who made it until the end of this post! I love you for that! Thanks for following my journey and see you next month!
May the travel bug bite you!
Read more:
Pin it for later!
Disclosure: Please note that this post may contain affiliate links. If you make a purchase through these links, I will earn a small commission at no extra cost to you. I only recommend companies and products that I trust and the income goes to keeping this website running. Thanks!