Are you looking for some affordable tours in Bohol? Look no further! This sun-kissed island is a true paradise and one of the best things you can do here is booking an island hopping tour.
You'll have the chance to explore the diverse marine life, see the dolphins, and visit two beautiful islands which will take your breath away. This tour was the highlight of my trip to Bohol!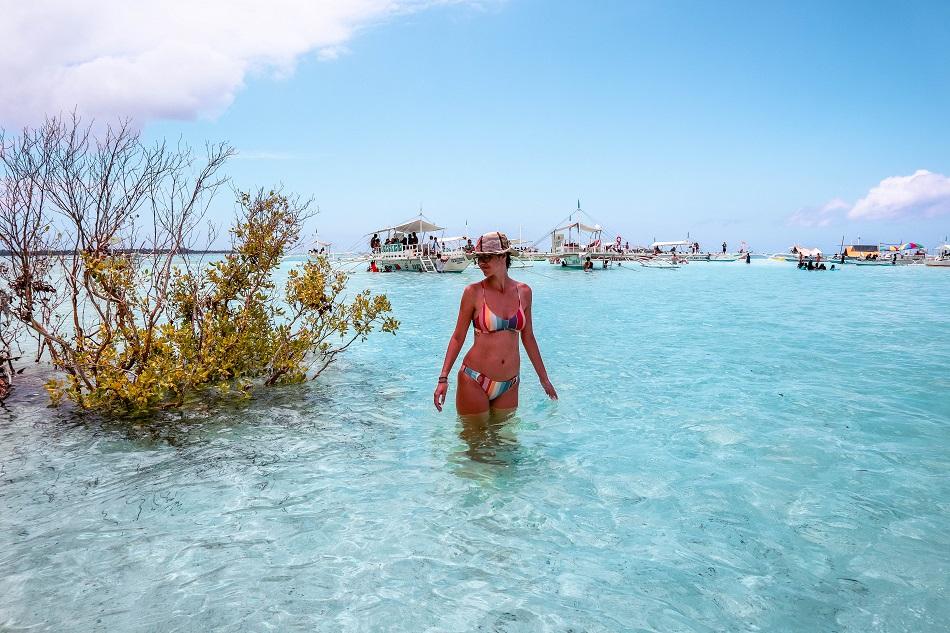 Of course, there are many other fascinating tourist attractions on Bohol Island such as the beautiful Dimiao Waterfall, the Bamboo Hanging Bridge or the Man-Made Forest. However, taking a day tour to nearby islands is a must!
In this guide, I'll share with you everything you need to know about island hopping in Bohol.
Good to know: Bohol and Panglao are two nearby islands connected by two bridges. The island hopping tour starts from Alona Beach, on Panglao Island. That's why some people refer to this tour as "Panglao island hopping tour".
1. Where to book your tour
When it comes to booking your tour, you have two options. You can either go to Alona Beach and book the island hopping tour straight from one of the tour operators there or you can book it online.
If you have the time, I recommend the first option because it's slightly cheaper. Go to Alona Beach and book your tickets straight from the boatmen or from one of the tour agencies.
No time to read now? Pin it for later!
2. What to expect
To avoid being disappointed, there are some things that you should know before booking your tour. If you plan to book your Panglao island hopping tour from Alona Beach, make sure to negotiate the price.
There are actually two types of tours available. You can choose a private boat (which is more expensive) or a shared boat (cheaper but you'll travel with 6-8 other people). We chose the shared boat and loved it!
Below are the things that are usually included in the price (make sure to double check with your tour operator):
Boat rental
Dolphin watching
Stops at Balicasag Island and Virgin Island
Life jackets
Keep in mind that you'll most probably have to pay extra for snorkeling at Balicasag Island. If you're curious to see which are the top tourist attractions in Bohol, check out this awesome guide I wrote.
3. Bohol island hopping tour – Itinerary
Let's talk about what you'll visit on an island hopping tour from Panglao. All the tours start early in the morning, at sunrise, so make sure to eat something and pack some snacks in case you get hungry.
Dolphin watching Bohol
Waking up early in the morning will be worth it because you'll have the chance to see these wonderful creatures in their natural habitat. After leaving Alona Beach I had my eyes glued to the water, waiting to see the dolphins.
After a few minutes, I got lucky and a pod of dolphins appeared at the surface of the water. Our boat driver made sure to steer the boat in a place where we had an incredible view towards these beautiful creatures.
Good to know: There are some days when due to weather conditions dolphins prefer to stay underwater. Don't worry if you don't see them, there are plenty of other amazing experiences included in the Panglao island tour package.
Snorkeling at Balicasag Island
The next stop is at the beautiful Balicasag Island. This is not a deserted island and people are actually living here. If you're hungry or thirsty, you'll find a few stalls selling snacks and refreshments.
After arriving on the island, you'll have to rent snorkeling gear and leave your valuables in a designated place. To avoid unpleasant situations, don't bring valuables with you.
If you want to photograph the marine life, I recommend bringing your GoPro with you!
The water at Balicasag Island is incredibly clear and perfect for snorkeling. Put your snorkeling gear on and go search for the turtles! Yes, that's right! At Balicasag Island you can swim with the turtles. It's an incredible experience to be close to such amazing creatures! Another awesome place in the Philippines where you can swim with the turtles is Apo Island.
Good to know: Don't touch the corals or the turtles while snorkeling! Let's protect the marine life!
Virgin Island Bohol
The last stop on this day tour from Bohol is the Virgin Island. Even if the name of the island is a bit weird, it actually refers to the purity and beauty of the place. The Virgin Island is a small stretch of sand with no vegetation.
The shallow water surrounding the island is incredibly clear and if you're lucky enough, you'll probably see plenty of starfish. Please, don't take the starfish out of the water! It's not worth harming them for a photo.
The Virgin Island was my favorite part of the tour! I explored the island, swam in the crystal-clear water, and took photos with some friendly locals.
You'll notice that many boats are selling fresh seafood and all kinds of local dishes. If you're hungry, don't hesitate to buy something to eat! The food is delicious.
Back to Alona Beach
After a day of sightseeing, it's time to go back to where it all started – Alona Beach. If you have time, I recommend spending some time on this beautiful beach.
You can eat something at one of the restaurants, take a walk, or simply sit on the beach.
4. Where to stay in Bohol
I know that finding the perfect accommodation can be challenging. That's why I've searched for the best hotels on Bohol Island for every budget. Below are my recommendations.
Budget – Homaja Beach Resort – great location, excellent view, very clean, friendly staff, breakfast included
Mid Budget – Mario Dive Resort – great location, clean & spacious rooms, great facilities
Luxury – Henann Resort – huge pool facing the sea, very spacious rooms, modern amenities, great for couples
I'm sure that you'll have a lot of fun on this island hopping tour. Don't forget your sunscreen home! If you have any questions, don't hesitate to ask me in the comments section below.
May the travel bug bite you!
Disclosure: Please note that this post may contain affiliate links. If you make a purchase through these links, I will earn a small commission at no extra cost to you. I only recommend companies and products that I trust and the income goes to keeping this website running. Thanks!