You're probably already planning to visit the famous Chocolate Hills on Bohol but how about visiting a less-touristy waterfall? Bohol Island is full of natural wonders and Dimiao Twin Falls is one of them.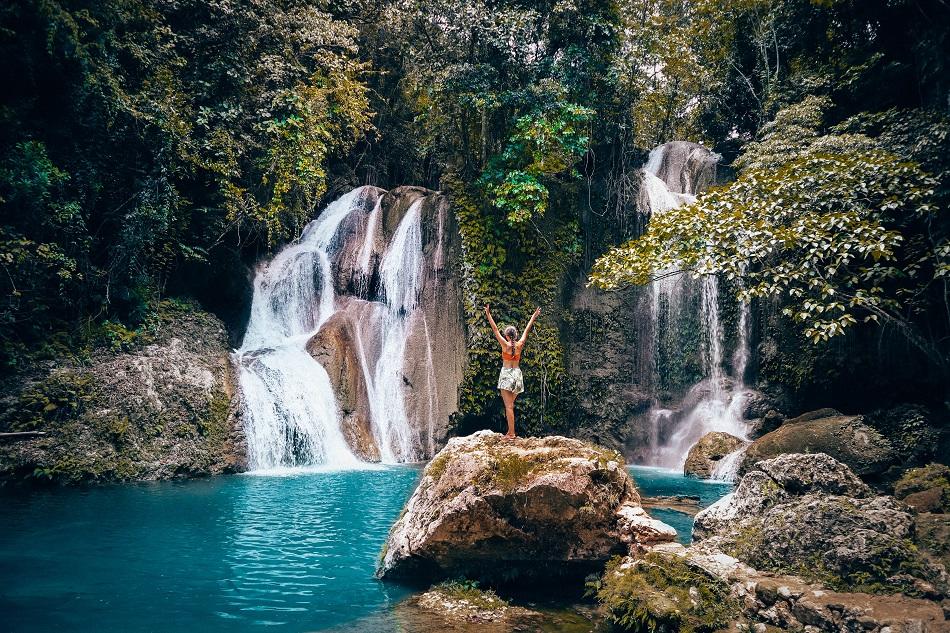 Well hidden in the heart of the jungle, these two waterfalls also known as Pahangog Falls, are simply incredible. I've seen many waterfalls around Asia but this is one of my favorite ones!
If you're looking for off-the-beaten-path destinations in Bohol, add this waterfall to your itinerary. In this guide, you'll find tons of useful information about the Twin Falls of Dimiao.
1. Things you need to know
Before heading to Pahangog Falls there are a couple of things that you should be aware of. I will list them down below.
Important info! – Getting to the waterfall requires walking on a rocky trail and climbing down several stairs. It's a moderate hike that takes about 10 minutes but it can be challenging for people with disabilities or limited mobility.
2. About Dimiao Twin Falls
The thing that I loved the most about this waterfall was that there were only a couple of tourists there. Even though the place is pretty famous among the locals, the tourists seem to ignore this waterfall which is fine by me.
No time to read now? Pin it for later!
I adore non-touristy places, especially those places where I can enjoy and admire the nature around me without being interrupted. Dimiao Twin Falls was one of my favorite places on Bohol, together with Bilar Man-Made Forest, the Twin Hanging Bridge, and the Chocolate Hills.
Also, why you're in Bohol you have to take an island hopping tour. See the dolphins, swim with the turtles and visit the incredible Virgin Island!
As the name suggests, there are actually two waterfalls, each around 25 meters tall. The water is beautifully flowing down over limestone rocks, making its way to the large pool formed at the base of the waterfalls.
The pool is perfect for swimming and cliff jumping. I saw a few locals climbing to the top of the biggest waterfall and happily jumping into the water. I'm not a big fan of extreme sports and even though the jump was only about 4-meters tall I didn't have the courage to do it. Maybe next time.
Here are some awesome guided tours on Bohol Island:
If cliff jumping is not for you, just bring your swimming suit and enjoy a refreshing swim in the turquoise water. I have to warn you – the water is pretty cold. Keep in mind that you won't find any changing rooms at Dimiao Twin Falls, Bohol.
While at the waterfall, don't forget to explore the surrounding areas. There are a few gorgeous bamboo bridges that offer spectacular views towards Pahagog Falls.
-> Check out this awesome Bohol itinerary! I've included all the must-see tourist attractions on the island!
Also, you can get near the waterfalls like Dan did. Seeing such beautiful places is a true blessing.
3. Entrance fee and opening hours
The entrance fee to Dimiao Twin Falls is 20 pesos for foreigners, 10 pesos for locals and 5 pesos for children. You can visit the waterfall any time you want but I don't recommend venturing in the jungle during the night.
If you want to have the place to yourself, make sure to avoid weekends or be there as early as possible!
4. How to get to Dimiao Twin Falls
To get to Bohol or Pangalao you'll have to take the ferry from Cebu, Dumaguete or Siquijor. I'll link the ferries below and you can check out the prices and schedules.
If you're staying on Panglao, the trip to Dimiao Twin Falls will take about one and a half hours (60 kilometers).
The only option you have to get to the waterfall is to rent a motorbike. The cost to rent a motorbike for one day is 350 pesos. I recommend visiting some other tourist attractions on Bohol on the same day such as Bilar Man Made Forest, Loboc River Cruise or the Twin Hanging Bridge.
If you don't know how to drive a motorbike, the only option you have is to rent a motorbike with a driver or a car. Unfortunately, there are no tours that include the Dimiao Twin Falls on their itinerary at the moment.
What I loved about the road to the falls was that closer you are, the more remote it gets. We passed by some beautiful local homes, hidden between palm trees. I've seen children playing and waving to each tourist they saw.
It's quite amazing to see that people can live such happy lives away from technology and crowded cities.
5. Where to stay on Bohol Island
If you're planning to spend a few days on Bohol Island, I'm here to help you. I've been searching for the best accommodation on the island and below are my recommendations.
I'm sure you'll have a lot of fun at Dimiao Twin Waterfalls on Bohol. It's one of those places that instantly takes your breath away! If you have any questions about this incredible place, don't hesitate to ask me in the comments section below!
May the travel bug bite you!
Disclosure: Please note that this post may contain affiliate links. If you make a purchase through these links, I will earn a small commission at no extra cost to you. I only recommend companies and products that I trust and the income goes to keeping this website running. Thanks!