Unlike Chiang Mai, Chiang Rai is a laid-back city with a population of 200,000. Many people choose to visit this city as a day trip from Chiang Mai but I recommend spending at least two days here.
The most famous temple in Chiang Rai is the White Temple. People spend hours queuing to see this piece of art but few know that there is another fascinating temple worth exploring.
The Blue Temple of Chiang Rai is one of the most beautiful temples I've ever seen and trust me, I've seen a few during my one and a half years in Asia. With its vibrant colors and modern design, this place will certainly steal your heart.
In this guide, you'll find out everything you need to know about the impressive Blue Temple in Chiang Rai, also known as Wat Rong Seua Ten.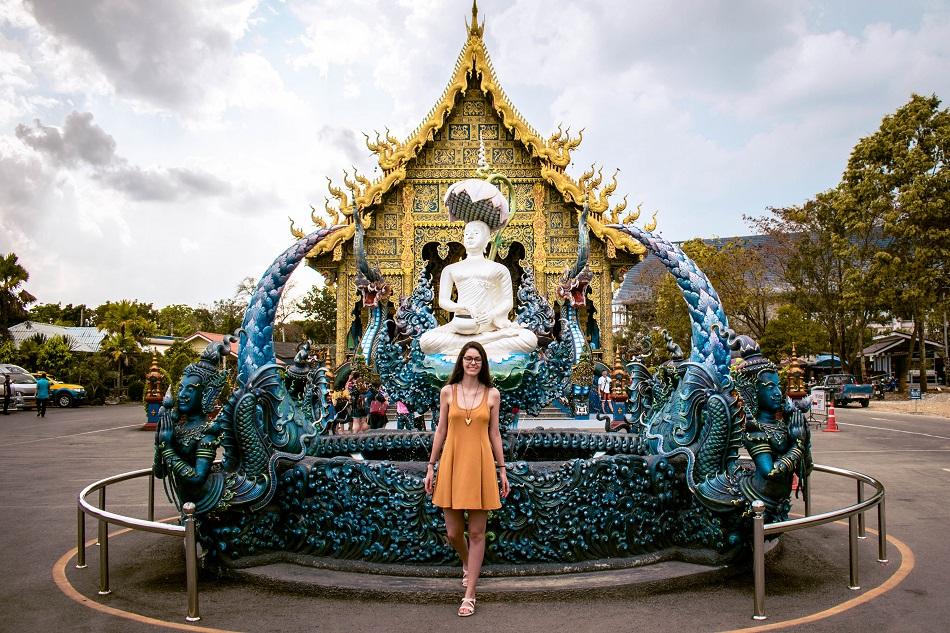 1. About the Blue Temple
The temple has only been completed in 2016. This is one of the reasons why it's not very popular among tourists. Yet. It's nice to have the chance to visit an incredible temple and not be surrounded by hundreds of tourists.
An interesting fact is that the mastermind behind the Blue Temple was an artist named Putha Kabkaew. This artist was an apprentice of Chalermchai Kositpipat, the artist who designed the White Temple. This is why you might notice a few similarities between the two temples.
Other awesome things to do in Chiang Rai:
The name of the temple – Wat Rong Seua Ten – means "the House of the Dancing Tiger". Many years ago, the region where the temple is situated was home to tigers but that's not the case anymore so nothing to worry about.
The blue color of the temple symbolizes tranquility, ascension, the infinite, purity, and healing in Buddhism. The temple also has lots of golden details which really makes it stand out. The Blue Temple is one of the most beautiful and unusual temples I've ever seen.
The temple itself is quite small. There are a few statues you can explore and admire near the Blue Temple and there's also a small parking lot (in case you decide to rent a car or a motorbike).
The entrance to the temple's grounds is marked by two big blue statues with intricate carvings followed by a beautiful fountain. Take your time to admire the courtyard and take photos!
Don't hesitate to also visit the back of the temple. Here you'll find a tall, white Buddha statue that symbolizes calmness and wisdom. There are also a few other statues. Also, make sure to admire the temple's windows!
To enter the Blue Temple in Chiang Rai, you'll have to pass by the pair of naga serpents that guard the stairs leading to the entrance. In Buddhism, naga are semi-divine deities that can occasionally take human form.
I was impressed by all the details of the naga serpents. Standing at about 6-meters tall, the serpents were beautifully painted in hues of blue. The details were painted in gold, red, and green, creating a unique piece of art.
Blue Temple interior
If you've already visited the White Temple, you've probably noticed that you weren't allowed to take photos inside. Things are different at the Blue Temple. You can take as many photos as you want anywhere inside and outside the temple. Actually, the Blue Temple is slowly becoming an Instagram sensation.
The centerpiece of the Main Hall there is a huge white Buddha statue, sitting in the Bhumisparsha Mudra position. The statue's right hand is pointing towards the ground, suggesting the moment when Buddha attained enlightenment.
Keep in mind that this is a prayer place. Try not to disturb the locals while taking pictures and admiring the designs.
The paintings that decorate the Main Hall are all covered in saturated, bright colors. The unique spectacle of light and color makes you feel like you're stepping into another world. The inside of the Blue Temple is truly mesmerizing and fascinating at the same time.
Even the entrance door has beautiful golden carvings. The entire place is fascinating!
There are a few things that you should keep in mind when visiting the Blue Temple in Chiang Rai.
food & refreshments – there are a few shops right outside the temple where you can buy water and snacks. The temperatures in Thailand can be a bit extreme and it's best to stay hydrated.
no hugging and kissing – don't show affectionate behavior around the temple. It's a sign of disrespect to the local culture.
be quiet – don't make too much noise when visiting the temple. Don't forget that locals and Buddhist people come here to pray and meditate.
2. Guided tours to the Blue Temple
The Blue Temple is the most vibrant and colorful temple in Chiang Mai and it's starting to gain attention. Due to its increasing popularity, the Blue Temple is now included on the itinerary of many guided tours.
If you want a hustle-free experience, it's best to book a guided tour. Below are a few options.
Guided tours from Chiang Mai
Chiang Rai temple day tour – click here
Blue Temple, White Temple & Black House tour – click here
Blue Temple, White Temple & Black House private tour – click here
Guided tours from Chiang Rai
Chiang Rai temples & Singha Park tour – click here
You can also visit the Blue Temple by yourself but more about this in the "How to get to the Blue Temple" section down below.
2. Blue Temple Chiang Rai dress code
It's important to dress respectfully when entering the temple. You should cover your shoulders and knees. I always bring a scarf with me when visiting temples in Asia.
Also, keep in mind that you'll have to take your shoes off when entering the Blue Temple. Just leave your shoes at the entrance. Trust me, nobody will steal them.
3. Blue Temple Chiang Rai entrance fee and opening hours
There is no entrance fee at the Blue Temple. The temple is opened every day from 7 am until 8 pm. If you want to have the place to yourself, make sure to be there early in the morning.
4. How to get to the Blue Temple in Chiang Rai
If you want to visit the temple by yourself, there are a few transport options. Unfortunately, there is no public transport to the Blue Temple so you'll either have to grab a tuk tuk or a taxi.
Alternatively, you can walk from Chiang Rai. Depending on where you're staying, the road is about 2-3 km long. I would avoid this option since the temperatures in Thailand are quite extreme and walking that much through heat is not very comfortable.
Tuk tuk to the Blue Temple
Tuk tuks are easy to find in Chiang Rai. Just stay on the edge of the road and flag one down. The cost of a tuk tuk should be somewhere around 100 Baht, depending on your negotiation skills.
Taxi to the Blue Temple
If there's one app that I love using when in Asia, that's Grab. It works like Uber and it's super affordable. You can use it to get to the Blue Temple and back.
To use Grab, you have to have a local sim card with internet access. I recommend using this one – it's super affordable!
5. Where to stay in Chiang Rai
If you're looking for a good value-for-money hotel in Chiang Rai, I'm here to help you. I've been looking for the best accommodation, for every budget. Below are my recommendations.
Budget – Connect Hostel – good location, clean rooms, beautiful and modern design
Mid Budget – Mora Boutique Hotel – good location, modern design, great amenities, breakfast included
Luxury – Le Meridien – beautiful pool, excellent location, spacious and clean rooms, friendly staff
I loved visiting the Blue Temple and I hope to go back soon to explore more of Chiang Rai. This intriguing and unique temple will definitely steal your heart. It's one of those places that you shouldn't miss when in Chiang Rai.
Make sure to bring your camera with you and take lots of photos!
If you have any questions about this incredible place, don't hesitate to ask me in the comments section below. To read more about Thailand, click here.
May the travel bug bite you!
Pin it for later!
Disclosure: Please note that this post may contain affiliate links. If you make a purchase through these links, I will earn a small commission at no extra cost to you. I only recommend companies and products that I trust and the income goes to keeping this website running. Thanks!