After visiting Palawan and Coron, we decided to spend a few days on Bohol Island. We were at the beginning of our one month adventure in the Philippines and we were really excited about exploring this beautiful island.
Bohol is one of those places that has a little bit of everything. From white sand beaches to waterfalls and the famous Chocolate Hills, this island is full of natural wonders.
If you're planning to spend 3 days in Bohol, you're in the right place. In this guide, I'll share with you everything you need to know to have the best holiday ever. Let's start by talking about how to get to Bohol.
1. How to get to Bohol
The easiest way to get to Bohol is from Cebu. Go to the port and take the ferry to Tagbilaran. The trip will take about one hour and a half and it costs $10-$15. To check out the prices for ferries, click here.
There are also ferries from Siquijor and Dumaguete to Bohol.
2. How to get around Bohol
This is the tricky part. The best way to explore this beautiful island is by motorbike. Driving a motorbike gives you the freedom to be the master of your schedule and visit some off-the-beaten-path tourist attractions.
Renting a motorbike in Bohol costs around 600 PHP per day. To rent a motorbike, ask at your hotel's reception. Most hotels and guest houses provide such services.
However, if you're not feeling comfortable riding a motorbike there are a few other transport options. You can either rent a motorbike with a driver or you can explore the island by guided tours. Most of the attractions included in this Bohol 3-day itinerary are covered by guided tours.
No time to read now? Pin it for later!
3. Bohol 3-day itinerary
Are you ready for 3 days of adventure? You'll be amazed by the beauties you're about to discover. This itinerary includes tourist attractions on both Bohol Island and Panglao Island.
For those of you who don't know, Panglao and Bohol are two nearby islands connected through two bridges. They're both home to some incredible places but more about that below.
DAY 1
The first day is the busiest one but don't worry, there is plenty of time to see all these tourist attractions. You'll see some of the cutest animals, admire a waterfall, and visit the famous Chocolate Hills.
Philippine Tarsier Sanctuary
These cute little animals hold the record for the world's smallest primates and seeing them is one of the top things to do in Bohol. There is something really special about Tarsiers – they have huge eyes and they can rotate their head 180 degrees each direction.
Tarsiers are nocturnal animals, just like owls. They sleep during the day and become active during the night. What's really important is that these animals often commit suicide when stressed.
That's why it's important to visit Tarsiers in a safe environment. There are many "Tarsier sanctuaries" on Bohol Island but not all of them take good care of these animals. I recommend visiting the Philippine Tarsier Sanctuary near Corella.
There is another sanctuary near Bilar (included in most guided tours) but unfortunately, the animals here are exposed to a stressful environment where tourists are allowed to get as close as they want to them. Also, there is a lot of noise that doesn't allow the Tarsiers to rest.
Entrance fee to Philippine Tarsier Sanctuary – 50 PHP per person
Twin Hanging Bridge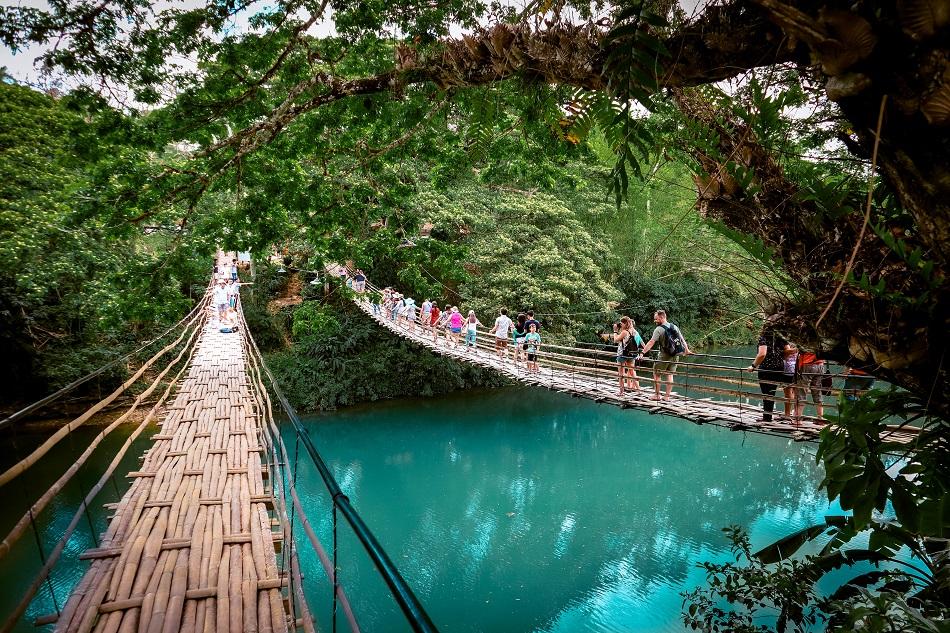 Our next stop after visiting the cute Tarsiers is at the Twin Hanging Bridge. These two bamboo bridges are one of the most visited places in Bohol. The bridges stretch above the Sipatan River and are surrounded by a dense forest.
To cross the bridge, you must leave your fear behind. The hanging bridges measure 40 meters in length and they're slowly bouncing under the weight of tourists. Don't worry, they're safe!
You'll find plenty of food stalls near the Twin Hanging Bridge of Bohol, in case you're hungry or thirsty.
-> Read more about the Twin Hanging Bridge here
Entrance fee to the Twin Hanging Bridge – 35 PHP per person.
Man-Made Forest
You wouldn't expect a forest to be a tourist attraction but the Bohol Man-Made Forest is different. This 2-kilometer stretch of mahogany trees is an Instagram sensation.
Even the guided tours stop here so tourists can take photos with the beautiful trees. What I loved about this forest was the feeling of calmness it gave me. The tall trees stretching towards the sky combined with the winding road create an impressive view.
-> Read more about the Man-Made Forest here
Entrance fee to the Man-Made Forest – FREE
Pangas Falls
On the way to the Chocolate Hills we stopped at the incredible Pangas Falls. I love off-the-beaten-path places and Pangas Falls was one of them. We were the only ones there and had the entire place to ourselves.
To get to the falls, you'll have to climb down some stairs. The waterfall itself is not very big but the water stream forms some natural pools at the base of the waterfall. The view is simply stunning.
If you want, you can bring your swimming suit and refresh yourself in the cold water.
Entrance fee to Pangas Falls – 30 PHP per person
Chocolate Hills
This is one of the most visited places on Bohol Island and our last stop for the first day of this itinerary. There are over 1200 hills on the island, covered in green grass. During the dry season the grass turns brown, resembling the color of chocolate.
There are a few viewpoints towards the Chocolate Hills in Bohol but I recommend going to the Chocolate Hills Complex. After parking your motorbike, you'll have to climb a few stairs but you'll be rewarded with an incredible view over the hills.
Unfortunately, when we visited the weather was pretty bad and we had to hurry in order to avoid the rain. I'm sure that on a sunny day the view is even more spectacular.
Entrance fee to the Chocolate Hills Complex – 50 PHP per person
DAY 2
I hope you had a good night's sleep because on the second day of our 3-day itinerary in Bohol we're gonna visit some awesome places that will take your breath away.
Hinagdanan Cave
Located on Panglao Island, Hinagdanan Cave is a unique place. This underground cave is well known for its unique rock formations and the crystal-clear water.
The natural pool that was formed inside the cave is impressive and some tourists are adventurous enough to swim in it. I must admit, I was a bit scared but if I ever go back, I'll try it. Would you swim here (the lagoon is 12 meters deep)?
-> To book a tour to Hinagdanan Cave and other awesome places on Panglao Island, click here
Entrance fee to Hinagdanan Cave – 50 PHP per person, 15 PHP parking fee
Loboc River Cruise
Taking a cruise on Sipatan River is an amazing experience. You'll have the chance to eat lunch while enjoying the views. You'll pass by local villages and dense jungles all while eating some delicious local dishes. It can't get better than this.
You can book your cruise online or straight from the Loboc River Cruise departure point. I recommend booking your tickets online, just to make sure that your place is guaranteed.
Loboc River Cruise price – around $12
Pahangog (Dimiao) Falls
The last stop of the day is at Dimiao Falls. This is one of my favorite waterfalls in Asia. Well hidden inside the dense jungle, this waterfall is a true corner of paradise.
What I loved about this place was that it was not crowded at all. There were no tourists there and I had the chance to enjoy the beauty of this place in silence.
The water streams fall over the limestone walls and form a natural pool at the base of the waterfalls. You can bring your swimming suit and take a bath at Dimiao Falls!
Also, if you're feeling adventurous you can try cliff jumping. Even if I've seen a few locals jumping from the cliffs, I recommend being cautious. Check the water depth before jumping.
-> Read more about Dimiao Falls here
Entrance fee to Dimiao Falls – 20 PHP per person
DAY 3
This 3-day Bohol itinerary is coming to an end but not before exploring some beaches and islands. I saved the best for the last day! Be ready for snorkeling and an amazing sunset.
Island hopping tour
Taking an island hopping tour is a must when in Bohol. You can book your tour online or straight from Alona Beach (the starting point for all island hopping tours).
The tours are standard and they include the following attractions – dolphin watching, snorkeling at Balicasag Island, and a stop at the Virgin Island.
If one of your bucket list experiences is to swim with a giant turtle, this tour is for you! At Balicasag Island you'll have the chance to swim with these wonderful creatures and explore the marine life.
-> Read more about the Bohol island hopping tour here
Island hopping tour price – $30-$40
Sunset at Doljo Beach or Momo Beach
After arriving back at Alona Beach, I recommend heading to either Doljo Beach or Momo Beach. The sunset at Alona is not that impressive because the sun sets on the other side of the island.
Sit back and relax while enjoying an incredible sunset in the Philippines. That's a great way to end your trip to Bohol Island.
4. Where to stay on Bohol Island
I've been searching for the best accommodation on Bohol Island for each budget. If you're looking for a good value for money hotel, the recommendations below are perfect for you.
Budget – Homaja Beach Resort – great location, excellent view, very clean, friendly staff, breakfast included
Mid Budget – Mario Dive Resort – great location, clean & spacious rooms, great facilities
Luxury – Henann Resort – huge pool facing the sea, very spacious rooms, modern amenities, great for couples
I'm sure that you'll have a great time exploring Bohol in three days. This island is a little corner of paradise. If you have any questions about this itinerary, don't hesitate to ask me in the comments section below.
May the travel bug bite you!
Disclosure: Please note that this post may contain affiliate links. If you make a purchase through these links, I will earn a small commission at no extra cost to you. I only recommend companies and products that I trust and the income goes to keeping this website running. Thanks!