The Philippines is an amazing tourist destination, well known for its pristine beaches and crystal-clear water. Out of more than 7,000 Philippines islands, Bohol is one of the most visited ones.
Bohol is mostly famous for the Chocolate Hills but there are some other awesome places on the island which are worth visiting too. If you have time head to the Man Made Forest, explore Alona Beach, admire the Dimiao Twin Falls or cross the Sipatan Twin Hanging Bridge.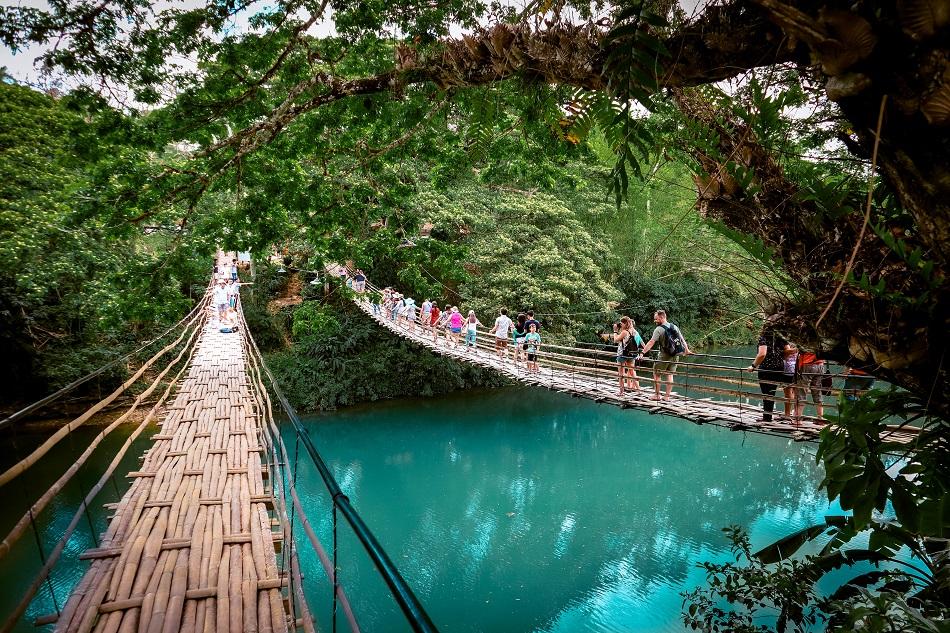 Also known as Tigbao Hanging Bridge, the Twin Hanging Bridge or simply as the Bambo Hanging Bridge of Bohol, this is one of the most popular tourist attractions on the island. In this guide, we'll talk about everything you need to know before visiting it.
1. What to expect at Twin Hanging Bridge Bohol
The first thing you need to know is that there are actually two bridges, one for each direction. You'll cross one bridge and come back on the other. However, people still refer to these bridges as singular.
The bridges cross the Sipatan River, the same river where tens of cruises carry curious tourists daily (check out more about the Loboc River Cruise here).
The view is pretty incredible. The Bohol Hanging Bridge is surrounded by lush greenery. I must say – the place is pretty crowded with tourists, both locals and foreigners. If you want to have the place to yourself, make sure to be there early in the morning.
No time to read now? Pin it for later!
When I first arrived at the Hanging Bridge in Bohol, my first impression was that it doesn't look safe. I had these 40-meter long bamboo bridges in front of my eyes with around 40-50 people crossing them. It looked sketchy.
-> Check out my awesome Bohol Itinerary! It's perfect if you're looking for awesome waterfalls or adventurous activities such as island hopping.
However, the bridges are safe. Sometimes you can see small motorcycles crossing them. Even though the bridges have become a tourist attraction, locals still use them to cross the Sipatan River.
Don't worry if the bridges are slowly bouncing when you're crossing them. The support cables are made of steel and they're safe. Enjoy the experience!
Near the Bohol Bamboo Bridge, you can find lots of stores selling snacks and refreshments. If you're thirsty, get a fresh coconut!
While you're still in Bohol, take an island hopping tour and admire the dolphins, swim with the turtles, and visit the beautiful Virgin Island.
2. Bamboo Hanging Bridge Bohol – opening hours and entrance fee
The bridge is open 24/7. During the day you'll have to pay an entrance fee of 35 PHP per person. The entrance fee for children under 9 years old is free.
3. How to get to the Hanging Bridge Bohol
To get to Bohol, you'll have to take the ferry from Cebu, Dumaguete, or Siquijor. Click the links below to see the ferries' prices and schedules. The ferries are comfortable and pretty fast.
The bridge is part of most guided tours available in Bohol. If you're looking for tours around the island, I'm leaving a few recommendations below.
Another option is to get to the Bamboo Hanging Bridge by motorbike. That's what we did. If you want to rent a motorbike, ask at your accommodation. They can certainly help you. The cost of renting a motorbike for one day in Bohol is around $7.
4. Where to stay on Bohol Island
The island of Bohol is big and finding the perfect accommodation can be challenging. I've been searching for the best hotels on the island, for each budget. Below are my recommendations.
Budget – Homaja Beach Resort – great location, excellent view, very clean, friendly staff, breakfast included
Mid Budget – Mario Dive Resort – great location, clean & spacious rooms, great facilities
Luxury – North Zen Villas – incredible view, luxurious design, spa, excellent restaurant, great amenities, friendly staff
Bohol Hanging Bridge is one of the most beautiful bamboo bridges I've seen. If you have enough time to spend on Bohol, a stop at the bridge is worth it. If you're looking for other awesome things to do on the island, don't forget to visit a tarsier sanctuary, take an island hopping tour, visit the Man Made Forest, and visit Dimiao Twin Falls.
If you have any questions about this awesome bridge, don't hesitate to let me know in the comments section below.
May the travel bug bite you!
Disclosure: Please note that this post may contain affiliate links. If you make a purchase through these links, I will earn a small commission at no extra cost to you. I only recommend companies and products that I trust and the income goes to keeping this website running. Thanks!